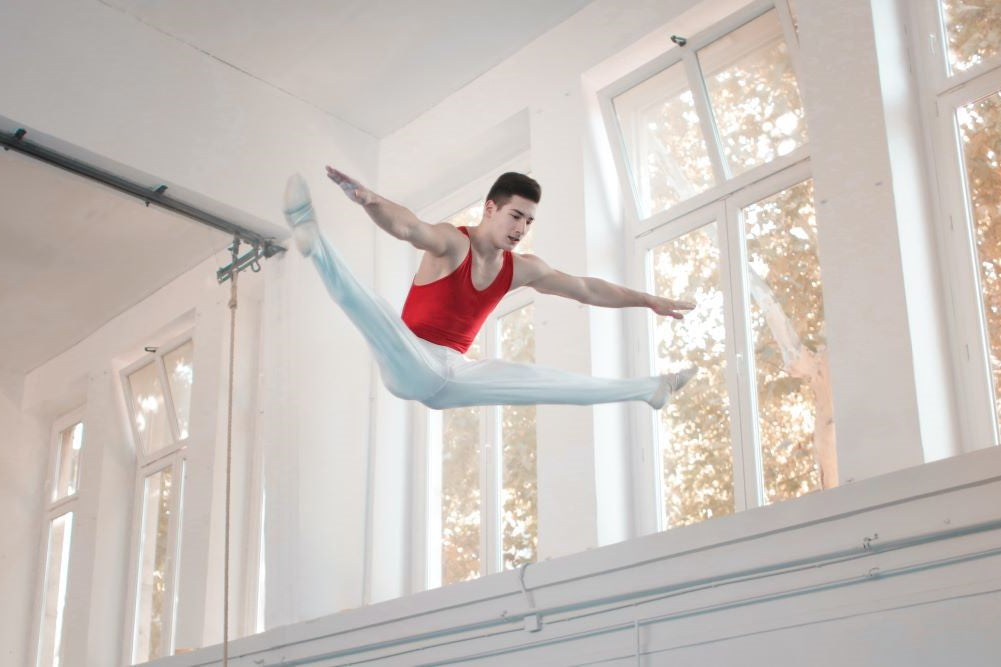 Practical Stylish Outfits to Wear to Tumbling Class
Tumbling can be a great choice for a fun sport or a way to exercise. Whether it's your first tumbling class, or you are usual, what you wear to tumbling class is important for safety and to allow you to get the most out of your class.  
Tumbling requires a full range of motion and comfortable clothes that will not get in your way or distract you from learning. Not to fear, there is a wide range of comfortable and stylish outfits to choose from as you soar into the air.
Let's take a closer look at what to wear to your next tumbling class.
Panaprium is proud to be 100% independent, free of any influence, and not sponsored. We carefully handpick products from brands we trust. Thank you so much for buying something through our link, as we may earn a commission that supports us.
Dress Code
For classes, there is no one particulate dress code. However, safety is a concern. Clothes must not be too loose that they can catch on things or so tight they restrict blood flow and are uncomfortable. 
Also avoid any snaps, zippers, or buckles that can get caught in equipment or hurt you if you land on them. 
Learn more about gymnastics attire here.
Leotard
The most common attire for women is a leotard. They are made similar to swimsuits but have thicker material for more coverage. Leotards come in a variety of styles, with some with tank top tops and others with long sleeves.
Tank-top leotards are most common as they are comfortable and allow for a full range of movement. Long-sleeved leotards are popular if you want more coverage. Another type of leotard is a biketard which has shorts at the bottom for further coverage.
Check out these leotards. 
Shorts
For men, shorts are the most common gym attire. They are comfortable and offer a full range of motion. Make sure they aren't too long or baggy where they get in the way or are too tight or short where they don't offer enough coverage. 
Discover these workout shorts.
T-Shirt 
A t-shirt is a versatile option for men and women. It can be worn on its own or layered over a leotard. Make sure it is not too baggy and opt for one with moisture-wicking material if you know you will be sweating a lot.
Try out an organic cotton t-shirt. 
Sweatpants 
Like a t-shirt, sweatpants are another easy, versatile option. They can be layered over existing clothes if you get cold or worn on their own. Sweatpants are also loose fitting and won't restrict movement. Most also have a drawstring to help them stay in place.
Tank Top
A tank top offers full coverage while allowing your arms to move freely. Tank tops also come in a variety of styles from form-fitting to baggy so you can choose what works best for you.
Check out these tank tops.
Sports Bra
For women, a sports bra can be essential for added support under a leotard. When worn under a t-shirt, it also adds added coverage in case your shirt rides up as you move, flip, and bounce around.
Underwear 
Depending on who you ask, you will get a different answer on whether you should wear anything under your leotard. It comes down to personal preference. Wearing underwear underneath your leotard offers another layer of coverage and helps with bacteria.  
Take a look at these underwear options.
Swimsuit
If you do not have a leotard, a swimsuit can work in a pinch. They are made of a similar material as a leotard and are generally comfortable too. Make sure it is a one-piece and check to see if you need to layer as most swimsuit materials are thinner than a leotard.
Check out these swimsuit brands.
Leggings 
Leggings are a great form-fitting option. They are skin tight so they won't get caught on anything and they offer more coverage while still allowing you to have bare feet. 
They are the perfect choice to wear to cover your legs while still allowing you and your coach to check your form.
Try a pair of bamboo leggings.
Compression Shorts 
Compression shorts are a great choice for women and men. Like leggings, they are form-fitting while still offering more coverage. They can also be worn over a leotard or under sweats or baggier shorts.
Discover these bike shorts.
Bodysuit
A bodysuit is a nice alternative to a leotard. Like a leotard, body suits are form-fitting and offer support and enough coverage while still allowing you to move freely. 
Bodysuits come in a variety of coverage so you can choose what works best for you.
Find more bodysuits here.
Hair Pulled Back
No headgear is required for tumbling, however, hair needs to be pulled back in a ponytail, braid, or bun so that it doesn't get in your eyes or stuck on equipment and become a safety hazard.
Check out these hair accessories.
Jewelry
 
Jewelry is generally a no-go while tumbling, It can easily get caught on equipment and become a safety hazard. It can also easily be lost as you jump and move around.
Save these jewelry brands for after tumbling class.
Barefoot 
Socks are not allowed for tumbling as they can easily make you slip and fall. Barefoot is the most common footwear for tumbling and gymnastics.  With no shoes or socks, your feet have a full range of motion and have more grip. 
Gymnastic shoes are the only shoe alternative for tumbling. They are durable, tight-filling slippers with grips on the bottom. 
They offer a full range of motion and are more hygienic than bare feet. Most gymnasts wear them for competitions.
Find barefoot shoes here.
Glasses
Glasses can still be worn while tumbling. It is important to make sure they don't fall off though. You can purchase glasses made for sports or a strap that attaches to the back of your glasses to keep them in place.
Some people prefer wearing contacts but some find contacts can pick up dirt and chalk from the gymnastics gym and opt for glasses instead.
Discover these stylish glasses.
Acrylic Nails
Skip long, acrylic nails for tumbling class. With the amount of movement you are doing, you can easily scratch yourself or others with them and they can easily break or fall off.
Learn what to wear to your next nail appointment.
Knee Pads
All though your gymnastics gym should have all the protective equipment you need, some people like knee pads as additional protection. While tumbling, you will be falling, jumping, and landing in all sorts of ways, so protecting your knees, elbows or any other joints is not a bad idea.
Find more protective gear here.
Was this article helpful to you? Please tell us what you liked or didn't like in the comments below.
About the Author: Shelby Bonner