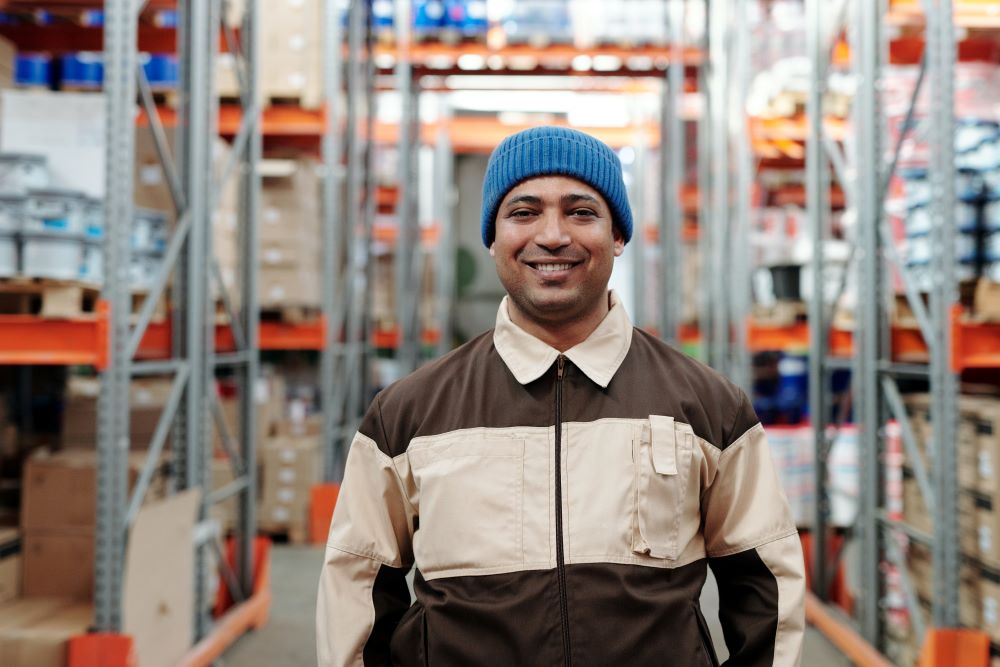 15 Practical, Smart Outfit Ideas for Your Warehouse Interview
When you think of a warehouse, are you imagining people in jeans and boots? Are you also wondering if that is what you should wear to your interview? If so, you are not alone.  
It is more well-known what to wear in a corporate environment for an interview - a pair of dress pants and a button-up, but what should you wear in a more casual environment for a warehouse interview? The most common advice is to take what warehouse workers wear and level up your outfit by one.
Instead of casual, try smart casual or business casual instead. You want to appear to have put thought and care into your outfit while still blending into the environment. This means looking clean and polished while also not overdressing and showing up in a three-piece suit. 
Panaprium is proud to be 100% independent, free of any influence, and not sponsored. We carefully handpick products from brands we trust. Thank you so much for buying something through our link, as we may earn a commission that supports us.
Clothes That You Can Move In 
The work environment in a warehouse is generally pretty physically demanding. You want your outfit to reflect your understanding of the environment and work requirements.  
Wearing comfortable clothes that you can move in and shoes that are supportive is a great way to show your employer you have done your research.
Check out these comfortable outfit ideas.
One Up From the Empoyee's Uniform 
Many warehouses have a dress code or uniform for their employees to ensure their safety and mobility while they are working. Research the company ahead of time to get a feel for what the dress code or uniforms are like and base your outfit on that.
For instance, if workers wear jeans and a t-shirt, arrive for your interview in khakis and a polo shirt. Your outfit will be similar enough to blend in but elevated enough to still make a great first impression.
Discover the dress code for electricians here.
Dress Pants
Dress pants are an easy, professional look for women and men. They look professional without being too formal and will blend in with the rest of your outfit. Choose a pair that fits and doesn't drag on the ground (or get them hemmed beforehand). 
Brown Pants 
Brown pants like khakis are a step up from jeans, but more casual than dress or suit pants. They look professional while remaining affordable and comfortable.  
Check out these khakis and chinos.
Patterned Shirt 
A patterned shirt is a fun option that steps up from a t-shirt while remaining more casual than a button-up or dress shirt. A shirt with a collar will help you look professional while the loose fit and short sleeves will keep you mobile.
Try a shirt made with quick-drying material in case you get nervous and start sweating during your interview. You will remain dry and clean no matter how nervous you may get.
Check out these collared shirts.
Shirt Dress 
A shirt dress is a comfortable, casual option that is still professional.  Pair it with a belt around your waist or a blazer to upscale it.  Also, make sure it is modest enough for a business environment. 
Modest Skirt
A skirt is another realistic option for your warehouse interview. Choose one that goes to at least your knees and make sure it is not too tight to bend and sit down comfortably. Try a high-waisted fit for a chic, modern look.
Neutral Blouse 
A blouse works great with almost any bottom choice. Blouses are professional while also being feminine and fashionable. Plus they come in so many different colors, fits, and styles, you can choose what works best for you to feel confident and ready to get the job! 
Cover Your Tattoos and Piercings
Not all companies allow tattoos and piercings to be visible in the workplace. Play it safe for your interview cover any tattoos and take out any piercings you may have until you can figure out what the particular policies are for the company you are interviewing for. 
Learn what to wear over your tattoo here.
Fragrance
Many office settings, including warehouses, have a no-fragrance policy in place. Even if the warehouse you are interviewing with doesn't, it's best to skip the perfume or cologne. Not everyone likes fragrance and you will be in close proximity with your interviewer.  
It is important to smell clean and have good hygiene, but strong fragrances may be too overwhelming. 
Find more ways to make your clothes smell good without perfume.
Well Groomed 
Though a warehouse may be a more casual environment than an office, and the duties may involve more labor, you still want to appear neat and clean for your interview.
Being well groomed includes good hygiene, hair pulled away from your face, and wrinkle and hole-free clothes.  
Keep your hair back with these hair accessories. 
Nothing Too Flashy 
All though the interview is your time to shine, your clothes should not be shining too. Stay away from bright, bold colors and patterns or large statement pieces. They are distracting and may make you look like you are not taking the position seriously or distract the interviewer from what you are saying.
Save these bright and shiny looks for after your interview.
Pay Attention to Fit 
Even the nicest fabrics and clothes can look unprofessional if they do not fit you well. You want to make sure your clothes are not too baggy and stay in place while also not being so tight that they are revealing and make it hard to move freely in them.
Find more trending styles and fits here.
Dress Shoes 
Dress shoes are a popular item because they help you and your outfit look professional while also being practical. Choose a pair that is comfortable and supportive and avoid excessively high heels. You don't want to worry about losing your balance or rolling an ankle through your interview.
Clean Sneakers 
Sneakers still work for your warehouse interview. Make sure your sneakers are clean and without holes, as well as supportive in case you are touring the warehouse as part of your interview.  
Choose plain, neutral-colored sneakers that will blend in with any outfit and not stand out too much.
Check out these sneaker brands.
Was this article helpful to you? Please tell us what you liked or didn't like in the comments below.
About the Author: Shelby Bonner