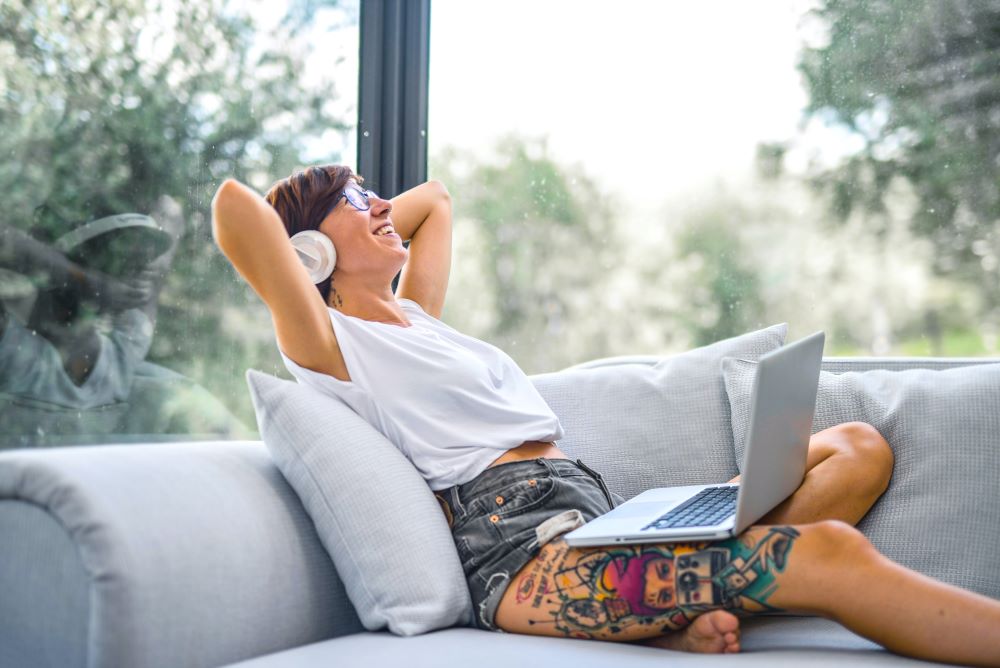 What to Wear After a Tattoo: 15 Easy Ideas
You just got an exciting new tattoo and you're ready for the healing process to start.  You want your tattoo to heal well and be able to show it off proudly for a very long time.
So what pieces in your closet are okay to wear and what pieces are not okay? According to tattoo artists, certain materials and fits are best for a fresh tattoo.
Here are our recommended pieces to wear that are tattoo safe as well as stylish.
Panaprium is proud to be 100% independent, free of any influence, and not sponsored. We carefully handpick products from brands we trust. Thank you so much for buying something through our link, as we may earn a commission that supports us.
Natural Fibers:
Tattoo artists recommend clothes made of natural fibers after your tattoo to help your clothes breathe to prevent unwanted moisture and bacteria that can cause an infection on your newly done piece.
Clothes made out of cotton, bamboo, and hemp, are recommended for the first few weeks of healing.
Check out these natural fiber options.
Soft Materials:
As your tattoo heals, the last thing you want is it snagging on your clothes, causing you pain and potentially causing damage to your new tattoo.
Go for soft, smooth pieces that aren't fuzzy, and don't have lace or edges that could easily get caught and snag.
Try out these soft clothing choices.
Baggy Clothes:
Baggy clothes are best to prevent rubbing and snagging on your tattoo.  Baggier clothes also allow more air flow to prevent moisture and bacteria build-up that could be potentially harmful.  
For the next bit, go for a looser fitting piece that will cover up your tattoo area and save the tight, body-fitting pieces for after it is completely healed.
Discover these baggy clothing options.
Clean Clothes:
Your new tattoo is a new, open wound that can get infected just like a cut. It is important to make sure you change your clothes regularly and are always wearing clean pieces so as not to attract bacteria or dirt that could infect your tattoo and even affect its appearance. 
Check out these eco-friendly detergents to keep your clothes clean.
Dark Clothes: 
For the first few days, your tattoo may leak some blood and excess ink onto you and your clothes.  Make sure to wear clothes that you don't mind getting a stain on, or darker colors that are easier to wash stains out versus white and light-color items.
Check out these dark outfit ideas.
Clothes that Cover Your Tattoo:
While your tattoo is freshly healing, you want to hide it from the sun as much as possible as the sun can be damaging to a new tattoo.  Regardless of where your tattoo is, keep it covered up next time you are outside or in the sunlight.
Discover these clothing options to cover your tattoo.
Sweat Pants:
If you get a tattoo on your legs, hip, lower abdomen, or lower back, sweatpants are the way to go.  They are loose-fitting and have a drawstring so you can control the tightness at the waist.  The last thing you want is tight pants that are going to rub against your fresh tattoo all day.
Discover these sustainable sweat options.
Dress:
Whether your tattoo is on your lower half or upper half, a loose flowy dress is always a great choice.  Not only will it not rub against your tattoo, but it will keep you comfortable throughout the day.  Plus, with so many different colors and patterns out there, you are sure to find one that matches your style.
Here are some affordable maxi dress options.
T-Shirt
If you get a tattoo on your upper half, a soft baggy t–shirt should be a staple in your wardrobe.  Pick a fabric that is breathable and you'll be good to go no matter what you are doing, whether you are going to the office or going out for dinner.
Why not try an organic cotton t-shirt?
Flats and Sandals 
Depending on the location of your tattoo, a nice pair of flats or sandals may be just the thing you need to stay comfortable throughout the day without rubbing against your tattoo on your ankle or upper foot. 
Check out these vegan sandals.
Skirt 
Have a fresh tattoo on your thigh or calf? Why not rock a loose skirt?  With so many different colors and patterns, you are sure to find one that works for you.  Plus, if you find one with a loose, stretchy waistline, it can work for a hip, lower abdomen, or back tattoo too! 
Here are some affordable skirt options.
Button-Up Shirt 
A loose, baggy button-up shirt is perfect if you have a fresh tattoo on your upper body.  There are so many different styles to choose from for both women and men, you are sure to find one that will go with your outfit choice or fit your next occasion.
Find more button-up shirts here.
Hoodie 
For colder days, or for colder places, a hoodie is a go-to for a fresh tattoo on your upper body.  They can be layered over a t-shirt, tank top, or anything else and are a loose, stylish option to keep you warm.  Why not try a fun color or pattern? 
Why not try out a sustainably made hoodie?
Bralette 
Tattoo artists recommended going braless if possible if your tattoo is where a bra could rub up against it.  If going braless is not going to work, why not try a looser fitting bralette that can still offer you support while still providing more breathing room, a looser fit, and a better chance at a speedy healing time?
Check out these bralettes.
Slip On Shoes
For any foot tattoo, tattoo artists recommended going barefoot as often as possible.  Of course, that is not always possible.  If you do need to go somewhere with shoes, try a looser-fitting pair like slip-on sneakers with breathable cotton socks.  Just make sure to slip them off as soon as you get back home.
Discover more shoe options here.
Cotton Pajamas 
You've rocked the baggy clothes during the day, but what are you supposed to do at night? Tattoo artists recommend clean, loose cotton pajamas to sleep in that will breathe through the night and not rub against your fresh piece.
Stay cozy with these pajama brands.
Was this article helpful to you? Please tell us what you liked or didn't like in the comments below.
About the Author: Shelby Bonner