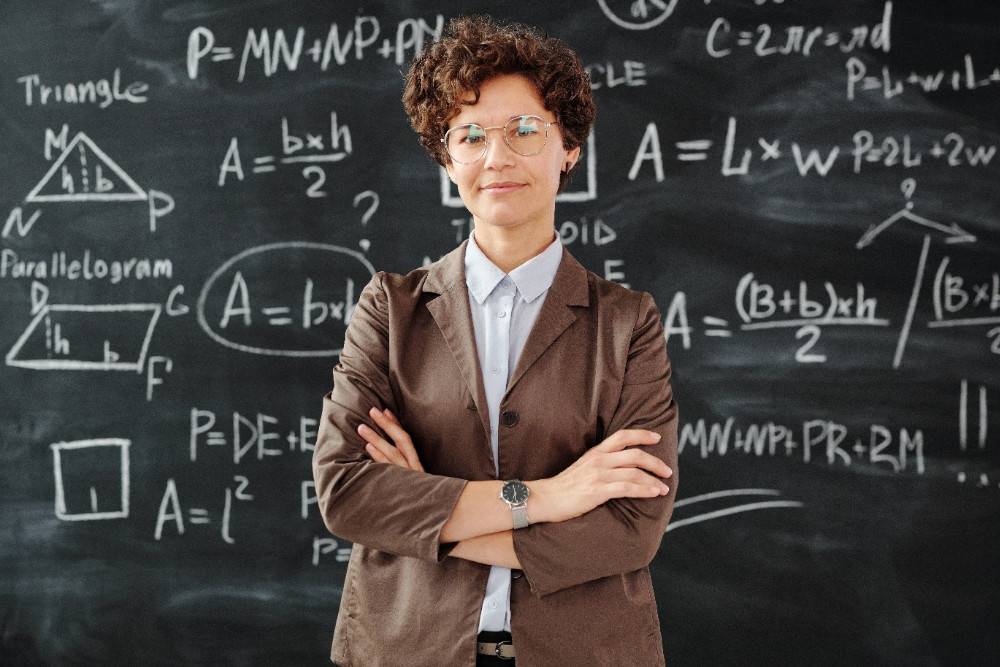 What Do Teaching Assistants Wear? 15 Best Outfit Ideas
Most teaching assistants usually have many questions when they start their careers, particularly about what to wear. How do they dress to look not only professional but also comfortable? Well, don't sweat; this guide shares invaluable tips on what to wear as a teaching assistant.

Having something resembling formal business clothes on hand, such as official trousers and a jacket, is a good idea because you can use them in various settings. You may also want breathable tops/shirts, as teaching might include a lot of movement, and you don't need sweat patches on your attire.

Additionally, go for outfits that are simple to clean. With preparing lessons and correcting homework, you want to avoid clothes that are hard to wash. Ensure the pants or trousers fit well and have enough elasticity to allow free movement.

Avoid clothes that are too small or tight, as this might limit your body language. This implies you'll need a combination of comfortable, formal, elegant, and acceptable apparel for daily use.

Below I share more tips and ideas on how teaching assistants can dress to work elegantly while remaining professional.

Panaprium is proud to be 100% independent, free of any influence, and not sponsored. We carefully handpick products from brands we trust. Thank you so much for buying something through our link, as we may earn a commission that supports us.

The school's dress code


The first thing you should consider while selecting an outfit is your school's dress code. This might assist you in deciding what not to wear. In some situations, the dress code is usually flexible, while in others, it is strict.

These sorts of limitations leave little room for fashionistas, and while t-shirts with patterns or a patterned top may be a better way to express yourself, certain institutions prohibit them. Please make sure you confirm before wearing any of them.
 
And then, after that, check out our definitive list of 34 types of dress codes for work.


A sweater blazer


A blazer quickly elevates an outfit's sophistication. On the other hand, a sweater blazer is exceptional because it is as comfy as a sweatshirt while maintaining the structure and chicness of a blazer.

You may wear it with skinny jeans, trousers, or whatever suits your style and dress code. The pattern makes the ensemble less plain and neutral.

Check out our selection of sustainable blazers to recreate the look.


A comfy dress

 
Go for a super soft, machine washable, long enough dress to sit on the floor, even with elementary school kids. A denim jacket adds structure, and ankle boots or flats complete the look. Or dress it down with white sneakers.

Discover our selection of eco-friendly denim jackets for women.


A midi skirt with a sweater

 
I adore the midi skirt and sweater combo! In a preppy way, it feels chic and effortless. You can wear it with sneakers, ankle boots, or flats.

Here are the best ethically-made sneakers out there.


Comfortable shoes


I recommend wearing shoes that are both comfortable and functional. You may be on your feet throughout the day. And you don't want to come home with sore feet from uncomfortable heels.

And that is not the only reason why you should wear comfortable shoes.

Check out this piece on the top 10 reasons you should wear barefoot shoes for more information. Flats, sandals, and simple sneakers are usually the best options.
 
Also, check out our selection of affordable, vegan, sustainable sandals.


A casual dress

 
Female teachers can throw in a casual dress to class as long as it is form-fitting. The mid-side knee-length dress option would be pretty comfortable and straightforward to wear.

Color is suggested and looks excellent in the summer and spring. Midi pencil skirts can also be paired with formal shirts or blouses.

Try contrasting colors since single-color clothing might be monotonous at times. You can spice it up with a colorful scarf or shrug.

Check out our selection of eco-friendly, cruelty-free scarves.


A formal suit with a blazer


At your literature class, surprise your students by wearing a formal button-down. Bring a tunic and a great indie shirt in the category of culture and society you are teaching.

The main idea here is to keep your students interested in your subject while maintaining a formal look.

Take a look at these elegant suits for women and men.


A maxi dress


Maxi dresses or skirts are a perfect length for the classroom since they keep you covered and comfy throughout the day! Choose one in a gentle orange or brown for a charming fall appearance!

These are the best maxi dresses to wear this season.


A bold retro look


Being a teaching assistant does not preclude you from wearing bright colors. You can wear bright and eye-catching colors to keep your learners focused in the classroom. For a more vibrant look, opt for turquoise or neons.

You may blend modest throwback designs with brightly colored structured jackets or skirts. Then, choose beige or white footwear to complement the bold colors of your dress.

Here is locally-made footwear to recreate the look.


A lightweight cardigan


A great way to counter-changing classroom temperatures is to wear light layers. Lightweight cardigans are great to layer over a summery outfit for fall coziness.
 
Check out our selection of lightweight cardigans.


A subtle pink outfit


Pink is an extremely feminine color that can never be avoided. If you're not a fan of pink, you may try other colors in the same category, such as peach or blush.

Wear your pink ruffled collar shirt with grey slacks or khaki and casual heels in the same color family. Use high-waisted belts and heart-shaped or pear-drop earrings to complete your ensemble.

Here are the best ethically-made belts to complete your outfit.


A flowing pleated skirt


The length is appropriate for a teacher's dress code, and the pleat shape has a pleasing flow that gives you an impression of elegance and refinement.

Check out our selection of affordable and sustainable maxi skirts.


A polka dot top with jeans

 
Another option for jeans fans is to match their pants with a flowy top. The shirt should then be tucked into your pants for a unique look.

You could, for example, wear pastel pink skinny pants with a flowy white top with black polka dots. Use complementing accessories with this attire to bring forth its best qualities.

Buy a sustainable and well-fitting pair of jeans from an ethical denim brand.


Makeup

 
The rule of thumb when it comes to makeup is less is more. Use a light amount of makeup and avoid using too much mascara.

The dress code may also include your hairstyle. But tying or putting your hair up in a ponytail is advised for longer hair.


What teaching assistants should not wear
Whether your school has particular requirements for dressing or not, some wardrobe choices are never acceptable. T-shirts and sweatshirts, as well as shorts, are not appropriate in the classroom.

Tight trousers or slacks, short skirts, sleeveless or scant tops, and anything ripped is not permitted. It is never acceptable to expose your stomach or reveal too much flesh.



Additional tips on what teaching assistants wear
Stock up on wardrobe essentials
Pick a few neutral go-to's and a rotation of your favorite colors to mix and combine to simplify your everyday options. Teacher attire may be as joyful and colorful as any other, and you shouldn't be afraid to experiment with different patterns or colors.
 
But a few basic dresses, trousers, skirts, blouses, and tops can save you time and cash.

Choose jewelry that is basic and modest
Instead of brightly colored or enormous and dramatic jewelry, select smaller, more discrete bracelets, earrings, and necklaces. Additionally, before you go to work, cover up or remove blatant tattoos or body/facial piercings.
 
Remember that your primary purpose is to educate, so keeping distractions to a minimum will assist students in concentrating.

No more stress in the mornings (or evenings)
You should be comfortable in what you wear, but remember that if you're in a school, what you wear can reflect on you as a teacher and the school.

Keep the above tips in mind when selecting your assistant teaching outfits, and you will have it easy at school while looking fabulous throughout the day.
I hope this was useful! When putting together an outfit for the next day, there will be no more tension in the mornings (or evenings) again! You have a comprehensive collection of clothes that will not let you down.

And perhaps share these tips with other teaching assistants to support them in dressing fabulously and confidently!
Was this article helpful to you? Please tell us what you liked or didn't like in the comments below.
About the Author: Dinushka Breaker Gunasekara