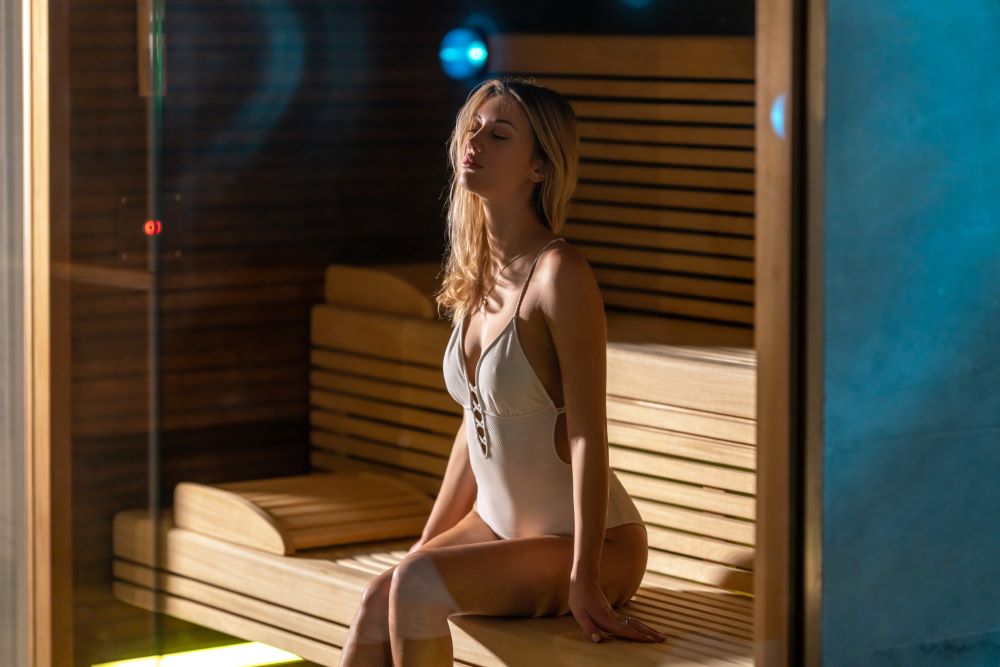 Salt Cave Attire: What To Wear For Full Relaxation
Salt caves are becoming more popular, being included in day spas, wellness centers, and fitness facilities. Sitting in a salt cave, also known as halotherapy, has a multitude of benefits, including stress reduction, improved breathing, and healthier skin.
This room is filled with a variety of salt and is meant as a place to unwind and meditate. Salt has natural anti-inflammatory properties, helping promote healthier skin and overall health. 
If you have never been, what you should wear might not be obvious. When going to a salt cave, your clothes should be first and foremost comfortable, as well as loose and breathable. 
Panaprium is proud to be 100% independent, free of any influence, and not sponsored. We carefully handpick products from brands we trust. Thank you so much for buying something through our link, as we may earn a commission that supports us.
Dress Code
There is no specific dress code, however, comfortable clothes are recommended for both women and men. Most places request you wear a pair of clean, white socks as shoes are not allowed in the salt cave. Some places will give you disposable foot covers to your ear before you enter the room.
Jackets, bags, and electronics are also not allowed in the room and are stored outside the room. Salt caves are also a scent-free zone as you will be in a small space, most likely with other people. 
Check out these organic socks.
Comfortable Clothing 
As you sit in the salt cave, the lights will be low, and soothing music may play, creating an atmosphere of relaxation and peace. Having too tight, rigid, or generally uncomfortable clothes will make it harder to relax and fully immerse yourself in the experience.
You don't have to wear your finest clothes to the salt cave. Loose, lounge clothes are the most common type of clothes worn as they are comfortable and won't distract you from enjoying the salt cave.
Learn more about what's more attractive - loose or tight clothes.
Warm Layers
Salt caves are cooler in temperature at around 70 degrees Fahrenheit (16 to 18 degrees Celsius). Some facilities will provide you with a warm blanket to keep warm, but bringing a warm layer like a sweater is also recommended. 
Shorts
If you are going to the salt cave for the salt's benefit to your skin, exposing your skin, including your legs is important. Salt particles will be absorbed directly into your skin, offering the full power of its skincare effects. 
Check out these organic cotton shorts for men and women.
T-Shirt
A T-shirt is a great option that can be worn on its own to expose your arms to the salt or can be layered under a sweater or hoodie if you get cold. Make sure your T-shirt is made from breathable fabric like cotton to allow as much of the salt to penetrate through it as possible.
Swimsuit
If you are sitting in a private salt booth, or don't mind exposing more skin, a swimsuit is a good option. The majority of your skin will be exposed to the salt benefits and any excess salt can be brushed off the swimsuit's smooth material.
Crop Top
A crop top is a great option to expose your midriff to the salt. Crop tops also come in a variety of lengths and styles so you can only expose as much skin as you are comfortable with in a public place.
Try out these affordable crop tops.
Put Your Hair Up
Pulling the hair away from your face and ears will allow these areas to also benefit from the salt. Your hair will also not get in your way or distract you as you relax and unwind in the salt cave.
No Metal Jewelry 
Metal jewelry can be damaged by the salt or easily lost on the salt-covered floor, and therefore is not recommended. Limited jewelry will also ensure you stay comfortable and more of your skin will be exposed to the benefits of the salt.
Save these jewelry brands for after your treatment.
Lighter Clothes 
After sitting in the salt cave, salt will sit on your skin and clothes. Although the salt can be easily wiped off, it will be more visible on darker clothes. If you are planning on going somewhere after the salt cave, lighter-colored clothes are recommended as any remaining salt will not be as visible on them.
Learn more about organic cotton here.
Robe 
A robe is an easy, comfortable option to wear to the salt cave, especially if you are in a spa or wellness setting. It can easily be adjusted to expose your legs, shoulders, and arms and then put back on when your time is done.
Leggings 
Leggings are a popular item to wear to a salt cave. Although they are form-fitting, many leggings are stretchy, breathable, and comfortable. Your legs will be covered and stay warm in the cooler room, while still being able to absorb the salt. 
Sweats
Sweats are another easy, comfortable option that offers more coverage and warmth, especially if you aren't going into the salt cave for the sole benefit of the salt to your skin. Their baggy nature can also be layered over a pair of shorts if you get too cold in the room.
Not Your Finest Attire 
Although the salt won't harm your clothing, sitting in the salt room is all about decompressing. Save your finest attire for another occasion, and instead opt for comfortable clothes that aren't fancy so you don't have to worry about them or feel restricted in them.
Save these formal outfits for after your therapy.
Breathable, Loose Fabric
Fabrics like cotton and linen are more breathable and therefore will allow more salt to penetrate through them and settle onto your skin. Loose fabric will be more comfortable and won't distract you, allowing you to fully relax and enjoy the benefits of the salt cave.
Learn more about the benefits of linen.
Romper
A romper is an easy, complete outfit that is also comfortable. Rompers also come in a variety of lengths and styles so you can find one that exposes the right amount of your skin for your salt cave experience.
Was this article helpful to you? Please tell us what you liked or didn't like in the comments below.
About the Author: Shelby Bonner