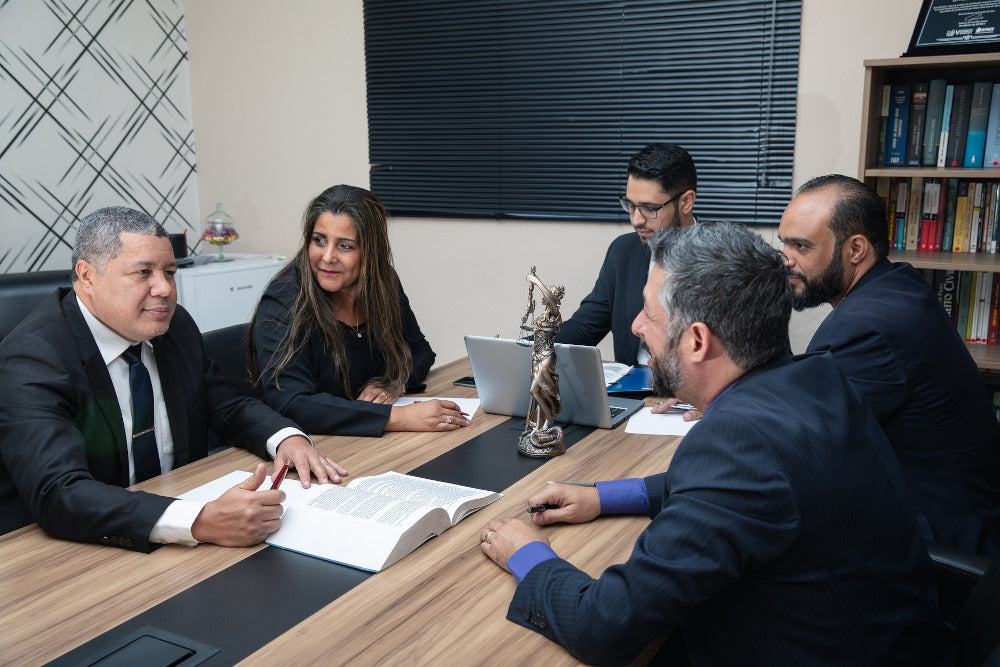 15 Practical and Comfortable Outfits to Wear to Jury Duty
The best outfits to wear to jury duty have a professional or business casual style like a suit, a blazer paired with a skirt, or a button-down and slacks. It is a good idea to wear layers for warmth and comfort as well as comfortable closed-toe shoes. Generally speaking, clothes that you would feel comfortable wearing to church or to the office will fit in at the courthouse.
Keep in mind that every court will provide its own dress code for jurors, with some courts allowing items such as blue jeans and others holding to a more traditional business style. When you put together an outfit to wear to court, try to maintain a style that respects the many different cultures and beliefs of the people attending a court session. This means wearing conservative cuts, avoiding anything with a printed graphic or an obvious brand logo, and keeping makeup and accessories to a tasteful minimum.
Panaprium is proud to be 100% independent, free of any influence, and not sponsored. We carefully handpick products from brands we trust. Thank you so much for buying something through our link, as we may earn a commission that supports us.
Business Casual
The most popular style to wear for a day of jury duty is a business casual outfit such as a button-up and slacks, a skirt and blouse paired with heels, or a professional-looking dress paired with a blazer. Business casual typically includes khaki pants, slacks, or knee-length skirts for bottoms. For tops, consider a polo, button-down shirt, dress shirt, or nice blouse. Try to avoid informal garments like jeans, shorts, super short or tight skirts, or low-cut tops.
Some courts allow for a slightly less formal style such as smart casual, which incorporates both formal and informal elements like pairing jeans with a button-down shirt, or a t-shirt with slacks and loafers.
Generally speaking, you do not have to wear fully professional clothing to serve as part of a jury. This means that men can typically wear a button-up shirt but no tie, for example. Women might wear a blouse and dress pants but no matching suit jacket. 
If you need a nice button-up shirt to wear for jury duty, check out the 15 best ethical button-up shirts for a dressy look here!
Respectful Attire
One of the most important things to keep in mind as you plan outfits to wear to jury duty is that you want to demonstrate respect for everyone in the court session. Since you will find yourself working with people from many different walks of life on the jury, it is best to play it safe and aim for a low-key style that will not shock or offend anyone.
This can mean leaving behind your designer handbag, jacket, or shoes with a blatant and expensive brand name logo. After all, many people (possibly including the defendant) may not find it possible to buy expensive clothing or bags. 
It can also mean avoiding anything that displays a crude or even funny graphic or print. Most courts probably rule out graphic tees and hoodies in the dress code anyway, but keep in mind that not everyone will appreciate your sense of humor if you wear a shirt emblazoned with your favorite off-color joke.
If you need a professional-looking, good-quality handbag that features totally vegan craftsmanship, check out this list of the 15 best affordable vegan leather bags.
Cover Up
Another way to dress respectfully as you serve as part of a jury is to make sure you wear clothing that covers you modestly. Of course, there is nothing wrong with embracing a more exposed style or celebrating the shape of your body with more revealing clothing! But in certain settings like a courthouse, you want to keep the attention on the proceedings rather than on you by fitting in with the business casual style of the court dress code.
To break it down more specifically, this means leaving behind your cute see-through tops and anything low-cut or clingy. It also means avoiding crop tops or short skirts. For both men and women, it may also mean wearing clothing that covers your tattoos.
The concept of dressing in a business casual or professional style can seem confusing if you work in a blue-collar or more laid-back environment. If you need more tips to help you know what you should and should not wear to jury duty, take a look at this list of the 23 office dress code do's and don'ts.
Comfortable Layers
As you put together outfits to wear to jury duty, always add an extra layer in case the temperature drops in the courthouse. You may find yourself sitting in an AC-chilled meeting room with the rest of the jury for long hours as you make decisions, so bringing along a cardigan, blazer, or suit jacket will help you stay comfortable.
Also, some courthouses will not allow you to take a bulky coat inside for security reasons. This is another great treason to bring an extra layer such as a sweater or jacket along with you! You can find the 20 best affordable and sustainable cardigans to consider here.
Solid Colors Vs Graphics or Brands
In general, it is a good idea to plan outfits made out of solid colors or simple prints rather than splashy patterns, logos, or graphics. Even something as seemingly simple as wearing a shirt with the logo of your favorite sports team on it could bias members of the court or jury against you, or make you seem unprofessional and less influential when it comes time to make a decision.
If neon colors or giant floral prints form an essential part of your style, go for it! You should not feel like you have to leave an important part of your personality at home when you serve on a  jury. That said, if you feel comfortable in sober, solid colors or simple prints, stick with those instead. Again, this simple fashion choice will help deflect attention away from you and onto the proceedings. It will also show that you understand the gravity of your role and have dressed professionally out of respect.
If you want to add a handful of solid-colored tops to your wardrobe for your time as a juror, check out this list of the 15 best affordable, ethical blouses here.
Slacks Vs Jeans
You can wear slacks, khakis, chinos, or dress pants to jury duty. Try pairing these slightly more formal bottoms with a nice blouse, a solid-colored t-shirt, or a soft sweater. 
Many courts have a dress code that does not allow jeans. This is because jeans have a more informal style, and also because banning denim completely means that the court does not have to spell out exactly what jeans you can and can't wear. If you are allowed to wear denim, the dress code will likely list all the kinds of jeans you cannot wear, such as ripped, frayed, worn, or tight jeans.
It probably goes without saying, but you cannot wear even more informal pants like sweatpants to jury duty!
Do you need to dress up your wardrobe with a pair of nice khakis before your first day as a juror? Take a look at this list of the 15 best affordable and sustainable chinos and khakis here.
Suit
The court does not often require jurors to wear completely professional clothing like a suit and tie or a skirt suit and heels. But if you want to really sell your image as a reputable, trustworthy, intelligent juror, you may want to wear a suit for at least one of the days you serve on the jury. 
If you do plan to wear a suit, aim for a nicely tailored suit that highlights your silhouette without clinging to you. Make sure you have your shirt and pants or skirt ironed and wrinkle-free as well.
If you need a new, stylish suit to give you confidence for your important act of civic duty, consider this list of the 20 best affordable and sustainable suits for men and women.
Blouse and Slacks
For women, one of the most comfortable outfits you can put together for a day of jury duty is a conservative blouse paired with slacks and ballet flats. Look for a blouse with a high neck, a loose fit, and sleeves. This way you do not have to worry about exposing anything when you sit or bend over, and can just relax throughout the day. 
In chillier seasons, you may want to swap out a comfortable, loose sweater for your blouse. Or try a pair of warm corduroy pants instead of slacks! Take a look at the 15 best affordable and sustainable corduroy pants here.
Closed-Toe Shoes
Most court dress codes require closed-toe shoes as part of the business-casual aesthetic. Wearing closed-toe shoes can help keep you safe if you trip or get stepped on. Technically, closed-toe shoes could mean anything from sneakers to snow boots. But more practically speaking, you should also try to wear professional-looking footwear like dress shoes, loafers, flats, or heels.
Comfortable shoes also help in case you have to walk from the courthouse to your hotel, or even down long hallways within the courthouse itself. You can find the 10 best affordable and comfortable ballet flats here.
Professional Dress
If you wear professional or business casual clothing to work every day, you may already have a selection of stylish and professional dresses to choose from for jury duty. This means a dress that has a hem that reaches to your knee or just above it, a high neck, and a tailored but not-too-tight fit. A sheath dress with a lining makes a great choice for a professional dress, as do some A-line dresses.
To make your dress look even more professional, layer a blazer or suit jacket over it and add either ballet flats or heels. Check out this list of the 13 best affordable and vegan heels here!
Blazer
One of the easiest ways to look smart and prepared for jury duty is to wear a blazer. This sharp-looking jacket pairs well with many outfits like a sheath dress and heels, a button-up and slacks, or even a solid T-shirt and nice jeans!
A blazer is a type of jacket that looks a lot like a suit jacket but is worn on its own without matching pants. It often has a solid color such as black or navy blue, which makes it easy to match with many different outfits. You can find the 20 best ethical and sustainable blazers that you'll love here!
Matching Set
As a person of a certain age, you can also dress respectfully for jury duty in a matching set such as a twinset or a sweater set. Alternatively, as a very fashion-forward individual, you may want to wear a sharp matching streetwear style suit. As you pick your outfit, keep in mind that you want to look put-together and prepared, but you also do not want to call a lot of attention to yourself.
You can find even more ideas for professional attire in this definitive list of the 34 types of office dress codes.
Traditional Attire
If you wear a specific type of traditional apparel as part of your cultural heritage, religious beliefs, or family background, you should feel confident in wearing that apparel to jury duty. Even if the court does have a mandatory dress code, it will typically allow for certain types of dress that have an important religious or cultural meaning. For example, if you commonly wear a sari, you should not feel like you have to dress in a traditional suit jacket and skirt instead. For example, you may want to consider the Anivila Misra linen collection here!
Likewise, if wearing a head covering has religious importance to you, you should feel comfortable wearing it to jury duty as well. 
Sweater
If you get called to jury duty during the fall or winter, plan to wear plenty of warm sweaters or cardigans instead of blouses or button-downs. Thin-knit sweaters tend to look dressier, while bulky chunky-knit sweaters will look more informal. 
You can find the 10 best affordable, ethical, and sustainable sweater brands here.
Tasteful Jewelry
Finally, you should keep your jewelry and makeup to a tasteful minimum for jury duty. Picking small, quiet jewelry like stud earrings or a simple watch means that you won't jangle and distract the court every time you move. Wearing simple makeup often makes you look more serious, which could help the rest of the jury find you more trustworthy. You should also think about practical elements such as avoiding wearing a strong scent that could cause an allergic reaction in people who have to sit close to you.
If you want to consider a few new tasteful jewelry pieces, take a look at the 15 best sustainable jewelry brands that you need to know.
Was this article helpful to you? Please tell us what you liked or didn't like in the comments below.
About the Author: Hannah Cobb