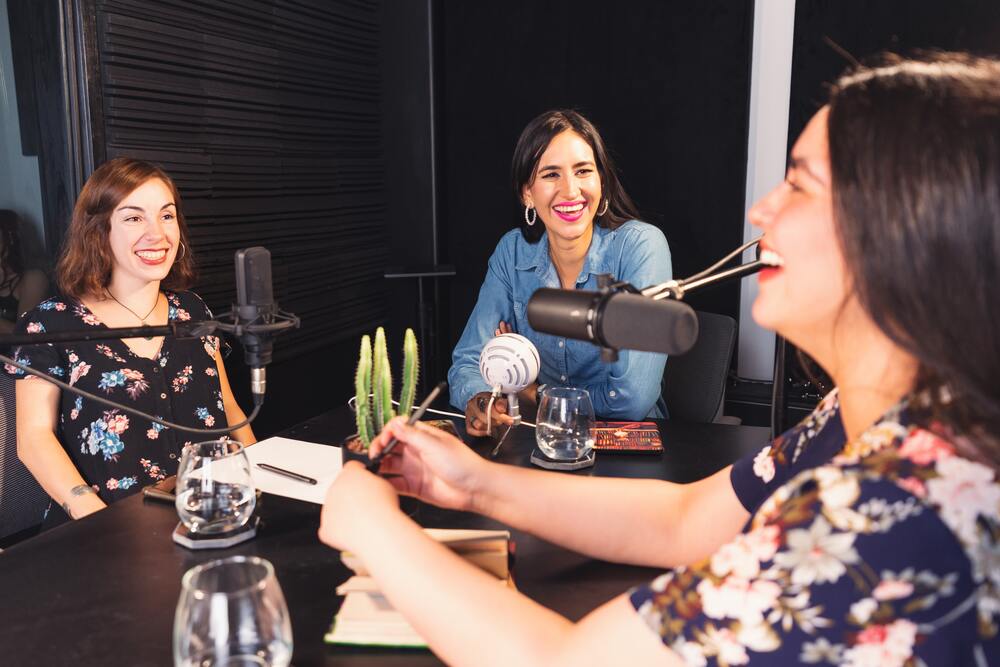 The Top 20+ Podcasts On Sustainable Fashion
Everyone interested in sustainable fashion should keep up with the latest trends and developments. Whether you're just starting on sustainable fashion or a longtime sustainable fashion enthusiast, you should learn about labor and environmental injustice problems to make ethical choices as a sustainability advocate and a game changer.
Do you want to learn more about ethical and sustainable fashion but lack the chance to sit, research, scroll and read an uncountable number of articles? Don't worry. Here are the 21 best sustainable fashion podcasts you should check out anytime and anywhere, whether you're on the way to the workplace,  school, or just at home doing everyday chores.
There is something here for everyone, from complete novices to seasoned proponents of eco-friendly clothing. Are you ready to learn about the best 20+ sustainable fashion podcasts? Let's get started!
Panaprium is proud to be 100% independent, free of any influence, and not sponsored. We carefully handpick products from brands we trust. Thank you so much for buying something through our link, as we may earn a commission that supports us.
Wardrobe Crisis
Clare Press, the Sydney presenter, author, and journalist, launched Wardrobe Crisis in July 2017. The podcast has more than 1 million downloads and uses comedy and sensitivity to tackle serious topics, including the exploitation of apparel makers, climate change, and plastic pollution.
Over time, the Wardrobe Crisis podcast has become more famous and informational, with over 145 episodes. Clare Press's guest list is diverse and comprehensive, including fashion models, designers, campaigners, economists, and industry executives. The award-winning journalist interviews experts to better understand the fashion industry's impact on people and the planet.
Conscious Chatter
Conscious Chatter by Kestrel Jenkins is a sustainable fashion podcast that explores topics related to ethical fashion. The podcast features interviews with industry experts, influencers, and entrepreneurs. Kestrel Jenkins shares her passion for conscious living and encourages listeners to rethink their relationship with fashion and make more sustainable choices.
Additionally, from conversations about the environmental impact of fast fashion to the importance of transparency and accountability, the Conscious Chatter podcast is a must-listen if you're interested in the future of fashion. With over 236 episodes, the Conscious Chatter podcast reimagines the narrative around sustainable fashion and challenges the norms of resourcefulness, consumerism, and oppressive systems in the fashion industry.
Good Influence
Good Influence is a podcast hosted by Gemma Styles. It brings attention to important sustainability topics you might not know enough about. Gemma Styles invites a weekly guest to discuss issues such as sustainable fashion, mental health, climate change, and food waste.
With 13 episodes, Good Influence is an excellent resource for anyone looking to broaden their knowledge and stay informed on pressing issues. The podcast encourages listeners to join the conversation and participate by sending messages and questions to the host's email address.
Generally, the Good Influence podcast aims to raise awareness and promote positive change. It's an excellent starting point for anyone looking to impact the world positively.
Style & Sustain
Style & Sustain is a podcast hosted by Amma Aburam. The trending sustainable fashion podcast is perfect for people who want to wear stylish clothes while positively impacting the world.
Aburam shares her journey from being a fast-fashion addict to a sustainable fashion advocate. In the various episodes Style & Sustain, Amma Aburam interviews trailblazers who inspired her shift towards sustainability. The host goes further and encourages listeners to adopt a more conscious and responsible approach to fashion.
One episode of the Style & Sustain podcast you shouldn't miss is "3 Ways to Inspire People to Dress More Consciously." In the episode, Aburam shares personal experiences and tips on inspiring people to embrace a more sustainable approach to fashion. Furthermore, the episode covers important do's and don'ts when promoting conscious and sustainable fashion.
Another incredible Style & Sustain episode is "Style & Omi Na-Na with Esha Ahmed," where Aburam interviews Esha Ahmed, founder of Omi Na-Na. In the episode, Ahmed talks about her brand's craftsmanship and shares insights into the hidden realities of Indian garment workers. The episode has an eye-opening conversation about the importance of ethical and sustainable production practices in the fashion industry.
Overall, Style & Sustain is an excellent podcast for anyone looking to learn more about sustainable fashion. It will guide you to impact the world through conscious fashion choices positively. Aburam's engaging style and insightful interviews make the Style & Sustain podcast an essential resource for anyone who wants to dress well and do good.
Pre-Loved Podcast
The Pre-Loved Podcast is perfect for anyone interested in vintage style, reusing, reselling, upcycling, recycling, and more. Hosted by Emily Stochl, this podcast features engaging conversations with guests who sustainably share their expertise and experiences. Whether you're a seasoned thrifter or just starting to explore sustainable fashion, "Pre-Loved Podcast" has something for everyone.
One re-Loved Podcast episode to catch up with is Emily's conversation with Orsola de Castro, co-founder of Fashion Revolution Week. The two experts discuss topics such as sustainable fashion movements, upcycling, and the importance of loving our clothes. Their conversation provides valuable insights into sustainable fashion and inspires listeners to make positive changes in their own lives.
Another episode worth listening to is Emily's conversation with Rory Westbrook of True Vintage. The episode offers a fascinating look at the "secrets of success" to sustainability businesses built from scratch. Rory shares his story of reselling vintage clothes in his university hostel to becoming one of the biggest online retailers of 90s vintage. The insights and experiences of Roy provide valuable lessons for anyone looking to start their own sustainable fashion business.
Are you looking for a reliable resource on sustainable fashion and vintage style? Try Pre-Loved Podcast. Emily's engaging style and insightful interviews will help you positively impact the world through conscious fashion choices.
Fashion Revolution
Fashion Revolution Podcast explores issues surrounding fast fashion. The host of the Fashion Revolution Podcast is Tamsin Blanchard. Tamsin interviews experts such as garment workers, activists, supply chain specialists, and politicians to uncover hidden truths behind the rag trade and sustainable fashion production.
With only four episodes, Fashion Revolution Podcast offers a concise and impactful introduction to the true cost of the fashion industry. It encourages listeners to ask the important question: "Who Made My Clothes?"
Through insightful interviews and expert analysis of Tamsin Blanchard,  you will learn about the urgent need for change due to the damaging impacts of fast fashion. Tamsin encourages listeners to take action by making more conscious fashion choices and advocating for a more sustainable fashion industry.
Whether you're a seasoned advocate for sustainable fashion or just starting to learn about sustainability issues, the Fashion Revolution Podcast is the best sustainable fashion podcast for you.
Dressed
If you're interested in exploring fashion's rich social and cultural histories, look no further than Dressed sustainable fashion podcast. Cassidy Zachary and April Calahan host the dressed podcast. It boasts an impressive archive of over 250 episodes. With the knowledge that over 7 billion people get dressed daily, Cassidy Zachary and April Calahan emphasize the importance of understanding the complex and often hidden stories behind our clothes.
Through engaging interviews with fashion experts,  artists, and fashion designers, the Dressed podcast offers a unique perspective on the fascinating world of sustainable fashion history. In that case, the episodes of Dressed podcast cover topics like the Red Dress Embroidery Project, which empowered women artisans worldwide to share their stories through embroidery.
It also addresses vintage dressing with bandleader and style activist Dandy Wellington. Explore the fascinating stories behind our clothes in the Dressed: The History of Fashion podcast.
American Fashion Podcast
The American Fashion Podcast, hosted by Charles Beckwith and Cathy Schepis, is a weekly show that tackles various topics related to the fashion industry. Some issues discussed by the podcast include human trafficking, labor abuses, and intellectual property theft. Generally,  the hosts shed light on various problems plaguing the fashion industry.
Furthermore, the American Fashion Podcast also addresses the fashion industry's environmental impact. The fashion sector is notorious for being one of the most polluting industries. By highlighting this issue, the hosts encourage listeners to find a balance between fashion's social and environmental aspects while maintaining their unique style.
Some episodes of American Fashion Podcast include interviews with fashion insiders like designer Telfar Clemens, a sustainability expert, Daniel Silverstein, a fashion designer, and Vanessa Friedman, a fashion journalist critic.
Listeners also learn about the rise of athleisure and the role of fashion in politics. American Fashion Podcast is a thought-provoking and informative show that explores the complex and multifaceted world of fashion.
Business with Purpose
Molly Stillman, a fashion blogger, hosts the Business with Purpose podcast. In various episodes, Molly Stillman interviews entrepreneurs who strive to change the world. The podcast inspires listeners to make a positive impact by supporting purpose-driven businesses since every purchase is a vote. Although the podcast does not solely focus on fashion, some must-listen-to episodes include.
"Ethical Fashion, COVID-19, & Pursuing a Dream" with Paola Masperi, the founder of Mayamiko, an ethical and zero-waste fashion brand. Paola shares insights on creating women's clothing from pre-consumer waste and fabric deadstock by blending Italian and conventional Malawian craftsmanship techniques.
"Sustainably Growing a Sustainable Fashion Brand" with Belinda Kazanci, the founder of Bel Kazan, an ethical women's wear brand. After a life-changing trip to Bali, Belinda started Bel Kazan. Listen to learn how vibrant textiles and joyful Balinese people inspired her journey.
Fashion No Filter
Fashion No Filter podcast is hosted by Camille Charrière and Monica Ainley. The show combines a unique blend of fashion and fun in a traditional radio-style format. With each episode, Camille and Monica take listeners through the fashion industry, sharing their insights and perspectives on the latest trends and hot topics.
Camille and Monica also interview guests from the fashion world, providing a fresh and unique perspective on the industry. Fashion No Filter combines entertainment and educational content to give fashion enthusiasts a new and refreshing take on the fashion world.
Sustainably Influenced
Bianca Foley and Charlotte Williams are the hosts of Sustainably Influenced. The unique and diversified podcast aims to inspire listeners to make a positive impact through sustainable living. With a focus on interviewing sustainability and ethical living experts, the hosts delve into various aspects of leading a conscious lifestyle while clarifying the many terms used across industries.
Some episodes worth checking out are:
Fixing Fashion with Josephine Phillips, founder of Sojo. Phillips developed the first UK app that simplifies clothing alteration and repair after realizing that the second-hand clothes she loved were never her size and that there was no convenient way to alter them.
Why Sustainable Fashion Can't Be Cheap with Harriet Saywood-Bellisario, designer and creative director of Saywood, an ethical womenswear brand, Saywood-Bellisario provides insights into why sustainable fashion is often expensive; it can't be cheap.
The Futurist Podcast
Jo Linehan, the lifestyle journalist and co-founder of GAFF, hosts and produces The Futurist podcast, which features the fascinating sustainable lifestyle brands and leaders in Ireland.
From well-established eco-friendly fashion labels to modern beauty and homeware businesses, Jo provides insight into the principles and techniques behind some of the globe's most inspiring sustainable goods and practices.
The Futurist podcast show delves into the challenges and achievements of creating environmentally conscious businesses. Some remarkable episodes have included Katie O'Riordan from Theo & George, Tipperary and Dublin-based beauty brand Nunaiai, Reuzi founder Pat Kane, Sadie Chowen of the Burren Perfumery, and the talented design duo Jill & Gill.
Fashion Unzipped
Unleash your fashion knowledge with Fashion Unzipped. The Fashion Unzipped podcast from The Telegraph offers a comprehensive view of the industry's latest trends, styles, and insights.
Charlie Gowans-Eglinton and other top fashion editors at the publication host the fashion Unzipped podcast. It covers not just what's hot in the fashion weeks of London, Milan, and New York but also the more profound and more significant issues such as ethical supply chains in the fashion industry, sizeism, and gender equality. Tune in and join the fashion conversation!
Breakfast and Beyond
Join Tia Tamblyn on a journey through the Cornish community in her podcast, Breakfast & Beyond. In each episode, Tia shares a vegetarian breakfast with a guest and dives deep into how they are taking steps towards embracing sustainability in their work and personal life.
Tia's guests share personal insights on how to live a more sustainable lifestyle, covering everything ranging from fashion, food, floristry, agriculture, homewares, skincare, well-being, and more.
As a listener, expect to learn about locally sourced fresh produce, growers and producers, and valuable information about each guest's work. The podcast is released monthly and coincides with the changing seasons. Don't forget to subscribe to Breakfast & Beyond for a monthly dose of inspiration for a more sustainable lifestyle.
Spirit of 608
The podcast, Spirit of 608, features fascinating conversations with women making a big impact in fashion, sustainability, technology, and entrepreneurship. Hosted by fashion journalist Lorraine Sanders, each episode provides insightful stories, tips, and advice that inspire you to pursue your dreams.
 Don't miss these episodes:
The Future of Fashion with the Material Innovation Initiative co-founder Nicole Rawling. Nicole and Lorraine dive into the world of sustainable materials and textiles and discuss how innovation can change the future of fashion.
The Science of Better Sleep with Sustainable Clothing with Catarina Dahlin, co-founder of Dagsmejan. Catarina shares how she created an ethically-produced sleepwear brand that uses innovative fabrics to regulate body temperature and improve sleep quality.
Wear Your Values Podcast by Echte
The Wear Your Values podcast by Echte provides listeners with valuable insights into the world of sustainable fashion. It also breaks down common sustainability jargon and offers a comprehensive understanding of the lifecycle of a garment.
Through engaging and informative episodes, listeners learn about the materials used sustainably and how these materials impact the environment.
One of the key topics explored in the Wear Your Values podcast is the lifecycle of a garment. Echte takes listeners on a journey from producing apparel to its disposal. Episodes also highlight the process's various stages and their impact on the environment.
Furthermore, Echte also explores what it takes for a brand to be truly sustainable. Through interviews with industry experts and thought leaders, Echte provides listeners with valuable insights into the challenges and opportunities of sustainable fashion.
They discuss the importance of sustainable transparency, accountability, and social responsibility, highlighting the companies leading in this space.
Common Threads
Join ethical fashion writer Ruth MacGilp and stylist Alice Cruickshank as they discuss fashion that values sustainability and respects people. Common Threads podcast is enriched with conversations by fashion insiders. The hosts, Ruth and Alice, explore various ways to create a better industry that prioritizes ethical and sustainable practices.
 Check out these must-listen episodes:
Starting an Ethical Fashion Brand with Lora Nikolaeva: Learn valuable insights from Lora, the owner of Lora Gene, an ethical brand with over ten years of experience building a sustainable business.
Breaking Up with Fast Fashion with Lauren Bravo: Join Lauren, the author of "How to Break up with Fast Fashion," as she shares her journey towards a more sustainable wardrobe and provides helpful tips for those who want to quit fast fashion for good.
Sustainable Talks With N&N
Sustainable Talks with N&N is a podcast hosted by two longtime friends with over 15 years of experience in the fashion supply chain. As insiders, they shed light on the complex world of sustainable fashion by discussing the latest innovations, trends, and technologies.
Sustainable Talks with N&N explore the most pressing issues and chat with leading experts and entrepreneurs who make a difference in the industry.
Check out these must-listen episodes:
The Future of Textile Recycling with Dr. Sasha Stolyarov, founder of Material Exchange. Stolyarov talks about how his platform is revolutionizing textile waste management and what it takes for the future of sustainable fashion.
From Waste to Wealth: Upcycling Fashion with Marina Spadafora, founder of Eco-Age's "Brand for Good" program. Marina shares her journey towards creating a circular fashion model and offers insights into how the industry can shift towards a more sustainable future.
Wardrobe Shift
The Wardrobe Shift is a podcast that delves into wardrobe and style issues. It's hosted by South African fashion editor, stylist, and speaker, Jessica Ramoshaba. Her Styling classes are full of practical shopping tips to help listeners become more sustainable and stylish.
Episodes not to miss include:
Styling Class: Tips on how to wear all your clothes in your closet. In this episode, Jessica provides style solutions for women to wear all the clothes in their wardrobes, thereby avoiding over-shopping or duplication.
Styling Class: How to plan your wardrobe like a Fashion Editor. This episode offers a fashion editor hack to help solve the "I have nothing to wear" syndrome that many people experience. The show also helps in planning your wardrobe better and saving money.
Big Closets Small Planet
Founder of the Sustainable Fashion Academy, Mike Schragger, hosts Big Closets Small Planet. In this podcast, Mike Schragger explores the challenges and solutions needed to transform the fashion industry rapidly.
The interviews Big Closets Small Planet podcast include consumers striving to make the fashion industry more sustainable, business leaders, innovators, activists, researchers, and entrepreneurs. Two must-listen episodes of the podcast are:
Fact or Fiction: This episode explores whether the apparel industry creates more greenhouse gasses than flights and shipping combined.
Inspiring Innovation: The apparel industry generates significant waste, but what are the most innovative solutions for turning textile waste into valuable resources and reducing waste overall? Mike interviews three innovation experts in this episode.
Ethical Fashion Podcast
The Ethical Fashion Podcast is brought to listeners by the Ethical Fashion Initiative, which connects marginalized artisan communities with major global fashion brands. The podcast is hosted by UN officer Simone Cipriani and sustainable fashion journalist Clare Press and delves into environmental justice, sustainable development, and social inclusivity. All are the key issues driving the ethical fashion movement.
In one episode, "Overproducing & Undervaluing Fashion – Slow Fashion Seasons," the hosts explore fashion's discount culture, rapidly accelerated sales cycles, and issues of overproduction out of control. The episode offers insights and actionable tips for how we can all consciously slow down, become more mindful of our buying habits, and learn to appreciate the value of the clothing we purchase.
Another must-listen episode, "What is the Future of Fashion Weeks?" critically examines the traditional model of international fashion weeks and how it contributes to pollution and lack of inclusivity. With the help of their guests, the hosts explore ways to become more sustainable and equitable.
Style With Substance
Style With Substance is an informative and engaging podcast that explores the intersection of sustainability and fashion. Lucy Kebell, the founder of the Vendeur, hosts it. Style With Substance podcast offers listeners valuable insights into how they can make their fashion choices more sustainable.
Each week, Lucy invites an industry insider as a guest to discuss various topics related to sustainable fashion practices. From the impact of fast fashion to innovative ways to recycle clothing, this podcast covers it all. Lucy and her guests explore the latest trends sustainably, share practical tips on creating a sustainable wardrobe, and highlight the companies and individuals making a positive impact in the industry.
One of the key topics covered in the podcast is clothing recycling. As a growing concern in the fashion industry, clothing recycling is an essential aspect of sustainable fashion. Lucy and her guests discuss how consumers can recycle their clothes and how companies can implement more sustainable practices to reduce waste.
Another popular topic covered in the podcast is wardrobe rentals. With the rise of the sharing economy, wardrobe rentals are becoming an increasingly popular option for those who want to enjoy the latest fashion trends without contributing to the fast fashion problem. Lucy and her guests explore the pros and cons of wardrobe rentals and share tips on making the most of this sustainable fashion trend.
Overall, "Style With Substance" is a must-listen podcast for anyone interested in sustainable fashion practices. Tune in each week to learn from the experts and discover new ways to make your fashion choices more sustainable.
Wrap Up
Sustainable fashion podcasts are great resources for people who want to learn more about ethical fashion, inclusivity, social and environmental justice, and innovative solutions for a more sustainable fashion industry.
Whether you're a fashion industry professional, a student, or simply an individual who wants to make a difference in the fashion world, there's a podcast for you.
From The Wardrobe Shift to Conscious Chatter, Sustainable Talks with N&N, and Big Closets Small Planet, the range of sustainable fashion podcasts available is diverse and engaging. Tune in, learn, and be inspired to join today's sustainable fashion movement!
Was this article helpful to you? Please tell us what you liked or didn't like in the comments below.
About the Author: Geri M. Vin