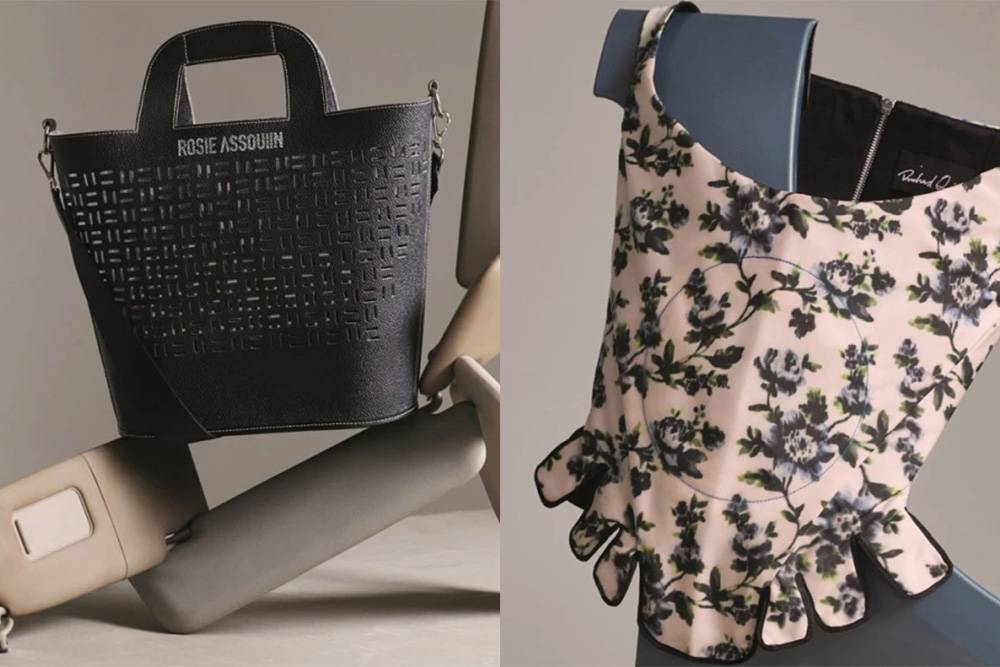 Hyundai New, Unique, Sustainable Fashion Pieces
Partnering with established fashion brands, car manufacturer Hyundai released a capsule collection featuring unique pieces made from recycled automotive waste, such as a handbag by Rosie Assoulin and a floral patterned corset by Richard Quinn, as seen above.
Transforming car manufacturing waste into new fashion items is a sustainable way of reducing the
disastrous environmental impacts
of both the automotive and fashion industry.
"Working with cars, automobiles, heavy machinery, automation is so outside of our usual realm. At the same time [it's] very much in our vocabulary to use nontraditional materials."
- Rosie Assoulin, fashion designer
This initiative is Hyundai's second sustainable fashion collection. The company wants to help consumers and designers imagine a more
circular future
for each industry.
It aims to demonstrate that companies don't necessarily need to extract more natural resources to manufacture new beautiful, useful, and stylish products.
They can use upcycled or
recycled materials
made from post-consumer or post-industrial waste and help preserve the planet, the people, and the animals living on it.
Hyundai's new project features unique fashion items made from discarded cars, including seat belt webbing, carpet fabric, foam, leather scraps, glass, and airbags.
Experienced fashion designers were invited to showcase how these materials can be used to design and bring to life brand new items that aren't just as fashionable as they are practical.
The plan is to sell these limited-edition pieces in the London department store Selfridges with prices ranging from USD 250 to 1,450.
Upcycling is gaining traction in fashion, as more brands, designers, and consumers see its many
social and environmental benefits
.
The process of upcycling means transforming used items into something new and more valuable. It offers old products a new life, extends the time they are being used, instead of letting them go to waste.
Especially after the
coronavirus pandemic
, fashion companies need to make more sustainability efforts to thrive in the market, taking massive action to reduce pollution, waste, and carbon emissions.
Otherwise, they risk losing market shares, the trust of their employees, suppliers, partners, and customers. As conscious consumerism is rising, buyers are asking for more transparency, accountability, and sustainability.
"Post the pandemic, we have a massive opportunity to reset the fashion industry rather than returning to business as usual. Upcycling, in particular, has to be part of the future."
- Caroline Rush, CEO of the British Fashion Council
Was this article helpful to you? Please tell us what you liked or didn't like in the comments below.