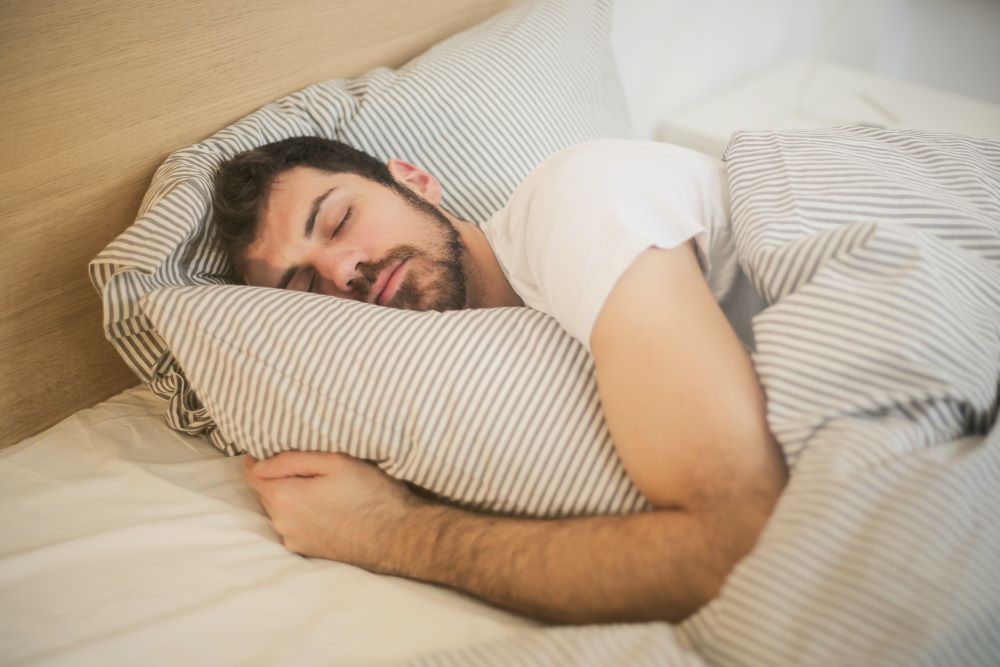 Preferred Sleepwear Choices: What Do Most Guys Wear to Bed
Across the world, everyone has their bedtime ritual and routines, including changing into their pajamas. So what do most men choose to wear to bed?
Many men run higher in temperature, making choosing sleepwear that will help keep them stay cool throughout the night a priority. Comfort is also a priority, with many men choosing clothes that aren't too tight that they dig in, or so loose that they bunch up or fall off.
Let's take a closer look at the most common outfits men prefer to wear to bed.
Panaprium is proud to be 100% independent, free of any influence, and not sponsored. We carefully handpick products from brands we trust. Thank you so much for buying something through our link, as we may earn a commission that supports us.
Boxer Shorts
Boxer shorts are an inexpensive, accessible option which is why many men choose them. Many men will already have plenty of boxers in their closet, making them easy to wear into the night. Boxers are comfortable and loose as well as breathable, helping keep men cool.
Find more boxer short brands here.
Briefs
Like boxer shorts, briefs are also an option most men have in their closet. They are tighter so they won't slide up or bunch up at night. Being more form-fitting, they can also be more flattering which can help boost mood and confidence before slipping into bed.
Check out these briefs.
Pajama Shorts
Pajama shorts are a slight step up from underwear. Being a separate piece for the night that isn't worn during the day, they are more sanitary and will last longer. Pajama shorts come in a variety of shapes and materials, with some shorts having a silky fabric, creating the feeling of a second skin.
Some shorts are even made of a material like mesh that helps with airflow and circulation, while others are made of a material like cotton that absorbs sweat.
Try out these organic cotton pajama brands.
Pajama Pants
Pajama pants are a popular choice during the colder months. Not only do they provide more warmth, but they also provide more coverage for a more modest look. Many pajama pants have a drawstring, making it easy to adjust them to how you like.
Pajama pants are still an option for the warmer months, look for ones made from light material like linen. They will offer coverage while still allowing you to stay cool.
Why not wear a pair of sustainable pajama pants?
Light Undershirt
A light undershirt is an option that can be worn from the daytime into the nighttime. Undershirts are easy to find, and can easily be bought in bulk. They are a light, loose option that easily covers your top half during the night.
Discover more undershirt options here.
Thick Socks
Warm, thick socks are a staple for many men during the winter months. Some men wear them to bed, while others wear them just in the morning or nighttime before going to sleep.  
No matter what option you choose, socks absorb sweat, dirt, and dead skin so make sure to only wear them once before picking out a new pair.
Wear these socks tonight.
Sweatpants 
Another day-to-night option is sweatpants. Many are made of thick, warm material like fleece to keep your legs warm in the winter. Others, made from light workout material, are meant for the warmer months. Both options are a comfortable choice for lounging and sleeping.
Try out these affordable sweatpants.
Nothing
Many men prefer to sleep with nothing on as they find clothes act as insulators, keeping in any access heat. By not wearing clothes, many men find they can regulate their body temperature better and sleep better with nothing to constrict them or get in their way.
Check out these laundry tips for clean sheets.
Pajama Set
A nice pajama set is a more stylish option. By having a matching top and bottom, you have a complete look that can be worn around the house and in bed. Many pajama shirts also have buttons, letting you button up if you are cold, or unbutton if you get too hot.
Pajama sets come in various lengths, materials, and styles depending on the season and the look you are going for.
T-shirt
Most men have a collection of t-shirts in their closet, making them an easy choice to wear to bed. Choose t-shirts with a breathable material like cotton to keep you cool and dry through the night. 
Check out these organic cotton t-shirts.
Long Sleeve
Long Sleeves, like t-shirts, are an accessible option that is also comfortable. They also offer more coverage and more warmth in the colder months.
Discover these long sleeves.
Nightshirt
Despite being known as being worn by older men, the nightshirt is coming back into many guy's sleep collections. It provides coverage for the guy's top and bottom without restriction. It is breathable and helps keep them cool during the night.
Though not for everyone, the nightshirt is an excellent option to consider for lounging and for sleeping. Why not give it a try?
Find more sleepwear guys like to wear here.
Robe 
Although men don't typically wear robes to bed, many men wear them for lounging around the house. They are loose, comfortable, and easy to put on in the morning and take off before bed.
Check out these affordable and sustainable robes.
Gym Clothes 
Gym clothes are multipurpose in that they are breathable and loose for working out and for sleeping. Many men find gym clothes help them stay comfortable and cool in bed, as well as dry as gym clothes are meant to absorb sweat and moisture.
Try out these ethically made gym clothes.
Crewneck Sweatshirt 
A crewneck sweater will keep you warm without smothering you. A sweatshirt also has no hood, zipper, or buttons to get in your way as you sleep. Have sweatshirts you wear just for sleep, or utilize your day crewnecks for sleepwear as well.
Hoodie
A hoodie is a warm, cozy option that can be worn on its own or layered over an undershirt. The hood offers extra cushion and even some noise-canceling benefits.
Check out these hoodies.
Have a great night sleep! 
Was this article helpful to you? Please tell us what you liked or didn't like in the comments below.
About the Author: Shelby Bonner