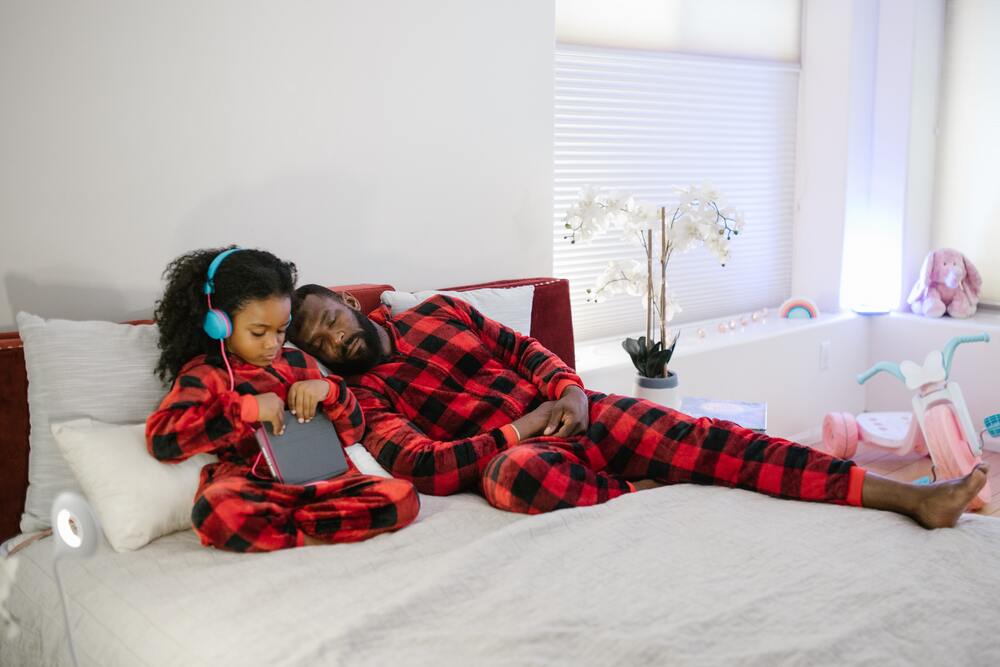 What Type Of Sleepwear Do Guys Like? Find Out Here
The notion out there is that men don't really care about what they wear as long as they are not naked. Now imagine what the situation is like when it comes to sleepwear!
Well, this is not necessarily true because sleepwear does play a vital role as far as comfortable sleep is concerned. And the best part is that more men now recognize that sleeping in the right outfit is a game-changer.
So, what type of sleepwear do you guys like? Here are 15 options to choose from if you are a guy looking to buy or a woman looking to gift that special man in your life.
Panaprium is proud to be 100% independent, free of any influence, and not sponsored. We carefully handpick products from brands we trust. Thank you so much for buying something through our link, as we may earn a commission that supports us.
Classic pajamas
Of course, pajamas had to be first on the list, and why not when they are a classic option? You can get a pair comprising a button-up top with matching bottoms. If you want a classic look, get a tailored look.
Whatever you choose, a good pajama will make you confident and give gentleman vibes.
T-shirt and shorts set
This is a simple yet stylish option. The t-shirt and shorts set is perfect if you live in a humid area or you tend to get extremely hot at night because it offers both breathability and comfort. It's also a great go-to choice for a relaxed and casual vibe.
Henley sleep shirt
This type of shirt comes in a loose fit and a buttoned neckline. What this does is that it gives you comfort while ensuring that you look laid-back and stylish.
Lounge pants
As the name suggests, these are great for lounging around the house. They also make good sleepwear because they are usually made from soft fabric and come in a relaxed fit, making them highly comfortable. Pair them with an equally comfortable top, and you have a winner!
Onesies
These are synonymous with children and sometimes women, but what rule states that a grown man can't sleep in a onesie?
In fact, onesies are a great option because aside from giving the feeling of nostalgia and playfulness, they are a comfortable option. Moreover, they come in various designs, from superheroes to animals, allowing guys to express their unique personalities.
Organic cotton robe
Nothing communicates lavishness quite like a robe. Therefore, if you are a man who appreciates luxury, an organic cotton robe will undoubtedly add a touch of sophistication to your bedtime routine. It is a smooth texture and elegant drape make it an irresistible choice.
Athletic shorts and tank top
For the sporty man, athletic shorts and a tank top offer breathability and freedom of movement. As you can imagine then, they are perfect for sleeping as well. Get these if you want to stay comfortable during your sleep and work out after or vice versa.
Flannel sleep pants
There is a reason why flannel is used to make baby clothes. It is one of the coziest materials. The best part is that it can also be used to make adult sleepwear.
With its soft and warm fabric, flannel can make great sleep pants that will offer comfort and warmth on cold nights.
Waffle-knit thermal set
During chilly weather, a waffle-knit thermal set becomes an excellent option. Just as the name implies, it comes with thermal properties and textured fabric, meaning you get all the warmth you need. Moreover, you don't have to compromise on your style because it also looks stylish.
Sleep shorts
If your man prefers breathable and lightweight sleepwear, then sleep shorts will be the perfect option for them. They are ideal for tropical getaways where the nights are expected to be warm. Get these if your man prefers minimal coverage or likes showing off their legs.
Jersey lounge shorts
Jersey lounge shorts offer a fantastic choice for men seeking a combination of comfort and style during their downtime. These shorts are made from soft, stretchy jersey fabric and provide a relaxed fit for easy movement and maximum comfort.
As if that is not enough, they often feature an elastic waistband with a drawstring for a customizable fit. So whether they are for a slim or full-figured man, these shorts will come in handy for warmer climates or summer nights.
Lounge t-shirt
These offer a more tailored and sophisticated look compared to traditional pajamas. As such, they are the perfect gift for a man who cares about his appearance. Pair them with a tailored, comfortable sleep short for that polished look.
Satin sleep shirt
The satin sleep shirt is a luxurious and stylish option that adds a touch of elegance to men's sleepwear. Of course, this is to be expected because of the smooth and silky satin fabric. Besides, such a sleep shirt offers a refined and sophisticated look while ensuring maximum comfort.
It is also a great option for warmer nights or guys who generally prefer to sleep light. Get one with a button-up front, collar, and short sleeves if you want a classic and tailored appearance.
Hooded sleepwear
This kind of sleepwear is a popular choice among men who prioritize both comfort and style in their nighttime attire. It typically features a hooded top that provides extra coziness and warmth.
Was this article helpful to you? Please tell us what you liked or didn't like in the comments below.
About the Author: Dinushka Breaker Gunasekara