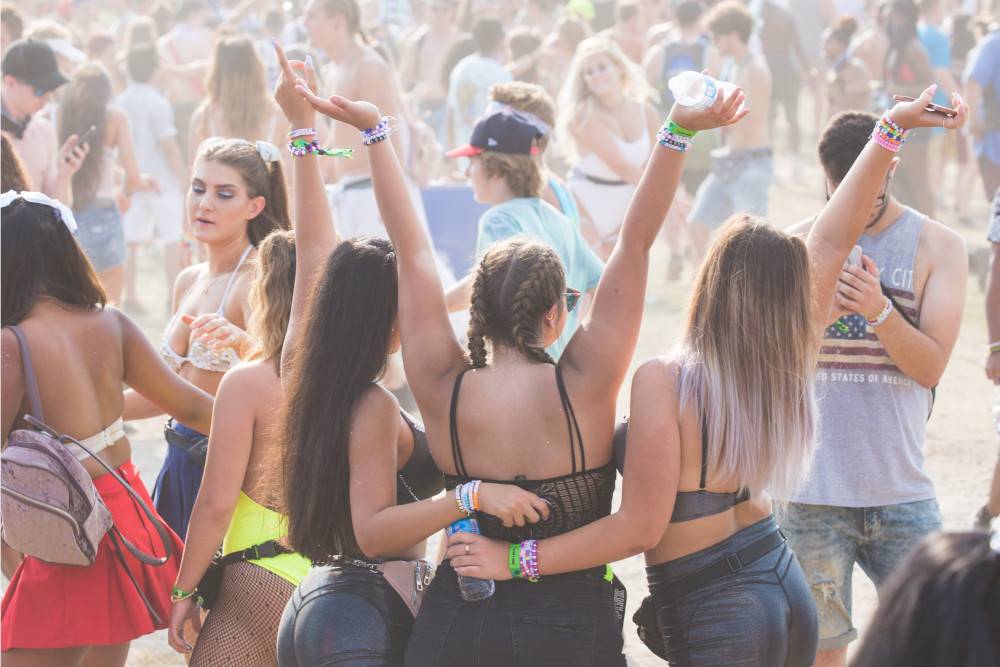 10+ Best Stylish EDC Festival And Rave Outfit Ideas
The best outfits for Electric Daisy Carnival (EDC) feature beautiful and colorful fashion pieces that elevate your festival experience with style. They showcase extraordinary, unique, and modern clothing.

EDC Las Vegas is the most successful electronic dance music festival in North America. It attracts people that love any electronic music subgenre such as disco, techno, house, trance, dubstep, hardstyle, and more.

To get ready for EDC, wear comfortable and fashionable clothes and shoes. Put on something light and breathable that is also fun and creative if you like to dance and get hot.

Most people wear shorts and crop tops, sports bras, or bikini tops with unique prints and patterns. It can get pretty cold in the desert at night, so don't forget to pack a sweatshirt or jacket to stay warm.

Read on to discover the best EDC outfit ideas to wear this season, whatever kind of rave or festival fashion styles you're into.


Panaprium is proud to be 100% independent, free of any influence, and not sponsored. We carefully handpick products from brands we trust. Thank you so much for buying something through our link, as we may earn a commission that supports us.

Mesh tops


Mesh tops are fabulous layering pieces that can go from punk to pretty and add a modern edge to any outfit for EDC. This 90's staple is officially back and taking over Instagram and TikTok.

You can pair a mesh top with a sports bra and sporty bottoms or wear it over a crop top and shorts. This combination will keep you cool in hot weather and looking fresh.




Bikini tops


You can also wear cute, supportive, fashionable bikinis of any color, shape, and pattern to the festival. EDC outfits often include beachwear and swimwear pieces that help you dress well in warm weather.

The best swimwear brands manufacture high-quality, durable, and timeless beach styles using sustainable and transparent processes and ethical production practices.


Fishnets


Fishnet stockings and tights are fantastic clothing pieces to create stylish EDC festival or rave outfits. They add an original and sexy touch to any casual look.

Choose high-quality, affordable, comfortable, and sustainable fishnets made from recycled materials to look super attractive with a clean conscience.

Here is our selection of eco-friendly tights.


Tie dye shirts


Look sensational at EDC with super fun and colorful tie-dye clothing. Complete the look with booty shorts and fishnets that will help you look sentional and feel your best.

Here are the best tie-dye clothing pieces made with natural dyes and organic materials.


Faux fur


Faux fur jackets are still on-trend this season to design over-the-top outfits with original pieces for EDC. They help you dress flashy, glamorous and create a stylish, chic, modern look.

Choose clothes made from animal-free materials such as faux fur. No animal should have to suffer to create affordable and beautiful outfits.




Denim shorts


Denim shorts are very easy-to-wear pieces to embrace a chill and sexy vibe. They are some of the most adorable, stylish garments you can wear to EDC.

Soft, gorgeous jeans shorts help you look fabulous and relax and are a staple for EDC outfits. You can pair denim shorts with an original tank top, crop top, or a graphic tee for a fresh look.

Here is our selection of affordable and sustainable denim shorts.


Mini skirts


Wear a fashionable mini skirt as an easygoing and effortless solution to craft a cute EDC outfit. Stylish short skirts and dresses exist in many colors, fabrics, and patterns.

Mini skirts help you dress creatively and look feminine in attractive outfits. Choose lightweight, breathable, and comfy pieces to create the perfect festival look, express your personality, and feel confident.

Check out our selection of cute and stylish mini skirts.


Crop tops


Crop tops are a staple of the trendy EDC rave and festival look. They are fantastic clothing pieces to craft fashionable, modern outfits to dance to loud music.

Transform any regular look into a more original and unique outfit with crop tops. They are available in many colors and patterns for fashionistas interested in looking fabulous at EDC.

Check out our selection of beautiful, stylish, and comfy crop tops.




Sweatpants


The best style for EDC includes stylish, modern, chic, and effortless sweatpants inspired by street culture. Wear sweatpants with a crop top, sports bra, bodysuit, or bikini top to create the perfect EDC outfit.

The best joggers, sweatpants, and track pants are comfortable, cheap, eco-friendly, and ethically made from organic, natural materials. They help you dress well without compromising style and ethics.

Check out our selection of the best sustainable sweatpants.


Bodysuits


Bodysuits are flawless, supportive, flattering pieces that you can wear to dress well at EDC. They offer a seamless look that is both practical and fashionable.

Women's bodysuits can be a base layer or worn on their own. They are available in many colors and sizes and make a fantastic match for any EDC outfit.

Check out our selection of affordable and sustainable bodysuits made from high-quality materials that last.




Animal prints


Look sensational at EDC with creative, modern, trendy-yet-timeless camouflage and animal prints, and statement graphics. This clothing and fashion style is a trend that never fully dies.

Animal prints are rising in popularity again this season. Wildlife-inspired patterns are perfect for crafting incredibly original, cute, and stylish EDC outfits.
Was this article helpful to you? Please tell us what you liked or didn't like in the comments below.