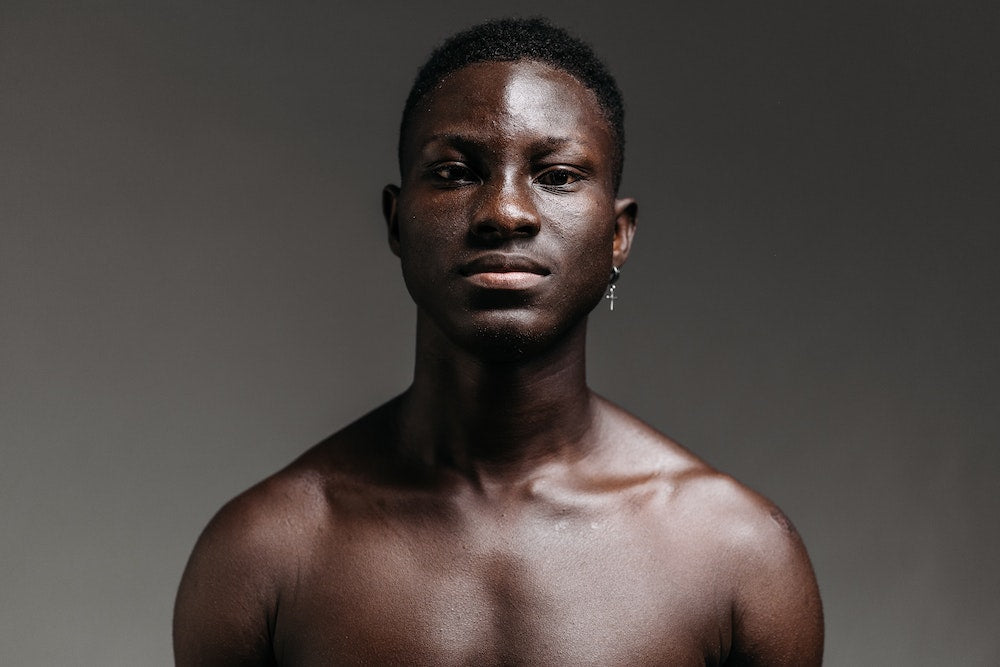 Are Earrings Attractive on Guys in 2023?
Guys, you may be wondering if you are able to rock an earring or two.
The answer is a resounding yes. And here's why – earrings have never been so popular. Decorating your ears with little silver hoops, eye-catching danglers, or twinkly studs is a surefire way to let the world know how on-trend you are.
Not only that, earrings, when styled with a nice outfit, are attractive to most women. It shows you have style and something cool about you. Earrings on guys are undeniably hot and can make you stand out in a crowd.
Whether you're going for a bold statement or a subtle accent, earrings can add that extra touch of charisma to your style. It's time to up your accessory game. 
If you're curious about the best ways to rock earrings and look major in 2023, we've got you covered. Let's explore some of the stunning outfit ideas that go hand-in-hand with this classic jewellry.
Panaprium is proud to be 100% independent, free of any influence, and not sponsored. We carefully handpick products from brands we trust. Thank you so much for buying something through our link, as we may earn a commission that supports us.
Bold Shirt 
Your earring does not have to take center stage.  Make a bold fashion statement by wearing your favorite earrings with a vibrant shirt in a striking color like red. 
This outfit exudes confidence and shows that you're not afraid to stand out from the crowd. Trust me; ladies love a man who knows how to embrace color.
Here are the 10 best Italian-made, affordable shirts for men and women.
Mesh Top and Matching Chain
For an edgy and fashion-forward look, opt for an 80s-inspired mesh top paired with a matching chain necklace and earrings. This outfit showcases your individuality and sense of style, making it a definite head-turner.
It's giving techno-goth, clubwear vibes, which is a huge 2023 look. Try if you dare!
Have a female clubbing partner, then check out this blog about what to wear in Berghain together.
Singlet and Jeans 
Keep it casual yet chic by pairing a singlet with jeans and tucking it in for a clean look. 
Add a belt to the mix and accessorize with earrings for a touch of allure. It's a simple and effortless outfit that's sure to catch attention.
Discover the secret behind the allure of men in jeans.
Suit Jacket 
This stripped-back look is in right now! Make a daring statement by wearing a suit jacket with nothing underneath. This will let your earrings and vibe do the talking. 
This bold and confident outfit choice is perfect for formal events or an unforgettable night out.
Here are the 20 best affordable suits for men and women.
Sweater 
For a rugged and masculine look, pair your earrings with a cozy sweater.  You don't need a shaved head and tattoos to rock this look, but it might help. This killer combination exudes an attractive mix of confidence and mystery.
Women love a cuddly bad boy!
Take a peek at our 20 style tips to dress casually for men.
Bold Jewelry
Don't be afraid to go all out with bold jewelry pieces like chunky chains and eye-catching pendants. 
These accessories will elevate your outfit and make you look like the fashion-forward man you are.
Ladies enjoy a man who has a strong sense of his own personal style, and flashing a little bit of metal shows you have character.
Check out the 8 main reasons why men wear necklaces and chains.
Vegan Leather Jacket
For an edgy and contemporary look, pair your earrings with a vegan leather jacket. This outfit choice showcases your rebellious side and will definitely catch the eye of fashion-conscious individuals.
A vegan leather jacket shows you have an adventurous side, and if you don't actually own a motorbike, at least you look sick. 
Have a look at these 20 best affordable and ethical menswear brands.
Turtleneck
The manly turtleneck is back and is a strong look for 2023. 
Stay classic and chic with a turtleneck paired with your earrings. This sophisticated outfit choice is perfect for both casual and semi-formal occasions, making it a versatile addition to your wardrobe.
It shows you are smart, approachable, and can show a gal a good time.
Khakis and Bucket Hat 
Bucket hats came into fashion in the 90s, and they seem to have never gone away. 
Add a pop of color to your outfit by wearing an eye-catching bright earring with khakis and a bucket hat. This laid-back yet stylish look is perfect for casual outings and beach days.
Girls love a splash of color, and if you have an artsy personality, you should let that shine through.
Ever wondered if straight guys wear earrings, then this is the blog for you.
Sweats
There is something hot about a man in his comfies. It shows you are chilled and up for fun.
Keep it comfortable and cool with a hoodie and sweats paired with your favorite earring. This outfit choice exudes a relaxed and effortless style that's perfect for downtime and lazy days.
Here are the 20 most attractive outfits that women like on men.
Streetwear
Nail one of 2023's leading fashion looks: streetwear.
Complete your look with a folded bandana, baggy cargo pants, a cool tee, and of course, your stylish earrings. This urban-inspired look is perfect for expressing your personality and sense of style.
This outfit is ideal for showing your girl you are relaxed, fashionable and on-trend.
Find the 10 best ultimate streetwear outfits that break dancers wear here.
Checkered Blazer  
Achieve a sophisticated and dapper look with a checkered blazer, paired with your favorite earrings. It will show you are refined and you like to take care of yourself – which ladies love.
This outfit choice is perfect for formal events or date nights. The turtleneck is optional.
Find your fave blazer from these hot picks of hemp blazers made for women and men.
Graphic Tee
Keep it laid-back and expressive with a graphic tee, jeans, and your earrings. This outfit showcases your creativity and sense of humor, making it a charming and attractive choice.
Graphic tees show you are relaxed and girls love a casual look on a man.
Discover these 20+ best Korean casual outfits for men.
Oatmeal 
Stay on-trend with an oatmeal-colored outfit that complements your earrings. Oatmeal is one of the reigning tones of 2023, and this combo exudes an effortless sense of style.
You will be sure to impress wearing this grounded and neutral color palette that has an air of quiet luxury and a crisp fashion sense about it.
Read our blog if you're still wondering if it's okay for a man to wear earrings. 
Jeans and White Tee
It's a tried and tested look, but by no means is it tired. Keep it timeless and classic with jeans and a white tee paired with your earrings. 
This simple yet attractive outfit choice is perfect for everyday wear and showcases your sense of style. Simple and traditional – which many love. 
Wondering which ear is best to wear your earrings on then look no further.
Was this article helpful to you? Please tell us what you liked or didn't like in the comments below.
About the Author: Catriona Jean