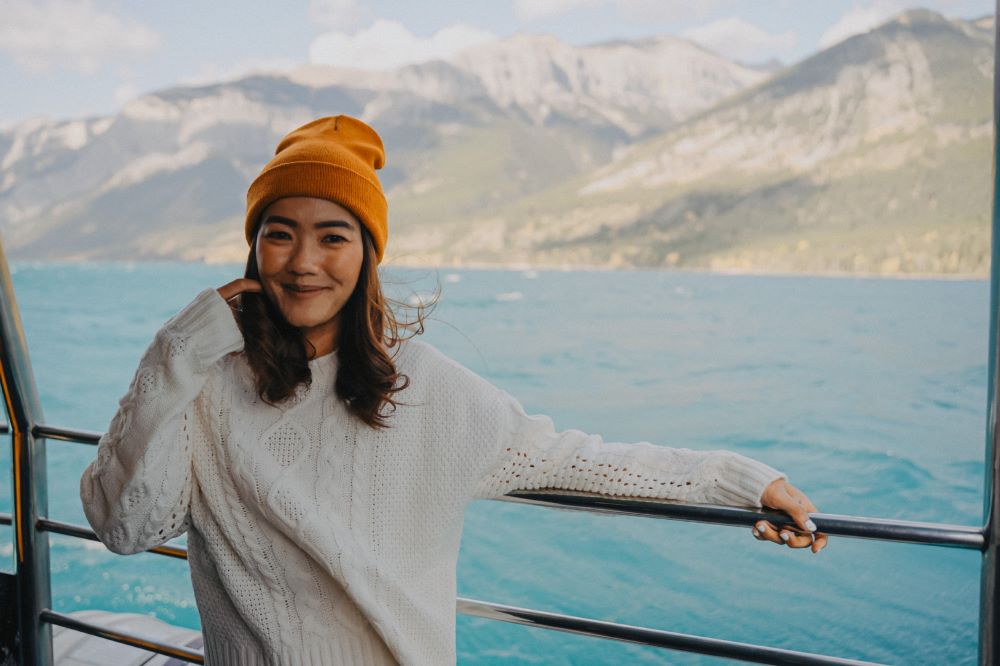 Ultimate Cruise Wardrobe Guide: What to Wear on a December Cruise
Going on a cruise is not just for the summer. Whether you escaping the cold for a warmer destination or exploring the sites of a wintery destination, a cruise can be an exciting experience. 
Packing everything for a cruise in one bag can be a daunting task, especially when you don't want to forget something or pack the wrong things. You want to spend your time enjoying the sites and activities both on and off the boat and not on what you are wearing. 
In general, a winter cruise will be cooler, so staying warm is key. Bringing proper clothes that will help keep you warm and dry is a must, as well as bringing layers so you can stay comfortable regardless of whether you are indoors or outdoors, relaxing, or going on an adventure. 
Panaprium is proud to be 100% independent, free of any influence, and not sponsored. We carefully handpick products from brands we trust. Thank you so much for buying something through our link, as we may earn a commission that supports us.
Dress Code 
Some cruise ships have a specific dress code, often expecting men to wear collared shirts and women to wear blouses or dresses. Other cruise ships have no dress code, so make sure to check ahead of time.
Cruise ships may also have dress codes for certain times or activities. Many cruise ships have formal dinners where formal wear such as a suit or formal dress is expected to dine in. Make sure to find out before you go so you can pack the necessary clothing items.
Learn the dress code for a cruise in the summer.
Don't Be Too Casual
All though you are spending all your time on a cruise, you are still in a public place. Avoid wearing your pajamas or robe outside of your cabin or any other clothing that might be too revealing or casual. 
Save these casual outfits for after your cruise.
Don't Think Cold Means You're Safe From the Sun
Just because the temperatures may drop, the sun and its UV rays are likely still strong, especially on the water. Make sure to bring sunglasses, a hat, sunscreen, and any other items to protect yourself from the sun so you don't end up with bad sunburn. 
Layers 
Layers are the top recommendations for a winter cruise. Depending on where you are traveling, temperatures from the day to the night can be as much as a twenty-degree difference. What you wear during the day may not be warm enough for the night. 
Find more layering ideas here.
Sweater
A sweater is a staple for a cruise. It is a great layer to put over a shirt or under a jacket. Choose a loose fit for comfort or a more form-fitting one you can wear during the day and at night for dinner. 
Scarves 
A warm scarf is a must to help keep your neck and face warm from the cold. A scarf is also an opportunity to bring a pop of color to your look or introduce a fun pattern. Have fun finding a scarf that shows off your personality and match it with your coat or gloves for a look of continuity. 
Beanie
A beanie or other type of hat that will keep your head and ears warm is essential for a December cruise. Choose a neutral color or add a pop of color or a fun pattern to your look.
Check out these beanies and winter hats.
Gloves
Gloves are essential outdoor gear to keep your hands warm while you are outside. Choose a pair that you can still use your hands and fingers in for shopping, activities, and anything else you might do so you don't have to expose your hands to the cold.
Warm Socks 
Keeping your feet warm and dry will make your cruise ship so much more enjoyable. Choose a warm pair of socks like cotton that will insulate your feet and soak up any moisture. Always have an extra pair of socks handy in case your feet get wet from the snow or rain. 
Try out a pair of organic cotton socks.
Jacket
A jacket is an essential item for your December cruise. Choose one that offers insulation and is waterproof so you can stay warm and dry. Also, make sure you can move around in your coat so you can participate in activities without being hindered by your coat. 
Find more waterproof jackets here.
Thermal Underwear 
Thermal underwear is a great layer you can wear under any outfit to help keep you warm no matter how cold it may get. Make sure your thermal underwear is not so tight it restricts your movement or so loose it bunches up under your clothes. 
Find other ways to stay warm here.
Boots 
A quality pair of boots will help keep your feet warm, and dry and help prevent you from slipping on any icy surfaces. research ahead of time to know how cold your route might get and be prepared to bring boots that can handle up to -40 degrees Celsius (-40 degrees Fahrenheit).
Check out these vegan leather boots.
Dressy Coat
Whether on land or on the boat, if you are attending a more formal event, bringing a dress coat is a great idea so you don't have to sacrifice being warm while still following the dress code. Choose a neutral shade that will go with anything, or have fun matching your gloves and scarf to the colors of a patterned coat. 
Tights
Tights are a useful item to wear under pants, skirts, or dresses when the weather is colder and when you have to attend more formal events where just leggings are not allowed.  
Save these tights and hosiery brands.
Swimsuit 
A swimsuit may still come in handy if you plan on swimming in the indoor pools on the boat or if you are traveling to a warm destination. Make sure your swimsuit is not too revealing for a public place.
Other Shoes 
In addition to boots, bringing other shoes is recommended depending on what you plan to do. A pair of dress shoes or boots are ideal for a formal dinner. Sandals may still be an option for the poolside or if you are traveling to a warmer locale.
Was this article helpful to you? Please tell us what you liked or didn't like in the comments below.
About the Author: Shelby Bonner