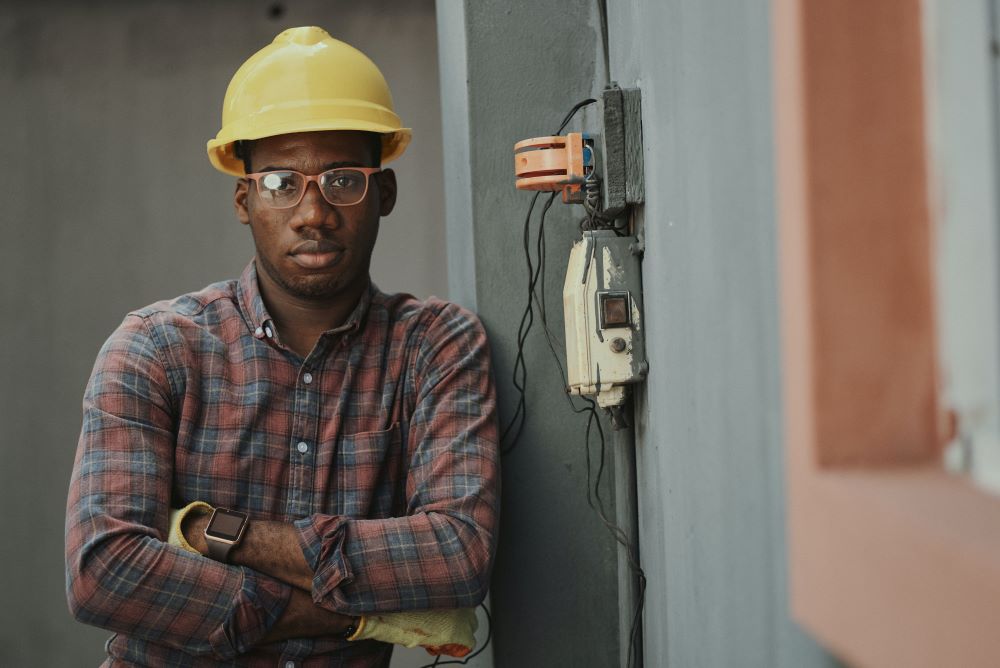 The Right Look: What to Wear to a Construction Job Interview
When it comes to interviews, first impressions are very important, including what you wear and how you present yourself. Choosing what to wear to an interview can be difficult, especially in construction, when what you wear daily on the job, may not be suitable for an interview.
By choosing a suitable outfit, you are showing the interviewer and company that you have a good understanding of the industry and will fit into their company culture. You are also showing you are competent, pay attention to detail, and have self-awareness which are all skills valued in construction.
For a construction job interview, balancing professionalism with practicality is key. Most construction interviews recommend a smart business or business casual. It is important not to overdress, or dress too casually for your interview.
Panaprium is proud to be 100% independent, free of any influence, and not sponsored. We carefully handpick products from brands we trust. Thank you so much for buying something through our link, as we may earn a commission that supports us.
Well Groomed Appearance 
Regardless of what you wear, your outfit should be wrinkle, hole, and stain-free. It should also fit you nicely and be clean. Your hair should be neatly combed and pulled away from your face.  
By showing up well groomed, you are showing your interviewer and potential future employer you care about yourself and their company. You are also showing respect for their time and the role you are interviewing for.
Use these hair accessories to keep your hair nice and neat.
Suit
A suit is a more formal option for a construction interview. Depending on the company and role, it may not be necessary but it is still appropriate. If you feel overdressed, you can easily remove your suit jacket or not wear a tie for a slightly more casual look. 
Either way, you will look smart and make a lasting impression for your interview.
Check out these suits for men and women.
Khakis
Khakis are a more casual alternative to dress pants while still being professional. Make sure your khakis aren't too tight or too loose and choose a neutral color such as brown, black, or navy blue.
Dress Shoes
A nice pair of dress shoes are a staple in most people's closets for a reason. They can be worn with most looks and will help you look professional and well put together.
Skirt 
A skirt is an option for women for their construction interview. Make sure it is loose enough where you can sit and stand in it without issues and make sure it goes to at least your knees so it doesn't ride up when you sit down.
A classic pencil skirt is a great option to look professional. Other skirts like a pleated skirt can also work when paired with a smart blouse or blazer.
Take a look at these pencil skirts.
Dress Pants
Dress pants are a classic piece for a smart business look. Choose a neutral color like black or grey that will pair with anything. Consider wearing a belt with your pants to elevate your look or wear them as is for a more laid-back look.
Dress Shirt 
A dress shirt is a great versatile choice for women and men for your interview. A dress shirt can be paired with most things and comes in a variety of fits and colors so that you can feel confident and comfortable in it.
Blouse 
A blouse is a great, accessible option for women. Choose a blouse without any wild patterns or textures and go for darker, neutral colors. That way you can easily pair it with other pieces while still looking professional and interview-ready.
Sweater
A sweater is still an option for an interview. Make sure it fits you well and looks sharp without any holes or fuzz. Pair it with dress pants and a blazer for a more formal look sure to impress.
Blazer 
A blazer is an easy layer to add to your outfit for warmth and class. It can easily be worn over a blouse or dress shirt for a more complete look and taken off if you get too warm.
Dress for the Season
Even if your interview is indoors, it is important to dress for the season. If it is hot out, make sure your clothes are light and breathable enough so you don't sweat through them. If it is cold out, choose a coat and gloves that are also smart and professional-looking.
Find more ways to dress for the season here.
Minimal Accessories
Large, bold accessories can be distracting to the interviewer and take away from you and what you are saying. 
Instead, wear minimal jewelry that is not too big and choose neutral-shade accessories that aren't flashy. That means save any patterns and bold colors for after your interview.
Take a look at these jewelry brands.
Cover Tattoos and Piercings 
Tattoos and piercings may be perceived differently from one company to another based on their company culture. To play it safe, cover up any tattoos and piercings for your interview.  
Once you get the position and learn the company environment better, you can better determine their stance on both and whether you can uncover them or not. 
Find more ways to cover your tattoos here.
Dark Jeans
In general, dark jeans are too casual for an interview. However, if the company culture is casual enough, a well-fitted pair of dark jeans can work if you pair it with the right pieces. To keep your look more professional, pair your jeans with a dress shirt, a belt, and polished dress shoes. 
Boots 
Unless you are going to tour a construction site, your work boots are most likely not needed. A dressier pair of boots will help enhance your look and keep your feet warm for any season.
If you do need to wear your work boots, make sure they are clean and free of holes and the laces are not frayed or torn.
Save these boots for your interview.
Business Bag
A business bag is a stylish and practical accessory to bring with you. You can put your resume, laptop, and personal belongings in it to bring with you to your interview. You can also show off your eye for detail by matching your bag to your outfit.
Glasses  
Your glasses are perfectly okay to wear to an interview. If your main glasses have a wild pattern or bold colors, consider changing them for a more neutral pair so they don't distract the interviewer. 
If your interview is virtual, be aware of any glare on your glasses from the computer screen so your interviewer can still see your eyes.
Check out these eyewear brands.
Was this article helpful to you? Please tell us what you liked or didn't like in the comments below.
About the Author: Shelby Bonner