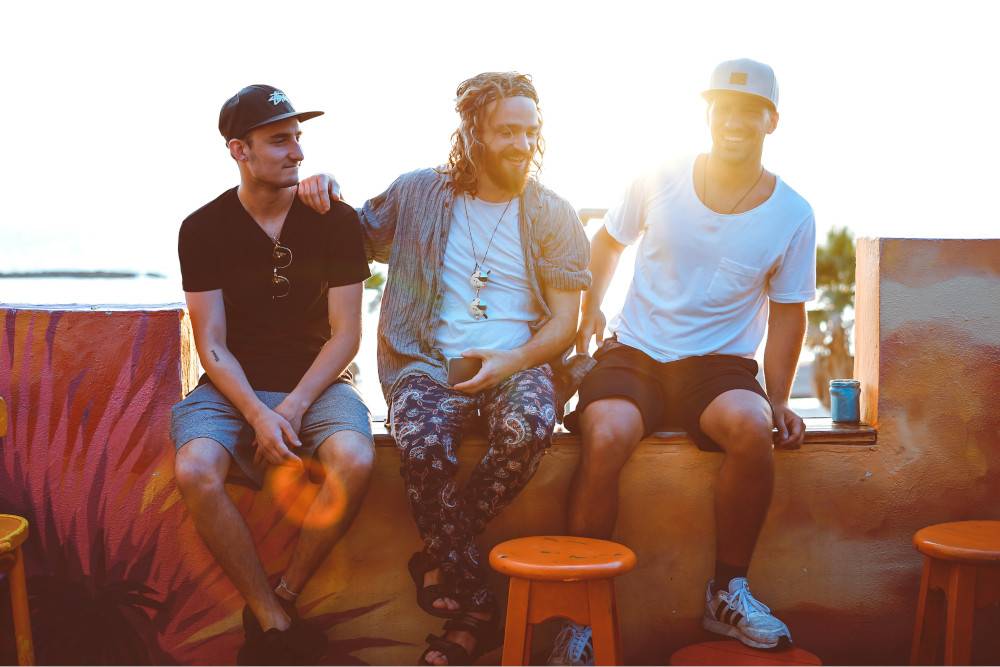 55 Best Types Of Clothing Styles For Guys (Outfits for 2023)
What are the best fashion styles for guys and how to choose yours? Fashion is a very popular art form, aesthetic, vehicle for self-expression, and creativity.

When crafting your everyday outfits, let your personality shine through your clothes by focusing on a style that feels amazing for you. You will look more attractive if you wear what makes you comfortable.

There are so many different types of fashion styles guys can choose from. It can be difficult and overwhelming to pick the right one for you. Your preferred style can depend on your budget, taste, lifestyle, activities, location, culture, and current season.

Here is a list of different types of fashion styles for guys for inspiration and to help you create a unique and fabulous outfit every day.
Panaprium is proud to be 100% independent, free of any influence, and not sponsored. We carefully handpick products from brands we trust. Thank you so much for buying something through our link, as we may earn a commission that supports us.


Artsy style


The Artsy fashion style might be for guys who like art or prefer to avoid conformity and standards. If you want your clothes to reflect your opinions and choices, wear highly visual artsy pieces.




Athleisure look


The athleisure fashion style combines casual wear and gym clothing to make highly functional and comfortable outfits for guys. It uses loungewear and activewear to create trendy and stylish looks.




Biker clothing


Shirts, hoodies, jeans, boots, and jackets are trademarks of the biker fashion style. This style is sexy, flashy, glamorous, versatile, and casual. You don't have to ride a motorcycle to rock it.


Black tie style


Dressing for a black tie event implies looking sharp in semi-formal Western outfits in the evening. It includes elegant and smart tuxedos, shirts, waistcoats, jackets, and dress pants for a glamorous night.


Boho fashion


The Boho chic or Bohemian style is made of summer, casual, modern, and stylish outfits. It takes inspiration from various free spirits, bohemian, and hippie influences, with colorful, natural, and handcrafted clothes.

Interested in building a bohemian-inspired wardrobe? Use our selection of the cutest and cheapest boho clothing brands that help you create stylish everyday outfits and enhance your best features effortlessly.




Bum look


Bum fashion includes casual clothing pieces that prioritize comfort and function. The bum look is effortless and trendy with original garments that stand out.




Business casual


The business casual fashion style typically includes shirts, vests, jackets, sweaters, or blazers. It's considered casual wear with elements of lounge and informal wear.


Casual wear


Casual wear is a fashion style appropriate for everyday use that prioritizes comfort and leisure to make it simple for guys to look stylish. It's a relaxed and informal style popular today.

From leggings and sweats to jeans and jumpers, these stylish casual outfit ideas for men will ensure you look fantastic and feel comfortable.


Casual chic style


Casual chic is an elegant and easy-going fashion style with classic and masculine clothes. It's a perfect combination to look stylish and laid-back with timeless and sophisticated pieces.

Discover our selection of the best casual and chic outfits you need to wear to look perfect and even stand out.


Classic fashion style


Classic fashion is a style that lasts several seasons up to many years. It emphasizes simple cuts, shapes, and silhouettes to create elegant, timeless, modern, and classy looks.

If you want to build a classic wardrobe, take inspiration from these stylish, beautiful, and timeless outfits.




Cocktail style


The cocktail attire perfectly balances elegance, comfort, and style to dress up for a formal or semi-formal event. The cocktail look bridges the gap between day and night and men usually wear suits.




Cosplay


Cosplay or costume play is difficult to ignore today. This fashion style is trending in huge communities around the world. It's inspired by pop culture and made of costumes and accessories representing specific characters.




Country fashion


Wear blue jeans and long-sleeved button-down shirts to dress country. The country look often includes plaid shirts, boots, and lightweight jackets for an effortless outfit.

Our country-inspired outfits for a concert.




Dancewear


Inspired by ballet, jazz, street dance, hip hop, tango, and salsa, dance clothes are very successful worldwide. Dancewear is a fashion style perfect to wear casually, in the ballroom, to exercise, or at home.

Disco look


The disco dress code features 60's and 70's disco-inspired outfits. The disco fashion style pays tribute to the era of funky materials, platform boots, shiny fabrics, halter tops, and nylon jumpsuits.




EDM fashion


EDM fashion inspires individuality, creativity, and self-expression through extraordinary, unique, and modern clothing pieces. Most EDM looks feature original prints and patterns with bright, colorful accessories.

Discover the best outfit ideas for an EDM festival or rave.




Elegance


The elegant fashion style displays unusual effectiveness and simplicity. Elegant outfits are high-quality, chic, classy, sophisticated, timeless, and smart, as they complement your features perfectly.
 



Emo clothing


Guys can dress emo in skinny jeans, studded belts, graphic tees, and 70's style jackets. Emo fashion is highly popular and a subculture of its own in the pop punk and indie rock genres.


Evening wear


Evening wear encompasses a fabulous selection of elegant evening suits and tuxedos, shirts, vests, and formal wear in many styles and colors to look charming and fashionable this season.
Check out our selection of the best sustainable suits for women and men.


Exotic fashion


Exotic fashion is a clothing style centered on colorful, rich, attention-grabbing clothes. It's often composed of vibrant colors, prints, or embroidery.




Flamboyant


Borrowed from French flamboyant (flaming and wavy), this fashion style is characterized by exuberance, confidence, and stylishness. Flamboyant clothes are extravagant in color or design.




Formal clothing


Formal wear is a traditional Western dress code for most formal occasions. From beautiful shirts and blazers that stand out to business attire.

Here is our selection of the best sustainable blazers.


Gothic fashion


Part of the gothic culture with gothic fiction and goth music, the gothic fashion style is beautiful, dark, and steampunk. It emphasizes strong, modern, and mysterious aesthetics.

Here is our selection of the best gothic clothing brands.




Grunge rock


Grunge is an alternative rock genre. It's a hybrid of punk and metal inspired by rock music. This fashion style is casual with jackets, boots, jeans, tank tops, beanies, and sweaters.

Discover our selection of the best grunge clothing brands.




Haute couture


High-end designers and fashion houses often make exclusive custom-fitted garments for celebrities. It's an expensive fashion style with beautiful and truly unique creations.

Discover our selection of the best luxury fashion designers.


Hip-hop clothing


Hip-hop style is made of street clothing inspired by the popular music genre. It's the fashion style for those willing to stand out from the crowd and break trends.

Our outfit ideas for rap concerts.




Hippie style


The hippie style takes inspiration from 60's fashion with original pieces and brightly colored clothing. Hippies wear unconventional, comfortable, loose, used garments free from societal restrictions.

Hipster fashion


Hipster fashion doesn't conform to mainstream cultural norms. Instead, it values creativity and self-expression to create original outfits with vintage clothes that break trends.


Indie look


The indie look is perfect for guys who prioritize individuality and independent thinking. Dressing indie means choosing alternative aesthetics with bright colors and remarkable accessories.

Jet-set fashion


The jet-setter dresses elegantly and stylishly in classic and timeless clothing pieces. Wear button-up shirts and dress pants to travel the world in style, from one exotic place to another.




Loungewear style


The loungewear fashion style focuses massively on comfortable clothing with sweatpants, sleep pants, lounge shorts, robes, leggings, hoodies, sweatshirts, and cardigans.

Buy from these sustainable loungewear brands that make high-quality and affordable garments under high standards.




Metal


The metal fashion style is heavy and aggressive with dark shirts and jeans. Metalheads often wear black clothes, including unique graphic tees and stylish leather jackets.

Military fashion style


Military clothing offers distinct colors and shapes. With khaki and sand camouflage shirts, cargo pants, warm parkas, jackets, and coats, the military fashion style is comfortable and highly functional.


Minimalist fashion


Minimalism is about simplicity, going back to basics, and your wardrobe essentials. Remove what is superfluous to make every item in your closet a winner.

Keep things simple and dress realistically without being too complicated with the best affordable, ethical, and minimalist clothing brands.

Modern urban


The urban modern fashion style incorporates contemporary looks. It can be minimalist as well as street-inspired. It's often associated with today's fast-paced city life.




Monochrome


The monochromatic fashion trend involves wearing different tints and shades of the same color from head to toe. It's a clothing style for guys looking for timeless and tasteful outfits.




Nautical style


The nautical style is a popular look for guys that want to impress with yachting apparel and naval uniforms inspired by sailor styles. Nautical fashion is about comfortable clothing in shades of blue that remind of the high seas.


Nerdy and geeky


The nerdy and geeky style used to be unpopular, but it doesn't mean overly obsessive or introverted anymore. This clothing style is now widespread with a passionate pop-culture community.

Here is our guide on how to dress like a cool nerd.


Office wear


Workplace attires are ideal for men that want to look professional. It features dress shirts and tailored suits that demonstrate elegance and refinement.

Discover the best work clothing brands that help guys look stylish and appropriate at the office without breaking the bank.




Preppy fashion


The preppy fashion style is most similar to the classic style with a simple look but with bold colors and prints. It's made of sportswear, casual lifestyle apparel, and outdoor gear.




Punk rock


Punk rock is a style of clothes inspired by the music genre. David Bowie is a fantastic inspiration for the punk rock look, known for its bright colors, prints, and jackets.

Check out our selection of the best punk clothing brands.


Relaxed clothing


The relaxed clothing style makes it easy for guys to dress well and comfortably without being too complicated. It showcases lightweight and breathable pieces for a casual look.




Rock style


Heavily inspired by rock and roll, rhythm and blues, and country music, rock style can be chic, modern, glamorous, edgy, and alternative. It also combines influences from metal, punk rock, and gothic rock.




Romantic fashion


The romantic style originates from the 18th century in Europe during the romanticism era. If you want to dress romanticly, use the right combination of sleek silhouettes, lightweight shapes, and pastel colors.


Sexy fashion style


The sexy style is all about showing off your best features. Mostly casual and trendy, sexy clothes offer a very seductive, hot, and sensual look highly effective to grab attention.




Streetwear style


Streetwear is a fashion style including casual clothing and sportswear. It's heavily influenced by hip-hop, surf skate, punk, and Japanese street culture.


Sportswear style


Activewear, workout clothes, and gym clothing make the sportswear fashion style, popular outfits designed to transition from exercise wear to casual wear.

Buy from apparel companies that don't sacrifice sustainability for style, comfort, or performance. Discover our extensive list of sustainable activewear brands.




Summer clothing


Summer wear, cruise wear, vacation clothing, and travel clothes are ideal for traveling and relaxing, on vacation, or during leisure activities. They are perfect to say cool in hot weather.




Surf skate style


Graphic tees, sneakers, baggy pants, and hoodies are part of the surf skate fashion style. These are functional, loose, and comfortable clothes for maximum freedom of movement.

Discover our selection of the best surfwear brands.




Swimwear style


Swimwear and beachwear include fashionable clothes of all colors, shapes, and sizes. Versatile outfits help you transition from beach to street with style.

The best swimwear brands manufacture high-quality, durable, and timeless beach styles using sustainable and transparent processes, as well as ethical production practices.

Traditional fashion style


Traditional clothing refers to clothes with significant inspiration from the culture and identity of a specific ethnic group. A traditional style is an important part of every region's history.


Trendy fashion


Every clothing piece that follows trends is trendy. By nature, trendy clothes are fashionable, up-to-date, and in style. They are influenced by or express the most recent fashion looks.

Vibrant style


The vibrant fashion style refers to anything rich, bright, loud, striking, and brilliant. This style is full of energy, enthusiasm, spirit, and confidence. Designs and colors are various and exciting but often only worn by minorities.




Vintage fashion


Old vintage clothes can be found in resale shops, thrift stores, and vintage stores. When an item is at least 20 years old, it is genuinely vintage or antique.

Buy second-hand clothes online to save time and money and access a large variety of unique styles that help you relive old trends and craft fabulous outfits that nobody else is wearing.




Wild West style


Inspired by the period with the same name, the Wild West genre is a country, cowboy, and Western aesthetic from America. This fashion style is very distinctive and unique.
Was this article helpful to you? Please tell us what you liked or didn't like in the comments below.