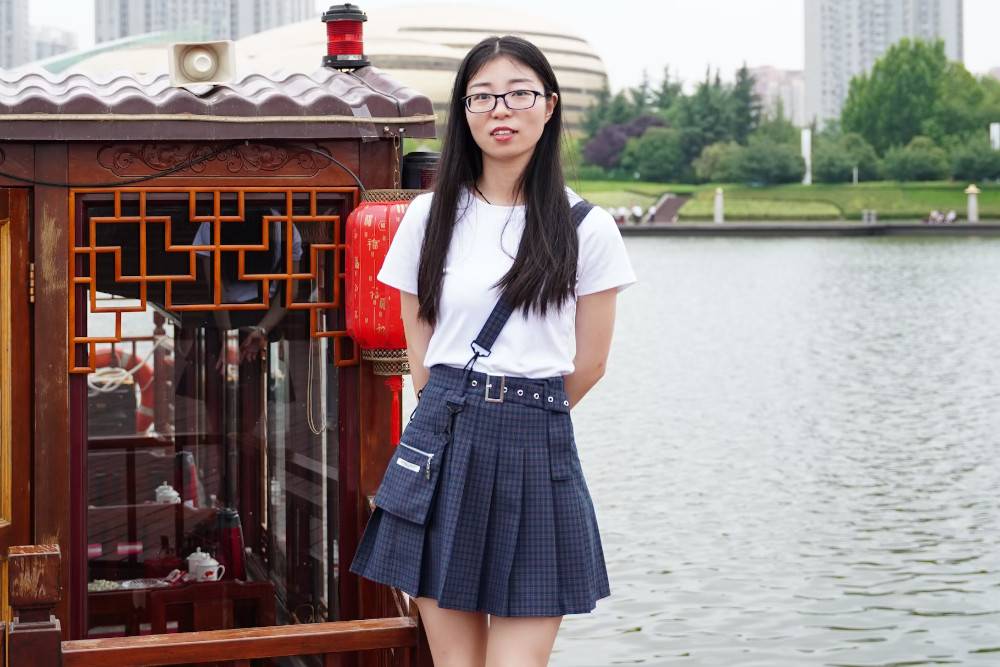 How To Dress Like A Cute And Cool Girl Nerd
The chill and cute nerd style feature trendy and stylish outfits you'll love and feel comfortable wearing. It's highly popular in Hollywood among smart and successful boys and girls.

The nerdy and geeky style used to be unpopular. But it doesn't mean overly obsessive or introverted anymore. This clothing style is now widespread with a passionate pop-culture community.

If you pay great attention to details and avoid conformity and standards, wear original, nerdy pieces to let your clothes reflect your personality and uniqueness.

Use your imagination to style yourself and make a mark by creating beautiful and fashionable outfits. The nerd style encourages you to think outside the box to dress well and curate an original wardrobe.

Choose cute clothing pieces that you can easily combine into different outfits for an easy, effortless, nerdy look. Look for comfortable and authentic ideas that break the social norm and make an impression.

This collection of nerdy aesthetic outfits you can wear every day will help you dress like a cool and cute girl nerd and feel your best in beautifully chic looks.


Panaprium is proud to be 100% independent, free of any influence, and not sponsored. We carefully handpick products from brands we trust. Thank you so much for buying something through our link, as we may earn a commission that supports us.

Put on knee-high socks


Knee-high socks are fantastic clothing pieces to create stylish nerd girl outfits to wear every day. They add an original and cute touch to any cool nerdy look.

Choose high-quality, affordable, comfortable, and sustainable socks made from organic or recycled materials to look super cute with a clean conscience.




Wear comfortable clothes


Avoid any fancy, tight-fitting clothing and let your skin breathe properly. Nerdy girls buy what feels comfortable to them. It's important to make comfort and mobility your priority.

Make sure you wear high-quality and comfy clothes that provide adequate support and comfort. Clothes that are too tight can obstruct movement and cause discomfort.

Comfort is an utmost priority over style to keep your body happy and healthy. So wear the right clothes for yourself and listen to your body closely when it changes.


Try on printed tees


Stand out from the crowd and make your mark with unique printed tees that show your interests. Show off your personality and original style by putting on authentic pieces that nobody else is wearing.




Put on flannel shirts


Flannel shirts are a fashionable addition to the cute and cool nerdy look. Well-fitting flannel shirts are ideal to complete any nerd girl outfit. They help you look fabulous and stand out with a tried and true look.

Here is our selection of affordable flannel shirts.


Wear neutral colors like black


Wear neutral colors to achieve a nerdy look instantly. You can look better even in casual clothes if you choose a classic combination of colors that suits you perfectly.

Choose neutral colors like black, and don't wear colors that are too bold. Go for the best neutral colors that look feminine so you can mix and match them easily all year round.

Neutral colors like black, white, brown, and grey make clothing versatile and timeless, and they can work with any outfit. They are super stylish and fit a nerdy style perfectly.

Simple, classic, neutral colors are the building blocks of the nerd girl wardrobe. They never go out of style, and you can wear them for a long time to look great.


Buy cute sweatshirts and hoodies


The best nerdy style includes stylish, modern, chic, and effortless sweatshirts and hoodies inspired by pop culture. Wear cute and comfy sweatshirts to create the perfect nerdy outfit.

The best sweatshirts and hoodies are comfortable, cheap, eco-friendly, and ethically made from organic, natural materials. They help you dress well without compromising style and ethics.

Check out our selection of the best sustainable sweatshirts.




Put on stylish jumpers


Add a gorgeous, colorful, stylish jumper, sweater, or pullover to your nerdy outfit to dress well and feel great. Jumpers are perfect for crafting original, visually stimulating looks.

Check out our selection of the most affordable and cutest jumpers and sweaters made under high standards.


Try on cute and cool skirts


The bottom of your outfit is crucial to dress like a cool girl nerd. Short skirts are super cute and feminine. They help you craft attractive nerdy outfits that show off your long and beautiful legs.

One of the best ways to enhance your look is to showcase your unique assets. Combine a classic top with an original short skirt to create a gorgeous nerd girl outfit.

Here is our selection of beautiful short skirts.




Wear classic shirts


Classic shirts are versatile and functional and make an ideal addition to any nerd girl outfit. They help you put together a casual look that is also effortless and stylish.

Well-fitting shirts are ideal to complete any nerdy outfit when you want to look great without being too complicated. You can pair them with a jacket or coat and complete the look with comfy bottoms in a contrasting color.

Check out our selection of locally-made shirts.




Choose original accessories


Choose a few aesthetic and functional accessories to wear with the rest of your nerdy outfit. It can be a watch, belt, bracelet, necklace, ring, hat, cap, or beanie.

Accessories add a distinctive touch and a personal flavor to any look. They are crucial to dress like a cute and cool girl nerd and make you stand out. Pick something you like and feel the most comfortable wearing.

But don't overdo it. One accessory is plenty enough. Remember, less is more. If you wear too many items at once, you risk losing style, versatility, simplicity, and elegance.

Check out our selection of cute hats and beanies.




Buy stylish denim jackets


Wear attractive layers like a denim jacket to add a stylish and authentic touch to any nerdy outfit. A classic denim jacket can improve your dressing style drastically.

If you want to dress like a cool nerd, wear a stylish denim jacket to stand out and transform a regular, casual outfit into a beautiful and complete look.

Check out our selection of fashionable denim jackets.




Wear long cardigans


The cardigan sweater is a staple of the nerdy style. The best cardigans are ethically made and eco-friendly, cozy, warm, and cute to help you look stylish and feel comfortable.

Cardigan sweaters help you look chic and are a great addition to any nerd girl's wardrobe. Wear them over shirts and add stylish shorts or a skirt to complete your nerdy outfit.

Here are some of the most affordable and sustainable cardigans.




Don't forget your glasses


Don't forget to wear classic eyewear to create the perfect nerdy aesthetic. You can pair sunglasses with any outfit. Find eco-friendly and cheap glasses for girls that enhance your style without breaking the bank.

Glasses are fantastic accessories to create the ultimate nerdy style. They make an effortless yet incredibly chic addition to any stylish girl nerd outfit.

Check out our selection of affordable and sustainable eyewear.


Wear cute and cool shoes


Wear cute and cool shoes to easily dress like a girl nerd. Choose durable and affordable footwear that helps you look stylish and feel comfortable in your nerdy outfit.

Buy shoes that are ideal for everyday wear and easy to combine with the rest of your outfits effortlessly. Prioritize comfort and quality over style to make sure they last you a long time.

Here is our selection of comfortable, affordable, and sustainable shoes.
Was this article helpful to you? Please tell us what you liked or didn't like in the comments below.