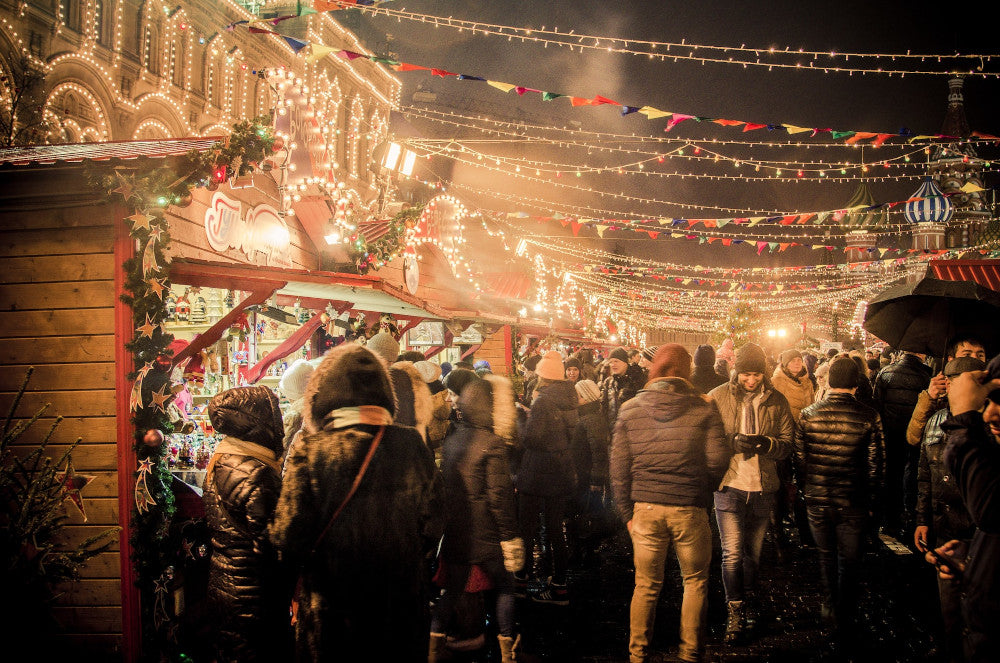 20+ Best Outfits to Wear to a Christmas Market
You should wear warm layers and festive colors when you visit a Christmas market. Most Christmas markets take place outside, so you may want to pair a stylish coat with a cozy sweater or scarf and a pair of comfortable jeans. Make sure to wear warm footwear like heeled boots and your favorite holiday socks, too!
If you visit the most famous Christmas Markets, also known as Christkindlmarkets, in places like Vienna, Nuremberg, and Edinburgh, you can expect temperatures ranging from below-freezing to as high as 40℉. This means you should not count on your joyous holiday spirit to keep you warm--dress for the season, and use fun accessories like holiday-themed earrings, hats, or gloves to join in the celebration.
Panaprium is proud to be 100% independent, free of any influence, and not sponsored. We carefully handpick products from brands we trust. Thank you so much for buying something through our link, as we may earn a commission that supports us.
Warm Layers
The most important rule to keep in mind as you choose an outfit to wear to a Christmas market is that you should wrap yourself in lots of warm layers. This way you can snuggle in your coat, gloves, and hat while strolling through the outdoor market to admire all the market stalls and see the decorations. Then when you step inside a coffee shop or pub, you can whip off your coat and feel comfortable in a sweater or cardigan.
Great layered outfit ideas include a winter coat over a long-sleeved shirt and jeans, a winter coat and cardigan over a blouse, or a coat over a sweater dress, a scarf, and warm tights.
If your tights all have runs in them from last winter, look for a new pair from ten ethical hosiery brands like these!
Baggy Sweater with Midi Skirt
You can add a dash of winter cheer to your Christmas market outfit by pairing a baggy holiday-colored sweater with a midi skirt, warm tights, and boots. If you worry about your legs turning into icicles, try swapping out the tights for skinny jeans or warm leggings instead!
If your winter coat does not easily fit over a puffy sweater, you might want to try a jacket vest, or gilet, instead.
You can check out 15 sustainable midi skirt options here to freshen up your winter wardrobe.
Shaggy Coat
As a stylish alternative to the boring look of many regular winter coats, why not try a shaggy faux-fur coat tossed over a turtleneck and a pair of jeans? Throw the coat over your shoulders inside for a socialite vibe, or button it up as you walk around outside and look like a rockstar!
If you really want to style your look, you could even pair this shaggy jacket with a pair of faux-leather or wet-look leggings instead of jeans. Or give the style a gritty edge by adding a pair of black combat boots and jeans!
Just make sure you buy your shaggy coat from an ethical brand. If you wonder why, take a look at this article on why we should not wear real fur in our clothes!
Puffer Coat
One of the best ways to stay warm during an outdoor event in the winter is to wear a puffer coat or ski jacket. These coats have pockets of fluff-filled space that trap your body heat and provide a buffer against the chilly air outside. 
If your coat does not look super festive, don't worry! You can brighten it up by wearing a striped scarf, Christmas gloves, or your favorite Santa hat.
Do you need a warm winter coat before you visit a holiday market? Check out this list of 20 affordable and sustainable puffer jackets to get some ideas!
Peacoat
One of the best outfits to wear to a Christmas market on a date is a peacoat layered over a sweater, a skirt, warm tights, and your most comfortable heeled boots. A peacoat looks a tad more dressed up than a casual winter coat like a puffer jacket, which makes it ideal for going on a special date.
That said, you may want to insulate yourself by adding a scarf and gloves because your stylish peacoat will not provide quite as much warmth as a ski jacket.
If you don't own a dressy winter coat, you may find a perfect, affordable option in this list of the 20 best sustainable winter coats.
Thermal Undergarments
If you plan to stay after dark to see the twinkling Christmas lights come to life at a Christmas market, you should go all-in on the warm layers starting with a base layer of thermal undergarments. A thermal undershirt will disappear under a stylish long-sleeved top or sweater, and it will sandwich in tons of heat to keep you toasty all night long!
For a casual outfit, try covering your thermal undershirt with a nice sweater and pairing this top with comfortable jeans.
If you need to stock up on affordable, sustainable jeans while you're in Europe to visit a holiday market, take a look at this list of the 17 best popular cheap brands of European jeans!
Quick Dry Socks
If you see snow on the ground, you should add a pair of quick-drying socks to your Christmas market outfit. That way even if a bit of snow gets inside your winter boots, you can dry out your socks in a hurry to keep your toes warm.
If you have waterproof boots or you don't see any snow on the ground, you may find it more fun to wear your favorite festive holiday-themed socks instead. Even if no one else can see them, you will know!
If you need new socks before your holiday trip, you can find affordable, sustainable, and organic sock options here!
Holiday Hat
Touring an outdoor Christmas market is not the best time to style your hair in a fancy updo, because chilly winds will freeze the top of your head! Instead, braid your hair or give it a nice blowout and then top it with a cozy winter hat. For guys, a knit cap with a festive bobble on top will not look silly, either--remember that you want to celebrate at this special time of year!
If you really want to get into the holiday spirit, you could even sport a jaunty Santa or Christmas elf hat!
If you want a cozy hat that makes you feel good about your purchase, consider this list of the 15 best sustainable winter hats.
Scarf
One of the best ways to keep your Christmas market outfit on-trend is to choose festive or red and green accessories like a warm knit scarf. This way you can add a splash of color to your outfit even if you need to wear a practical coat to keep yourself from freezing in the outdoor space!
For a list of affordable, ethical, and vegan scarves, click here!
Gloves
Gloves or mittens are an absolute must when you visit a Christmas market! Look for adorable holiday-themed mittens with snowflakes or reindeer dyed into them if you can, or just tuck a pair of utilitarian black gloves into your coat pocket to wear while you walk around. After all, you don't want to carry around a cup of hot chocolate all night to keep your fingers from freezing!
You can find 11 great options for vegan gloves here.
Winter Boots
Christmas markets always take place in the winter season, and in many parts of the world, this means you will likely encounter a coating of snow on the ground. The best way to keep your feet warm in this outdoor environment is to wear waterproof snow boots. 
Most snow boots have several layers of padding and insulation inside, but you may want to add a pair of cozy, festive socks anyway for extra warmth. You could even rock thigh-high socks that show over the top of your boots to really show off the holiday pattern in your socks!
Are you looking for affordable and vegan boots? Take a look at this list to find the perfect pair!
Heeled Boots
If you want to protect your feet but maintain a fashion-forward appearance, go for heeled dress boots instead of waterproof snow boots. These boots will not protect you from icy puddles as well as snowboots, but you will look gorgeous so long as you watch where you step!
Heeled boots pair well with almost any winter outfit such as jeans and a sweater, a sweater dress and leggings, or slim corduroy pants and your favorite peacoat.
If you really want to make a fashion statement, try a pair of these vegan knee-high boots!
Jeans
Jeans make the perfect complement to almost any outfit you may want to wear to a Christmas market. The overall style at this outdoor event has a low-key, cozy vibe to it, so jeans will not make you feel underdressed. If you do want a dressier outfit, try pairing your warm jeans with a nice sweater, classy earrings, and heeled boots.
The only downside to wearing jeans in the winter is that if they get wet, they won't dry out quickly. Try to avoid stumbling into any snow drifts as you wander through the market stalls!
As you search for the perfect pair of jeans for you, consider trying one of these top 50 affordable and sustainable denim brands.
Corduroy Pants
Few outfits look as cozy and festive as anything made out of corduroy. Try slim-fit corduroy pants with your favorite turtleneck, or a corduroy jacket over a sweater and jeans. Corduroy has raised ridges across its surface called wales, and the extra thickness of these wales will feel soft and provide extra insulation while you walk around outside!
For guys, corduroy pants go great with laid-back tops like a crewneck sweater or a henley. For ladies, an oversized sweater hanging elegantly off one shoulder will pair perfectly with festive cords!
If you don't already own a pair of cute cords, check out the 15 best affordable and sustainable corduroy pants here!
Holiday Sweater
Don't forget your favorite holiday sweater when you visit a Christmas market! You may need to hide your festive knitwear under a coat while you walk outside, but the minute you step inside a cozy pub or a richly scented coffee shop, you can take off your coat and brighten up the joint with your festive sweater.
An oversized sweater often looks good with a mini or midi skirt over tights, while a tighter sweater can pair well with jeans, corduroy pants, or slacks.
Of course, Christmas sweaters are fun, but you can make yours more thoughtful by purchasing from one of the 10 best ethical and sustainable sweater brands out there.
Flannel Shirt
If you want to sport a laid-back festive style, try wearing a flannel shirt with red, green, or gold stripes mixed into its plaid pattern. You can wear jeans and chunky boots to complete the farmhouse Christmas style or a jacket vest and scarf over the flannels for extra warmth.
Flannel shirts will keep you extra warm because the flannel fabric is made by brushing the surface of the fabric with wire bristles, which creates a fluffy surface of raised fibers. All those tiny fibers will hang onto warm air molecules as they leave your body, keeping you warm!
You can find cozy, American-made flannel shirts here.
Henley and Jeans
Another casual, warm winter look for guys to try at a Christmas market is to layer a coat or jacket vest over a henley. The waffle knit pattern of the fabric used in Henley shirts acts like tiny honeycombs of insulation to keep you warm. Plus, the button placket at the front of the shirt looks casual and stylish.
Because of the very casual appearance of this shirt, it pairs best with your favorite style of dark-wash jeans.
If you struggle to put together a stylish outfit for a guy, check out the 55 best types of clothing styles for guys here!
Seasonal Accessories
If the temperature will drop below freezing when you plan to visit a Christmas market, wear a practical coat and lots of warm layers, and use your accessories to brighten up your holiday outfit! Look for a handbag or purse in a festive shade like bright red, gold, or green. Or find a hat with a red Rudolph nose sewn onto it, earrings adorned with jingle bells, or paint your own nails with glittery Christmas ornaments.
Other great accessories you could wear to a Christmas market include holiday socks, gloves, or bracelets.
If you want to buy a festive handbag for this occasion, take a look at the 15 best faux leather designer handbags here!
Gilet or Sleeveless Jacket
One great way to show off your outfit instead of fully masking it beneath an enormous winter coat is to wear a gilet or sleeveless jacket (sometimes also called a puffer vest in the US) to keep you warm without hiding your sweater or top. 
If you really want to go hardcore stylish, try wearing a hip-length faux fur gilet over a white turtleneck sweater and your favorite black leggings!
If you find yourself searching for an original winter style, take a look at the new Uniqlo fall/winter collection here.
Ugly Christmas Sweater with Leggings
If you love silly holiday pranks, you can't pass up the chance to wear an ugly Christmas sweater to the Christmas market! Ugly Christmas sweaters often feature garish colors, outrageous decorations like loads of sequins or glitter, and silly sayings. Just make sure your sweater does not sport a joke or slogan that will offend anyone else in your group.
While they may only offer ugly Christmas styles seasonally, these 15 affordable and sustainable brands selling sweater vests can make you feel responsible about your silly sweater purchase.
Sweater Dress and Boots
You can't go wrong with a sweater dress and boots so long as you wear a pair of warm fleecy tights or leggings, too! This stylish look also pairs well with a chunky knit scarf or your favorite festive hat. A sweater dress will go better with a dressier coat such as a faux-fur shaggy coat or a peacoat rather than a plain puffer coat, though.
If you don't already own the perfect Christmassy sweater dress, check out these cheap and cute options for a new sweater dress here!
Was this article helpful to you? Please tell us what you liked or didn't like in the comments below.
About the Author: Hannah Cobb