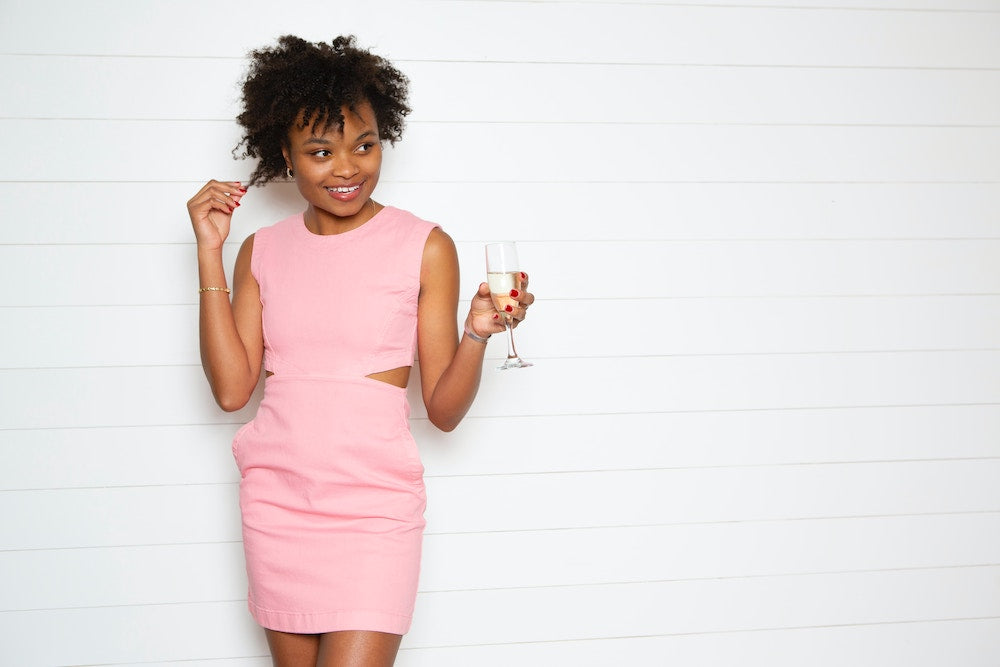 15 Sizzling Outfits to Wear to Fogo de Chão
From scintillating skewers to chic and modern decor, eating at Fogo de Chão is definitely an experience to remember. 
A night out at the famed Brazilian steakhouse might be a carnivore's dream come true, but it's also a great place for vegans and vegetarians. Believe it or not, Fogo de Chão now offers a full vegan and gluten-free menu!
Vegans, vegetarians, and meat lovers can all rejoice because now everyone can dress to impress at this famous restaurant. 
Menu options aside, what on Earth do you wear to Fogo de Chão? You want to look chic but not like you're trying too hard. On the other hand, you don't want to be underdressed. We've got you covered. 
From elegant ensembles to chic, comfortable choices, we'll dish out the ultimate style guide for your Fogo de Chão date night.
Here are 15 outfits that are as sizzling as the skewers coming your way. 
Panaprium is proud to be 100% independent, free of any influence, and not sponsored. We carefully handpick products from brands we trust. Thank you so much for buying something through our link, as we may earn a commission that supports us.
Does Fogo de Chão Have a Dress Code?
According to Fogo de Chão's official website, the upscale restaurant has no formal dress code policy. 
However, dining at this popular restaurant is something special. The restaurant recommends wearing "sharp casual attire" like button-up shirts, dresses, and dark-wash jeans. 
Even though they won't turn you away at the door for wearing flip-flops and sweats, it's best to dress up a little. 
A Classic Black Dress
You can't go wrong with wearing a classic little black dress to Fogo de Chão. This outfit choice is always sleek, chic, and sexy. 
Wear a boho-inspired midi dress with bell sleeves, or go for a sultry vixen vibe with a short bodycon dress. 
Check out these affordable and sustainable black dresses. 
A Sophisticated Jumpsuit
A jumpsuit is a sexy yet comfortable outfit for your night out at Fogo de Chão. 
There are many different styles, from jumpsuits with plunging necklines to ensembles with long sleeves and wide-leg pant legs. 
Wear a jumpsuit with a breezy and comfortable fit so you can chow down on as many skewers as your heart desires. 
Shop our favorite sustainable jumpsuits for your night out. 
A Flirty Bodycon Dress
A curve-hugging bodycon dress looks great with heels and a statement handbag. 
Turn heads as you walk into Fogo de Chão with a sexy bodycon dress. This style is best with a form-fitting but stretchy fabric to ensure you stay comfortable and secure the whole evening. 
Check out these sizzling bodycon dresses that will make you feel great without breaking the bank. 
A Boho-Chic Maxi Dress
If form-fitting outfits aren't your style, wear a boho-chic maxi dress. 
Wear a flowing floor-length dress with a tiered skirt, a delicate floral print, or a classic boho dress made of light-colored linen or cotton. This look is feminine, romantic, and fabulous for summer. 
Explore these USA-made maxi dresses that are sustainable and affordable. 
High-Waisted Slacks and a Bodysuit
Go for a "corporate off-duty" look with high-waisted slacks and a bodysuit. 
The slacks give your Fogo de Chão outfit a professional edge, but the bodysuit adds some spice with its form-fitting silhouette. 
You can't go wrong with any of these sustainable bodysuits. 
A Classy Slip Dress
A slip dress is an easy, elegant outfit when dining at Fogo de Chão. 
Accessorize your slip dress with cute sandals, recycled jewelry, and a sleek blazer for the ultimate date night look. 
When shopping for a slip dress, focus on high-quality materials and sustainable fabrics like cotton sateen. 
Don't miss our selection of sustainably made slip dresses. 
A Wrap Skirt and Blouse
A wrap skirt and cute blouse are easy to wear to everyone's favorite Brazilian steakhouse. 
Wrap skirts look great on every body type and create a feminine, fun silhouette. Pair it with your favorite blouse, and you're good to go. 
Check out our selection of wrap skirts for more options. 
A Tank Top and Faux Leather Pants
Wear a tank top tucked into faux leather pants for an edgy, daring look. 
Wear skin-tight faux leather pants, stilettos, and a black tank for a scintillating nighttime look. 
You can also wear wide-leg vegan leather pants with a loose tank top and platform shoes for a high-fashion vibe. 
Looking for a new pair? You're in luck. Check out this selection of luxurious faux leather pants. 
A Faux Leather Jacket and Jeans
A leather jacket makes perfect sense at Fogo de Chão. But give your outfit a sustainable twist by investing in a high-quality vegan leather jacket. 
A leather jacket looks great with just about any pant style, from high-waisted to vintage distressed jeans. 
Throw on your favorite graphic tee underneath, and you're ready for a night full of food, drinks, and great company. 
Explore these faux leather jackets that will last a lifetime. 
Jeans and Heels
Wearing jeans and heels to Fogo de Chão strikes the perfect balance of casual and formal. 
Wear any heeled shoe you like, from platform sandals to sky-high stilettos. Skinny, cuffed, or wide-leg jeans all work for this look. 
If you're looking for a new favorite pair of jeans, check out our ultimate list of sustainable denim brands. 
A Bodysuit and Pencil Skirt
Layer a pencil skirt over a bodysuit for a chic, elegant Fogo de Chão. 
This outfit is perfect if you're invited to a lunch or dinner for a special event, like a bachelorette party or a work function. For an extra layer of styling, throw on a cardigan or blazer. 
Check out our selection of high-quality pencil skirts. 
A Cropped Sweater and High-Waisted Jeans
You don't have to dress super formally to dine at Fogo de Chão. A cropped sweater and high-waisted jeans are perfectly acceptable. In fact, it's a great outfit choice. 
Wear a funky cropped sweater with high-waisted, wide-leg jeans for a creative, artistic vibe. You can also go monochromatic and mysterious with black jeans, a black sweater, and matching boots. 
Check out our selection of cozy sweaters made in the USA.
A Cocktail Dress
Wear a classy cocktail dress if you really want to impress your date.
There's a cocktail dress out there for every sense of style. From florals to sequins, stripes to satin, you can't go wrong with this outfit at Fogo de Chão. 
Dress to impress with these 12 sustainable cocktail dresses. 
A Vintage Designer Dress
Recycle and reuse by wearing a vintage designer dress to Fogo de Chão.
With enough patience and dedication, you can find some amazing designer duds at thrift stores or secondhand consignment shops.
Wearing a vintage designer dress is a great way to keep clothes out of landfills and give something that's "last season" a new lease on life.  
Find plenty of online thrift and vintage stores with this extensive list. 
A Knit Sweater and Midi Skirt
The interior design of Fogo de Chão restaurants is modern, luxurious, and richly cozy. Fit right in with a cozy knit sweater and a midi skirt. 
Wear a turtleneck sweater French-tucked into a high-waisted midi skirt, or layer a sumptuous knit pullover over a form-fitting pencil midi skirt. 
Explore our selection of affordable midi skirts. 
Was this article helpful to you? Please tell us what you liked or didn't like in the comments below.
About the Author: Liz Flynn