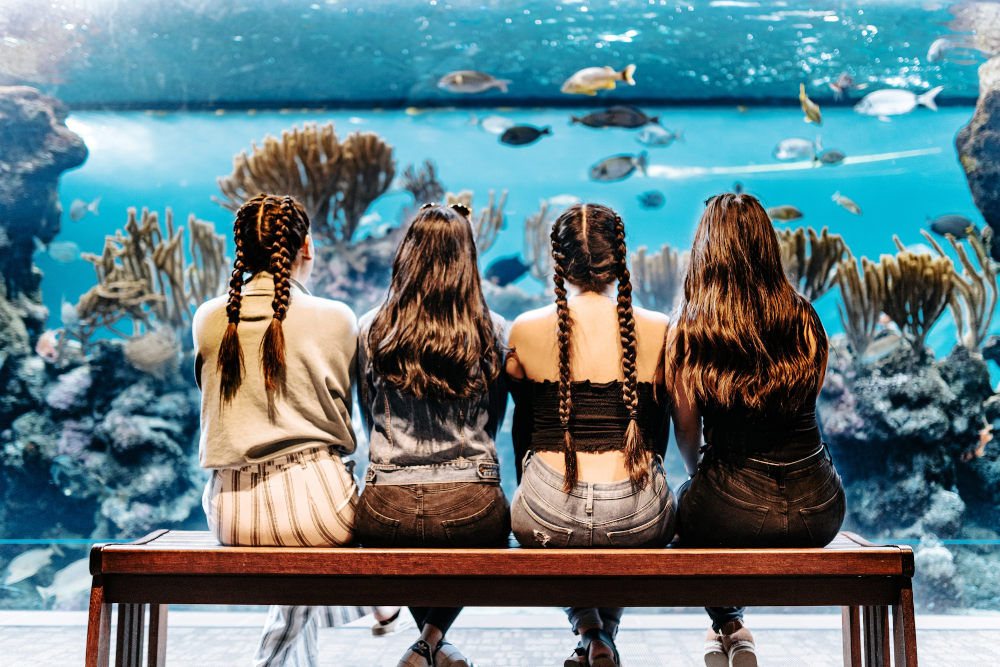 Aquarium Date - What To Wear To Look Gorgeous
Aquarium date is a fun and exciting experience. It is an opportunity to spend quality time as a couple, learn something new and create sweet memories together.

When deciding what to wear to an aquarium date, you must assemble an outfit both flattering to your figure and practical for the event. A maxi dress for scenic social media shots, a fluid skirt, skinny jeans with a sexy top, or a stylish jumpsuit can be suitable for the event. Consider taking an extra layer, such as a lightweight jacket or a cotton sweater, because the aquarium may have areas with cooler temperatures.
And, of course, don't forget to complete the look with comfortable shoes, as visiting an aquarium is typically a half or full-day activity, including lots of walking and standing on your feet.

Whether you are going on a first date or a special outing with your partner, we have prepared 15 outfit ideas that will make you feel confident and ready to dive into a memorable aquarium experience.
Panaprium is proud to be 100% independent, free of any influence, and not sponsored. We carefully handpick products from brands we trust. Thank you so much for buying something through our link, as we may earn a commission that supports us.
1. Fluid Jumpsuit And Sandals
Choose a soft and fluid jumpsuit and pair it with flat sandals for a casual yet fashionable look.

Jumpsuits are the favorite pieces of many women because they are very comfortable and look stylish on every occasion. For an enjoyable aquarium date, we recommend you select a palazzo jumpsuit, rompers, or a culotte jumpsuit made of soft and fluid fabrics.

This ensemble allows you to move freely and explore the aquarium without feeling restricted.
Here are the best organic cotton jumpsuits you need to look fashionable on your date.
2. High-Waisted Shorts And A Crop Top
If you are going on a date in the aquarium during the summer, combine high-waisted shorts with a stylish crop top. Shorts are flattering and playful. They make an intriguing combination of angelic and attractive looks. Boys love shorts, so don't hesitate to wear them on your date!
Buy stylish and eco-friendly denim shorts here.
Combine denim high-waisted shorts with a white crop top or a basic t-shirt, and you will achieve an easy and cute outfit, providing both comfort and style.
3. Shirt Dress
Try a pretty shirt dress if you want to combine masculine and feminine styles. Shirt dresses typically feature a button-down front, a collared neckline, and a loose-fitting silhouette that resembles a long shirt. The length of a shirt dress can vary, ranging from above the knee to midi or maxi length.

Pair it with sneakers or sandals for an effortless and chic look. Shirt dresses also lend themselves well to layering, allowing you to add a cardigan, blazer, or denim jacket for extra style and warmth.
If you are looking for cheap, eco-friendly, and ethically-made sandals, check out our selection here.
4. Basic T-Shirt And A Blue Skirt
Create a chic and polished outfit with a basic t-shirt tucked into a blue skirt. This combination is versatile, comfortable, and perfect for an aquarium date.
To help you look and feel great, here are some of the best unique, modern, and cute outfit ideas to wear with blue skirts.
5. Maxi Dress With Sneakers
Combine the elegance of a flowing maxi dress with the casual coolness of sneakers. This outfit strikes the perfect balance between comfort and style, making it an excellent choice for a day at the aquarium.

Pick one with a relaxed and delicate style for maximum comfort, but remember to choose a maxi dress that reflects your personality. Here is our selection of the best affordable maxi dresses made in the USA.
Pair the dress with sneakers for a blend of elegance and casualness. Choose sneakers with a sleek and minimalist design to complement the femininity of the maxi dress. 
6. Add An Extra Layer
Visiting the aquarium may expose you to temperature jumps, especially if your date is during the summer. The indoor temperature is often set at a comfortable level for visitors, usually around 70-75°F (21-24°C), but often there are exhibits that replicate specific ecosystems or climates. For example, a tropical sealife exhibit may be warmer and more humid, while a polar exhibition may be colder and have a chillier atmosphere.

It is a good idea to have a lightweight extra layer in hand in order to enjoy your date and feel comfortable. A denim jacket is a great choice. It adapts easily to every outfit and adds a casual and trendy touch.
Check our list of the best affordable denim jackets here.
Alternatively, you can wear a tie-front shirt over a basic tank top for extra warmth. Here are some of the best sustainable and ethical button-up shirts made under high social and environmental standards.
7. Tank Top With Leggings
Explore the aquarium and its expositions wearing cute leggings and a simple tank top. Leggings are extremely flattering because they are designed to sculpt and snatch. Leggings are typically soft and stretchy and hug your body to give you the perfect silhouette.
Check out our selection of the best affordable and organic bamboo leggings here.

To elevate the outfit a bit, consider adding some accessories or layers. You can accessorize with a statement necklace, a wide-brimmed hat, or a crossbody bag. Layering with a lightweight cardigan or a denim jacket can add a touch of style and provide some extra warmth if needed.
8. Palazzo Pants And A Flowy Blouse
Get a sophisticated and breezy look by pairing palazzo pants with a loose-fitting blouse. This outfit exudes effortless elegance and is a winning choice for a semi-formal aquarium date.
Check out our selection of the best sustainable wide-leg pants and jeans made under high standards.

For your footwear, choose between flat sandals, sneakers, or loafers for a more sophisticated look.
9. Off-the-Shoulder Top And Skinny Jeans
Off-the-Shoulder tops are flirty and intriguing. They show off your neckline and shoulders while still leaving enough to the imagination.

Pair it with classic skinny jeans for a cute ensemble or distressed jeans for a more edgy and rock-style look.

Your partner will be pleased with your delicate yet appealing look, and you will feel great.
10. Floral Midi Skirt And A Sweater
Midi skirts have probably the most comfortable length and are very suitable for day activities, such as an aquarium date.

Choose a floral pattern for a vintage and romantic look, and dress it down with a chunky knit sweater, comfy ankle boots, and a matching bag. This outfit perfectly balances elegance and comfort, ensuring you feel stylish throughout your aquarium date.
Discover our selection of the best midi skirts for women made from sustainable and eco-friendly materials.
11. Add Elegance With A Blazer 
Create a stylish and polished look while still maintaining a casual and relaxed vibe by pairing a blazer with jeans. Blazers are versatile and add a touch of elegance and finesse to every outfit.
Go for a blazer that respects your style and complements your figure. Choose between a variety of styles such as V-neck, oversized, long sleeves, padded shoulders, double-breasted, and more on our list here.

Pair the blazer with a simple T-shirt, a blouse, or a camisole - these tops work very well in combination with a blazer. Consider the colors and patterns that go well with your blazer and create a cohesive outfit.
12. Tailored Shorts
Add a touch of elegance and sophistication to your style with tailored shorts. There are plenty of models to choose from. Tailored linen shorts are perfect for the summer with their wide cut and fresh fabric. Also, chino shorts can come in bright colors and fun patterns if you love expressing yourself with colors.
Pair them with a bodice top or camisole, and complete the look with vegan leather sandals, sneakers, or ankle boots.
Choose your favorite bodysuit from our list of the best sustainable bodysuits and match it nicely with this outfit.
13. Jersey Ribbed Loungewear
House clothing and going-out clothes have merged together to give you the most comfortable yet super stylish look ever.
Pick a soft, cozy, and dressy loungewear to wear at home and to your aquarium date without looking like you just rolled out of bed. Remember to choose a loungewear set that fits nicely and doesn't look clingy.
Take a look at our best selection of cute and ethically-made loungewear brands from Australia and New Zealand.
14. White Denim Jeans And A Cropped Jacket
White denim is versatile, and it looks great with just about anything. You can stay in the same tone and pair it with a white fitted top.
This look depends on beautifully cut separates, so start with high-waisted white jeans and pair them with a white strapless top. Then add a pop of color – a bright-colored cropped jacket or a colorful bag are attention-grabbing yet chic and elegant.
Here are the best affordable and sustainable white denim jeans made under high social and environmental standards.
15. Slip Dress
Many aquariums around the world have spectacular underwater restaurants. They allow you to enjoy your meal while watching a variety of marine life swimming by.

If your aquarium date includes dining in an underwater restaurant, you will need a dress that can easily transform from a day dress into an evening dress. One perfect choice is a slip dress. A slip dress falls flawlessly on all body types and exudes luxe and sophistication.
Check out our selection for the best affordable and sustainable slip dresses made under high standards.

Aim for a monochrome or neutral color scheme and match it with slightly dressier shoes like loafers or dressy sandals to match the ambiance. 
Was this article helpful to you? Please tell us what you liked or didn't like in the comments below.
About the Author: Iana Jekova