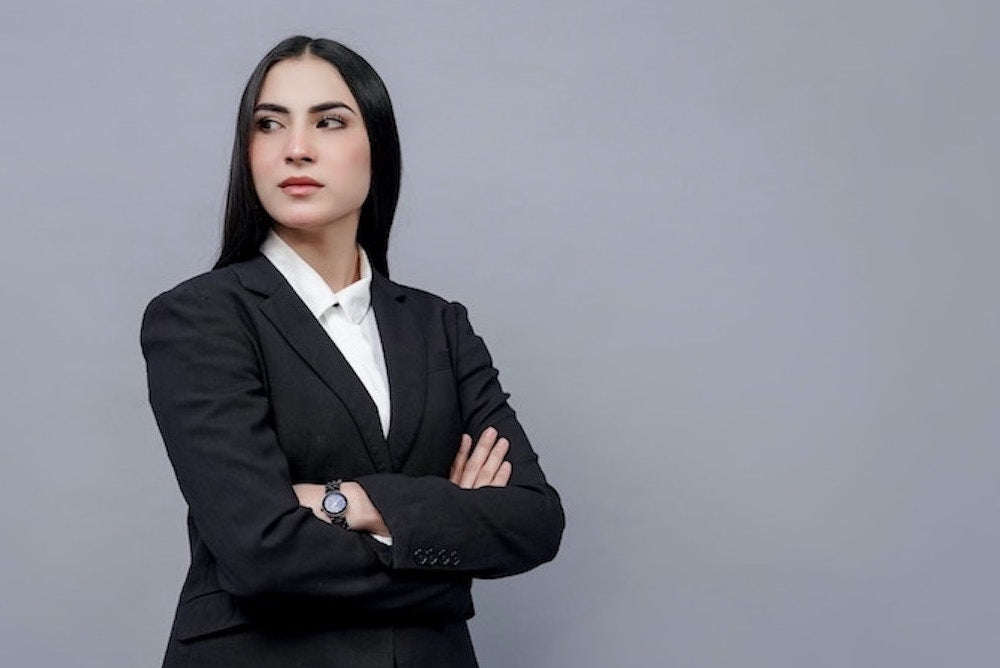 What Do Morticians Wear? 15+ Best Tips to Dress the Part
Morticians wear clothing that is professional, subdued, and respectful. Black slacks, neutral sweaters, and sharp blazers are industry standards. 
In the past, many funeral homes enforced a strict dress code that required morticians to always wear a suit and tie. However, the dress code is changing along with the demographics of the death care industry. 
The National Funeral Directors Association reports that more women are joining funeral director programs in recent years. 
So, morticians are adopting a more fluid, creative, and versatile dress code to meet their needs. The job of a mortician is emotional and labor-intensive. The modern-day wardrobe of a mortician reflects that. 
Think tailored slacks, subtle patterns, and a muted color palette incorporating hues other than black. 
Keep reading to learn more about what modern-day morticians wear to work. 
Panaprium is proud to be 100% independent, free of any influence, and not sponsored. We carefully handpick products from brands we trust. Thank you so much for buying something through our link, as we may earn a commission that supports us.
What is a Mortician?
According to Goodwin University, a mortician is someone who engages in end-of-life arrangements such as "embalming, dressing…casketing, and ultimately beautifying the body of the deceased."
Morticians also meet with religious professionals, family members of the deceased, and others to arrange funerals, ceremonies, and obituaries. 
Requirements to become a mortician vary from state to state. Generally, Best Colleges advises that a certification or bachelor's degree from an accredited program is required to become a licensed mortician.  
Often, a mortician also acts as the funeral director or owner of the mortuary. They are highly-skilled professionals who know how to handle the sensitive, emotional process of after-life care. 
Muted Colors
Morticians should wear muted colors like black, gray, brown, and beige. Morticians interact with grieving families on a daily basis, so cheerful, bright colors could be viewed as inappropriate and insensitive. 
Overall, a muted color palette creates a professional and respectful look that instills confidence when dealing with delicate topics like funeral arrangements and grief. 
Morticians can wear black slacks with neutral tops, dark blazers, and sweaters. With a few neutral wardrobe basics, it's easy to dress well for work while maintaining a personal style. 
Blazers
A classic blazer is a must-have for any mortician's wardrobe because they want to look as professional and put-together as possible. 
Blazers don't have to be boxy and boring. Many morticians gravitate toward sleek black blazers in modern cuts. Blazers pair well with tailored slacks, skirts, dresses, and other outfits. Plus, it's easy to throw on over an outfit when a more polished look is necessary. 
Shop our selection of sustainable blazers. 
Modest Blouses
Although morticians spend a lot of time on their feet, they must always look professional. A beautiful blouse with a modest silhouette and cut is the best way to remain comfortable and chic. 
Morticians can wear any type of blouse appropriate for an office setting. Billowing puff-sleeve tops, button-up shirts, and sheer boho blouses with an undershirt are all appropriate. 
Check out our selection of conservative yet fashionable blouses. 
Turtlenecks
Because morticians work in the death care industry, showing a lot of skin is inappropriate. That's why turtlenecks are such an excellent outfit idea. 
This top style is versatile, comfortable, and oh-so professional, from turtleneck knitwear to a long-sleeve mock neck. In addition, morticians don't have to worry about pesky necklines when crouching over an embalming table. 
Shop our favorite ethically-made turtlenecks that won't break the bank.
Somber Sweaters
Morticians don't always have to wear suits and blazers. Sweaters in muted, somber colors are also appropriate for their line of work. 
Many morticians go with a classic black knit, but they can also wear shades of gray, beige, and navy blue. Sweaters are easy to pair with slacks, black skirts, and dresses, making them a go-to for many morticians and funeral home directors. 
Organic cotton sweaters are an excellent outfit option for morticians. 
All Black Outfits
Morticians aren't required to wear all black. However, many morticians choose black outfits because it's convenient and easy to wear in their line of work. 
Black slacks and skirts are easy to wear with matching blazers, cardigans, and blouses. Sheer black tights and simple work boots tie the whole look together with professionalism and practicality. 
Black shift dresses or pleated skirts are best when morticians attend client meetings and events such as wakes and viewings. 
Black Skirts
A black knee-length skirt makes a perfect mortician outfit. It's comfortable, flattering, and professional. 
A high-waisted skirt with a blazer and blouse is an elegant way to dress for a day at the funeral home. Black skirts also look great with sweaters, turtlenecks, and a tucked-in black t-shirt. 
Check out our selection of sustainable pencil skirts. 
Black Dresses
A black dress is a wardrobe staple for morticians. It's a versatile piece appropriate for meeting with clients and attending funeral home functions. 
A black dress with a modest neckline, straps, and a hemline at or below the knee is best. Many morticians wear black dresses with a sleek blazer and sheer pantyhose for a professional, polished look that instills confidence. 
Here are our favorite affordable and sustainable black dresses. 
Tights or Pantyhose
Tights or pantyhose are necessary when morticians wear a skirt or dress to work. Revealing skin, even knees or calves, is considered inappropriate in such a serious environment. 
Morticians can wear nude-colored pantyhose for a more natural look. In addition, pantyhose tend to be thinner than tights, making it an excellent option for warmer weather. 
Black or gray tights add to the muted color palette of a mortician's outfit, making it appropriate for meeting with clients and business partners. 
Explore our selection of ethical hosiery brands. 
Tailored Slacks
Tailored slacks are a versatile go-to for morticians. A pair of black or neutral slacks are comfortable enough to move around in but formal enough to meet with clients. 
Overall, it's a flexible wardrobe staple that men and women can wear to work. In addition, slacks are easy to cover with PPE if they have to embalm on any given day. 
High-waisted slacks paired with a turtleneck or sweater are perfect for colder months. Dress pants also look great with a matching blazer and a modest blouse. 
Peruse the best affordable work pants for more ideas.
A Suit & Tie
Although the dress code for morticians has gotten more relaxed over the years, a suit and tie are still a go-to outfit for this line of work. 
Morticians often meet with families and attend funerals or wakes. Therefore, a formal suit with a tie in a muted color is appropriate for men and women to wear in these situations. 
This outfit is an easy way to look respectful, put together, and authoritative when working on the more formal aspects of being a mortician. 
A sustainable suit doesn't have to break the bank. Check out our selection of the best affordable suits for men and women. 
Durable Shoes
Morticians are on their feet most of the day, so shoes with traction and a flat sole are essential. Black dress shoes or vegan leather work boots are most appropriate because they are professional and comfortable. 
While heels are appropriate for a funeral service, they aren't the best choice for the day-to-day work life of a mortician. Instead, many morticians wear work boots or slip-on shoes to protect their toes and provide all-day comfort. 
Explore our selection of vegan work boots. 
Mortician Accessories & Equipment
Morticians should keep their outfit accessories to a minimum while on the job. An average day can range from preparing bodies to meeting with family members, so the more minimalist, the better. 
Morticians can wear accessories such as simple necklaces, earrings, and hair ties. However, oversized rings and dangling earrings are not recommended because they can snag on things and create a safety risk for the mortician and the bodies they work on. 
In addition, the National Funeral Directors Association states that morticians must wear appropriate PPE, such as "gloves, masks, and gowns," to protect themselves and others when embalming and preparing the deceased.   
Mindfulness is Key
Morticians interact with a diverse range of people from different cultures, backgrounds, and religions. Therefore, a big part of a mortician's style is to be mindful of how they present themselves to family members of the deceased. 
Jewelry and color choices are a big part of dressing for work. Certain colors are considered offensive or inappropriate in certain cultures. For example, red is celebratory in Chinese culture and unsuitable for a funeral home's somber setting. 
In addition, morticians should avoid wearing religious iconography, such as a cross necklace, out of respect for different people's beliefs and practices. 
What Not to Wear
While a mortician's work attire is pretty flexible, there are some things they should avoid wearing to work. 
Bright colors:

Even though morticians don't have to wear all-black, they should avoid bright, happy colors out of respect for their clients. Light colors elicit feelings of lightness and joy, which don't reflect the overall mood of a funeral home. 
Low-cut tops:

Morticians spend most of their day on their feet, bending over and moving heavy items. Low-cut tops are uncomfortable and way too revealing for this type of work. Also, showing too much skin is inappropriate when meeting grieving family members. 
Short hemlines:

A mortician's skirt or dress should be knee-length or longer. Anything shorter is considered inappropriate and unprofessional. A good rule of thumb is that if it's

appropriate for an office environment

, it's appropriate for a mortician. 
Was this article helpful to you? Please tell us what you liked or didn't like in the comments below.
About the Author: Liz Flynn