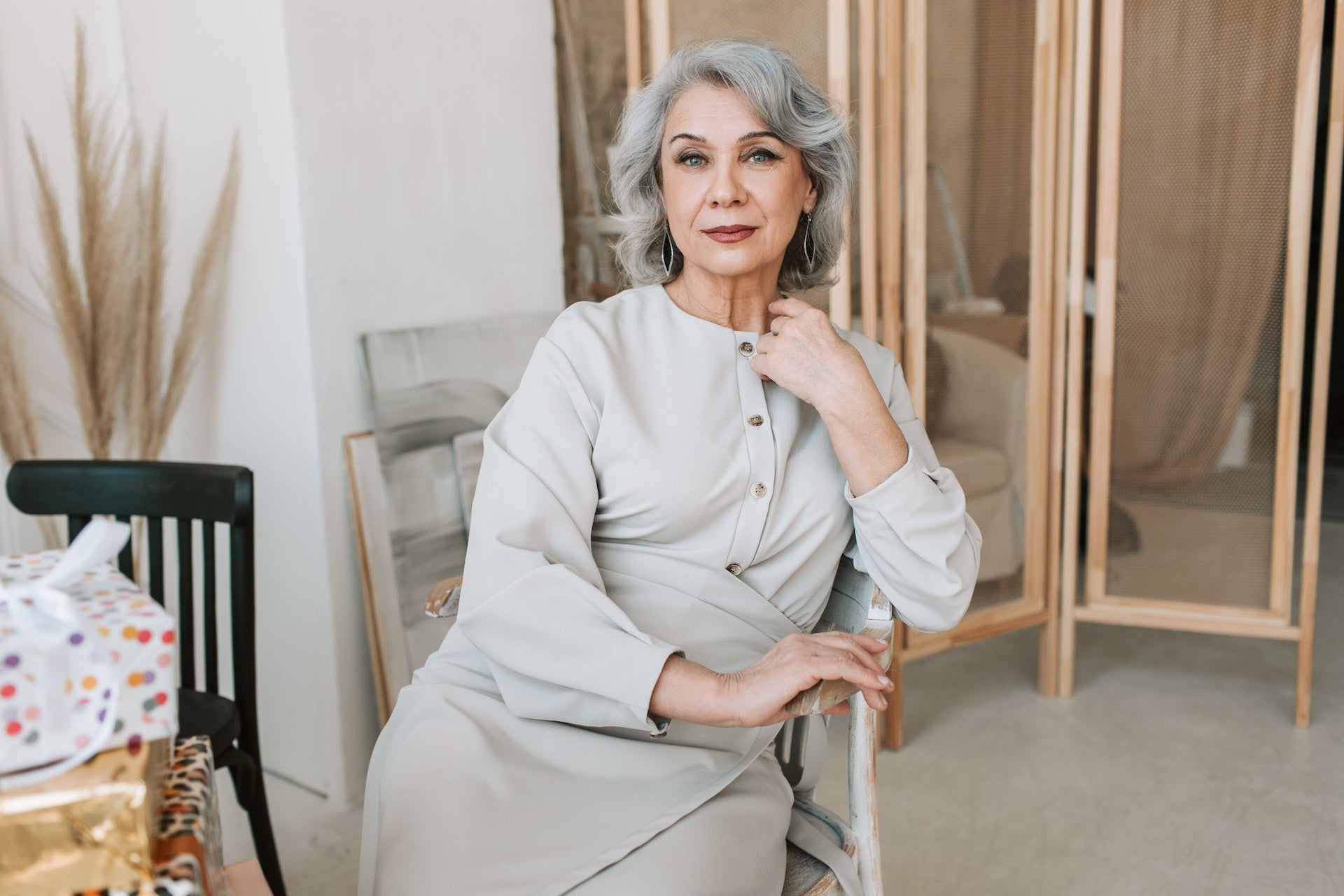 The Ultimate Wedding Guest Outfit Guide For Women Over 60
Wedding season is peaking and choosing the best outfit to wear as a guest can be challenging, especially for women over 60.
If you have been invited to a wedding you might feel a bit overwhelmed with the outfit decision, but we've got you covered, so keep reading to discover some amazing styles that you can wear!
Panaprium is proud to be 100% independent, free of any influence, and not sponsored. We carefully handpick products from brands we trust. Thank you so much for buying something through our link, as we may earn a commission that supports us.

Gowns
Gowns are the ultimate elegant dresses that can be worn at weddings. They are available in a lot of fabrics and colors and they look so classy!

Timeless pieces that any woman can wear, no matter if she is 18 or 80, gowns will always be fashionable.

Discover beautiful and ethically made gowns in this article.


Blazers
A very chic idea, especially suitable if it is a little bit chilly outside, is wearing a blazer. They are always elegant and fashionable and your whole appearance will be put together and stylish.

You can now purchase sustainable blazers.


Plus-size
Many women struggle to find beautiful clothing items in the right size.
However, that should no longer be an issue, since many ethical and sustainable brands that produce high-quality clothing are now focused on their plus-size lines.

Here is a list of our 15 European recommendations.



Maxi dresses
Wearing a maxi dress is an excellent option, especially during warm weather. You can choose either a monochrome or a printed one. They look fantastic and are very easy to accessorize.

Maxi dresses have a loose fitting that allows airflow and unrestricted movement.
Discover beautiful and sustainable maxi dresses made in the USA.


Midi dresses
Midi dresses are another amazing option that can make you shine as a wedding guest. The midi length looks flattering on all body types, which makes wearing one a no-brainer.

We recommend matching a colorful midi dress with nude or black shoes, or a monochrome dress with a pair of shoes in a bold color. This way, your attire will be both vibrant and balanced!


Take a look at our article about elegant dresses for special occasions.




Summer dresses
Bold and fun, summer dresses are the ideal outfit for a relaxed garden wedding.

They are many prints to choose from and they look so vibrant and uplifting!

Discover our 2023 organic cotton dress selection.


Jumpsuits
Jumpsuits are iconic! They combine elegance and practicality and they are perfect for ladies over 60.
There are many fabrics and colors to choose from, you will certainly find one you love!

Attend the next wedding you are invited to wearing a beautiful jumpsuit that comes from a sustainable brand.




Trousers
If you usually wear jeans, shorts or trousers and you do not like skirts or dresses that much, then you should wear a pair of trousers.
It is very important to feel great in the clothes you are wearing.

You can choose a beautiful and ethically made pair of trousers, from a sustainable brand.

Shirts
If you are going to wear a skirt or trousers, you can complete your beautiful outfit with a shirt. They are timeless clothing items that look great on anyone.

Shirts add an elegant touch to any outfit and you can always add a statement necklace if you feel the whole outfit is too formal.

Discover amazing shirts made by ethical brands.



Blouses
Blouses are beautiful and elegant and can successfully be part of your wedding guest attire, especially for day weddings.
You can now buy gorgeous and sustainable blouses without breaking the bank.

Coordinated sets
Coordinated sets make amazing wedding guest attire! They are the definition of great taste and class.
Your family and friends will love your outfit and, if you want to make things fun, you can choose a bold and happy color.

Buy yours from an ethical brand.

Coats
If it is cold outside, you will need a beautiful coat.

You can now make your choice sustainable, and we've got you covered with some beautiful recommendations in this article.



Shoes
When choosing your wedding guest shoes, you should have both fashion and comfort in mind. That is because you will spend many hours wearing the shoes.
If you do not enjoy wearing heels, you should go for a beautiful pair of flat shoes that are elegant, chic and comfy.
You can also hit the dance floor with them!
They can now be sustainable and made completely guilt-free from eco-friendly materials.



Purses
You should have a nice purse to keep your phone and other small personal belongings during the wedding.
Choose a neutral color or one matching your outfit.

Check out these cruelty-free, one-of-a-kind pieces that you'll love!

Jewelry
Jewelry - the final touch to any beautiful outfit!

Big rings? Multiple bracelets? Gemstone necklaces? There is a lot to choose from, and the right thing is what feels right to you.

You can choose oversized jewelry if you want to make a statement, or minimalist ones for a delicate look. We recommend, however, avoiding multiple statement pieces worn at once - one is usually enough for a stylish look!
Luckily, many brands produce wonderful sustainable jewelry, as a great alternative to the luxury market.

Take a look at our article to discover more details.


Conclusions
Being a wedding guest can be stressful, no matter how old you are.
For ladies over 60, it can sometimes be tricky because the weddings they attend are usually beloved family members', which can bring a lot of emotion. Choosing an outfit is difficult not only because of the emotional overwhelm but also because many brands tend to focus on young customers. It happens because the very young age category is more likely to have less responsible consumers and to be attracted to fast fashion trends, which results in big profits for some brands.

However, this doesn't mean that women over 60 years old can't find fantastic clothing items that showcase their best features.

In order to have the perfect wedding guest outfit keep in mind the place you are going to (for example, a summer garden wedding and a winter castle one will require different attire ). You should also think of your comfort and choose an elegant outfit within the items that make you feel great.

Always buy clothes in the right size for your body - this is the key to flattering outfits!
Share this article with your friends who might also find our tips helpful!



Was this article helpful to you? Please tell us what you liked or didn't like in the comments below.
About the Author: Miruna Dulcea