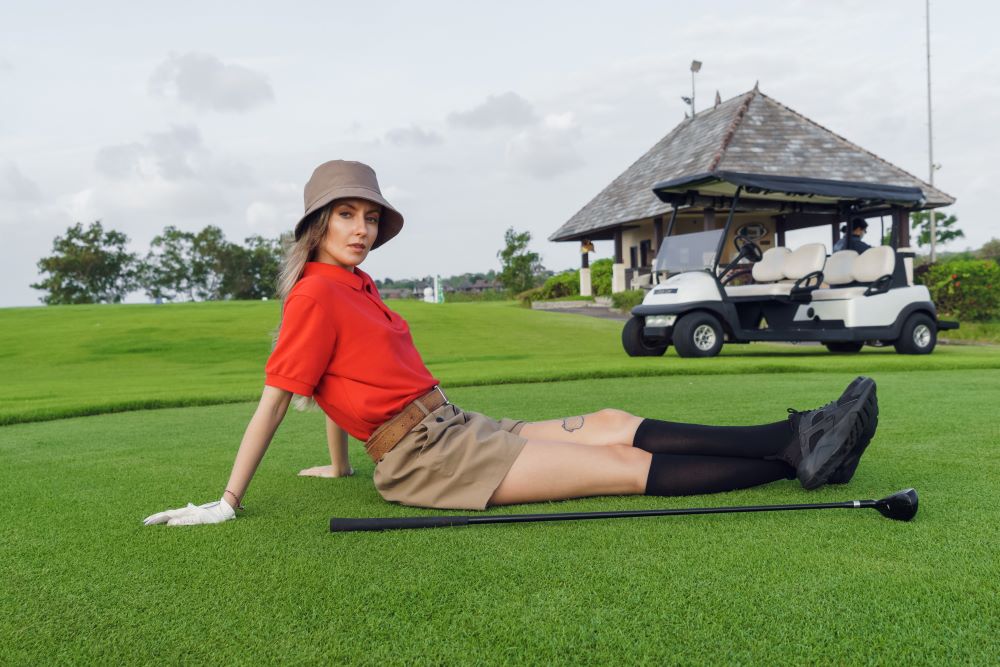 Female Golfer Attire: What to Wear Under Golf Skirt
Golf has the highest percentage of woman players yet, with women playing 25% of rounds worldwide and 40% of the junior population being women. Whether you watch women's golf live, on TV, or play it yourself, you probably have seen female golfers playing in shorter skirts.  
There are a variety of different reasons why women golfers wear skirts to play. Many female golfers find a skirt helps them stay mobile, flexible, and comfortable for a good game. 
Others like the many styles of skirts available to wear and feel more fashionable and high class. Others wear skirts to uphold the tradition of other women wearing skirts instilled over a century ago.  
Regardless of why you choose to wear a skirt to golf, knowing what to wear under it to stay modest while still being mobile can be difficult. What you wear under your skirt depends on each golf course's dress code, the weather, and what you feel most comfortable and confident in for tee-off. 
Panaprium is proud to be 100% independent, free of any influence, and not sponsored. We carefully handpick products from brands we trust. Thank you so much for buying something through our link, as we may earn a commission that supports us.
Built-in Shorts 
Many golf skirts come with built-in shorts to create a skort. The shorts are the same material and color as the skirt for a seamless look that is still comfortable. With a skort, you can bend over easily without having to worry about your skirt riding up or have to worry about drawing eyes toward you.
Many skorts also include pockets nowadays to easily store spare golf balls so you don't have to carry them. 
Learn more about golf and golf practice dress codes.
Leggings 
Leggings have not always been allowed, especially in private golf courses, but over the years the dress code for women golfers has evolved to include more options. 
Some golf courses still do not allow leggings to be worn on their own, but many allow leggings under your skirt. Always check with the golf course's dress code ahead of time before you arrive.  
Try a pair of organic bamboo leggings for your next tee-off.
Boy Short Underwear
If you do not want a lot of layers or don't want to cover more of your legs than you have to, boy short underwear is a light, easy option. Boy, short underwear will cover more of your thighs and waist than other types of underwear while still staying hidden under your skirt.
Make sure your underwear is made of thick enough material that is not see-through to keep you covered. Also, consider choosing fabric like cotton that is breathable to help keep you cool.
Athletic Shorts 
Athletic shorts are a popular option to wear under your golfing skirt. Athletic shorts are lightweight and breathable so you won't overheat. They also come in a variety of lengths and fits so you can choose what works best for you.  
Choose a pair of skin-tight shorts that aren't any longer than your skirt to show off your skirt while still having coverage or go for a looser and longer pair for additional comfort and coverage. Athletic shorts help create a skort-like option if shorts aren't built into your golfing skirt. 
Check out these athletic bike shorts.
Bodysuit 
A bodysuit will provide coverage, support, and structure for your top and bottom while also providing coverage. 
The Ladies Professional Golf Association (LGPA) states that a female golfer's skirt or pants should hide their bottom areas and be more on the conservative end. Most golf courses follow a similar dress code so choose a bodysuit that goes down your thighs or at least covers your bottom.  
Discover these affordable bodysuits.
Shapewear 
Like a bodysuit, shapewear will offer you more support while also helping to create a smooth silhouette. If your shapewear is sheer, layer it over your underwear and under your shorts or any other bottoms you are wearing. 
Find other outfits to wear shapewear underneath here,
Dress Shorts 
Dress shorts on their own or under a skirt are often worn during the warmer months. Shorts should be structured and well fitted such as khaki shorts. Other shorts like jogging shorts or drawstring shorts are generally not allowed at most golf courses. 
Your shorts and skirt should also be long enough to cover your bottom, with some golfing dress code stating they should be a few inches from your knee.
Capris 
Capris offer more coverage than shorts while not being as long as leggings, making them great for warmer months and for those who want more coverage than shorts can provide. Choose a pair of athletic capris for added breathability and a form-fitting look.
Find more pants and capris here.
Insulated Leggings 
If your love of golf spans all seasons, you will need a warmer option for the colder months. Insulated or lined leggings are a great option under your skirt. Your legs will stay warm without taking away from your mobility and flexibility. Plus you can still wear your golfing skirts even in winter. 
Athletic Leggings 
There is no better time to golf than on a warm, sunny day when you can appreciate the green scenery and be outdoors while also playing a relaxing yet competitive sport. The last thing you want to worry about is overheating while playing.
Athletic leggings are made from stretchy, breathable fabric that will help keep you cool. These types of leggings also are made of a material like polyester that will absorb any moisture and dry quickly in case you sweat, so you won't be wet and weighed down while you golf.
Try out these athletic leggings with pockets.
Breathable Material
Regardless of what option you choose, choosing breathable fabrics is key to staying comfortable and cool. Choose fabrics like linen that will allow you to breathe while you play. Other fabrics like polyester will also absorb any moisture and dry quickly, especially on a hot and humid day.
If you opt for cotton, be aware that although this material is breathable, it holds on to moisture and does not dry quickly. If it is a humid day, you may feel weighed down before you can get to the twelfth hole. 
Learn more about polyester here.
Was this article helpful to you? Please tell us what you liked or didn't like in the comments below.
About the Author: Shelby Bonner