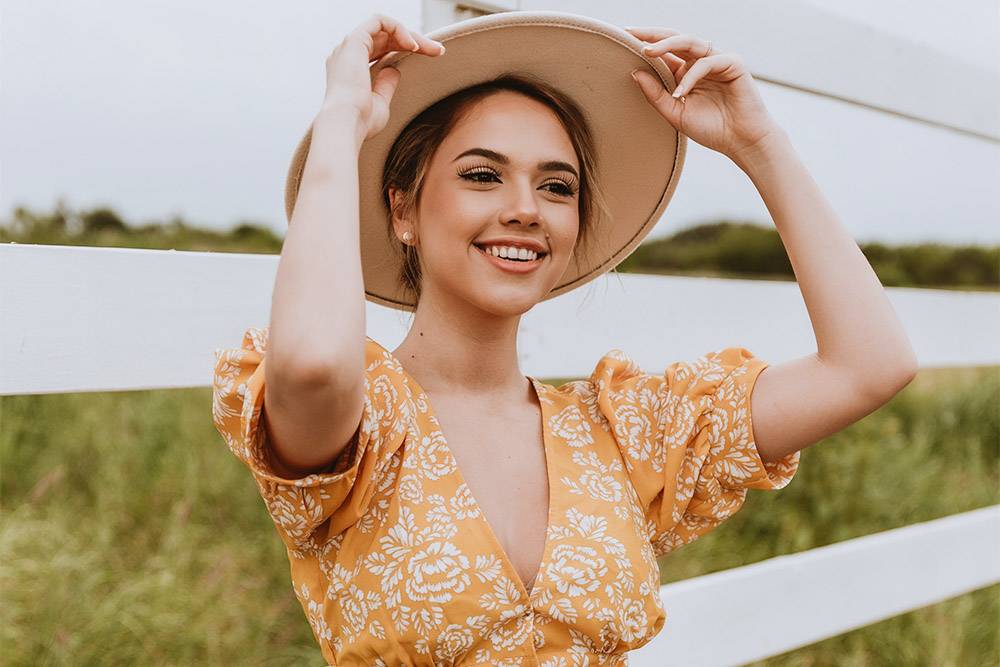 20 Best Outfits To Wear On A First Date To Impress
Discover some of the most beautiful outfits to wear on a date night to impress a man. You can instantly look more attractive with the perfect combination of shapes and colors that showcase your best features.

You don't even have to spend a lot of money to look incredibly gorgeous and maintain your confidence. If you want to dress well and look cute effortlessly, use these original, stylish, and gorgeous outfits as inspiration.

Looking fabulous is much easier than you think. Improve your style drastically with these engaging outfits that look seriously sexy. Here are some fantastic ideas to help you figure out what to wear on a first date.


Panaprium is proud to be 100% independent, free of any influence, and not sponsored. We carefully handpick products from brands we trust. Thank you so much for buying something through our link, as we may earn a commission that supports us.

1. A red dress


Wear a red dress on a first date to easily impress. Wearing bold colors like red improve your look instantly. You can instantly look hot if you choose an eye-catching combination of colors that suits you perfectly.

Pick a few flashy, colorful pieces that add a twist to your wardrobe. Neutral colors make clothes very versatile and timeless and they can work with any outfit.

But don't shy away from colors completely. The right colors improve your attractiveness by giving a particular nuance to your outfits, whether they're on casual wear or formal wear.

Our selection of luxurious, chic, red dresses.


2. A cute jumper


You can wear cute and cozy jumpers to look stylish and feel comfortable on a cold date night. Choose multifunctional, versatile, and durable pieces ethically made with eco-friendly materials that scream modernity and sustainability.

The best jumpers for women are gorgeous and inexpensive to stay comfy and warm in chilly weather without breaking the bank. Wear feminine sweaters, pullovers, and cardigans in neutral colors to craft a chic, timeless, classic, and cute date outfit.

Our selection of stylish, cheap, and cute jumpers.


3. A denim jacket


Wear attractive layers to add a stylish touch to any outfit. A classic denim jacket can improve your dressing style drastically. It helps you stand out and transform a regular outfit into a more attractive and original look.

Pick a handful of attractive layers that you can throw on to stand out and make your casual outfits more modern and versatile.

Our selection of denim jackets.


4. A boho look


The best bohemian clothes are affordable, sustainable, and comfortable to help you look and feel your best without breaking the bank. You can easily look cute in hippie-chic garments.

Choose versatile and timeless pieces from the best fashion labels that improve your style, grow your confidence, and protect the planet. Try on a beautiful and eco-friendly gypsy style on a first date to impress.

Our selection of popular, cute, and cheap boho clothing.


5. A stylish jumpsuit


On your date night, try on a stylish linen jumpsuit made under high social and environmental standards to add a natural look and feel to your wardrobe.

Linen is the perfect material to create lightweight, soft, and breathable summer outfits. It has fantastic qualities that make it ideal for high-quality and eco-friendly apparel.

Our selection of affordable linen jumpsuits made in the USA.


6. Skinny jeans


Skinny jeans are trademarks of a casual and hot fashion style. You can look attractive, glamourous, and charismatic by wearing well-fitting jeans that elongate your legs, skim your figure, and enhance your best features effortlessly.

Make sure the fit and length work well with your body type and the rest of your first date outfit. If your clothes don't fit you properly, your risk losing style and elegance.

Our selection of skinny denim jeans.


7. A mini skirt


The bottom part of your outfit is crucial to dress sexier. Mini-skirts are hot as they show off your legs. One of the best ways to enhance your sex appeal is to showcase your unique assets.

Combine an informal top with a mini-skirt to create an original, attractive date outfit. Make sure your clothes compliment your body shape. You can easily improve any casual outfit by wearing clothes that accentuate your curves.

Our selection of cute and seductive mini-skirts.


8. A formal dress


Look cute and charming on a first date in stylish, luxury, and chic formal dresses and evening gowns. If you want to be bold and stand out, wear a feminine and fashionable formal dress.

An elaborate designer dress will help you look elegant, confident, and smart. Look cute and stylish for your upcoming date night with affordable and sustainable evening gowns.

Our selection of formal dresses.


9. Denim shorts


Denim shorts are very attractive as they are some of the most adorable, cute, and classic clothing pieces you can wear. Stylish, soft, gorgeous shorts will make you look fabulous and feel relaxed on a first date.

Try on a pair of lyocell denim shorts as a cheap and eco-friendly alternative to polluting, regular cotton. Lyocell is a great fabric choice to dress well and sustainably easily.

Our selection of lyocell denim brands.


10. Cute leggings


You can wear a pair of cute leggings on your upcoming first date, especially if it takes place during the day or involves some kind of physical activity.

Stylish and chic leggings or yoga pants are extremely popular clothing pieces designed to transition from exercise wear to casual wear. They make you more attractive as they show that you work out and take care of your body.

Our selection of cute leggings.


11. Sexy underwear


You can easily feel more attractive and maintain your confidence by wearing sexy underwear. The best underwear is high-quality, affordable, and sustainable to help you look and feel beautiful with a clean conscience.

Choose comfy and cozy lingerie ethically made with eco-friendly materials to not only impress but also empower people in the supply chain, from makers to consumers.

Our selection of underwear.


12. Long boots


The best boots for women are cozy, warm, cheap, and cute to help you look stylish and feel comfortable on a first date, especially during a cold night.

Long and knee-high boots are also ideal for everyday wear and are must-haves to craft attractive outfits effortlessly. Maintain your confidence with a cool and sexy pair of shoes that elongate your legs to look more attractive.

Our selection of affordable boots.


13. A pair of cute flats


Flats and pumps on women are very cute, feminine, and attractive. Try on ballerina shoes that are affordable, sustainable, comfortable, and ethically made to last.

Choose more durable and high-quality footwear that not only looks beautiful but also lasts longer. Well-made shoes don't wear out as fast as cheaper ones with a much lower quality.

Our selection of ballet flats.


14. High heels


High heels are trademarks of stylish, elegant, and sexy outfits for the strong, confident, modern woman. They make your walk more attractive and are simply fascinating for everybody.

Wear high heels on your upcoming first date to better your posture, enhance your fashion style, and elongate your legs. Take a step back and invest in a smaller number of high-quality shoes that you can wear for a long time.

Our selection of high heels.


15. Form-fitting tights


Sheathing your body from the waist to the toe tips with a pair of form-fitting tights. Pick the best tights, pantyhose, and stockings with high quality, look, and feel.

High-waisted shaping tights will skim your figure and add a sexy touch to any casual outfit to impress on a first date. Buy from a sustainable underwear brand that makes tights from recycled materials to stand out without high costs for the planet.

Our selection of sustainable hosiery brands.


16. A cute beanie


Wear one stylish accessory with the rest of your date outfit to look more attractive and well-dressed. It can be a versatile, cute, and fashionable beanie that accentuates your look.

But don't overdo it as one accessory is plenty enough. You can look hot in casual clothes with a classic, lady-like style accentuated by one unique and original item.

Our selection of cute beanies.


17. A tailored suit


Wear a tailored suit to look well-dressed, show confidence, and make a good first impression. Suits and business attires are very attractive as they help you look smart, sophisticated, professional, and successful.

Dressing well for a first date to impress a man doesn't have to be complicated. You deserve a stylish outfit that highlights your best features and helps you look great while transitioning from office wear to casual wear.

Our selection of tailored suits.




18. A summer dress


To look and feel your best on a summer date night, choose clothes that are breathable, lightweight, and comfortable. Wear a stylish and affordable summer dress that flatters your body with the right fit.

Make sure your first date outfit balances your hips, waist, bust, and shoulders. The best summer dresses for women flatter your curves without being too revealing.

Our selection of summer dresses.


19. A girly look


Girly outfits are attractive, stylish, and very feminine. They help you look and feel young and cute. It's even harder in the winter to craft a feminine outfit that also keeps you warm and comfy.

Try to wear classic and easy-to-wear sweaters and add cute layers with lots of features or pastel colors. Highlight your best features and look great effortlessly in a charming girly look.

Our selection of girly outfits for the winter.


20. A leather jacket


Put on a fabulous leather jacket, blazer, or vest to create a stylish, chic, and modern look on a first date. Choose clothes made from animal-free materials such as faux leather. No animal should have to suffer to create cheap and beautiful clothes.

When crafting a first date outfit, let your personality shine through your clothes by focusing on what feels right for you. You will look more attractive if you avoid any clothing that makes you uncomfortable.

Our selection of vegan leather jackets.
Was this article helpful to you? Please tell us what you liked or didn't like in the comments below.