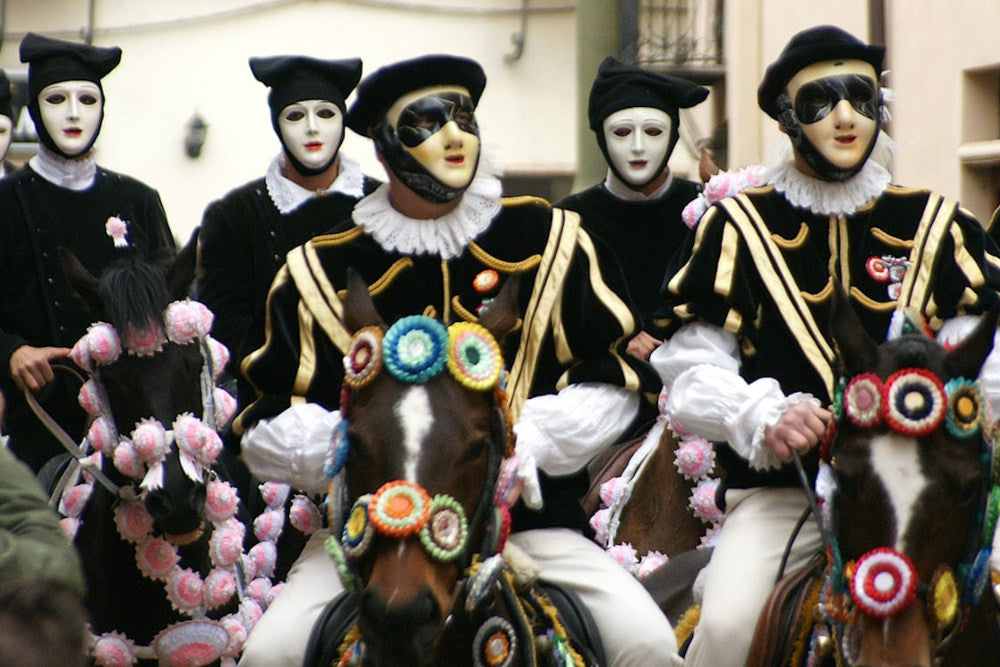 Discover The Powerful Beauty of Italian Traditional Clothing
Traditional Italian clothes are beautiful, colorful, and rich in embroidery and decorations.
In ancient times, clothing was unpretentious and often was sewn from woolen fabrics. The main element of clothing for men and women was a tunic worn by both wealthy Romans and their slaves.
With the fall of the Roman Empire, due to the numerous Italian kingdoms and duchies and in part to the influence of the dominions on some areas, the traditional Italian garb varies from region to region.
Panaprium is proud to be 100% independent, free of any influence, and not sponsored. We carefully handpick products from brands we trust. Thank you so much for buying something through our link, as we may earn a commission that supports us.
Ancient Roman Clothing
The Roman garb maintained the same style throughout history (100 BC to 476 AD, Fall of the Empire). They had a sober and modest line and descended from the Greek and Etruscan style. The main element of clothing for men and women was a tunic.
The masculine usually reached the knee, and the feminine was to the toe. Some models had sleeves. During the cold season, the Romans used to wear several tunics on top of each other.
People today wear tunics on various occasions and events. Discover our best tips on what to wear to Amalfi Coast and craft a beautiful outfit wearing a tunic.
It is important to note that clothing in ancient and more recent times indicated the social status of the person who wears it.

Free Romans were allowed to wear a toga. Slaves and foreigners were not allowed to wear it.

The toga was a large piece of cloth which slung over one shoulder. Romans wore it over the tunic and decorated it with golden leaves and coins.
Romans wore distinctive footwear. Sometimes called gladiator sandals, designers to this day are inspired by their style. Roman sandals consisted of open-toe flat shoes with lots of straps.
Buy beautiful faux leather sandals here.
Recent Times 
Returning to more recent times and studying the traditional clothing of all Italian regions, we can identify some similar structural features for all.

Most of them consisted of a white shirt with sleeves tight at the ends and a corset on top of it. Women wore long skirts with petticoats underneath while men - knee-length pants. Socks were white and to the knees.
Traditional Clothing In Sardinia
The berritta, the fine dark velvet trousers for men, and the typical skirts and shirts for women are the main elements that represent the traditional Sardinian clothing. The mix of Roman, Spanish, Nuragic, and Oriental cultures forged the distinctive Sardinian garb.

Berritta was a black or red sack-shaped hat, mainly used in Cagliari, Cabras, and Sassari, and made of cloth or coarse wool.
Today, wool is not the most ethical fabric since most wool comes from animal exploitation. Check out our best selection of affordable and ethical vegan wool alternatives to help you feel good and look great.
Both women and men wore white cotton or linen shirts. The shirt was embellished with typical patterns of embroidery.
Women wore semi-rigid busts, often additionally embellished with golden threads. The skirt was long and abundant, smooth on the front and pleated on the back.
Women used to cover their heads with a headdress called a handkerchief - a big square of cotton or woven fabric decorated with beautiful embroidery or lace.
A modern alternative to the handkerchief is the headband that is so popular today. Find beautiful styles in our article for the 10 Best Affordable And Eco-Friendly Headbands.
Traditional Clothing In Venice
Venice was the only region that, after the fall of the Roman Empire, remained free from the Spanish invasion. The wealthiest and most refined city in Italy was Venice.

Venice was also the only region to have its style. The rest of Europe was following the French fashion trends. This phenomenon was due to the carnival of Venice. During the eighteenth century, it lasted six months and was well-known for its masked parties.
The costumes of the Venetian Carnival were symbols of transgression and freedom, when one could hide one's identity and social class did not matter. A masterly balanced mix of extremity and elegance was a rule during the long period of the Venice carnival.

The traditional Venetian costumes were highly refined. Women wore deep cleavage, and their costumes had sensual and irreverent styles. Venetian costumes were the complete opposite of certain austerities of the time.


The female bodies were squeezed into tight-fitting bodices stiffened by whalebones, and the necklines were large and deep, revealing florid breasts. The skirts were sinuously full thanks to ingenious internal supports and embellished by Burano lace, made of precious fabrics and silks that arrived in the lagoon from the distant lands of the East.
Check out our selection of the best affordable corset brands that make quality, comfy, inexpensive, and unique pieces under high social and environmental standards.

Unique and fascinating masks completed the costumes.
The Baùta is one of the best-known masks. Venetians still wear it today as it is very modest and versatile. The Baùta mask, also called Larva (derived from the Latin and means "ghost" or "mask"), is a white mask that hides the face but allows you to drink and eat.
Part of the La venditrice di essenze (The Scent-Seller) (1756), by Pietro Longhi,  CC BY 3.0, via Wikimedia Commons
"La Moretta" is the typical Venetian mask of seduction, reserved exclusively for women. It was round and covered in black velvet. Also known as Muta, the mask perfectly hid the face and was very common among Venetian women of the 17th and 18th centuries.
Another typical mask is the Gragna, used by men to dress up as women. Men wore female clothing, a cat-like mask, and a basket with a kitten.
Traditional garb of Alto Adige
The traditional costumes of this region are the result of centuries of political, economic, and social events that influenced the people's clothing. The costumes are called Tracht, a word of German origin.

Men used cloaks or loden jackets as their attire. Loden is an ancient fabric. It was utilized for outwear due to its water-repellent, waterproof, breathable, and warm qualities. It had a grayish original hue and was firm and scratchy, making it hard to dress.
The cut and style of today's blazers suggest the design of the loden jackets. Find beautiful and ethical blazers here.

Alto Adige was also famous for its linen. It has grown for generations all across the area. Italians utilized linen for both men's and women's shirts and used it in its original color and after bleaching to produce white linen.
Nemoralis, CC BY 3.0, via Wikimedia Commons
The female costume is called Dirndl and indicates the girl's dress. Dirndl derives from Dirn, which means girl and consists of a bodice, a skirt, an apron, a blouse, and a jacket.
Claude TRUONG-NGOC, CC BY-SA 3.0, via Wikimedia Commons
Men wore short dungaree-like pants called lederhosen. Lederhosen were the traditional short leather trousers with braces widespread in Bavaria, Austria, Switzerland, and Trentino-Alto Adige.
Today, the best dungarees and overalls for women and men are cozy, chic, cheap, and ethically made from eco-friendly fabrics. Check out our selection of the best affordable and sustainable dungarees and overalls.
Traditional Clothing In Marche
Perhaps few people are aware, but Ascoli Piceno in the Marche region also has a traditional masked carnival. It has always been an event that all residents of Ascoli have felt strongly about due to the significant presence and engagement of many Ascoli residents.
The Carnival of Ascoli features both masked groups and individual masks (macchiette). The macchiette are ordinary citizens who typically dress up as well-known figures from local or national reality, such as mayors, council members, or prominent politicians such as prime ministers or presidents of the republic.
Traditional Clothing In Tuscany
Immagini dell' Archivio Istituzione Giostra del Saracino del Comune di Arezzo, CC BY-SA 3.0, via Wikimedia Commons
August and September in Tuscany are especially rich in festivals and folklore for fans of jousts and tournaments in the medieval tradition and recreations of old popular customs.

One very prised event is the Giostra del Saracino. Noble family knights line up on the Lizza during the historical procession. The costumes of more than 300 participants recall the medieval past of the city of Arezzo.

Each traditional garb represents the color of the quarter to which it belongs. The clothing consisted of a tunic accentuated at the waist with a belt, long stockings, and leather boots.
If you are wearing this outfit for the Giostra del Saracino, make sure you buy sustainable vegan leather boots made under the highest social and environmental standards.
Another important event for this area was the historic football, called Calcio Fiorentino. The sport was known as "Calcio in Livrea" because it was practiced only by wealthy aristocrats who wore the opulent attire of the time. White stockings, calf-length pants, and buckled shoes were the distinguishing features of the liveries. Each livery represented the color and the district crest of the districts of Florence.

Florence had four districts, each represented by a different color: blue, white, red, or green. So next time you travel to Florence for the ancient game, show your team spirit by donning their colors.
Craft a beautiful outfit by wearing a red skirt. Discover inspiring combinations here.
Traditional Clothing In Campania
A famous tradition of Campania was certainly the tarantella, contrary to the popular beliefs that associate it only with the Calabrian region. The Neapolitan tarantella is a dance of an ethnic nature. Like all the other tarantellas of Southern Italy, the dance carries a series of intrinsic meanings, codified with the support of evocative costumes and precise instruments.
The dancers are dressed in white, red, and black and dance to a cheerful and cadenced rhythm, using castanets and drums.
Spanish Dominion Over Campania
The Spanish rule over Campania, from 1503 to 1714, was a complex and contradictory period, with both positive and negative aspects. It left an indelible mark on the region, still visible today in its architecture, culture, and traditions.

Naples and Sorrento's traditional clothing were equivalent and influenced by the Spanish dominium.

The men's costume consisted of a red wool cap with black edge and tip, multicolored neckerchief, vest with golden buttons, band wrapped around the waist and knotted on the left side, trousers up to the calf with lateral slit, and white wool socks.
Women wore a white short-sleeved shirt with frills and lace embroidery on the sleeves, low cut vest tied on the front and decorated with gold stripes, multicolor waistband fastened with a large bow in the back, white lace apron, long red skirt with three gold lines at the bottom, white lace knickers, and white wool socks.
Traditional Clothing In Calabria
Folklore experts distinguish clearly between northern and southern Calabria in terms of the traditional female attire, in which the skirt of the married woman in north Calabria was red, and in the south was blue.

Men dressed in typical peasant attire, called tamarru. They wore a black corduroy or blue velvet jacket with metal buttons, known as a Mariola. 
Try out various outfit combinations and develop your sense of style to put together chic ensembles, such as blue skirts, for your daily appearance.
Traditional Sicilian Costumes 
The classical Sicilian men's clothing - paltò is the garment that has made its appearance in more recent years. The most primitive style, called scappularu, was a long cloak with a hood made of orbàce, a heavy woolen fabric of slow and demanding craftsmanship, which in Sicily was almost always colored black.
Check out our selection below of the best affordable and sustainable jackets and coats made in Italy.
Interesting Fact
The so-called sumptuary regulations, which set restrictions on the size and placement of jewelry that people wore, were adopted as early as the thirteenth century to discourage excessive ostentation or luxury. These rules, gradually adopted by all the Italian municipalities and issued until the late eighteenth century, were designed to curtail luxuries and, in particular, imports to protect local economies.
Was this article helpful to you? Please tell us what you liked or didn't like in the comments below.
About the Author: Iana Jekova