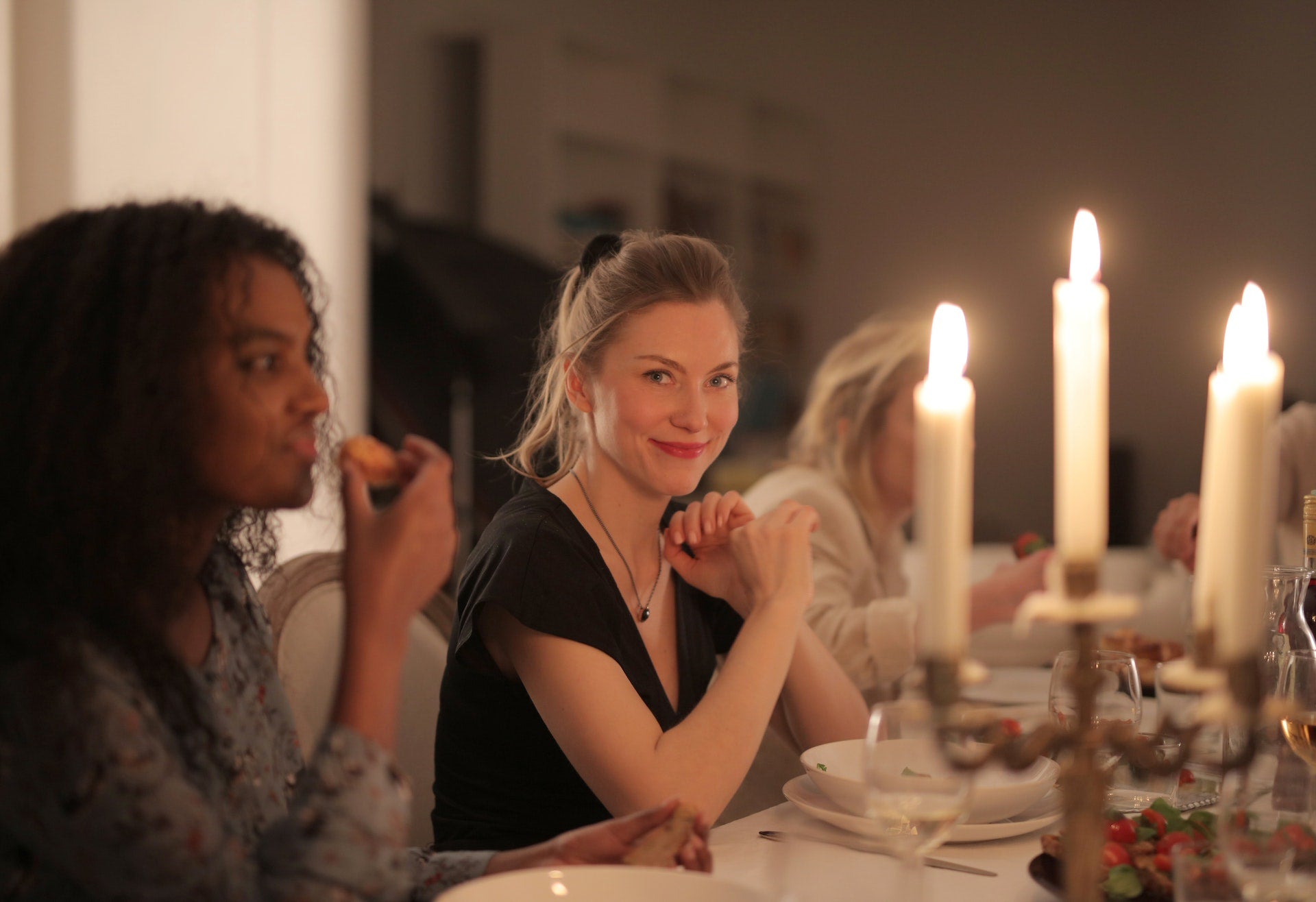 Top 15 Amazing Outfits For Thanksgiving Dinner With Your Boyfriend's Family
Spending Thanksgiving with your boyfriend's family is tricky when it comes to picking an outfit. It often seems like you have to choose between making a good impression and being yourself and wearing what you love.
We think it is important to do both, and that is why we came up with this article to help you.
Our suggestions will allow you to wear clothes that highlight your beauty and taste, and to be true to yourself at the same time.
Panaprium is proud to be 100% independent, free of any influence, and not sponsored. We carefully handpick products from brands we trust. Thank you so much for buying something through our link, as we may earn a commission that supports us.

Cute tops
You can wear a cute top in your favorite color to Thanksgiving dinner. They are great for smart casual outfits that will keep your entire look between elegant and relaxed.

Make sure it is not see-through, it does not have cuts that are too revealing, and that you pick a high-quality, comfortable fabric that is gentle on your skin.

We recommend these eco-friendly brands.

Printed shirts
They may not sound like your first choice, but shirts can save you a lot of decision-making time.

You will look put together and you can always dress up or down, by choosing to wear your shirt with trousers or jeans, depending on how elegant you want to be.

Make your choice sustainable.
White shirts
White shirts are the embodiment of refinement and you shouldn't keep them just for work.

Wearing one at the Thanksgiving dinner shows respect and grace. If you are meeting his parents for the first time, a white shirt is one of the best choices!
In addition to that, they allow more freedom to accessorize your outfit than the printed ones.

Take a look at these gorgeous sustainable brands that produce hemp shirts.


Jeans
Jeans are awesome for relaxed, casual outfits. If you want to be well dressed, then try to keep it simple and do not choose ripped or acid-washed jeans, but rather go with a pair that does not feature too many eye-catching details.

Here are some beautiful brands  that work with ethical production practices.

Midi dresses
Midi dresses look very flattering! They are more conservative than mini dresses, but still allow you to be attractive and stylish. His family will love this!

We recommend organic cotton dresses, made under high standards by these brands.

Maxi dresses
Another gorgeous choice is wearing a maxi dress.
There are a lot of beautiful colors and patterns from which you can choose and your appearance will be very distinguished and elegant.

Check out our article about eco-friendly maxi dresses, so you can make your next purchase sustainable!

Knit dresses
Perfectly matching the Thanksgiving season, knit dresses are a very charming choice that everyone will love!

Here are some sustainable knitwear brands that we recommend.



Bow dresses
If you want your outfit to be ultra-feminine, a dress that features a bow detail is the right choice for you!

They have a beautiful aesthetic and always make your outfit stand out.

Make sure you purchase yours from a sustainable brand that focuses on quality. Here are some ethical alternatives to the most popular fast fashion brands.



Cardigans
Cardigans bring a lot of versatility to your outfit. They are layering pieces that you can easily take off when warm and put back on when chilly.

They are very comfortable and fashionable and they look great on every body type.

Under your cardigan, you can wear a T-shirt or a top if you want to keep your outfit in a more casual zone, or a shirt if you want to be elegant.
Take a look at our article about the best ethical brands for organic cotton cardigans.



Jumpers
Jumpers are adorable, they look decent and cute. Make sure to wear something appropriate under it, just in case it gets warm and you need to take it off during the evening.

Jumpers are the best choice if you have previously met his family and the Thanksgiving dinner will have a relaxed vibe.
Wear your jumper with jeans or a midi skirt.

If you need shopping inspiration, we've got you covered with our top 15 best sustainable jumpers you can buy.

Turtlenecks
Turtlenecks will continue to dominate fall and winter fashion for years to come.

You can't go wrong with one, and you are free to choose your favorite patterns or colors. Match your turtleneck with jeans or a pleated skirt and your outfit is ready!

Buy your next turtleneck from a sustainable brand.

Trousers
If you are not sure about wearing jeans, and you also don't want a skirt, trousers are a gorgeous choice!

They are more elegant than jeans, that is why we always recommend them when in doubt. You can wear a cute top, a jumper or your favorite shirt with them.

Choose a fabric that is gentle with your skin, from an ethical brand.

Pleated skirts
Pleated skirts are flattering and elegant.

Wear one and you will be the best dressed at the Thanksgiving dinner!
Take a look at the best sustainable brands in 2023 and buy your pleated skirt from one of them, so you can enjoy a quality product with minimal impact on the environment.


Knit vests
Knit vests are nice and cozy and perfect to create layers in your outfit. Not a lot of people wear them, so your outfit will stand out for sure.

Wear yours with a cute, feminine shirt!

Check out these affordable and sustainable knit vests.



All-black outfits

You can never go wrong with an all-black outfit.
For the Thanksgiving dinner with his family make sure to pick the right sizes for you, to look your best.
Here are our favorite minimalist brands that make timeless and sustainable clothes.



Preppy outfits
Make the best first impression with an outfit inspired by college style.
You will look youthful, right on the border of modern and traditional, and glamorous without trying too hard.

Wear a cute shirt under your favorite jumper and a pair of jeans. Elevate the whole look with minimalist accessories.

Make your wardrobe sustainable by choosing one of these brands.



Summing up
Have you met his family or will you see them on Thanksgiving for the first time?
If you did, you probably have an idea about how fancy they are, and that could help you choose an outfit that matches their vibes.
If you are going to see them for the first time keep in mind that they are most probably, experiencing some of the same feelings that you do. Interest, anxiety, and happiness are likely to come from both sides.
To make the safest outfit choice, you should talk to your boyfriend about the number of people that will attend as well as their usual attire for family events.

No matter how much information you manage to gather prior to the Thanksgiving dinner, what you can do is: always wear clothes in the right size for your body, go for high-quality fabrics that are comfortable and sustainable, try not to wear clothes that are too revealing (keep those for the occasions when you and your boyfriend go on a date) and remember to be relaxed and have fun (a positive attitude will show confidence and will make interactions smoother).

Don't forget to share these tips with your friends who might also need them!

Was this article helpful to you? Please tell us what you liked or didn't like in the comments below.
About the Author: Miruna Dulcea