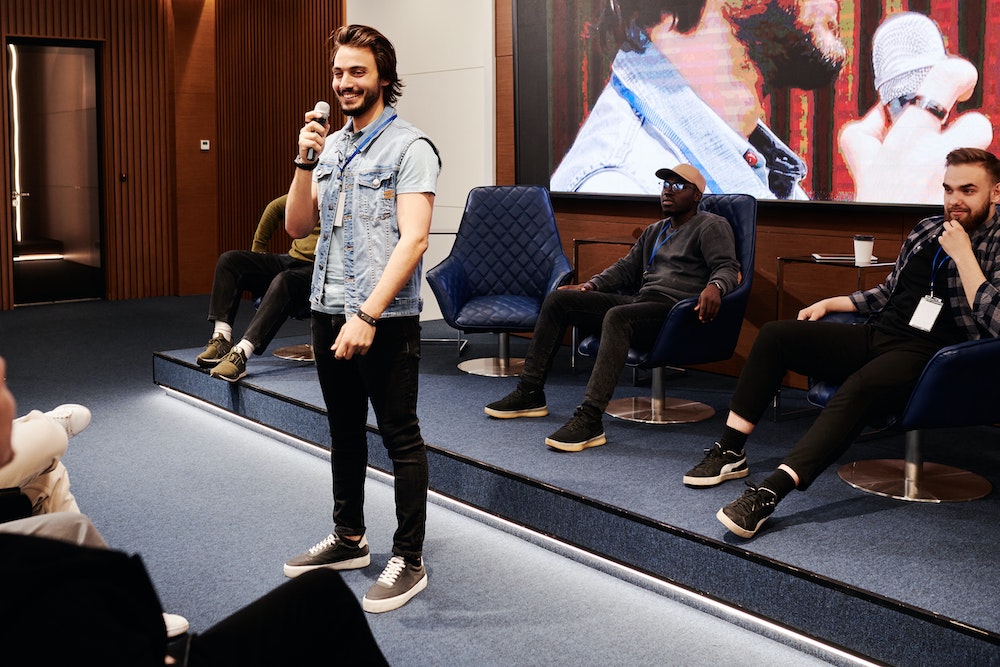 15+ Great Outfits to Shine At A TED Talk
When you want to hear some of the best ideas in the world of science, politics, business, travel, and more, then it's certainly a great idea to attend a TED Talk. With events all over North America and Europe, it's one of the biggest and most open sources of information in the world.

If you believe that you have an idea worth sharing, then it's certainly never a bad idea to give a TED (Technology, Entertainment, Design) Talk yourself. This is great for boosting your business and your brand. Famous TED Talkers include people such as Al Gore, Bill Gates, Elizabeth Gilbert, and Stephen Hawking.

At a TED Talk, the focus is all on your presentation and amazing ideas. This is why your fashion choices should shy away from flashy clothing in favor of a smart, dressed-down look. Searching for inspiration? This guide has a complete overview of what you should wear at a TED Talk.
Panaprium is proud to be 100% independent, free of any influence, and not sponsored. We carefully handpick products from brands we trust. Thank you so much for buying something through our link, as we may earn a commission that supports us.
A Sleek Turtleneck
When giving a TED Talk, you want to convey the fact that you have ideas that others need to know. To convey this, it's best to wear a turtleneck, which has been heavily associated with creative genius. It looks perfect paired with a simple pair of jeans and smart dress shoes. 
We have a list of the best affordable and ethically made turtlenecks. 
A Power Jumpsuit
When it comes to the next big trend in women's workwear, jumpsuits rank highly for women who want to convey a certain sense of authority and power. Look around for a jumpsuit that you can feel comfortable in while also making a suitable impression on the big stage. 
Here is our list of the best affordable and sustainable jumpsuits. 
A Commanding Blazer
Whether you wear a shirt or T-shirt, you can add definition and precision to your TED Talk outfit by pairing this option with a commanding blazer. Add a dark color to give off a serious, committed vibe.  
These are the best-recycled blazers for an elegant outfit. 
Dark Khakis
The types of pants you wear when you are at a TED Talk certainly matter. By wearing a pair of smart and dark khakis, you will certainly convey a sense of power and intelligence throughout your talk. 
Learn more about the best affordable chinos & khakis made in the USA.
Relaxed Blue Jeans
If khakis aren't truly your thing, then it might be a great idea to opt for a pair of relaxed blue jeans instead. They will look great paired with a strong shirt, and a great pair of shoes while also helping you to stay comfortable throughout. 
Check out our list of the best organic cotton denim jeans to wear in 2023. 
Thick-Rimmed Glasses
If you are somebody who needs glasses, then the choice of eyewear you make certainly matters. To give off a feeling that you are somebody who is genuinely intelligent and knows what they are talking about, buying a pair of powerful thick rims will certainly help you to succeed. 
Read our list of the best affordable and sustainable eyewear brands. 
Smart but Comfortable Dress Shoes
It's worth considering that when you are giving a TED Talk, you will certainly be standing for long periods. This means that you should certainly purchase a pair of very smart yet comfortable dress shoes that will keep you on your feet while looking smart. 
This is our essential list of the best affordable and ethical dress shoes for men. 
An Intelligent Cardigan
To add a certain elegance to your TED Talk, it's a great idea to combine your outfit with an intelligent-looking cardigan. Look for one that matches the rest of your wardrobe, and you'll be sure to shine on stage. 
Check out our detailed list of the best affordable and sustainable cardigans. 
A Lovely Blouse
Women who want to make the best possible impression when standing up in front of hundreds of people should think about wearing a lovely blouse, giving definition to their overall look. 
Learn more from our overview of the best affordable, ethical, and sustainable blouses. 
Gorgeous Earrings
While dressing down is the smarter choice, there are still some opportunities to imbue your look with some sparkle. For example, a nice pair of stud earrings can finish off your outfit wonderfully.
This is a list of the best affordable and sustainable earring brands. 
A Cool Vegan Leather Bag
It might be likely that when you are walking out on the stage, you will be carrying some notes in a bag. That's why it's important to have the coolest bag possible — a vegan leather satchel will certainly fit the bill!
Learn more about the best affordable vegan leather bags and purses courtesy of our guide. 
A Strong Belt
To imbue your look with a certain authority, you should pair a shirt and trousers with a strong belt. Find one made of vegan leather to make sure that it lasts. 
Feel free to check out our best ethical and vegan leather belts for women. 
A Simple Shirt
An essential building block of any TED Talk outfit has to be a simple, yet effective shirt. Pick a color that matches excellently with the rest of your wardrobe to achieve optimal success. 
These are the best affordable women's and men's shirts made in Italy. 
Prioritise Color Over Black 
Wearing black during a TED Talk is not recommended. This is because you will be talking against a black background, meaning that an all-black outfit would melt into the screen, reducing you to a mere floating head. By using colorful outfits instead, you don't have to worry about this problem. 
To help you get more color into your outfits, here is our list of the best vibrant celebration of life outfits.  
Dress Down for Maximum Effect
TED Talks should be more focused on what you are saying than what you are wearing. With that said, a few smart choices can certainly help to enhance the content of your speech. This is why it's worth investing in minimalist clothing choices for maximum effect. 
To help you learn more, we have the definitive minimalist fashion FAQ. 
Was this article helpful to you? Please tell us what you liked or didn't like in the comments below.
About the Author: Redmond Bacon