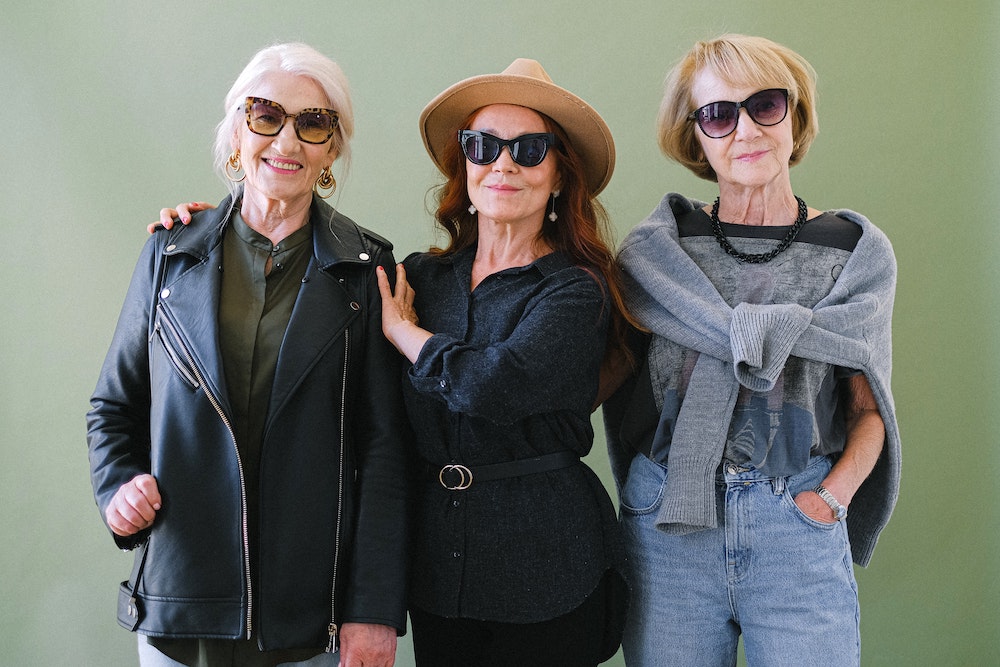 15 Best Summer Outfits for Women Over 60
As a woman over 60, you've reached the age where you know your personal style inside and out.
So when the summer months roll around, it's time to pull out all the stops. There are endless possibilities for easy, breezy summer outfits for women over 60. 
An essential part of being stylish when you are over 60 is to balance classic pieces with current trends. There are simple ways to incorporate trends into your summer outfits that are age-appropriate and still look chic.
If you're looking for some summer outfit inspiration, you've come to the right place. We've put together 15 summer outfit ideas for women over 60 that are comfortable, stylish, and timeless. 
Panaprium is proud to be 100% independent, free of any influence, and not sponsored. We carefully handpick products from brands we trust. Thank you so much for buying something through our link, as we may earn a commission that supports us.
Sun Dresses
A sun dress is an absolute must for stylish women over 60. Sun dresses are chic, feminine, and easy for every body type to wear. 
You can find plenty of different silhouettes, patterns, and cuts depending on your style. Plenty of sustainable brands make everything from elegant A-lines to floral boho dresses. Explore our favorite summer sun dresses for inspiration.
Capris
Capris are an easy way to look relaxed and chic during the summer. Cropped pants go with practically anything, making them a versatile wardrobe staple that works across seasons. Pair some capris with your favorite tunic top or a bold print for the summer. 
For women over 60, capris in earth tones and comfortable fabrics are best. A pair of relaxed earth tone pants are easy to dress up or down. Also, choose a loose-fitting but structured style to create a modern, breezy feel to your summer outfit. 
Wrap Skirts
Wrap skirts are a versatile summer must-have for women over 60. A midi-length style is always comfortable and classic. Plus, wrap skirts are easy to pair with a summery tank or blouse. 
Choose a wrap skirt that sits on your natural waistline to accentuate your natural curves. Pair a lively pattern with a neutral top, or go with classic shades of black, cream, or taupe for an elegant edge. Check out these options if you're looking for a new cotton wrap skirt. 
Tunic Tops
Tunics come in various styles and cuts, making them the essential summer outfit. In addition, its loose shape and flowing fabric can hide areas that women tend to be self-conscious about as they age, making it a forgiving wardrobe staple. 
Tunic tops tend to have longer hemlines and more conservative necklines, making them the perfect choice for women who want a more mature look. A tunic top in a natural fabric like linen or cotton will keep you cool when you're out in the sun. 
Lightweight Cardigans
It may seem counter-intuitive, but a lightweight cardigan is easily a summer essential for women over 60. A simple, elegant cardigan easily transitions your outfit from day to night. 
In addition, draping a cardigan around your shoulders or pairing it with a loose top elevates any summer look. The perfect summer cardigan uses breathable fabric, so avoid chunky knits. Many eco-friendly brands make excellent sustainable cardigans with cotton and other lightweight materials. 
Midi Skirts
Just because you're over 60 doesn't mean you can't wear flirty and feminine outfits. If anything, it's the exact opposite! The below-the-knee hemline of a midi skirt is a fun way to add youthful pizzazz to any summer outfit.  
Midi skirts come in endless styles. Go for a vintage-inspired full silhouette, or choose a slimming floral slip skirt. Wear heeled sandals or wedge espadrilles to lengthen your legs and top off the look. Check out some of our favorite midi skirts for summer.
Wide-Leg Trousers
Transitioning away from skin-tight leggings and pants to a more relaxed, comfortable look is normal for women over 60. As a result, plenty of wide-leg trouser options work perfectly for summer. 
You can wear anything from linen drawstring pants to high-waisted cotton palazzo pants. Choose a flattering cut for your body type that still has some structure. Check out some great wide-leg pants options that we love. 
Boatneck Tops
A classic boatneck tee is an excellent, versatile staple that every woman over 60 should have in her closet. It's easy to layer, accessorize, and wear with other summer essentials. Also, the classic striped pattern of a boatneck tee automatically makes any summer outfit totally chic.
Striped boatneck tops are an easy way to look effortlessly chic and elegant this summer. This timeless piece carries a hint of European style that will elevate any summer look.  
Cotton Tees
Dressing for comfort is an essential part of summer style. That's why cotton t-shirts are a great summer outfit for women over 60. Cotton fabric is breathable, comfortable, and durable. In addition, it's very flattering to all body types because it drapes very nicely. 
However, don't just settle for any cheap cotton tee. Instead, choose a shirt with a flattering neckline, cheery color, and comfortable cut. Organic cotton tees are an excellent option because they are high-quality and sustainable. 
Maxi Dresses
Maxi dresses make a great summer outfit for women of any age. This dress style is an excellent choice if you want more leg coverage without feeling overheated. Also, a maxi dress is versatile enough to work day or night. 
The flowing silhouette of a maxi dress is flattering and easy to wear, making it a popular choice among more mature women. In addition, there are a ton of colors, patterns, and styles available to fit any type of style. Check out some of our favorite USA-made maxi dresses for a bit of inspiration.
Wide-Strap Tank Tops
You might be looking for a lightweight, breezy outfit to withstand the scorching summer temperatures. Tank tops with wider straps are an excellent option. They keep you cool while giving you age-appropriate coverage.
There are a ton of wide-strap sustainable tank top options out there. You can choose bold patterns, fun colors, or minimalist designs. A lightweight fabric like linen, cotton, or hemp is excellent for summertime. 
Flowy Blouses
Freedom of expression is the best part of a summer outfit if you're over 60. You've reached the point where you're above the flash-in-the-pan trends. Flowy blouses provide many style options, from boho-inspired to minimalist chic. 
The looser silhouettes of flowy blouses are comfortable and make it easy to camouflage any areas of your body you may be self-conscious about. Choose a soft floral boho top or a neutral-colored peplum top. Whatever you choose, you can't go wrong. 
Shirt Dresses
Shirt dresses are an excellent summer outfit option. A classic shirt dress is flattering for bodies of all types. The cinched waist, chic collar, and knee-length silhouette create a modest look without looking frumpy. 
Dress a shirt dress up with an ethically-made designer bag or some fun accessories. Whether you love bold patterns or understated solid colors, there's bound to be a shirt dress out there that checks all your boxes. 
High-Waisted Boyfriend Jeans
A pair of high-waisted boyfriend jeans gives you all the coverage you need while remaining comfortable during the summer. Also, boyfriend jeans have a looser fit, making them timeless and classic. 
A high-waisted jean cut is versatile and chic. Pair your favorite boyfriend jeans with a flowy blouse or a wide-strap tank to look and feel fabulous this summer. Explore some of our favorite sustainable denim brands. 
Comfortable Fabrics
Comfort is key for summer outfits when you're over 60. Whatever outfit you choose to wear, make sure you feel comfortable and confident while wearing it. Trade in skin-tight fits and super-short hemlines for flowing fabrics with a bit of stretch. 
Natural fabrics like cotton, linen, and hemp are timeless and give an elegant edge to any look. Even better, choosing natural, breathable fabrics is an excellent way to build a sustainable summer capsule wardrobe that will last for years to come. 
Was this article helpful to you? Please tell us what you liked or didn't like in the comments below.
About the Author: Liz Flynn