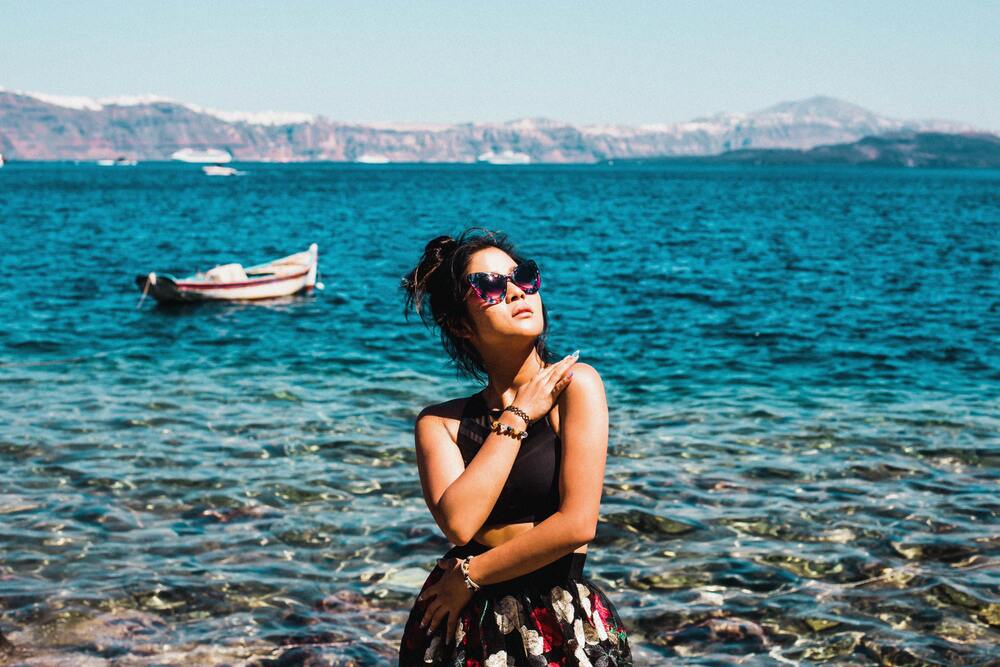 20+ Fabulous Outfits For Summer In Europe You'll Love
Europe is a beautiful destination all year, but summer in Europe is absolutely stunning. Few things can compare with the splendor of the European summer season. This is the most incredible time of the year to stroll through historic streets and enjoy pleasant weather, outdoor dining, long days, and beautiful sceneries as you immerse yourself in a diverse and exciting culture.
That said, do you know what to pack for your summer trip to Europe? Depending on which countries you'll visit (Europe is vast and diverse), you'll encounter both warm and hot days—so, as with most trips, pack clothes for all conditions.
Additionally, remember that comfort is the most important consideration while packing. Europe is rich in art, history, and culture, as well as unpredictable weather, and keep in mind that you will be taking a lot of trains and Metros. So go for attires that are both attractive and functional. I know figuring out which ones to pack and which not to pack can be overwhelming, but do not sweat.
I distilled the European summer packing ideas below to help you enjoy your trip while feeling beautiful. They will not only help you look classy but also comfortable throughout.
Let's dive in.
Panaprium is proud to be 100% independent, free of any influence, and not sponsored. We carefully handpick products from brands we trust. Thank you so much for buying something through our link, as we may earn a commission that supports us.
Flowy European-style dresses
Although it may seem obvious, flowy European-style dresses are a staple during summer. They provide a cute, comfortable, and fashionable look, perfect for wandering through the busy European streets and cities in the hot summer sun. Combine this outfit with a statement bag, comfortable sneakers, and light makeup to create a simple yet eye-catching look.
Linen clothing
Nothing says European summer vacation more than linen clothing. Whether it is a linen shirt, dress, or pants, this material creates a cool, relaxed beachy vibe. Ensure you stick to a neutral color palette, pair them with your favorite sandals and a summer hat, and you will be ready to go.
Check out our selection of the most beautiful 100% linen clothes made in Europe.
Denim shorts
Every summer vacation requires a set of reliable shorts, and European summer vacations are no different. Due to their simplicity and versatility, denim is among the classic options when it comes to European fashion, male or female.
You can pair them with your swimsuit, tank top, or even a linen shirt for a chill look. You may also pack some airy, comfortable shorts for a complete European summer fashion.
Want to enjoy your European summer feeling elegant with a clear conscience? Check out these 20 best affordable and sustainable denim shorts.
Polka dots
In Europe, you can never go wrong with polka dots. Whether you want to create a formal or casual look, polka dots are versatile enough to get the job done. For instance, if you want a simple but stylish look, a simple lace shirt with a polka dot skirt is an exquisite solution. A simple red polka dot dress can also do the job. 
Alternatively, pair a polka-dot shirt with long formal pants for an effortlessly sophisticated look. Generally, polka dots are the best bet for those who love prints and want to add some flair to their European summer outfits.
Mini skirt
Miniskirts are perfect for any occasion. Whether you want to go to a simple café for a  cup of coffee or an art museum, when paired correctly, miniskirts with solid colors or classic designs can help you create timeless looks without trying too hard. For instance, you could combine it with an oversized shirt and some sneakers for a casual look or a fancier top and some heels for a more formal event.
Here is our selection of the best affordable and sustainable miniskirts.
Cropped tank tops
Due to their versatility, crop tank tops have become a wardrobe essential, especially during the months of summer. You can dress up your cropped tanks with long pants, stylish trousers, or even a skirt, or dress them down with denim shorts. All in all, they pair well with almost anything, regardless of color or style. Match them with the appropriate accessories, and watch how your European summer outfit ties together effortlessly.
Pleated skirt
A pleated skirt is the way to go for a more formal European summer outfit. If you plan to attend an art gallery or a formal dinner, this outfit will look chic, especially when paired with a beret, some high heels, and a statement clutch bag. As seen in the image below, you can easily add a buttoned-down blazer for those chilly evenings. Note that this look is also appropriate for European outfits in winter.
Printed scarf
Indulge in European summer vacation fashion by combining a printed scarf with your favorite monochrome outfit for an elegant and chic look. In fact, scarves play a vital role in adding some texture and contrast to a simple look. Not only do they add some elegant aspect to your look, but they also provide some much-needed warmth during the cooler European summer days.
Pastel blues
You cannot forget the pastel blues when planning a summer trip to Europe. Pastel blue European summer vacation outfits are ideal for creating a fresh, laid-back, and stylish look, perfect for going to the beach or just walking through the streets. You can combine them with your favorite sandals or sneakers, depending on your destination.
A blazer
Packing a blazer, gloves, and a warm hat is always advisable, even when visiting Europe during the summer. One thing you should know about European weather is that it is unpredictable. One minute you could be sweating from the scorching heat of the summer sun, and the next, you could be running from the heavy rain and grey skies.
A blazer is the perfect European summer vacation fashion wear to combat such gloomy summer days while maintaining a stylish look. On the other hand, you can always pair your favorite mini dress or linen pants with a blazer to achieve a casual appearance, ideal for going out for dinner.
Swimsuit
As mentioned earlier, European summer fashion mainly consists of neutral and solid tones; the same applies to your swimsuit. Nothing says European summer vacation more than a solid color one-piece swimsuit or a nude high-waisted two-piece.
Whether at the beach or enjoying the summer sun from your backyard, these swimsuit colors and styles will keep you looking and feeling good at all times. Furthermore, you can wear your swimsuit as a body suit and pair it with appropriate pants or a skirt. However, I highly recommend avoiding neon and cutout swimsuits for a more sophisticated look.
Two-piece
Whenever in doubt, wear a two-piece. Your favorite two-piece outfit will ensure you enjoy the comfort and confidence required to wander the European streets for an entire day or even go to the beach. Such outfits are easy to pair with anything. If you want a trendier look, pair it with sneakers. Alternatively, wear some strappy heels for a more formal look.
Floral skirt
Whether you prefer a form-fitting or loose and flowy style, floral skirts are an ideal wardrobe choice for a summer vacation in any European country. They can be combined with anything, giving you a fashionable and attractive look. Note that these skirts create the perfect formal/casual attire for visiting palaces and churches, especially when combined with boots or simple high heels.
Wide-legged/relaxed pants
Relaxed/ wide-legged trousers are a must-have European summer vacation outfit. You can dress them up to create formal dinner attire or dress them down for a busy and adventurous day. Depending on the event, pair these pants with a tank top, bodysuit, sandals, or espadrilles for a classy European-inspired summer look.
White dress

Carrying a formal white dress when traveling to any European country is always advisable. Combine it with low heels, gold jewelry, and a statement clutch bag to create the perfect style for an unforgettable night on a rooftop bar. Otherwise, pair it with your favorite sandals and a summer hat for a casual look. All in all, the options for wearing a white dress are endless.
Buttoned-down oversized shirts
Oversized buttoned-down shirts are a huge trend for European summer outfits, and we expect no different this year. Due to their simplicity and versatility, these clothes provide a relaxed and fresh look, perfect for unwinding in Europe during summer. You can combine them with denim shorts for a complete walk-around outfit.
Floral dress
Some of the most famous European tourist attractions are its calm beaches and wild meadows. A floral dress provides the perfect European summer outfit for your trip to the meadows and the flower fields. Due to their fun and whimsical nature, these dresses come in various colors, prints, and styles, ideal to complement your taste and preferences. Create a dreamy look with strappy heels, small golden hoops, and minimal makeup.
Stripes
Whether it is a dress, pants, or a Brenton top, stripes will give your outfit a bold and unique look, enough to get you noticed immediately after you step out in public. Alternatively, pair a striped jacket with a monochrome outfit and low heels to create an effortlessly casual look for a more formal event.
 A formal Dress
Apart from the white dress, it is always a good idea to pack a formal dress when visiting Europe. After all, you never know when you will be invited to a formal dinner or a VIP party. Your formal attire should be simple and not too revealing. Pair it with minimal jewelry, silver or white low heels, and a natural makeup look for a jaw-dropping look.
Silk slip dress
If you want to go out for dinner, a simple silk slip dress will have you looking effortlessly chic as you step out. Known as the ultimate European party dress, this stylish number will accentuate your curves, giving you a strikingly sexy and comfortable look.
Pull your hair back, and wear a bold lip and your favorite kitten or chunky heels for a more relaxed look. This is the perfect look for those who want to look stylish without trying too hard.
Sandals
Replace your cheap flip-flops with a more elegant version. For a European summer appearance, minimalist leather sandals are a must-have.
Go for these elegant sandals when picking up fruit for breakfast or fresh flowers at the farmer's market. Consider a pair of opulent slides when it comes to a French Riviera appearance.
Check out our selection of 15 best affordable, vegan, and sustainable sandals.
Sunglasses
Tortoiseshell sunglasses will make you appear like you're preparing to board a boat in St. Tropez, so add these to your summer accessory collection. They will instantly upgrade your look. Wear these to complement your bikini and bucket hat.
Pendant necklace
You'll need jewelry matching all your clothes for a complete European summer look. This coin pendant necklace is an excellent choice. The pattern is minimal and sophisticated, not too cluttered, and will bring a vintage touch to your clothes.
Checkout our selection of the 15 best affordable and sustainable necklace brands.
Straw
h

at
At the core of a French Riviera, appearance is simple straw hats. They instantly upgrade a bikini or a plain top. Enjoy your natural sun-kissed skin and beachy hair for a summer to remember.
Additional tips about packing for a European summer vacation/trip
Let's look at some crucial tips as you pack for your vacation.
Prioritize comfort and functionality. Since you will be busy moving from one location to another, you should always be comfortable as you step out.
Keep your makeup neutral and light. It is advisable to keep your makeup as natural as possible. But to get noticed, you may opt for a subtle outfit with a bright lip.
Wear light and user-friendly accessories. For instance, carrying a light statement bag and simple jewelry is best if you plan to visit various European destinations.
Your shoes should be comfortable to ensure that you enjoy long walks through the beautiful streets.
European fashion is usually centered on neutral and solid tones with one stunning accessory piece. Thus, when packing for your European trip, you can simply throw in a monochromatic top with several bottoms, provided they match.
Don't forget to carry a sleek summer hat, sunscreen, and sunglasses to help you keep the sun at bay as you wander the European streets.
Go take Europe by storm!
The above ideas will give you a simple yet practical European summer look regardless of the countries you plan to visit. Essentially, prepare for bright colors, a mix of Styles, relaxed outfits, and a lot of sunbathing. That's all there is to it! All that remains is for you to pack your bags, put on your sunglasses, and take Europe by storm!
Was this article helpful to you? Please tell us what you liked or didn't like in the comments below.
About the Author: Geri M. Vin