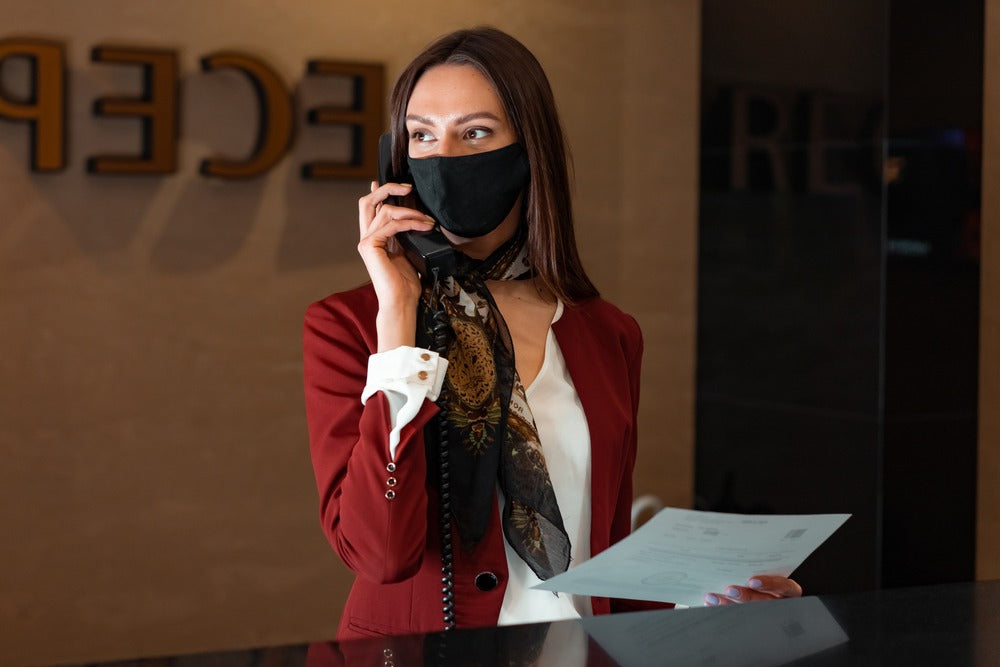 19+ Stunning Female Receptionist Outfit Ideas You'll Love
Working as a receptionist is tough as you must always be at the frontline. And it is not only challenging because of the work involved, but you also have to dress well for work.
Whether you have been working as a receptionist for a while or preparing for your first day at work as a receptionist, knowing what to wear is very important. A great outfit will help you feel more comfortable and confident when meeting both colleagues and visitors.
Generally, the dress code for receptionists in most settings is business casual attire. This is more about blending pieces of formal attire like pants, suit skirts, or blazers in neutral colors with casual elements like denim tops, leopard print flats, or patterned shell tops.
However, if the company has a strict dress code, you need to wear formal clothing that, at minimum, fits into the company's established dress code. If you are unsure about the dress code, go for formal business attire. For women, that could mean dresses, skirts or slacks, and casual blouses. Top such outfits with coordinated cardigans or unstructured jackets.
Ensure the clothing is not revealing; nothing too tight or sheer, off the shoulder, or low-cut. Skirts and dresses should be at or just above the knees, not maxi or mini skirts. You can wear flats or heels with closed toes, but not sneakers. The most important thing is that you should be comfortable, look professional, and polished.
To help you dress smartly and maintain your confidence (you'll need it), this guide delves into cute female receptionist outfits. From Monday to Friday, get your receptionist outfit inspo here!
Panaprium is proud to be 100% independent, free of any influence, and not sponsored. We carefully handpick products from brands we trust. Thank you so much for buying something through our link, as we may earn a commission that supports us.
A navy blue blazer
This is an amazing addition to your work wear as a receptionist. One that fits well is precisely what you need to take your outfit to the next level. You can wear a navy blue blazer to various front office settings. Similarly, it works with different outfits-with a blouse, a dress, or over a button-down shirt.
You can also combine it with a khaki skirt, dark wash jeans, or khaki pants for a semi-formal look. And you don't just have to stick to navy blue. Depending on where you work, you can sub in various colors for a uniquely chic look that is still professional and acceptable.
Check out our selection of 12 Best Recycled Blazers For An Elegant Outfit.
Slim cut suit
This outfit is a fantastic choice for work. It shows an intelligent, polished look that creates a ready-to-work impression. A slim cut suit in navy or even pink combined with a white top or shirt nails the front office vibe 100%!
Additionally, if you want a classy style go for the right formal shoes. The suit, white top, and heels will look amazing for several years and won't get boring. When it comes to accessories, go for minimal bracelets, necklaces, and earrings.
Button-downs
Button-downs don't have to be uninspiring! You are not limited to the fundamental shades of blue, pink, or white. Experiment with different materials, such as transparent silk chiffon that looks great draped over a camisole. Experiment with color as well. A different color works nicely since it is more attractive than typical hues while classy and professional.
It should be noted that a receptionist's neckline should be modest. Make sure your bra is covered and that no cleavage is visible. It's also a good idea to keep your button-down tucked in unless the style is designed to be worn untucked.
T
wo-piece suit
If you are the conservative type, you throw in a two-piece black, grey, or navy blue suit. Women's skirts should have an acceptable length. Solids should be preferred over patterns, and bright or flashy colors should be avoided. Clothing should be well-fitting and wrinkle-free.
P
eplum blouses
A stylish, sophisticated, and trendy outfit is usually appreciated, even in drab office settings. Although a receptionist is supposed to dress professionally, she can sub in current styles such as vintage-inspired pencil skirts, peplum blouses, or fashionable pumps.
Adding jewelry and other vivid accessories in balance, such as a  statement necklace or pop-of-color belt, allows you to express yourself fittingly.
Check out these 50+ best online thrift stores for affordable vintage fashion.
Blouses with interesting details
A blouse with a bow completes an exquisite style that can be spiced up with slacks or a skirt. Add a slim waist belt as a finishing touch to make the top stand out. A skirt made of an intriguing fabric or a classic black pencil skirt is an excellent approach to customizing your front office outfit.
Also, you can add a jacket to complete the look, depending on where you work.
Check out these 15 best affordable, ethical, and sustainable blouses.
T
urtleneck

d

ress
There's no denying that turtleneck dresses are a winter wardrobe staple. I guarantee you'll want to stock up on winter-appropriate outfits. Go for a sleek black look with a long coat draped over your shoulders and attractive boots.
Check out these 15 best affordable and ethically made turtlenecks.
Dark rinse jeans 
For a more corporate denim look, darker rinse jeans are regarded as the norm. Jeans with a light wash have a more informal tone that may not be appropriate for many workplaces. For a more professional appearance, choose deeper blue and black colors.
Check out these 20 best affordable and sustainable lyocell denim jeans.
Tops and blouses to wear
If the above option works for you, top it up with something that will transform your look from casual to professional. As such, avoid t-shirts in favor of traditional pussy bow/formal blouses, sweater tops, white shirts, or tops in luxe like silk, satin, or linen. You may also try layering a dress over your jeans for a fresh appearance.
Cheetah and leopard prints
Leopard and cheetah patterns are usually neutrals, making them suitable for pairing with solid and vibrant colors. Whether it is a pencil skirt, a fitting dress, or a jumpsuit or a shirt, animal print pieces are a must-have for a receptionist.
Throw in brightly colored heels to create an edgy yet sophisticated look. Complete your ensemble with a blazer in black, tan, or white.
A statement dress
An exquisite dress in a vibrant hue, such as deep crimson or subtle turquoise, is an excellent addition to your collection. You don't need to wear jewelry or other accessories with them because the dress already speaks for itself. However,  when wearing bright colors, ensure the remainder of the outfit is modest.
That said, all you need now to complete this look is a pair of black heels or ballerina flats. Likewise, ensure the hemline and neckline are appropriate: avoid short skirts and low-cut, exposed necklines.
Check out these 20 best affordable and sustainable formal dresses.
Classic black dress and tights
Choose a high-quality dress that falls just below the knee—one with a defined fit that is both professional and trendy.
And then, pair the dress with textured tights to light up the look. But make sure the pattern is subtle—a sheer stripe, cable pattern, or ribbed effect provides texture and intrigue. Anything like fishnets is not acceptable in the workplace. Combine your attire with black heels for a traditional, timeless formal business appearance.
For inspiration, check out these 13 best affordable, vegan, and sustainable heels.
Rollneck

s

weater
Opt for a chunky yet elegant striped turtleneck sweater and perfectly oversized jeans. Believe me; it will do the magic. You'll not only feel warm, but you'll also look professional, elegant, and trendy.
Sweater dress
The sweater dress is unquestionably the one garment that perfectly mixes elegance and ease in fall or winter. It is an innovative and comfy alternative for work that can be dressed up or down depending on your office's dress code.
Pair a sweater dress with closed-toe shoes and a jacket or cardigan for work. Add a belt to tighten your waist and flats or loafers for a more sophisticated look.
Thankfully, many sustainable fashion brands consistently offer inexpensive and sustainable sweater dresses. Check out these 20 cheap and cute sweater dresses you need to own.
Dress pants
Investing in quality dress pants that fit well is an excellent idea for a receptionist. It will not only fit well but also rise to the occasion when you combine it with various attires, including cardigans, tights, denim jackets, flats, and even heels.
Furthermore, you can pair it with a formal blazer or a button-down shirt for a formal business look or a sweater for a semi-casual look. This also softens the look and makes it a bit more special.
15 best affordable work pants made in the USA
W
hite classic shirt

and

a black skirt
What about pairing a classic white shirt with a black skirt? It is a simple yet great way to dress up your work without trying too hard. Combined with a classic white shirt, a fitting black skirt looks stunning.
A menswear-inspired khaki blazer
A khaki blazer is a very innovative piece in a receptionist's wardrobe. You can pair it with a blouse, button-down shirt, and a matching skirt, or dark wash jeans for a business casual look. If you want a dressier look, pair it with navy blue bottoms.
You can button the shirt up to the top if you don't want to wear a necklace.
A navy blue skirt
This is a sophisticated twist to the classic black pencil skirt. It's less formal than a normal black skirt, yet it's still professional, providing a comfortable yet elegant look. If navy blue doesn't work for you, try a cream or beige one.
Pink/red/white suit, and white top
Pink suits are an excellent option for business casual. They are feminine, playful, and versatile enough to dress down or up.  While choosing such hues, ensuring that your clothing is well-coordinated is essential.
Use a matching belt and a white shirt to make the pink stand out. To complete the style, add a pair of stylish black heels.
20 best affordable & sustainable suits for women & men
Keep your shoe choices formal
To appear put together and professional, go for shoes that you would typically wear to the office. Consider structured pumps, polished wedges, or well-fitting flats. Avoid anything that appears to be overly casual, like sneakers.
For more style inspiration, please read our article on the 15 best affordable, vegan, and sustainable sandals or the 10 best affordable and comfortable ballet flats.
Flare dress
Flare dresses are pretty attractive because they mimic an hourglass figure, even if the lady wearing them does not have one.
They are also easy to wear and can be dressed up or down, worn to work or on the weekends. Get one in a solid color or with a beautiful pattern.
Tailored pants
Besides the blazer, a pair of tailored pants is another critical investment for your work wardrobe. And the best part is that you can choose from hundreds of cuts and colors depending on your body style and type.
Pick a high-waisted palazzo silhouette or wide leg in gray, cream, or lavender hues if you fancy looser languid fits. A dark or black-grey culotte or pencil option will be your best bet if you prefer a classy but formal look.
Denim

dress
A denim dress may be associated with casual Fridays, but you can include it in everyday receptionist attire; it depends on the business. A well-fitting dark denim dress of the appropriate length, free of decorations, can give you a highly trendy as well as professional appearance.
Check out our selection of 15 best affordable and sustainable denim dresses.
What not to wear as a receptionist
Some items should never be part of your attire as a receptionist. They include:
Tops/shirts:

Avoid

strapless top

s and

spaghetti as they are not considered business casual. And if you're wearing a polo shirt with a collar, ensure it's buttoned up!
Baggy jeans

:

If you wear jeans, ensure they're a good fit.
Inappropriate a

ccessories:

A

void any improper accessories like hats

or

They can

make you look

informal and a

little fancy and informal.

If you h

ave tattoos all over

your body, cover

them with your hair,

sleeves,

or collar

if you have to.

Any body piercings should not be made evident – dress, so they are covered too.
Be Smart
 It's time to build that sharp look that can work wherever life takes you. These great attires can be mixed and matched for many cute receptionist outfits. You can combine and match for different business casual/formal outfits that will have you looking great throughout the week.
Hopefully, this guide inspires you to wear styles you love and simplifies the hassle of getting dressed for the office daily.  
Was this article helpful to you? Please tell us what you liked or didn't like in the comments below.
About the Author: Dinushka Breaker Gunasekara