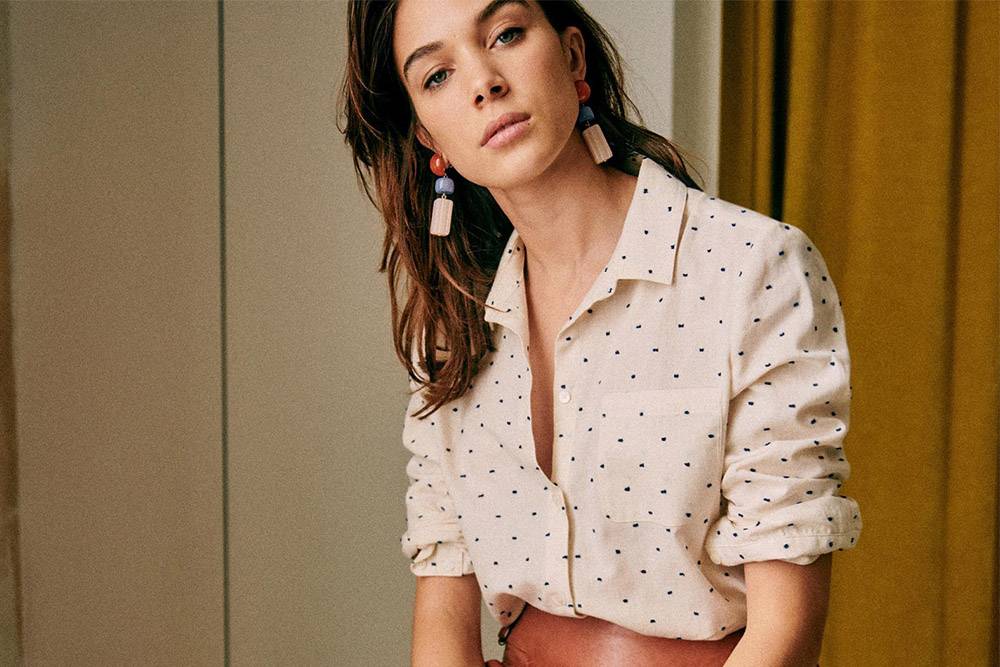 Sézane is a French fashion label founded by Morgane Sézalory from a love for vintage. The multinational clothing company creates high-quality, perfectly-cut pieces to wear forever.

Sézane makes clothing, accessories, and shoes for women. It offers all women luxury quality at a fair and accessible price. The brand creates timeless pieces that for (almost) every season.

Sézane releases a seasonal collection four times a year, a smaller, highly curated capsule every month, new drops, and most-wanted restocks every week.

Sézane also runs a philanthropic program that supports several charities and projects. It helps children and young adults worldwide get equal access to education, culture, and opportunities.

Sézane is a fashion brand and clothing retailer based in Paris, France. It makes apparel, footwear, and accessories and offers a collection of basics, activewear, underwear, loungewear, outerwear, bags, and accessories.


Panaprium is proud to be 100% independent, free of any influence, and not sponsored. We carefully handpick products from brands we trust. Thank you so much for buying something through our link, as we may earn a commission that supports us.

Sustainability Rating: 8/10
Rating FAQ

Category: Clothing, accessories, shoes, bags, jewelry

For: Women

Type: Basics, denim, knitwear, activewear, underwear, loungewear, outerwear, sleepwear, boots, sneakers, sandals

Style: Casual, classic

Quality: Medium

Price: $$

Sizes: XS-XL, 2-12 (US), 4-14 (UK), 34-42 (EU), 4-14 (AU)

Fabrics: Cotton, linen, hemp, ramie, jute, lyocell, modal, viscose, cupro, acetate, polyester, nylon, spandex, polyurethane, rubber, leather, wool, silk, down

100% Organic: No

100% Vegan: No

Ethical & Fair: Yes

Recycling: Yes

Producing country: Bulgaria, China, France, India, Italy, Spain, Portugal

Certifications: GOTS, RWS, RMS, OEKO-TEX, FSC, BSCI, SMETA, ICS, WCA, B Corp



Sustainability Practices
Sézane is committed to creating timeless pieces that respect the planet and its people. It incorporates sustainability in its production methods, material choices, working conditions, environmental footprint, and community engagement.

Sézane operates a "Grand Collect" program that makes it possible to donate used clothes (from Sézane or other brands) at all its "Appartements" and "Conciergeries," as well as its "Charity Boutique."

The French brand donates collected items to charities to give the clothes a second life or recycles them if they are damaged. It also works closely with partners specialized in upcycling to develop solutions to increase their value.

Sézane is improving its packaging by introducing boxes made from recycled materials and paper derived from sustainably managed forests. These boxes are made in France and are fully recyclable.

Sézane uses a moderate proportion of sustainable materials such as organic cotton, hemp, and linen, or recycled fabrics such as recycled polyester. 2/3 of its collections contain eco-friendly materials.

Sézane also uses many semi-synthetic fibers or regenerated cellulosic fabrics such as Tencel lyocell, modal, acetate, and viscose. Tencel is an eco-friendly fiber made with wood pulp from certified sustainable forests.

But Sézane also manufactures products from synthetic petroleum-based fibers that are non-biodegradable and create a great deal of pollution, such as polyester, nylon, acrylic. Less than 15% of all materials used by Sézane are of synthetic origin.

Sézane publishes a list of all its manufacturers on its corporate website. It produces more than 2/3 of its collections in Europe, including France, Italy, Spain, and Portugal.

Sézane doesn't have a code of conduct that applies to all its suppliers and subcontractors. But it partners with factories that demonstrate certification standards to ensure good working conditions.

Sézane assesses compliance with its specifications by informal visits or third-party inspections with or without notice. It works with international agencies to ensure proper conditions for work, hygiene, and safety.

Sézane doesn't use exotic animal skin, hair, fur, or angora. But it uses leather, wool, silk, and down feathers to manufacture many of its clothing pieces.

These animal-derived materials are cruel and unethical. They also harm the environment by producing greenhouse gases and wastes. More sustainable alternatives exist.



Sustainability Goals
Sézane has committed to adopting new measures to reduce its ecological footprint. It plans to search for new materials with certifications, improve the lifespan and the recycling of its pieces, and reduce its carbon footprint.

Sézane plans to raise its proportion of collections created from eco-friendly materials to 80% by 2022. It also aims to replace synthetic fibers with recycled polyesters.



Buy Here
Discover Sézane's sustainable collections at Sezane.com.
Reviews And Experiences With Sézane
Have you had (good) experiences with shopping at or the products of Sézane? Then leave us your rating below.