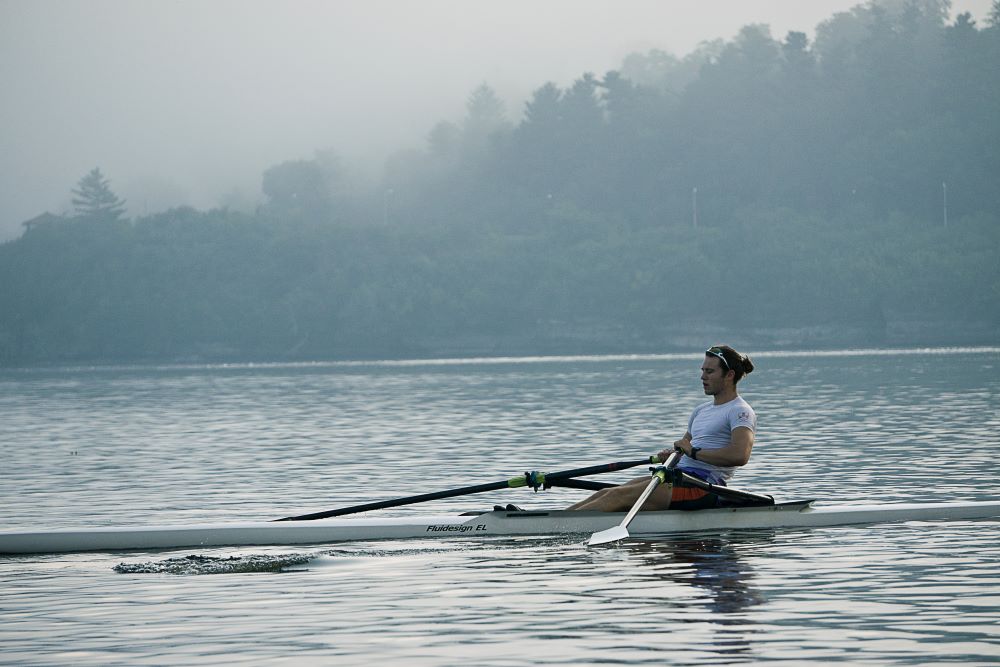 Rowing Practice Attire: What to Wear for Excellent Performance
Rowing is a great low-impact sport to work on your cardio and strength.  It is also a great way to meet new people and bond with your teammates.  Plus,  you get to be outside and enjoy the water and fresh air. 
What you wear to rowing practice is important to stay safe and healthy, and perform to your peak capacity. Soft, stretchy. and breathable clothes are best, and clothes that don't get in your way are a necessity.
In order to get the most out of your rowing practice, your clothing choice must be particular and practical for your rowing needs.
Panaprium is proud to be 100% independent, free of any influence, and not sponsored. We carefully handpick products from brands we trust. Thank you so much for buying something through our link, as we may earn a commission that supports us.
Fabrics
What your clothes are made out of is essential for rowing. Choose synthetic fabrics like polypro that dry quickly and will keep you warm even when wet with their insulating properties.
Avoid cotton and down that will absorb liquid, making them heave as they will not dry quickly or wick moisture away from you. These fabrics will weigh you down and make you colder.
Learn more about synthetic fibers here.
Dress Code 
There is a specific dress code for rowing that consists of three layers to help keep you warm and regulate your temperature with fabrics that insulate and breathe. Many light layers are recommended versus one or two heavy layers.
The water is generally ten degrees cooler than land with stronger winds. Staying warm without overheating is key.
Base Layer 
Your base layer consists of fitted clothes that wick moisture from your body. Spandex shorts and a form-fitting T-shirt are the most common clothes worn.
Discover these bike shorts.
Leggings
Leggings are a great alternative for your base layer pants when you want more warmth and coverage. Make sure they are made of fabric that dries quickly.
Find more leggings here.
Insulation Layer
The next layer is your insulation layer which is made of synthetic fibers like fleece that help keep you warm. A fleece sweater is a common insulating layer.
Check out these sweaters.
Wind Blocker Layer 
The final layer is your wind blocker layer. This layer should have ventilation and be able to breathe so you don't overheat. Common items include a form-fitting jacket or splash top that is waterproof and that helps block the wind while not interfering with your rowing.
Discover these weatherproof jackets.
Tracksuit Pants
Tracksuit pants are often worn by rowers before rowing and as they place their boat in the water to help keep their legs warm before practice. Tracksuit pants are loose and easy to change out of, making them a convenient layer for rowers.
Check out these track pants and sweatpants.
Duffle Bag
A duffle bag is a common accessory to store your clothes, water bottles, and personal items. Most rowers have a dry set of clothes to change into once they are back on land.
Opt for a waterproof duffel bag so it doesn't leak when you put your wet rowing clothes in it and so your dry clothes don't get soaked through.
Find more bags here.
Mittens
Mittens are not worn while rowing, as feeling the handle of the oar is a key component of rowing. Instead, bring mittens with you that you can wear when not rowing, or invest in 'Pogies' which are hand warmers that fit over the end of the oar handle and cover your hands so you can still touch the oar.
Find more mittens and gloves here.
Socks
Socks are key to help keep your feet warm and prevent rubbing and blisters. Make sure to choose socks made from synthetic fibers that will keep your feet warm even if they get wet.
Check out these organic socks.
Avoid
 Avoid clothes that are too loose or bulky as they can snag on the oar handles or moving seat, creating a dangerous situation. Instead, stick with form-fitting clothes that won't get in your way.
Save these oversized outfits for after-rowing practice.
Sports Bra
Sports bras are a good idea for added support in your base layer and to prevent rubbing. Sports bras are usually made from moisture-wicking fabrics so you won't get too cold.
Uniform
Uniforms are generally only worn for competitions and regattas. Most uniforms are similar to a leotard and are colored or striped to match the colors of the team or club. Some uniforms also include splash jackets to match.
Find other types of uniforms here.
Hat
Ball caps are great to help protect you from the sun and keep the sun out of your eyes. Beanies are great for cold days to help keep your head and ears warm.
Try out these hats.
Underwear
Blisters on your bottom can occur as a rower when seams on your underwear move against the sliding seat. Seamless underwear such as thongs or skipping underwear is recommended to help prevent rubbing.
Discover these underwear brands.
Hair Accessories
Hair accessories such as hair ties and headbands are needed to help keep your hair out of your face and to help keep sweat from dripping into your eyes. Choose headbands with moisture-wicking materials to help absorb sweat.
Find more hair accessories here.
Shoes 
Some rowing boats have running shoes attached to them, but for most, you have to provide your own footwear. Running shoes and athletic shoes are recommended for their support, grip, and breathability during training.
For best results, wear running shoes that are waterproof and that fit right to help prevent blisters later on.
Try out these sustainable shoe brands.
Sunglasses
Sunglasses are commonly worn to protect your eyes from the sun and its glare so you can continue rowing without interruption. 
Make sure your sunglasses aren't so tight that they pinch nor are they so loose that they slide down as you row.
Check out these sunglasses.
Equipment
Most rowing clubs will provide you with your own rowing boat and oars. You will have to carry the boat onto the water which is why supportive, footwear with good grip is essential. 
Lifejackets are not needed as long as you pass a swimming test.
Learn about other sports and their equipment.
Was this article helpful to you? Please tell us what you liked or didn't like in the comments below.
About the Author: Shelby Bonner