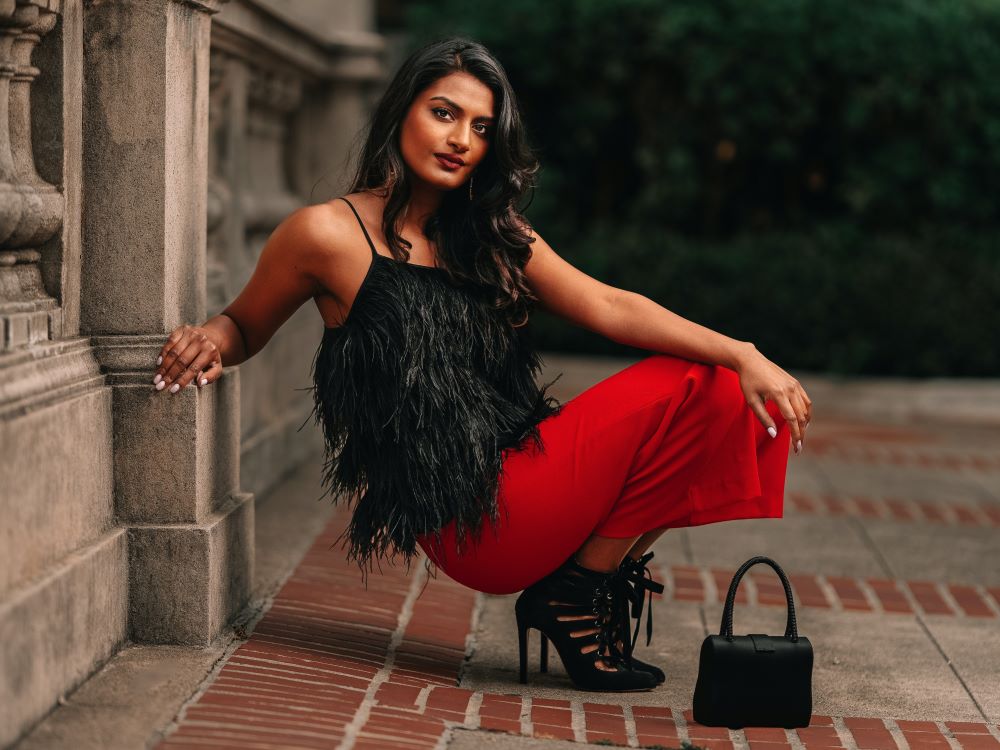 Styling Tips for Red Pants You Will Love (40+ Outfiits)
Styling red pants is like embarking on a captivating fashion journey. Where the vivid and dynamic color becomes the focal point of your ensemble. These striking bottoms not only make a bold statement but also serve as a versatile canvas for crafting an extensive array of fashion-forward looks.
Red pants are more than just a garment; they are a symbol of self-expression, a means to convey confidence and a way to infuse vibrancy into your everyday outfits. In our comprehensive fashion guide, we invite you to explore the captivating world of red pants styling.
Whether you are a seasoned fashion aficionado seeking fresh inspiration or someone ready to inject a burst of excitement into their wardrobe, we are here to provide you with an in-depth exploration of possibilities.
Throughout this journey, we will delve into the art of pairing red pants with a diverse range of clothing items and accessories. We will unveil the secrets to mastering the art of creating head-turning ensembles that resonate with your unique style.
Red pants have the remarkable ability to transcend seasons, occasions, and personal aesthetics, making them a valuable addition to any wardrobe. They possess the power to elevate your look, boost your confidence, and leave a lasting impression.
Whether you are looking to create a chic daytime outfit, a polished office ensemble, or a show-stopping look for a night out, red pants can be your trusted ally. With the right combinations and a dash of creativity, you can turn these wonders into your signature piece, ready to make a statement on any stage.
From classic pairings to unexpected combinations, you will discover the art of making red pants not just an item of clothing but a reflection of your unique personality and fashion sensibilities. Let's dive into the world of red pants styling and embark on a journey where fashion meets self-expression.
Panaprium is proud to be 100% independent, free of any influence, and not sponsored. We carefully handpick products from brands we trust. Thank you so much for buying something through our link, as we may earn a commission that supports us.
Denim Jacket
A denim jacket adds a touch of casual flair to your outfit with red pants. It is a versatile piece that can be layered over almost any top, making it a staple for various occasions.
Roll up the sleeves for a relaxed vibe, or keep them down for a more polished look. Consider customizing it with patches or embroidery to showcase your personal style.
Make sure to check out the 20 best affordable denim jackets we have selected for you with great care. Pick one and get to styling it with your red pants.
Go For Black Tops and Blouses
A black blouse is a wardrobe essential that can effortlessly transition from day to night. Its timeless appeal makes it a versatile pairing with red pants for a sleek and sophisticated appearance.
Accessorize with silver or gold jewelry to customize the look. Tuck it in for a polished appearance, or leave it untucked for a relaxed vibe. Do not forget to have a look at the 15 best affordable, ethical, and sustainable blouses. 
Outfits with a Crop Top
A crop top adds a trendy and youthful element to your red pants ensemble. It is perfect for warm weather or when you want to showcase your waist.
Consider layering with a lightweight cardigan for cooler days or evenings. Experiment with different sleeve lengths and patterns to create diverse looks. Have a look at these affordable and sustainable crop tops. 
White Button-Down Shirt
A white button-down shirt is a classic and elegant choice for a polished outfit with red pants. It offers a clean and timeless look that can be dressed up or down, making it suitable for various occasions.
Experiment with different sleeve lengths and collar styles to suit your taste. Roll up the sleeves and tie it at the waist for a more casual appearance. Discover our wide selection of the best affordable American-made shirts for both men and women. 
Monochrome Look
A monochrome outfit with red pants creates a bold and cohesive statement. To make the look visually interesting, play with different textures and shades of red. Adding accessories in the same color family can tie the whole ensemble together.
Incorporate different shades of red to create depth and dimension in your monochromatic look. Do not be afraid to mix fabrics for added richness.
Lovely High Heels
High heels not only elevate your height but also your overall style. They elongate your legs and add a touch of sophistication to any outfit with red pants.
Opt for a heel height that suits your comfort level and the occasion. Experiment with various heel styles, from stilettos to block heels, for different aesthetics. Make sure to check out these amazing sustainable vegan heels. 
A Statement Belt
A belt not only cinches your waist but also adds a finishing touch to your outfit. Experiment with various belt styles, such as skinny, wide, or statement buckles, to enhance the visual appeal of your red pants ensemble.
Use a belt to create a color contrast or pattern play with your top and pants. Here is our selection of the best ethical and vegan leather belts for women. You can create diverse and engaging looks with one of the belts in this list and your red pants.
Cool Sunglasses
Sunglasses not only protect your eyes but also add a dose of glamour to your look. Choose a style that complements your face shape and the overall vibe of your outfit.
Oversized shades can exude a sense of Hollywood chic, while aviators offer a more classic appeal. Consider polarized lenses for added eye protection and comfort.
Do not forget to have a look at these affordable and sustainable sunglasses. Pick a pair that goes best with your red pants.  
Outfits with a Necklace
A statement necklace can be a conversation starter and a focal point of your outfit. Select necklaces that match the neckline of your top and the occasion.
Chunky, beaded necklaces can add a bohemian touch, while delicate chains offer a subtle elegance. Layer necklaces of varying lengths for a trendy and personalized look. Check out the 15 best affordable and sustainable necklace brands. 
Fun Blazer
A blazer instantly transforms your red pants into a sophisticated ensemble. Opt for tailored blazers in various colors and patterns to create different looks.
Roll up the sleeves for a more relaxed appearance or keep them down for a formal touch. Experiment with mixing and matching blazers with different patterns, such as houndstooth or pinstripes.
Make sure to check out the 20 best ethical and sustainable blazers you will love. If you are after an elegant look, ensure to have a look at these 12 best recycled blazers. 
Floral Top
A floral top adds a touch of femininity and a pop of color to your red pants. Consider the scale and color palette of the floral print to create a harmonious outfit.
Complete the look with accessories that pick up on the colors in the print. Layer a lightweight cardigan or kimono over the floral top for added versatility. Do not forget to check out the 10+ best affordable plus-size linen shirts and tops. 
Comfy Sneakers
Sneakers provide comfort and a sporty edge to your red pants outfit. Choose a pair that complements the style of your pants, whether they are slim-fit or wide-legged.
White sneakers are a versatile choice but feel free to experiment with colors and patterns. Customize your sneakers with unique laces or custom paint for a personalized touch. Here are the 10 best brands for ethical sneakers in Australia and New Zealand. 
Cami Top
A cami top is perfect for warm weather and adds a touch of sensuality to your red pants ensemble. Layer it under a sheer blouse or kimono for a boho-inspired look or wear it on its own for a sultry evening outfit.
Experiment with lace-trimmed camis for added elegance and texture. Check out the 12 best organic cotton camisoles you will love. 
Cute Handbag
A handbag is both functional and stylish, making it an essential accessory. Match the size and style of your handbag to the occasion, whether it is a clutch for a formal event or a roomy tote for a day out shopping.
Consider the color to complement your red pants. Add a decorative scarf or keychain to personalize your handbag. Here are the 15 best faux leather designer handbags in 2023. 
One-Shoulder Top
A one-shoulder top offers a unique and asymmetrical silhouette that can make a bold fashion statement. Pair it with minimalistic accessories to keep the focus on the top and your red pants.
Experiment with one-shoulder tops featuring ruffles or embellishments for added drama. Go for interesting and unique designs in different hues to make stunning combinations with your red pants.
Elegant Coat
An elegant coat is essential for colder seasons and formal occasions. Opt for a coat that complements the color and style of your red pants outfit. 
A tailored coat with a cinched waist can create a flattering silhouette. Experiment with coat lengths, such as knee-length or maxi, for different looks.
Here is our wide selection of the best affordable and sustainable winter coats at your disposal. If you prefer trench coats, check out these amazing affordable, and sustainable trench coats. 
Exciting Blouses and Sweaters
An elegant blouse in luxurious materials adds a touch of sophistication to your red pants. Experiment with different blouse styles, such as ruffles or draping, to create diverse looks.
Tuck the blouse or sweater into your pants and add a statement belt for a polished appearance. For more inspiration, check out the 15 best affordable blouses for broad shoulders. 
Sheer Top
A sheer top can add a playful and romantic element to your outfit with red pants. Layer it strategically over a cami or bralette to maintain modesty while showcasing the sheer fabric.
Experiment with different patterns and textures for added intrigue. Consider pairing it with high-waisted red pants to balance the sheer effect.
Outfits with a Fun Jacket
Depending on the style of your jacket, you can create edgy or formal looks with red pants. Faux leather jackets add a rebellious touch, bomber jackets offer a casual vibe, and blazers exude professionalism.
Experiment with layering jackets over hoodies or turtlenecks for a trendy, layered look. Ensure to have a look at the 15 best affordable jackets and coats made in Italy. 
Colorful Tops
Colorful tops can be a fantastic idea when styling red pants, as they can add vibrancy and personality to your outfit. Pay attention to color coordination. Red pairs well with a range of colors, including complementary shades like white, black, navy, and even pastels.
Consider the occasion when choosing colorful tops. For casual outings, like brunch with friends or a day of shopping, vibrant and playful colors can be a fun choice. On the other hand, for more formal or professional settings, you might want to opt for more subdued or classic colors.
Elegant Shoes
Elegant shoes, such as pointed-toe pumps or strappy sandals, can make a statement and elevate your overall look. Choose shoe styles that align with the formality of the occasion and select colors that coordinate with your red pants ensemble for a harmonious appearance.
Experiment with shoes featuring embellishments or metallic finishes for added glamour. Make sure to check out the 10 best affordable and sustainable ballet flats. And do not forget to check out our article on 8 easy ways to recycle old shoes and clothes. 
We hope our guide has ignited your creativity and provided you with the confidence to rock those red pants with flair. Whether you are a fashion maven or a newcomer to the world of style, always remember that the most important element of any outfit is your confidence and the way you wear it.
With red pants as your signature piece, you are ready to make a statement and leave a lasting impression in the world of fashion. So, go forth, embrace your unique style, and let your red pants be a reflection of your vibrant and confident self.
Was this article helpful to you? Please tell us what you liked or didn't like in the comments below.
About the Author: Gohar Davtyan