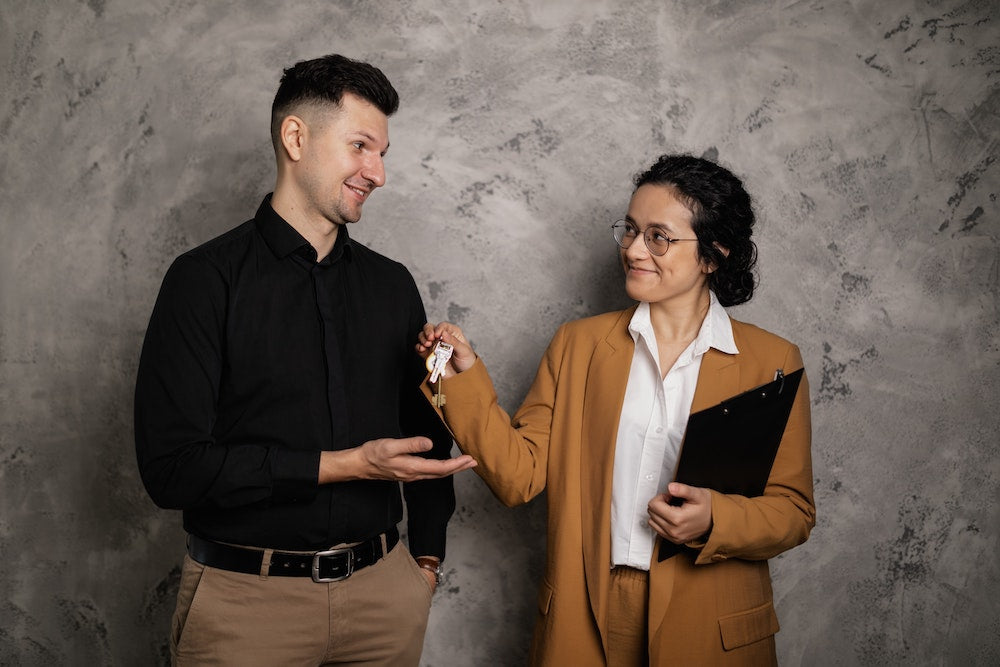 15 Winning Outfits to Wear to a Real Estate Interview
Do you have a big real estate interview coming up? We know how stressful that can be!
Dressing your best is essential to create a positive first impression during your interview. 
When it comes to real estate interviews, they're just like any other job interview. You want to dress professionally without trying too hard. 
First impressions are everything, so wear something flattering like a blazer, dress, or tailored slacks. Following a business casual dress code is the best way to ensure the person interviewing you is automatically impressed. 
Here are 15 winning outfits you can wear to your real estate interview so you can dress well without sweating the small stuff. 
Panaprium is proud to be 100% independent, free of any influence, and not sponsored. We carefully handpick products from brands we trust. Thank you so much for buying something through our link, as we may earn a commission that supports us.
Business Casual
Business casual is the way to go for a real estate agent interview. When choosing your interview outfit, follow this dress code to make the best first impression. 
Think slacks, conservative blouses, blazers, and cardigans when planning your outfit. 
You can get more tips and tricks by checking out our business casual outfit guide. 
A Blouse and Wide-Leg Pants
A blouse tucked into a pair of wide-leg pants creates a modern, trendy look that will turn heads for all the right reasons. 
Wear a flowy, professional blouse and well-tailored trousers for the best effect. For accessories, don't be afraid to stand out with funky items like block-heeled sandals or colorful earrings. 
Explore our favorite wide-leg pants. 
​​A Midi Skirt and Sweater
A midi skirt is a wonderful option for a real estate interview. It's feminine, professional, and versatile. 
Pair your favorite professional midi skirt with a knit sweater and ankle boots for a fabulous winter or autumn interview outfit. 
Check out our favorite midi skirts that are sustainable and affordable. 
A Classic Pantsuit
When in doubt, wear a classic pantsuit. It's a sure-fire way to look professional and put-together during your real estate interview. 
Wear tailored trousers and a matching blazer with officewear classics like heeled pumps, sweater vests, and flowy blouses. 
For this look, wear something that makes you feel comfortable and confident. 
A Hemp Blazer and a Dress or Skirt
A hemp blazer worn over a classic sheath dress or midi skirt is a flattering, professional look for any aspiring real estate agent. 
Wear a conservative but modern cut, such as a v-neck sundress or a pastel midi skirt, to make a good impression. 
Check out our selection of sustainable hemp blazers to dress for success. 
A Pencil Skirt Ensemble
Wear a pencil skirt outfit for a sleek look with major girl boss energy. You're going into your real estate interview with all the confidence you can muster, so your outfit should reflect that. 
Wear a tight gray pencil skirt with a matching blazer and a dark neutral blouse for the most impressive outfit. You can also create a feminine vibe with floral blouses and light-colored cardigans. 
Explore these sustainable pencil skirts that won't break the bank. 
A Blazer and Trousers
You can't go wrong with a classic blazer and trousers when going to a real estate interview. 
This look is versatile and easy to wear regardless of who you are. Wear a classic blue or tan blazer, or show your personality with a fun but subtle pattern. 
Don't miss our selection of elegant recycled blazers.
A Wrap Dress
A wrap dress is a classic office-ready style for any professional occasion. This dress style is comfortable, easy to wear, and flattering on all body types. 
Wear a floral wrap dress with simple flats and a canvas tote bag, or create a chic look with a dark, neutral fabric. 
Explore our selection of fair-trade dresses to find some wrap dress styles. 
A Tailored Jumpsuit
Many people don't immediately consider wearing a jumpsuit to a real estate interview, but it can definitely work. 
Wear a well-tailored, conservatively-cut jumpsuit to your interview for a modern twist on classic office garb. 
Go with darker neutral colors and avoid low-cut necklines. Don't forget to complete your outfit with a professional blazer! 
Don't miss our selection of the best sustainable jumpsuits that look great for any occasion. 
A Monochromatic Look
Add a touch of elegance to your interview outfit by creating a monochromatic look. 
Wear all black for a flattering silhouette, or craft a neutral, light-colored silhouette with taupe trousers and a matching blouse. 
A Cardigan and Cute Top
A cardigan adds a sophisticated edge to any real estate interview outfit. 
Wear a cute blouse underneath your favorite cardigan for a versatile, easy outfit that is guaranteed to look professional. 
Check out these sustainable cotton cardigans for more outfit inspiration. 
A Dress Shirt and Chinos
A dress shirt tucked into a pair of well-pressed chinos is a great business casual look for a real estate interview. 
Wear a simple checkered dress shirt, or go with a classic white button-up. Finish off your look with a vegan leather belt and dress shoes. 
Explore our selection of affordable men's chinos and khakis. 
A Summer Suit
If you have a real estate interview in the middle of the summer, a lightweight linen or cotton suit is the way to go. 
Cotton or linen suits are breathable and keep you cool while looking professional. Pair it with a dress shirt and loafers to really impress. 
Shop our selection of the best sustainable suits for men and women. 
Turtleneck Sweater and Slacks
A turtleneck sweater with dress slacks and dress shoes looks great for men and women. 
This look is sleek, professional, and oh-so-chic. Wear dark, neutral colors to make the best impression. 
Check out our selection of the best cotton turtlenecks to prepare for your interview. 
A Tweed Blazer and Dark Jeans
Wear a tweed blazer and dark-wash jeans for a more laid-back, scholarly look. 
Dark-wash jeans can work well for interviews because they're casual enough to be comfortable but professional enough to look put-together. Finish off your look with a button-up shirt and oxfords. 
Jeans might not be interview-approved, even if they are dark-wash. Before you take the plunge, check your potential employer's dress code or the office's vibe. 
Learn more about the best way for guys to wear jeans. 
Was this article helpful to you? Please tell us what you liked or didn't like in the comments below.
About the Author: Liz Flynn