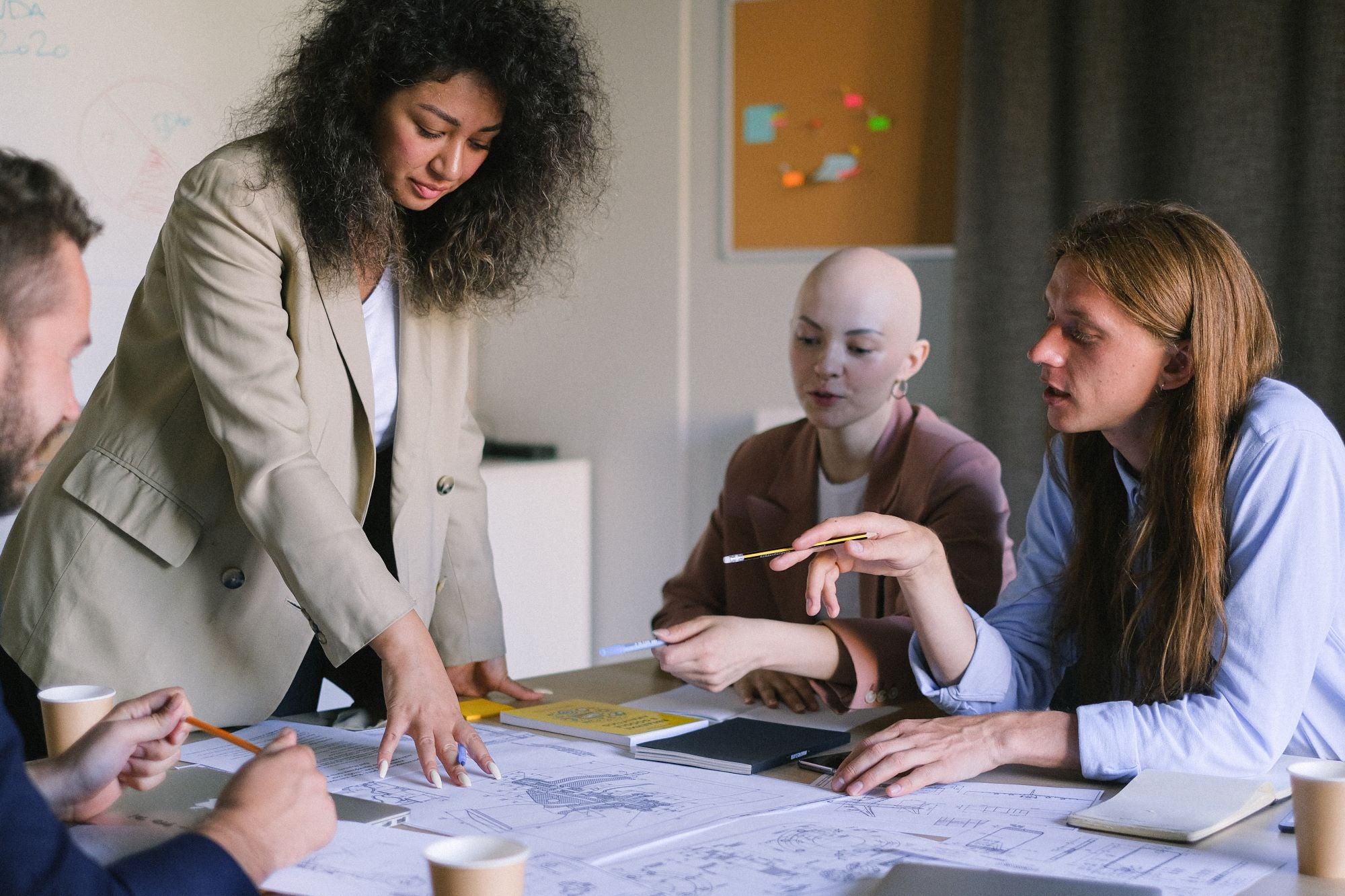 Professional And Stunning Outfits Any Project Manager Should Have
Project management is a very demanding position. A project manager's day is usually hectic, full of numerous meetings with clients and staff.
So, on the one hand, a project manager must deal with all that and appear professional, assertive, and good-looking on the other.
In some companies, they have strict dress codes, while in others, you can get creative with your outfits and looks.
Follow our guide to discover the best outfit ideas for an assertive, professional, and timeless look for your project management career.
Panaprium is proud to be 100% independent, free of any influence, and not sponsored. We carefully handpick products from brands we trust. Thank you so much for buying something through our link, as we may earn a commission that supports us.
Elegant blouse
An elegant, crisp blouse is a timeless choice for a professional and appealing look. Depending on the projects you need to manage, choose the best-fitting blouse. Avoid see-through options, and go for white or light grey options.
Blouses are versatile and virtually pairable with any bottoms. Try them with your pant suits for the ultimate corporate look or with jeans or chinos when in the office. 
Check out the 15 best affordable, ethical, and sustainable blouses we have carefully selected for you.
Slim-leg Chinos
Slim-leg chinos are a brilliant choice for a day in the office for a project manager. Wearing chinos to check on the work progress at a construction site is also a terrific option if you manage a construction project.
Pick slim-leg chinos that are comfortable yet elegant. The color palette is versatile, so choose your favorite colors and color-match them with your tops.
Layering with an Elegant Coat
Smart layering is crucial to appear beautiful and elegant and not sluggish.
Do not wear bulky clothes when layering. Wear a nice light blouse or white shirt, a tight knitted vest or cardigan, and put on your elegant long coat for the ultimate professional look in the winter.
When buying a coat, make sure it is made of eco-friendly materials and goes well with your tops and pants.
Discover the 10 best affordable and sustainable trench coats for eco-friendly options.
Accessories
Accessorize your everyday look by wearing a chic scarf, a beautiful watch, an elegant faux leather belt, or unique jewelry pieces to radiate confidence.
Wear beautifully crafted jewelry and avoid bulky pieces. Creating a minimalistic look with an eye-pleasing necklace or earrings is appreciated in the workplace.
The same goes for the makeup. Wear light makeup for an effortless and fresh look.
Check out our selection of 10 best eco-friendly and affordable hair ties to help you style your long hair.
Timeless Pantsuit
The pantsuit is a perfect addition to any project manager's wardrobe.
Go for solid colors when you have business meetings with clients. Opt for more lively design options when in the office for stylish looks.
Select pantsuits that suit you and your style and nicely outline your figure for a feminine flair.
Learn 12 proven reasons why you should dress well for work.
Pumps
Pumps are a terrific option for a feminine and elegant look. Choose pumps that are supportive and sit well on your feet.
Avoid super high heels, you will be on your feet a lot and you do not want to get tired after a few hours.
Choose cute colors to match your pantsuit, jumpsuit, or other outfit combinations.
For more inspiration check out our article on 19+ outstanding boss lady outfits.
Jacket or Blazer
Smarten your attire by throwing in there a jacket or blazer. Go for colors that best complement your skin tone and create a sophisticated look.
Dressing well will help you appear professional and give you the confidence to run the meetings.
Wear a crisp blouse, and a pair of slim-leg pants, and top it off with an elegant blazer for yet another successful outfit for the day.
Solid-tone Polo Shirt
A solid-tone polo shirt is another great addition to your wardrobe. For more chill office looks pair your solid-tone polo shirt with a pair of dark jeans and beautiful pumps.
Polo shirts are comfy and great for days when you have many errands to run. Pick soft and eco-friendly materials for a perfect look. 
Collared Button-down Shirt
A collared button-down shirt is a terrific choice for your outfits. This type of shirt goes well with various pants, especially dark-wash denim jeans.
Alternatively, pair the button-down shirt with chinos, khakis, or skirts for varying looks. If your company has no strict dress code, the number of creative outfits you can create is endless.
Check out some of the best affordable Italian-made shirts for women and men.
Comfy Shoes
Comfy shoes are essential, as wearing heels every day can become uncomfortable and unhealthy.
Having a pair or two of comfortable, stylish, ethical shoes is a must for any project manager.
Classic ballet flats, oxford shoes, and espadrilles are all brilliant options to guarantee a beautiful look and a comfy day in the office.
Flannel Shirt
A flannel shirt is another terrific choice for a project manager.
Pair the flannel shirt with jeans or chinos in darker shades for a stylish yet comfy look while you oversee your staff working on the project.
Denim Top 
Pair a denim top with pants in white, grey, or light blue colors for the perfect Friday outfit. 
Strive to find a good balance between professional and comfortable looks. 
Denim tops are versatile and come in many shades, pick the one that best suits your tastes and fashion sense. 
We have made your choice easy by putting together the 50 best affordable and sustainable denim brands. 
Blouse + Pencil Skirt 
An elegant blouse paired with a well-fitting pencil skirt makes for another successful combination. There is a diverse color palette and design patterns to choose from. 
Pick the ones that make you confident and go well with other outfit items and accessories. Opt for pencil skirts that are not too tight yet beautifully outline your curves. 
Elegant Dress
An elegant dress makes for a chic and timeless outfit. Paired with slick pumps or ballet flats an elegant dress is a must for a project manager.
You want to earn your team's respect and appear confident and well-dressed.
A peplum dress, sheath dress, and belted dress are all terrific options. Pick colors and materials that make you confident and showcase your fashion sense.
Tight-fitting Jeans  
         
It is always a good idea to have a pair of tight-fitting jeans.
To give yourself more options for creative outfits, make sure you have one pair of light-colored jeans and one in darker shades.
If you love sustainable black denim jeans, check out our selection.
Was this article helpful to you? Please tell us what you liked or didn't like in the comments below.
About the Author: Gohar Davtyan