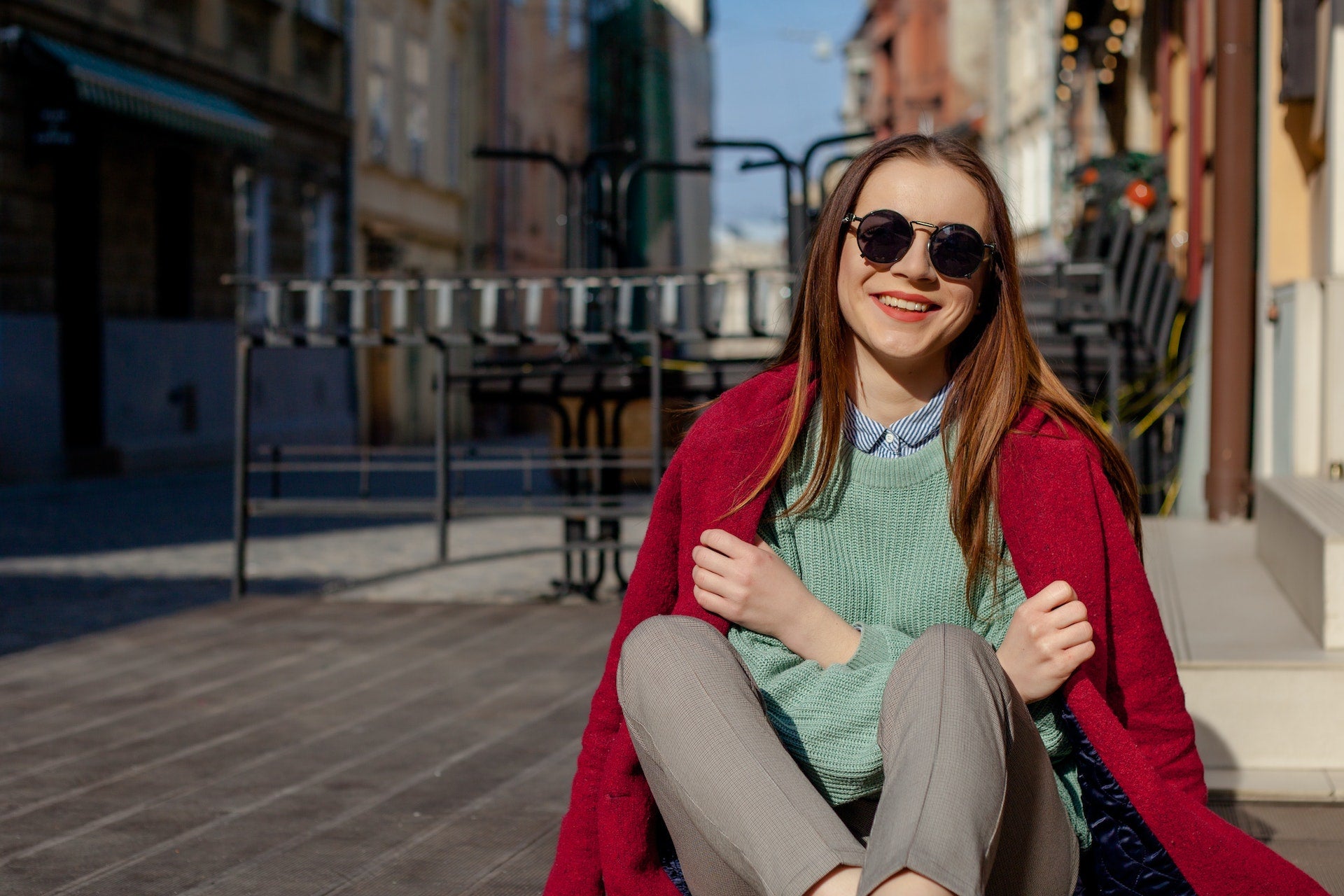 How To Dress This Fall - 20 Best Ideas For Petite Women
It is September, which means it's officially fall!

Sweater weather is just around the corner, and we should get ready for rainy days, temperatures that keep dropping, and cozy, thick clothes.

We have prepared an amazing guide for petite women who want to create the best fall outfits.

Keep reading if you want to be both stylish and comfy this season.
Panaprium is proud to be 100% independent, free of any influence, and not sponsored. We carefully handpick products from brands we trust. Thank you so much for buying something through our link, as we may earn a commission that supports us.
Mini s
kirts
Mini skirts are very attractive and guys love them. Even better, they're very flattering for petite bodies.
If you want to boost your confidence and impress your boyfriend, choose a beautiful mini skirt from a sustainable brand. Wear it with a cute top or sweater.

Sweaters
Sweaters are perfect clothing items that you can wear in the fall and winter months.
They are extremely versatile and can be worn in multiple combinations, with your favorite skirts, jeans, and trousers.

Discover amazing eco-friendly sweater brands that work under very high-quality standards.




Jeans
Jeans can be worn dressed up or down, and they are suitable for a lot of occasions, except those when you need to dress formally.
For petite women, we recommend high-waisted jeans. They highlight your waist while making your legs appear longer.

Check out these 17 best popular and cheap European jeans brands.

Cardigans
Cardigans are fantastic for layering.
You can start with your favorite tank top or T-shirt, add a beautiful skirt or a pair of jeans, and complete your outfit for a sunny autumn day with a cute cardigan.
As a petite woman, you should be very careful when layering your clothes. Layers are very stylish and look good on everyone, but you need to make sure that they are not overwhelming your silhouette - just avoid adding too much volume, and you'll have a great outfit!

Read our article about the best affordable and sustainable cardigans.

Tuckable turtlenecks
Turtlenecks are amazing clothing items! They never go out of fashion, and you can enjoy yours during autumn and winter as well.
Turtlenecks tend to be a bit long and bulky and to fix that, we recommend purchasing one that can be tucked in.

Take a look at our sustainable suggestions.


Heeled boots
Nowadays you can find fantastic footwear that is made by sustainable brands.
Choose a beautiful pair of vegan-heeled boots that look amazing with your fall outfits!




Denim jackets
Denim jackets are great for the transition from summer to fall. They are very stylish and easy to integrate in all casual outfits.

Here are the 20 best affordable denim jackets every woman needs.

Coats
Prepare for the cold days of late fall and purchase a beautiful and sustainable coat.
You can wear coats dressed up, with dresses and elegant shoes, or dressed down, with jeans and sweatshirts.
Both ways are fashionable, and they look great on petite silhouettes.

Dresses
Dresses are very cute and feminine. You can wear them to work, on a date, when going shopping, and when hanging out with your friends.
Don't forget to buy yours from an ethical brand.



Knit dresses
Knit dresses are fabulous for fall!

Available in many colors and lengths, they're super stylish and they keep you warm.
We recommend petite women to wear knit dresses with heeled boots and a belt, for an amazing cold weather outfit.




Tights
Tights are the best way to keep wearing skirts and dresses during both fall and winter!
They come in many thicknesses, and this allows you to choose different types of tights, depending on the temperature outside.

Many sustainable hosiery brands offer high-quality, breathable, and long-lasting tights that will certainly come in handy during the next few months.

The colors of the fall
Create stylish outfits that feature the flattering colors of the fall!
Burgundy, brown, yellow, nude, black, dark green, orange, and red are all beautiful colors that look fantastic.

Check out these sustainable, popular, and cheap European clothing brands. Be the painter, and let your outfit choices be your canvas!

Small bags and purses
Complete your outfit with a beautiful, small-sized bag or purse from an ethical brand. We recommend this size because bigger ones may overwhelm your body proportions.

Remember that the bag or purse that you decide to purchase can be worn all year round, not only during fall.
Choose wisely - go for a color or a print that will match the clothes you love to wear during the other seasons as well.



Vegan leather jacket
Vegan leather jackets are a cruelty-free and sustainable alternative to the classic leather jackets.
Nothing to worry about, they are as stylish, and they look great with dresses or with jeans.

To help you be a conscious consumer, we've made a list of the best affordable and sustainable vegan leather jackets in 2023.



Belts
Because many clothes tend to look bulky on petite bodies, especially if they are designed with a slightly loose fit, adding a belt can save the day!

Belts are beautiful accessories that can make your outfit look put together. Wear yours with long sweaters, sweater dresses, or coats.

You can now find amazing and sustainable belts that are made by ethical brands.


Trousers
For those days when you don't want to wear skirts or dresses, but you want to have an elegant outfit, we recommend a beautiful pair of trousers.

They can be worn with shirts and sweaters.

Great news! Your trousers can now be sustainable.


Well-fitted clothes
Wearing well-fitted clothes is very important for petite women.

The perfect fit will follow your natural body lines while highlighting your best features. They will not add any unwanted volume to your body.

To make sure your clothes fit well, we recommend always purchasing the right size for you, and avoiding oversized designs.

Let yourself be inspired by these 200 sustainable European brands.

Lingerie
Lingerie is important all year round, not only during fall.
Poor lingerie can ruin your day by making you feel extremely uncomfortable, while good, high-quality lingerie can be a confidence booster that allows you to feel great the whole day!

Discover 20 ethical alternatives to Victoria's Secret.

Berets
Add a stylish touch to your outfit and choose to wear a beret.
Inspired by the French fashion we see all over social media, an outfit with a beret is very modern and great for fall.

If you want to buy sustainably, you can choose to shop vintage fashion from one of these 10 best affordable online clothing stores that sell pre-loved clothing items.

Winter clothes
Last, but not least we need to talk about winter. It is very important that when the temperatures start dropping every day, your wardrobe is ready to face it.

Many of the clothes that we recommend for fall can be also used during winter. You just need to add an extra thick layer, such as a winter coat, a pair of thicker tights, or a cozy scarf.

We have done a lot of research for you and here you can find our selection of the best fashion labels that produce sustainable clothes for petite sizes. Let yourself be inspired and purchase your winter clothes from one of these brands.
If you like our article, share it with your friends!
Was this article helpful to you? Please tell us what you liked or didn't like in the comments below.
About the Author: Miruna Dulcea