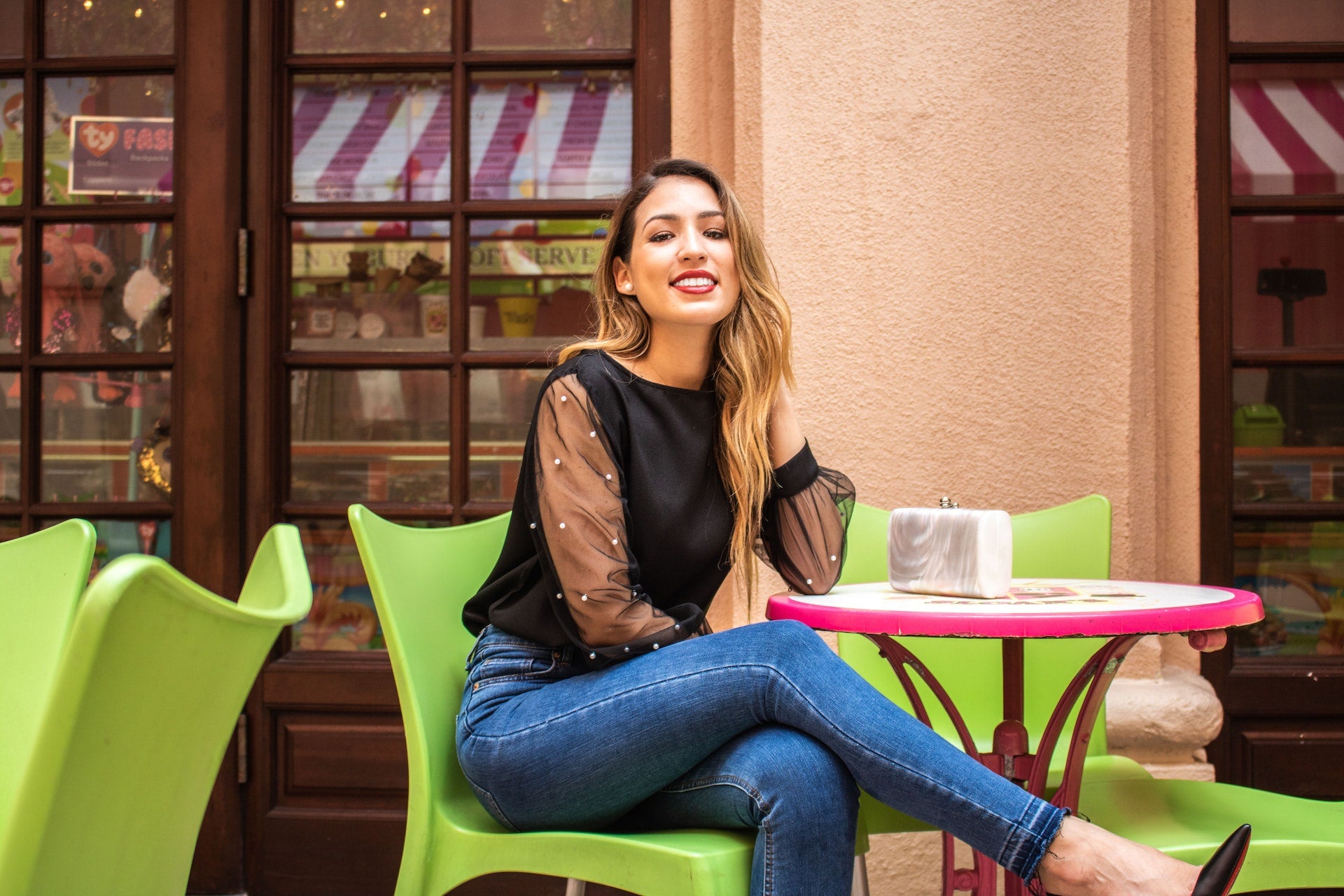 15 Amazing Going Out Outfits For Petite Women
Finding stylish outfits for everyday wear can be difficult for petite women.
This is why, when it comes to a special evening out, things can be even more complicated.

The best going-out clothes for petite women must balance comfort and style.
We have compiled a variety of casual, elegant, and fancy outfit ideas for you. Keep reading to discover them!
Panaprium is proud to be 100% independent, free of any influence, and not sponsored. We carefully handpick products from brands we trust. Thank you so much for buying something through our link, as we may earn a commission that supports us.

Crop top and jeans
If you love dressing according to the latest trends, wearing a crop top is a great idea. It showcases your upper body in a flattering way.

Add a comfortable pair of jeans to complete your beautiful outfit.

You can now shop for affordable crop tops that are made by ethical brands.

Jeans and T-shirt
Another simple, but effective outfit featuring jeans is the classic combo of T-shirt and jeans.

If you're going out to have a few drinks at the local pub, or you're hanging out at your boyfriend's house, this type of outfit is always a great choice.
Remember that you don't need to wear the fanciest clothes to look and feel fantastic. Petite women will look great in high-waisted jeans.

Make sure to choose a sustainable pair of jeans in the right size for your body.


Vegan leather jacket outfits
Pair any smart-casual outfit with a beautiful, cruelty-free vegan leather jacket.
Unless you are attending a very special place, such as a fine dining restaurant, chances are this is the perfect jacket for you!

In case this style seems too plain to you, dress it up with some beautiful jewelry.

Check out these 12 best affordable vegan leather jackets in 2023.

Mini skirt + cardigan
A mini skirt and cardigan outfit is perfect for an afternoon out. Whether you're going shopping, going out for a coffee with your boyfriend, or just having a walk in the park, mini skirts are always very attractive.

For petite silhouettes, we recommend avoiding oversized cardigans.

Mini skirts can be worn in many combinations, and this is why they are always great additions to a lady's wardrobe.

Take a look at our sustainable recommendations.

Cropped hoodie outfits
Let yourself be inspired by street-style fashion. This can help you come up with very creative outfits for relaxed occasions.

Cropped hoodies look great on shorter women, because, although they come in a loose fit, the cropped length prevents them from overwhelming the body proportions.
If you want to limit the volume that your clothes add to your body, wear your hoodie with skinny jeans.

Discover amazing hoodies made by sustainable brands.


Tank tops
Tank tops are basic clothing items that should exist in anyone's wardrobe. You can wear them both as undergarments and as garments.

Purchase a sustainable tank top and wear it with a pair of jeans or shorts.




Special occasion dresses
Is your boyfriend taking you out to a fancy restaurant?  If yes, forget your casual outfits, and choose a stunning, elegant dress that will impress everyone.

A pair of heels makes your legs appear longer and is the best pair of shoes that you can wear with an elegant dress.

Discover the best affordable designer clothing brands and find amazing dresses that you'll love!



Party dresses
If you are going out at night, maybe clubbing or to a party, then you need a sexy and sparkling dress that will not go unnoticed!

In terms of length, for petite women, mini-dresses are the best choice. They showcase your legs beautifully!

Check out these American-made cocktail dresses that are great for any party.




Cute day dresses
We have covered the special occasion dresses, but we must also look at dresses that are appropriate for day wear.
If you want to avoid overdressing, choose a cute and sustainable dress in your favorite color. Your outfit will be ready in no time!

Outfits featuring leggings
Probably the most comfortable bottoms you can wear, leggings are cute and stylish. They show that you love working out and caring for your body, and they are also extremely popular.

Petite women can put together amazing outfits with leggings, both simple ones, as well as dressed-up outfits with elegant tops.

Choose a beautiful pair of leggings from an ethical brand, and be creative with your combinations!

Outfits with shorts
Do you want to spend a beautiful summer afternoon out with your boyfriend, or maybe with some friends?

Choose a comfortable outfit with shorts.
They are extremely versatile and can be worn with many tops and blouses. We recommend wearing a pair of eco-friendly shorts with a crop top and a cute purse.




Cute, romantic blouses


For many of us, a feminine outfit is synonymous with an attractive outfit.

Choose to make a statement with a cute blouse with puff sleeves and a V-neck when going out. Let it be the most interesting clothing item in your outfit, and add a simple pair of skinny jeans.

If this idea sounds great to you, check out our tips for a great romantic fashion style wardrobe.




Off-shoulder top outfits
Going out is the perfect time to dive into off-shoulder tops. They are cute and attractive and they highlight your upper body's best features.

Make your outfit complete with a pair of high-waisted skinny jeans in black - they're fantastic for petite women!

Don't forget that you can now purchase both your tops and your black jeans from sustainable brands.





Lingerie
Lingerie is as important as your outfit. You can choose to spice things up with a very sexy lingerie set.

Our advice is to always purchase lingerie in the right size for your body, and to make sure you choose a color that is not visible through your clothes - matching your skin tone or the color of your clothes are the best choices!

If you need more tips, we have an article that's all about lingerie for petite women!


Jewelry
Add a stylish final touch to your outfit with some beautiful and sustainable jewelry.



What to avoid
As a general rule, when going out, you should avoid both being underdressed and overdressed. You can do this by paying close attention to your destination - some places require a certain outfit.
Whenever you are not sure, go online and check if the place you are going to has a dress code.

Avoid wearing clothes featuring logos, as well as wearing too many colors at once.
As a petite woman, you should also avoid oversized clothes because they look bulky.
Small bags and small jewelry are great choices for petite silhouettes, while oversized ones should be avoided.

Last but not least, make sure to always purchase sustainable clothes and lingerie made from high-quality materials, that will be comfortable and gentle with your skin.
If you like our tips, share this article with your friends!
Was this article helpful to you? Please tell us what you liked or didn't like in the comments below.
About the Author: Miruna Dulcea