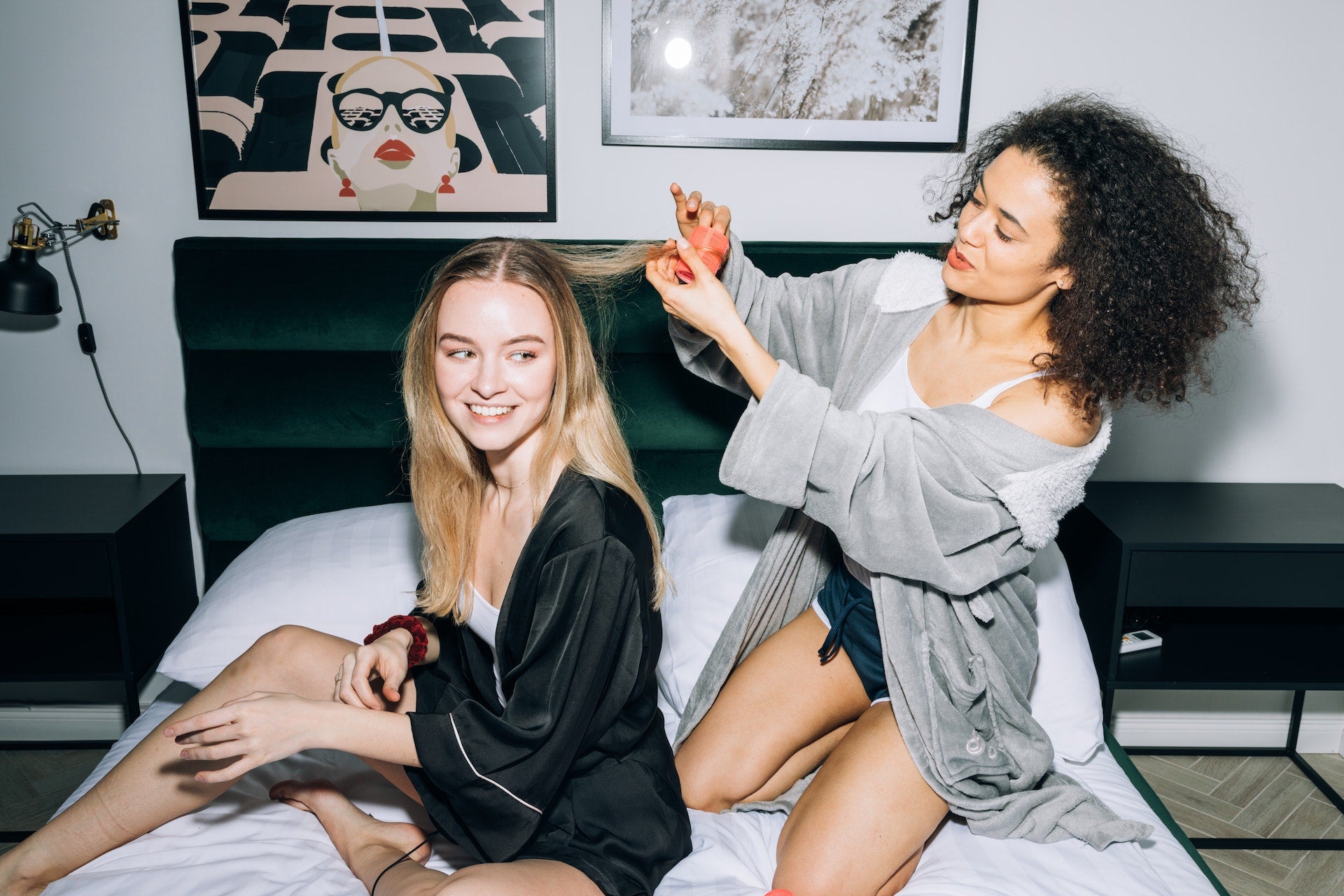 How To Choose Your Pajama Party Outfit - 15 Best Ideas
If you are invited to a pajama party, you need a cute and comfortable outfit that both you and your friends will love.

Maybe this is your first pajama party, or maybe you have not been to one in a while. Either way, making an outfit decision may be difficult.

Can you wear anything other than the obvious pajamas? What kind of pajamas should you choose?

We are here to make things simple for you. We have gathered the best fashion ideas so that you can have a great time. Keep reading to discover them.
Panaprium is proud to be 100% independent, free of any influence, and not sponsored. We carefully handpick products from brands we trust. Thank you so much for buying something through our link, as we may earn a commission that supports us.

Shorts
Shorts are comfortable clothing items that come with excellent freedom of movement.
They are extremely easy to wear and to match with your other clothes.
Create a beautiful and relaxed outfit with a sustainable pair of shorts and a tank top or a T-shirt.



Robes
If it is a little bit chilly, you can add a robe over your pajamas. It fits the theme perfectly and it keeps you warm.
The selection of robes available is wider than you think. They come in many colors, lengths, and thicknesses, which means there is a lot to choose from.
Even better, you can now purchase affordable and comfortable robes from sustainable brands. Take a look at our recommendations.

Luxurious set
Who said pajamas can't be fancy?
Choose a beautiful, luxurious set, made from high-quality materials. Go for a darker and deeper color that can make your outfit look more expensive and mysterious. Our recommendations are burgundy and dark green.
Click here to discover the best organic bamboo pajamas.



Socks
Never underestimate the power of socks.
They help you keep your feet warm and cozy.
Click here to discover the best affordable and sustainable socks.

Prints
Bring the fun to the pajama party with a cute print!
Flowers, cute animals, tropical prints, stripes, polka dots - the possibilities are endless.
Here you can find our carefully curated selection of affordable pajama brands.

Bold colors
A pajama party is the perfect opportunity to rock a head-to-toe outfit in your favorite color.
Choose a bold color that you love and you will not go unnoticed. If you and your friends enjoy taking pictures, it's a good thing to remember that bold colors look very good in pics.
Let yourself be inspired by the best affordable and sustainable pajamas.



"Soft girl" pajamas
Do you know what "Soft Girl" means?
It is a popular fashion trend that highlights femininity with outfits and accessories that look cute, sweet, and innocent.
If you want to showcase your softer, feminine side, choose a beautiful, girly-girl, pink pajama.
Take a look at our cute and eco-friendly recommendations.

Prioritize comfort
If you attend a pajama party, you are going to spend many hours wearing the same clothes. To have a great time, you must prioritize comfort.
Make sure to choose clothes that are not too tight. 
Avoid fast fashion and always purchase from sustainable labels that use high-quality, organic, or recycled materials.
Here are 200 European brands that sell ethically made clothes.

Accessorize
A pajama party doesn't mean just grabbing pajamas as you would when going to sleep.
You can wear makeup, jewelry, hair accessories, and whatever feels good!
A cute headband can instantly transform an outfit! Discover more sustainable and budget-friendly hair accessories.



Feel sexy
If you love attractive outfits that highlight your body's best features, do not hesitate to wear a sexy set.
Shiny materials, lace details, and revealing cuts can all work in your favor.
Don't forget that feeling attractive also increases your confidence.
Read our article if you want to learn more about the best luxury nightwear sets.
Leggings
Comfortable, but also cute, leggings are great for many occasions. You can wear them while running errands, to the gym, to the grocery store, and also to a pajama party.
Leggings look fantastic with T-shirts, tank tops, long-sleeved tops, and cami tops.
The best leggings are affordable, sustainable, and made from high-quality materials.
Take a peek at our recommendations.

Festive pajamas
As we've pointed out earlier, pajamas are available in a wide range of prints. This means there is a pajama out there for everything.
If you are attending a pajama party around the holidays, you can wear a beautiful festive print. Bring a Christmas jumper or sweatshirt to the party, if you don't have a festive pajama yet.
Learn what to wear with a Christmas jumper from our article.



Nightgowns
Nightgowns are breathable dresses designed to be worn while sleeping.
If you are attending a summer pajama party, choose a soft and relaxing nightgown that also looks very attractive.
For more sustainable fashion inspiration on women's nightwear, read our article.

Slippers
Slippers protect your feet in many ways: They keep your feet warm, help you prevent accidents such as slips, and help you avoid discomfort from walking on hard surfaces.
It is a great idea to wear slippers to a pajama party. The best slippers are affordable, comfortable, sustainable, and made from high-quality materials.
Check out our article about the best slippers.



Cami tops
Cami tops are beautiful and lightweight tops that can be a great idea for a pajama party.
They can be worn on their own, or layered with other clothes, such as a cardigan, a robe, or a hoodie.
Here are the 12 best organic camisoles you will love.


Summing up
Always remember that wearing pajamas doesn't mean you can't be stylish!
A pajama party is all about having fun and the outfit you decide to wear should reflect your personality and style.
Take advantage of the lack of rules when it comes to a pajama party and choose pajamas and other clothes that you love.
Make sure to buy from sustainable brands that work under very high-quality standards.
Don't worry too much about matching your clothes - you are free to mix any colors and patterns you want.
If you like this article, share it with your friends!
Was this article helpful to you? Please tell us what you liked or didn't like in the comments below.
About the Author: Miruna Dulcea