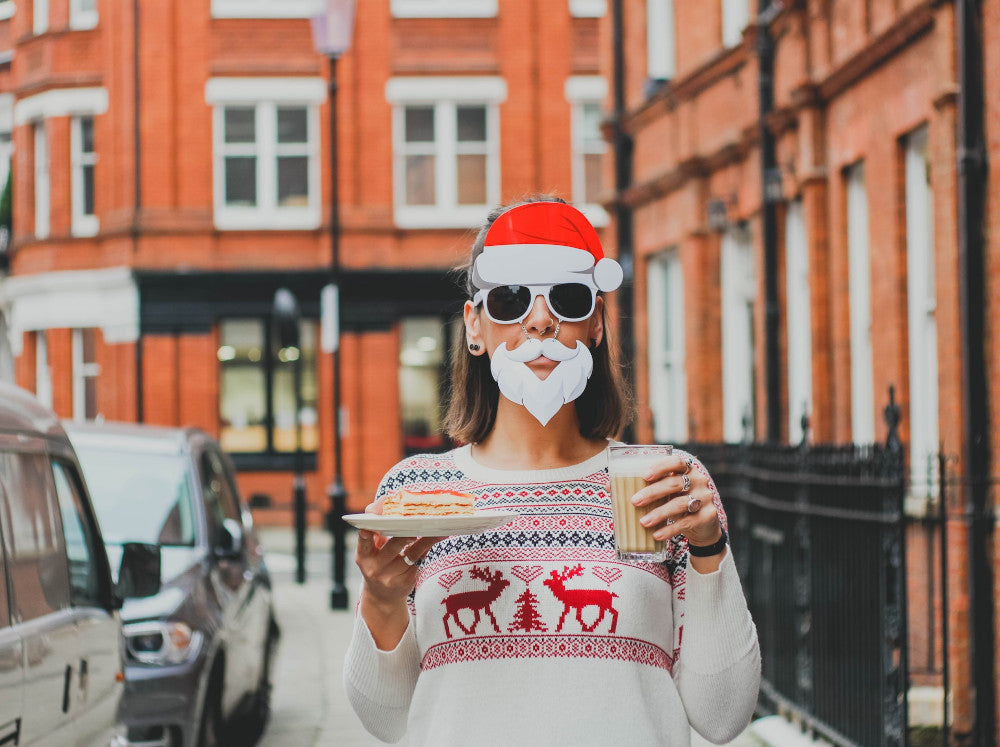 21 Inexpensive Outfits to Wear With a Christmas Jumper
The best outfit to wear with a Christmas jumper combines neutral or black bottoms with the bright, festive colors of the top. Think about adding stylish shoes like knee-high boots or heels to dress up a holiday sweater for the workplace, or wear jeans and chunky winter boots with a Christmas jumper for a day out shopping.
Whether you call it a Christmas jumper, a sweater, a pullover, or a vest, who doesn't love the festive cheer of a cozy knit top in holiday colors? You can bling out with a Christmas jumper sporting flashing reindeer noses, or you can tone it down with a restrained, Nordic-style sweater in a joyous red and cream.
Once you pick the perfect holiday sweater, you need to find just the right outfit to pair with it! 
Panaprium is proud to be 100% independent, free of any influence, and not sponsored. We carefully handpick products from brands we trust. Thank you so much for buying something through our link, as we may earn a commission that supports us.
Neutral Colors
Whether you wear a skirt, pants, or leggings with your Christmas jumper, look for bottoms in a neutral shade. Colors like brown, beige, cream, or grey will provide a nice contrast to the bright, vivid holiday colors and patterns in your sweater. Plus, you won't have to worry about clashing colors if you stick with a basic shade for your lower half!
If you do want more vivid bottoms in your outfit, look for a contrasting color that matches the dominant color in your sweater, such as orange or yellow bottoms for a navy blue holiday sweater. You can also echo colors in your bottoms by wearing pants that match the non-dominant color in the sweater. For example, if you have a pattern of white snowflakes in a red sweater, wear white pants to highlight the white snowflake pattern!
You can find 15 other ideas for great outfits to wear with neutral brown pants here!
Black Bottoms
You can't go wrong with solid black pants, jeans, skirts, or leggings to match your holiday sweater. The black provides a stark contrast to the sweater, drawing all the attention to the fun, festive knitwear!
Plus, black matches pretty much everything and you never have to worry about clashing colors when you wear black bottoms.
If you want to pull off a sexy style with your jumper and black bottoms, heck out this list of the 20 best affordable faux-leather leggings!
Pajama Pants
One of the best times to wear your favorite Christmas sweater is on Christmas morning when you leap out of bed to open presents with your family!  A cozy pair of flannel or plaid pajama bottoms might not exactly match your sweater, but they will keep you warm and comfortable while you crowd around the tree and sip hot chocolate in the privacy of your home.
If you really want to get cutesy, you could even get matching pajama bottoms for the whole family, and take a group photo together!
If you want new, comfortable, and organic cotton pajamas for your family this holiday season, check out this list of 20 great options here!
Festive Accessories
You absolutely cannot go wrong with fun, festive accessories when you wear a Christmas jumper. Try a Santa or elf hat, reindeer antler headband, or just your favorite holiday-ornament earrings. 
You could also wear a necklace of Christmas lights that actually light up, or tone it down with a nice pair of snowflake-themed socks. For an outdoor event, look for a Christmas-themed chunky scarf or even a pair of earmuffs, too!
Looking for the perfect winter scarf to complete your Christmas sweater outfit? Check out this list of 15 affordable and ethical winter scarves.
Midi Skirt
One of the best ways to dress up a Christmas jumper to wear to work or to a party is to wear a midi skirt and heels with your sweater. The easiest combo is to pair a black or white skirt of any style with your jumper and a pair of cozy tights.
But you can also add a flash of style by trying a gold or silver skirt with your sweater. If heels seem impractical, you can always go with heeled black boots instead, too.
If you don't already own a black or white midi skirt to pair with your festive knits, take a look at the 15 best sustainable midi skirts here.
Pleated Skirt
Try pairing your Christmas sweater with a pleated skirt to elevate your style for a holiday party or holiday date night. A pleated, knee-length skirt in black or glittery color will set off your festive sweater and bring a slightly more formal note to your outfit. You can always add heels and a fashionable clutch bag to your outfit to dress it up even more if you want!
You can take a look at this list of 15 affordable, sustainable pleated skirts to get some new ideas for your wardrobe, too!
Mini Skirt and Tights
If you want to turn your Christmas sweater into a sexier outfit, try matching it with a mini skirt and black tights. Add chunky boots for a hardcore vibe or knee-high boots for a runway style.
While you can rock most mini-skirt styles with this outfit, you can add a note of cozy winter charm by picking a black corduroy skirt. For an edgy farmhouse style, try a denim mini skirt over your black tights.
If last winter's tights look pretty stretched out this year, take a look at the 10 best ethical hosiery brands before you buy a new pair.
Black Skirt and Tights
The simplest way to wear a Christmas sweater and skirt combo is to wear a black skirt and black tights. You can make this an edgy outfit with sheer or patterned black tights, or a more formal outfit by wearing a knee-length black skirt and opaque tights with nice boots.
Don't worry that all the black will make you look too boring! Your festive Christmas jumper will bring plenty of color and verve to your outfit.
Do you worry that your closet doesn't reflect your values when it comes to ethical clothing? Make the right choice by buying from these 10 best ethical and vegan sweater brands.
Dress Pants or Slacks
If you have an ugly Christmas sweater competition at your office each year, you may want to pair your sweater with dressier bottoms like dress pants or slacks. You shouldn't assume that you can wear jeans to the office just because you get permission to wear your fun sweater! 
Actually, a pair of nice slim-fitting dress pants can look great with your sweater outside the office too Try adding a pair of ballet flats or loafers and you will have a modern professional vibe that contrasts nicely with the fun holiday spirit of your sweater. You can find affordable, comfortable ballet flats here!
T-shirt
Don't forget to wear a t-shirt beneath your Christmas sweater! This way you won't feel itchy in sensitive places during the day. Plus, if you get a bit too warm under the insulating sweater, the tee will catch any sweat instead of letting it soak into the pits of a hard-to-wash holiday jumper.
In some cases, you can even wear a button-up Christmas sweater open over a nice black or white tee. This presents a more informal style but it can work well for family Christmas parties.
You can shop the 15 best American-made t-shirt brands here!
White Dress Shirt
One great way to turn a holiday sweater into workplace attire in just seconds is to wear a button-down white dress shirt beneath your sweater. Pull out the pressed collar so it shows over the neckline of the sweater.
Also, when you pick a Christmas jumper to wear to work, look for a darker, calmer holiday color like a dark green or a mulberry red. Unless you know your coworkers will appreciate it, save the jumper with the rude holiday jokes and light-up Rudolph-the-reindeer nose for a party at the local bar.
Do you need a new button-up shirt to complete this dressy look? Check out the 15 best ethical button-up shirt brands here!
Leggings and Boots
For a low-key holiday event like an outdoor Christmas market, try pairing your holiday jumper with a comfy pair of leggings! This is the best way to style an oversized Christmas sweater. Try adding your favorite heeled boots and a chunky knit hat to complete the look!
Unless your holiday sweater is solid-colored, avoid wearing patterned Christmas leggings with this outfit, though. Stick to solid neutrals like brown or tan to highlight the awesome festivity of your knitwear.
The only downside to leggings is that they can stretch out over time. If you need to freshen up your collection, take a look at this list of 20 affordable, sustainable leggings!
Blazer or Sport Coat
Another great way to dress up a Christmas jumper to make it office-appropriate is to wear a thin sweater with a sport coat or blazer over it. A black sport coat makes a safe choice as it should not clash with your sweater. You can also try a corduroy jacket in a neutral color, or a white blazer if your holiday sweater has a white motif knitted into it.
Maybe you already have a blazer stashed away in your closet for interviews and work events. If not, you can find 20 ethical, sustainable blazer options to choose form here.
Slim-Fit or Skinny Jeans
Pairing slim-fit or skinny jeans with a Christmas jumper makes an excellent informal holiday outfit. The close-fitting bottoms will balance especially well with a chunky or oversized holiday sweater!
Actually, you can use this skinny bottom and looser top concept with other types of pants, too. Try pairing your baggy Christmas jumper with slim-fit trousers for work, or with leggings for a holiday outing with friends.
For more ideas on how to style slim pants, take a look at this checklist of how to dress like a successful woman.
White Jeans
If you want the comfort of your favorite stretchy jeans but you need to look nice for a family holiday party, try pairing your Christmas jumper with a classy pair of white jeans. This works especially well if you have a white design or pattern in the sweater, like snowflakes or Frosty the Snowman!
If you want to keep your outfit looking classy, stay away from ripped jeans and look for flared or skinny jeans in a solid white instead. You can also elevate your outfit by wearing heels or nice ballet flats that match your sweater.
If you want vegan, sustainable heels to dress up your holiday sweater outfit, check out this list!
Black or Dark-Wash Jeans
Another way to look classy even in jeans is to pair your Christmas jumper with black or dark-wash jeans. Go for a pair of newer, good-condition jeans with no rips or stains. For the most vibrant holiday outfit, make sure your sweater has a light or bright color like silver, gold, red, or white to contrast with dark denim.
Of course, you already know that not all jeans are created equal. Next time you need classy-looking jeans, try shopping from the 50 best affordable and sustainable denim brands!
Khakis
Another way to make your Christmas jumper outfit more business-casual appropriate is to pair the sweater with a pair of khakis. While not as formal as dress pants, a nice pair of khakis has a neutral tone that will match pretty much any sweater!
Plus, khakis transition well between indoor and outdoor environments. Try adding a nice pair of loafers for a low-key but professional note to end the ensemble.
Do you want to try adding a pair of khakis to your work outfit rotation? Check out the 15 best affordable chinos and khakis here!
Knee-High Boots
Maybe you want to get in on the holiday fun at your office Christmas party but you feel like a Christmas jumper will bring down your usual fashion-forward style. In this case, try wearing a festive jumper, a short skirt, and knee-high boots! You will one-hundred-percent look booths stylish, edgy, and festive.
Believe it or not, you can find ethical knee-high boots! Take a look at this list of the 20 best long vegan boots to get some ideas.
Sweater Dress
For a fun or flirtatious twist on a Christmas jumper, try finding a holiday-themed sweater dress! You can pair the knitted dress with leggings and boots for a casual style, or wear tights, heels, and a Santa hat for a grown-up Christmas party after hours.
In fact, you can pull off this outfit even if you don't have a "Christmas" sweater dress. Try to find either a solid red or white sweater dress. Then decorate it with Christmas-themed earrings or a scarf.
If you need a new sweater dress to pull off this cute style, check out these 20 cute and cheap sweater dresses!
Holiday Makeup
Speaking of holiday accessories, don't forget your Christmas makeup when you wear your favorite Christmas jumper! You can go all-out with festive facepaint for a Christmas party, add a splash of glitter eye makeup for a Christmas night at the club, or stick to decorating your nails with glittery snowflakes for a more subdued holiday style.
If you normally wear lipstick or bold colors in your makeup, try matching the color to your sweater if you can!
You can also find affordable, sustainable hair accessories here to finish off your style!
Bobble Hat
If you want to wear your Christmas jumper to an outdoor holiday event, don't forget a cozy, cute knit bobble hat to top off your ensemble! If you can, try to find a hat in a shade that highlights the dominant color of your sweater. For example, if you have green elves dancing a jig across the front of your jumper, look for a green bobble hat to make your whole outfit look put together.
Do you need a new winter hat? Take a look at the 15 best affordable and sustainable winter hat options here!
Was this article helpful to you? Please tell us what you liked or didn't like in the comments below.
About the Author: Hannah Cobb