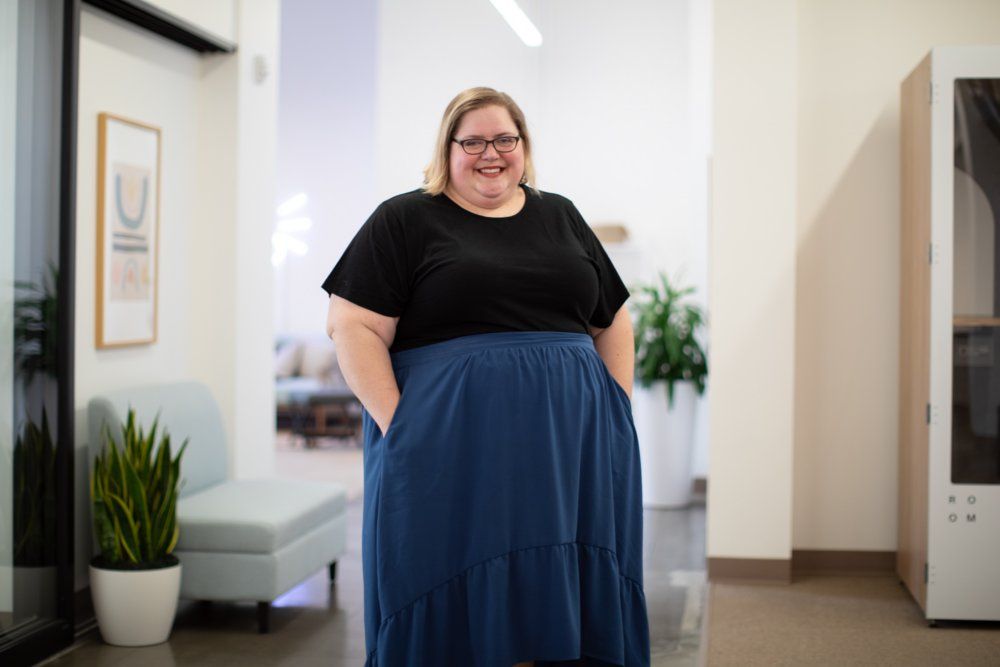 20 Best Casual Outfit Ideas For Overweight Ladies
You can easily dress well even if you are overweight by developing a great sense of style with these cute, stylish, modern, and casual outfits.

Look incredibly beautiful and well-dressed by taking inspiration from these relaxed and effortless looks. And put together the right combination of clothes, shoes, and accessories according to your body type.

Chubby girls can wear well-fitting garments that flatter their figure and draw attention to their best features. They emphasize the waist to make the body look proportionate and stand out.

To help you dress well and maintain your confidence, here are some of the best casual outfit ideas for overweight ladies to wear this season.


Panaprium is proud to be 100% independent, free of any influence, and not sponsored. We carefully handpick products from brands we trust. Thank you so much for buying something through our link, as we may earn a commission that supports us.

Denim jackets


Wear attractive layers like a denim jacket to add a stylish touch to any casual outfit. A classic denim jacket can improve your dressing style drastically.

If you want to dress well when you are overweight, wear a denim jacket to stand out and transform a regular outfit into a more modern and fashionable look.

Check out our selection of denim jackets.




Black & white outfits


The most beautiful and timeless outfits overweight ladies can wear include chic and timeless fashion pieces that don't go out of style with contrasts in colors like black and white.

Off-the-shoulder tops


If you want to look fashionable as an overweight lady, try wearing off-the-shoulder tops. This unique fashion statement creates standout looks and turns heads.

If you don't have an off-the-shoulder piece in your closet, you can always cut the collar off some old sweaters or sweatshirts and pull it off.




Pleated skirts


Pleated skirts are ideal for chubby girls to create comfortable and fashionable outfits. The best ones help you look great and feel good with lightweight and breathable fabrics.

Here are some of the best affordable and sustainable pleated/tennis skirts.




Sweatpants


Some of the best outfits for overweight ladies include stylish, modern, chic, and effortless sweatpants inspired by street culture. Wear sweatpants with hoodies or crop tops to create the perfect casual outfit.

The best joggers, sweatpants, and track pants are comfortable, cheap, eco-friendly, and ethically made from organic, natural materials.

Check out our selection of the best sustainable sweatpants.


Mini dresses


Chubby girls can look cute and charming in stylish, effortless, and chic mini dresses that showcase their best features.

You will appear more confident and stand out in an original outfit if you wear feminine and fashionable short dresses.

Our selection of casual and sexy dresses to wear this summer.


Bike shorts


You can have more fun with your casual outfits by putting together a great selection of athleisure and streetwear. Chubby girls can wear a stylish outfit with bike shorts to feel young, sexy, and confident.

The best bike shorts are comfortable, cheap, and eco-friendly to help you look beautiful, feel great, and make a mark. They make it easy for you to craft a contemporary look with trendy pieces.

Here are some of the best fashionable bike shorts to wear this season.




Animal prints


Animal prints make a fantastic addition to any casual outfit for chubby girls. Look sensational with creative, modern, trendy-yet-timeless camouflage and animal prints.


Pencil skirts


Why not wear a pencil skirt for a more business casual look? Pencil skirts are super cute and elegant and help overweight ladies craft stylish and modern outfits.

Check out our selection of the best pencil skirts.




Midi dresses


Wear a midi dress to craft a cute and cozy outfit that will take you from daytime to super-polished-out styles. Midi dresses are versatile, from casual to formal pieces, and help chubby girls look sophisticated.




Denim shorts


Denim shorts are very easy-to-wear pieces to embrace a chill and sexy vibe. They are some of the most adorable, stylish garments overweight ladies can wear.

Soft, gorgeous jeans shorts help you look fabulous and relax and are a staple for stylish casual outfits. You can pair denim shorts with an original tank top or a printed shirt for a fresh look.

Here is our selection of affordable and sustainable denim shorts.


Crop tops


Crop tops are an essential part of a fashionable wardrobe. They are fantastic clothing pieces to craft stylish and modern outfits, even if you are overweight.

Crop tops can transform a regular outfit into a more authentic and attractive look. They are available in many colors and patterns for chubby girls interested in looking confident.

Check out our selection of beautiful, stylish, and comfy crop tops.




Colorful blazers


A colorful blazer helps overweight ladies stand out and look put together. Pair a stylish blazer with a skirt to achieve a cute and fashionable look.

A beautiful and colorful blazer can also improve your outfit by adding a traditional, dressy, and classy touch. Buy layers in gorgeous colors like pink.

Discover our selection of high-quality and sustainable blazers that will improve your outfits.




Summer dresses


Breathable, lightweight, and comfortable clothes like a summer dress flatter your body if you choose the right fit, pattern, and silhouette.

The best summer dresses for overweight ladies flatter your curves without being too revealing. They balance your hips, waist, bust, and shoulders.

Our selection of summer dresses.


Denim jeans


Denim jeans are a staple and perfect addition to any wardrobe. You can pair them with a printed shirt and jacket to look great in a highly creative outfit.

Buy a great pair of jeans from sustainable denim brands that use ethical and eco-friendly production processes.




Plain hoodies


Cozy lounge sweatshirts and hoodies make great outfits that are versatile, functional, and effortless for chubby girls.

They help you look cute and feel comfortable when you want to relax in an easy-to-wear and modern outfit.

Discover our selection of cheap, comfy, and cute sweatshirts and hoodies.


Maxi dresses


Wear a colorful and highly creative maxi dress as a vehicle for self-expression and creativity. It's a super cute and casual outfit ideal for overweight ladies.

Check out our selection of locally-made maxi dresses.




Modern jumpsuits


Try on a stylish overall, romper, dungaree, or jumpsuit to add an original touch to your casual look and curate a modern, fashionable wardrobe with beautiful and effortless aesthetics.

Denim overalls are perfect for creating lightweight, soft, and breathable outfits for overweight ladies. They have fantastic qualities that make them ideal for high-quality and trendy looks.

Here is our selection of affordable and sustainable jumpsuits.


Black leggings


Athleisure and leggings are perfect for crafting gorgeous and super comfortable outfits for overweight ladies. They make a great transition from exercise wear to casual wear.

Check out our extensive list of sustainable leggings.




Formal dresses


Overweight ladies can look cute and charming in stylish, luxurious, chic formal dresses and evening gowns. They make feminine and fashionable outfits to stand out.  

An elaborate designer dress will help you look elegant and confident and add style to any outfit when you want to dress well for an upcoming special event.

Our selection of formal dresses.
Was this article helpful to you? Please tell us what you liked or didn't like in the comments below.