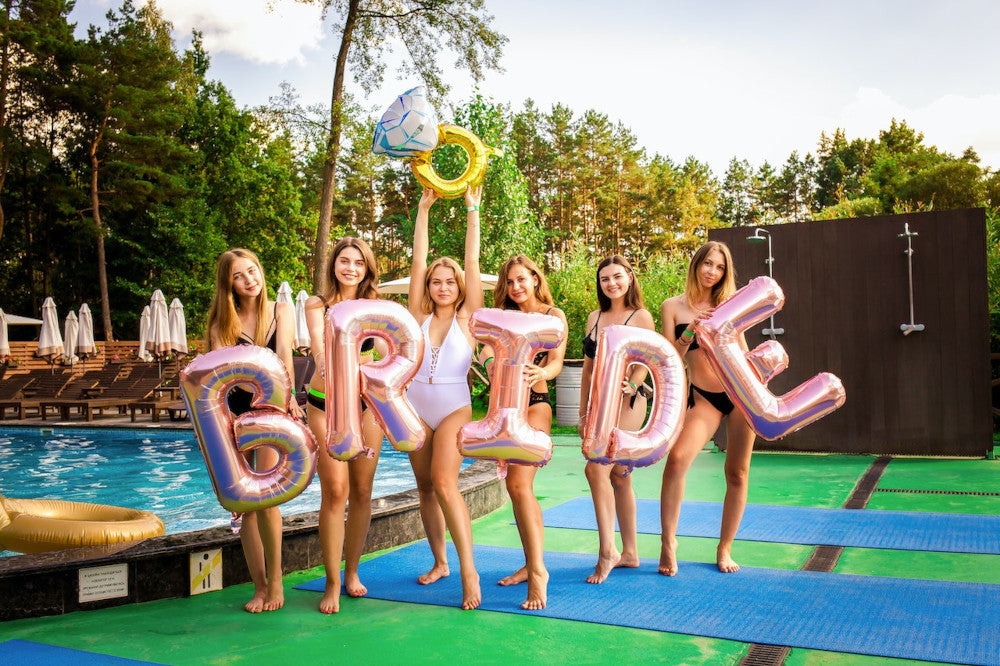 20 Best Glamorous Outfits to Wear to a Bachelorette Party
The best outfit to wear to a bachelorette party suits the location and time of the event. For an evening bachelorette party at a club, wear a cocktail dress and glam up your makeup. For a beach party at the pool, wear color-coordinated bathing suits with your fellow bridesmaids. If the bride does not specify a particular themed location, go with a classic black or floral dress to fit in almost anywhere.
A bachelorette party celebrates a bride's last days as a single woman. This traditionally ladies-only event can last all night or take place in the afternoon at a park, the beach, or a spa. Today, more and more brides book a destination spot for a weekend party with a full itinerary including events like wine tastings and facials.
Panaprium is proud to be 100% independent, free of any influence, and not sponsored. We carefully handpick products from brands we trust. Thank you so much for buying something through our link, as we may earn a commission that supports us.
Photogenic Style
Make sure you style an outfit that will look photogenic as you get ready to attend a bachelorette party. No matter where the party takes place or what theme the bride asks for, you can count on the fact that you will pose for lots of pics during the party! 
One of the best ways to choose a photogenic outfit is to pick clothes that highlight your best features. You know you best, so decide if you want to showcase your waistline, your ankles, or your long hair. Besides this, look for an outfit in colors that suit your complexion. 
Finally, don't forget about shoes! Pick heels or flats in a color that compliments or matches your outfit. You can find a great selection of the thirteen best vegan and sustainable heels here.
Style Based on Location
The easiest way to pick an outfit for a bachelorette party is to match your attire to the location of the party. Did the bride invite you to a weekend in Vegas? In this case, you will want to prepare cocktail dresses, swimwear, and cute PJs for an all-girls sleepover at the hotel.
On the other hand, you can style a more low-key maxi dress and denim jacket for an afternoon party at a vineyard. You can find the 50 best affordable and sustainable denim brands here.
Style Based on Time
Another great way to select your style for a bachelorette party is to pick your outfit based on the time of the party. For morning or afternoon events, you can often dress more casually. For evening events, dress up with a cocktail dress or a glamorous club dress.
If you need a new cocktail dress for this special event, take a look at the 12 best American-made cocktail dresses here.
Classic Black Dress
For an evening bachelorette party, you can't go wrong with a classic little black dress. This is a great choice because black fits in at many venues, and also because traditionally, only the bride wears white to the party. This way, your outfit can provide a great contrast to the bride!
Take a look at the 20 best affordable and sustainable black dresses here.
White for the Bride
Traditionally, the bride wears white to a bachelorette party. Of course, you can make your own rules and rock an outfit in another stand-out color like glitter or sunshine yellow if you prefer! But if you do wear white keep in mind that you can look stunning in a white bodycon dress for clubbing, a white swimsuit for a beach party, or a white sundress for a casual wine tasting.
If you need the perfect casual dress for your special day, consider one of these 25 best affordable sundresses made in the USA.
Matching Tops
Sometimes you don't have to worry about planning an elaborate outfit for a bachelorette party, because the bride or the person planning the event will encourage matching outfits, or even provide matching tees for everyone to wear! 
Cute matching tees at a bachelorette party often sport fun sayings like "I'm with the Bride" or "Team bride." If you have a crafty friend, she might DIY the shirts with a Cricket machine. You can also order adorable bachelorette party tees online. If you do buy new shirts for everyone, make sure you look for sustainable options like the 15 best affordable and ethical t-shirts made in Australia.
Coordinated Vs Themed Outfits
If matching outfits seem a little too cutesy to the bride, she may ask for coordinated or themed attire instead. For example, the bride might ask everyone to wear jewel tones, a rainbow theme, or a 1920s theme costume, depending on the location and theme of the party. Coordinated outfits make for incredible photos, and can also help everyone feel like a group really quickly.
Typically, you will find this information in the invitation or itinerary to help you pick just the right outfit. Make sure you bring comfy items like a cozy cardigan and flats just in case, though! You can find the 20 best affordable and sustainable cardigans here.
Floral Dress
For a morning or afternoon bachelorette party, a floral day dress or sundress will fit in at almost any style of party. Pick a style that suits your body type, like a ruffled peasant skirt vs a wrap dress or a strappy sundress.
You can find the 20 cute and cheap summer dresses here.
Cocktail Dress
For an evening bachelorette party, a party at a club, or a party at a fancy restaurant, you can dress up your look with a cocktail dress. Cocktail dresses have a huge variation in style, ranging from trendy bodycon dresses to more formal A-line dresses with flouncy skirts and satiny tops.
Choose a dress suitable to the occasion and make sure you accessorize with jewelry and your best glamorous makeup routine! If you want the perfect cocktail dress for a bachelorette party but you don't want to buy a dress just for this one day, you could also consider renting from one of the 20+ best places to rent cocktail dresses near you.
Jumpsuit
If you prefer wearing pants to a dress, you may want to consider wearing a jumpsuit instead of a cocktail dress or a sundress. You can find formal jumpsuits made out of satin or velvet perfect for a trendy bar or club outfit. You can also find ruffled, adorable jumpsuits suitable for a beach party or afternoon at the bride's home.
If you want to get on board the trendy jumpsuit train, take a look at the 20 best affordable and sustainable jumpsuits here.
Maxi Dress
A maxi dress offers another super versatile choice for a bachelorette party outfit You can pair a maxi dress with a denim jacket for a wine tasting at a local vineyard, or wear a faux-silk maxi dress for an evening bachelorette party at a club or fancy restaurant. A long-sleeved maxi dress in a whimsical floral print also makes a good choice for a winter bachelorette party.
Take a look at the 15 best affordable maxi dresses made in the USA here.
Bodycon Dress
If you know the bride loves a night out on the town, you may want to plan an outfit that will look on point in a club, with flashing lights and the best dance music blaring around you. You can go all-in for this kind of outfit, with a skintight bodycon dress, heels, and your best glitter makeup!
Of course, you can also rock a pair of jeans and a crop top at a club. Take a look at this list of 20 fabulous outfits to wear to a club if you need some inspiration!
Glitter or Mesh
Another way to jazz up your bachelorette party outfit is to pick stunning and eye-catching options like a glitter dress, a mesh top, or a sparkly sweater. Make sure you choose an outfit that suits the venue--a black mesh top and combat boots may look great at a trendy club, but might not fit in so well at the beach!
You can also rock a more modern look by pairing a crop top with jeans or a skirt. You can find the 15 best affordable and sustainable crop tops to choose from here.
Heels Vs Flats Vs Sneakers
As you put together the prettiest, most photogenic outfit to wear to a bachelorette party, don't forget about your footwear! Heels make the most traditional choice to pair with a cocktail dress or clubbing outfit, but you may want to consider sandals with a floral or maxi dress in the summer. 
Plus, you should probably pack sneakers or flats even if you do plan to wear heels. That way, you can swap out as you walk from one city block to another, or just if your feet start to hurt. You can find the 10 best affordable and comfortable ballet flats here.
Romper and Sandals
For a casual bachelorette party, add a touch of whimsy to your outfit by pairing a romper with cute sandals! You can find adorable rompers with ruffles, stripes, or florals, so pick whatever suits your personal style and complexion. 
In warm weather, you may even want to look into comfortable barefoot sandals. You can find the 10 best affordable, vegan, and sustainable barefoot sandals here.
Accessorize to the Max
A bachelorette party is great to dress up, have fun, and bring on the bling! You can style flashy earrings at a bar or club, or your favorite hat at a beach party. Sometimes you and the rest of the guests might wear fun printed sashes with cute sayings on them, or humorous hats from a party store, too.
If you need the perfect new piece of jewelry for the occasion, take a look at the fifteen best sustainable jewelry brands you need to know.
Pack Your Purse
One of the best ways to get ready for a bachelorette party is to stock your purse or handbag with a few essentials. A water bottle, sunscreen, sunglasses, and makeup for quick touch-ups make sense for you, but you may also want to bring hand wipes, snacks, and a small first-aid kit just in case the bride or anyone else needs a little assistance during the party.
Of course, you also want to style a sustainable purse! Take a look at the 15 best affordable vegan leather purses here.
Jeans and Top
Sometimes bachelorette parties have a much more casual vibe, like an afternoon touring museums, hiking, or even just hanging out in someone's home. For this type of party, you might feel awkward in a cocktail dress and heels! Instead, go for a casual style like jeans and a nice top. 
In the fall, look for a cute sweater or long-sleeved blouse to pair with your jeans. In the summer, a nice T-shirt or a sleeveless blouse can look nice with jeans. You can find the 20 best affordable and sustainable white denim jeans to check out here.
Pajamas
If the bride invites everyone to a weekend getaway or a sleepover-style bachelorette party, you don't want to pack your grungiest, most comfy pair of worn-out flannel pajamas! Instead, pick cute pajamas like a shorts and cami top pair, or a silky robe if you feel uncomfortable wearing sleepwear around other people.
Keep in mind that you may end up in photos wearing whatever PJs you pick, so make sure you feel comfortable and cover up with a long-sleeved pajama top if that makes you feel better. You can find the 25 best affordable and sustainable pajamas in 2023 here.
Loungewear
Finally, some brides host a bachelorette party at a spa or put on a spa-style party at their home. You see this a lot when the bachelorette party takes place right before the wedding especially--the bride wants to look her best for the big day, of course! Plus, everyone enjoys getting a facial or a manicure and relaxing for a little while.
In this case, you can safely wear cozy loungewear like sweatpants and a stretchy top, or a t-shirt with cotton shorts. You can find the 15 best organic cotton shorts to try out here.
Was this article helpful to you? Please tell us what you liked or didn't like in the comments below.
About the Author: Hannah Cobb