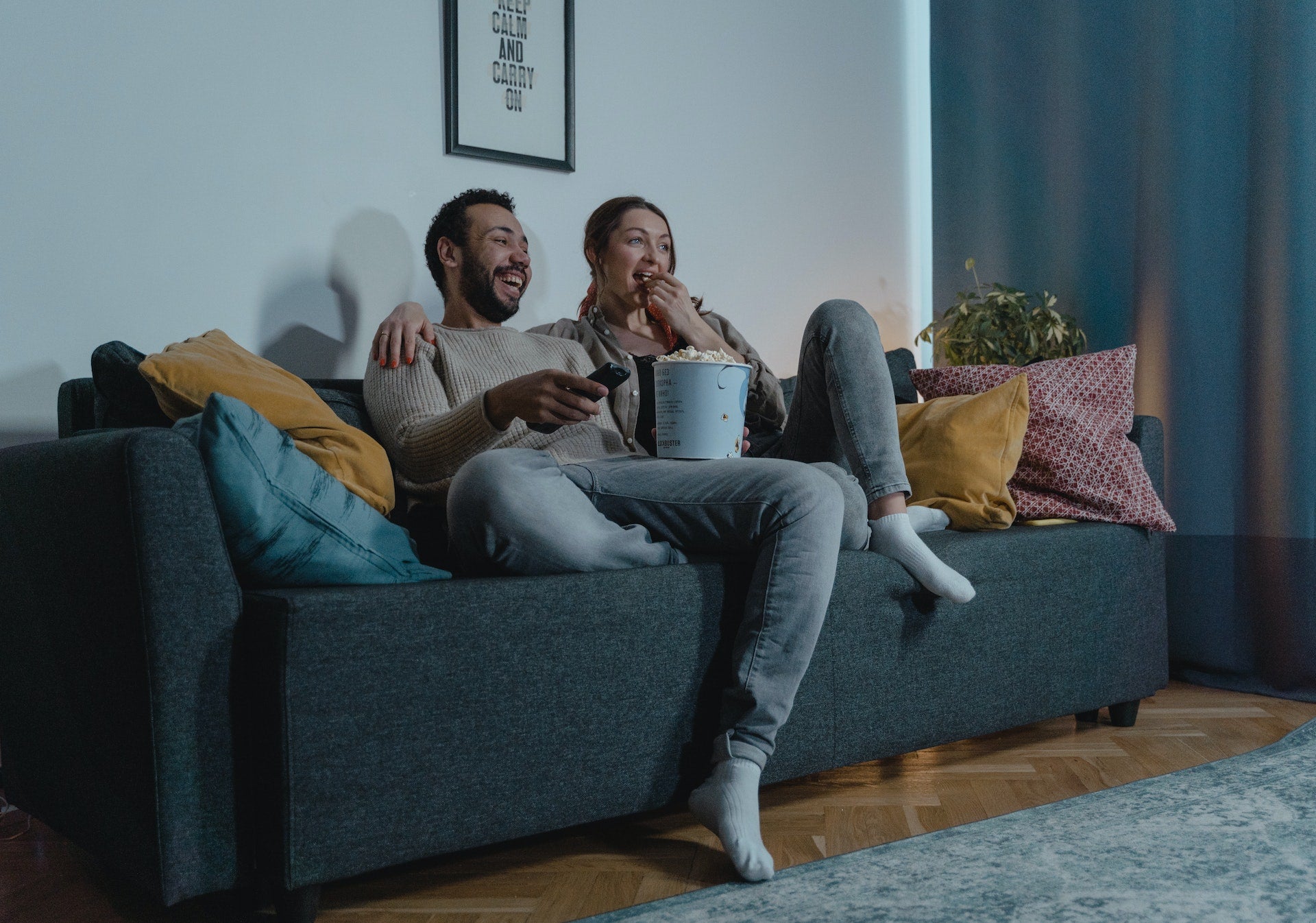 20 Best Outfits For A Fantastic Movie Date At Home
If you are planning on having a movie date at home, and you don't know what to wear, we're here to help!

Make sure to choose clothes that are both comfortable and stylish, always in the right size for your body, and let yourself be inspired by these cute and practical outfit ideas.
Panaprium is proud to be 100% independent, free of any influence, and not sponsored. We carefully handpick products from brands we trust. Thank you so much for buying something through our link, as we may earn a commission that supports us.

Basic T-shirts
If you want to look cute, but casual, choose a basic T-shirt. You can wear it with jeans, leggings, shorts or a mini skirt.
You can dress up by accessorizing. This is the ultimate comfortable outfit!

Make sure to always buy sustainable and high-quality basics that will last you a long time. Take a look at these brands!

V-neck blouses
V-neck blouses beautifully showcase your upper body features and guys always find them attractive.

You can wear them with skirts, jeans or trousers and you can add a necklace or some beautiful earrings to make the outfit complete!

Buy your next V-neck top from an ethical brand that works with love and respect for the environment.



Jeans
Jeans are great if the date is at your boyfriend's house and you need a cool and relaxed outfit. Wear them with your favorite top and some comfortable shoes.

Buy high-quality jeans from one of these sustainable brands.



Bodycon dresses
You can never go unnoticed with a bodycon dress. You will feel sexy and your boyfriend will love it!

Choose a fabric that is gentle with your skin because tight clothes in unhealthy fabrics are uncomfortable and can damage your health in the long term.


Floral prints
A dress or a top with a floral print always has a young, spring-like vibe!
They are very cute and feminine.

Be a conscious consumer and buy yours from a sustainable brand!

See-through tops
A date is the perfect opportunity to rock a see-through top.
Wear a nice tank top or sexy underwear under yours and complete your attire with your favorite pair of jeans.

Take a look at our selection of sustainable brands from Dublin.




Tank tops
Cute and versatile, tank tops will allow you to feel both pretty and comfortable. You can create an effortless look by wearing yours with a denim jacket or a cardigan.

Check out our best organic cotton tank top recommendations here.



Crop tops
For a very modern look, try a crop top. If you are confident about showing your abs wear it with low-rise shorts, if not, then go for a high-waisted pair of jeans or a skirt.

Check out our article about the best 15 affordable and sustainable crop tops.



Summer dresses
Wearing a dress while hanging out with your boyfriend is a great idea! You don't need anything else and you have a super cute, girly outfit with zero time invested. He'll love it too!

Here we have some gorgeous and affordable recommendations that can inspire your next purchase.



Crochet dresses
Crochet dresses are lightweight and trendy. And you are in charge of letting yours be more or less revealing, by choosing what to wear under it.

If you want a special outfit for your movie date, a crochet dress is an awesome choice!

You can now buy yours from an ethical brand.



Leggings
Wear a pair of leggings on your date if you want to feel comfortable.
They are extremely popular, they look fabulous and can be worn in a lot of combinations, with tank tops, T-shirts, blouses or crop tops.

Don't miss our article about affordable leggings!



Backless dresses
Backless dresses are chic and attractive and they represent a great option for date night!

Buy yours from a sustainable brand that does not sacrifice quality for profits.



Sweatpants
Sweatpants are highly fashionable and you can create a relaxed, but sexy outfit for your date by adding a crop top or a bodysuit.
They are a synonym for comfort and allow unrestricted movement.

Take a look at these sustainable options.


Bodysuits
Bodysuits are figure-flattering, very attractive, and perfect to wear on a date.

Make your trendy outfit sustainable by choosing a bodysuit from an ethical brand.


Shirts
Wear a shirt casually, unbuttoned, instead of a jacket, over a top that you find very flattering.
This way you will have a beautiful, modern combo to wear with jeans or leggings.



Tennis skirts
Revealing in a way that guys love, tennis skirts will make you feel beautiful throughout the whole date.

Wear your tennis skirt with a T-shirt for a casual outfit, and make sure it comes from a conscious brand.

Sexy underwear
Choose beautiful and comfortable underwear. It is very important to always get the right size, otherwise, it will be unaesthetic.

Fantastic news! Ethical lingerie brands are now also affordable, so take a look at our carefully selected recommendations here.

Robes
Wearing a robe as loungewear during your movie date will be very beautiful and inviting!

Robes are flattering and come in a variety of lengths, fabrics, and colors, so choose the one that feels the best to you!

You can shop for sustainable robes made of natural materials.



Classic pajamas
Yes, you can dress up pajamas, by adding some beautiful accessories.

If the date is at your place, you've known your boyfriend for a longer time and you want to really feel "at home", wear a pair of beautiful pajamas -nothing can be more relaxing!

Organic cotton ones are a great investment because they will last you a long time and are super comfortable.

Cute pajama sets
A matching set of pajama shorts and a top is awesome if you want to be effortlessly sexy! Unlike classic pajamas, they are more revealing, but they are also very stylish.

You'll feel great, and your boyfriend will love them!
Check out our top 25 best affordable and sustainable pajamas in 2023.

Summing up
Your outfit is very important because it can add to your good mood and make you feel gorgeous and confident. For your boyfriend to love it, you have to love it first, because when you feel great, it shows!

Make sure your outfit fits, is comfortable, and is made of high-quality materials. You can easily achieve this by always picking clothes in the right size for your body, and by shopping from sustainable brands.

If you liked our tips share them with a friend who might also need them!
Was this article helpful to you? Please tell us what you liked or didn't like in the comments below.
About the Author: Miruna Dulcea