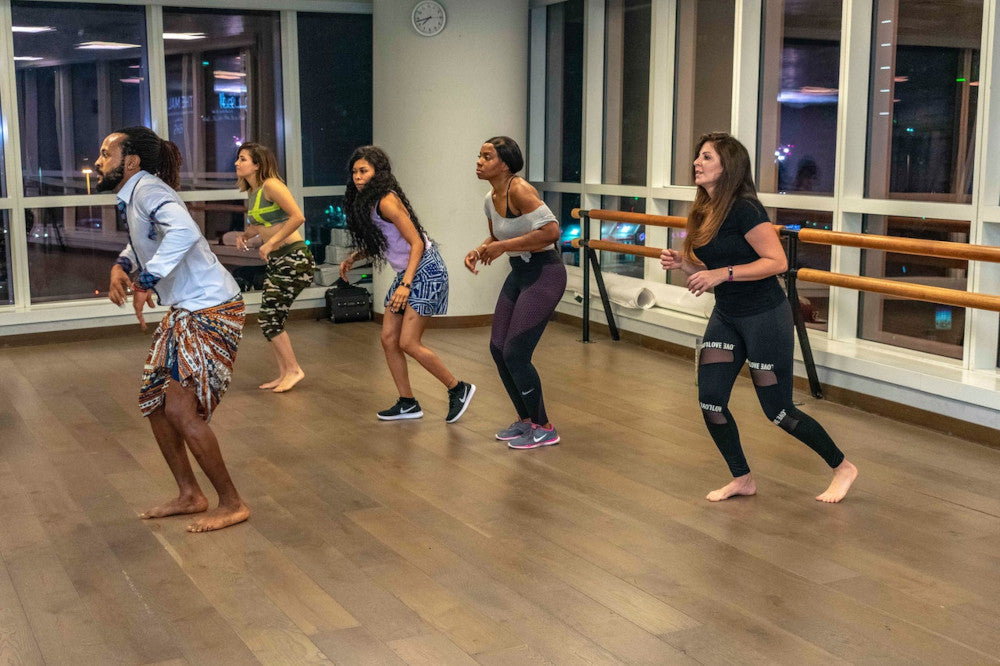 10 Best Practical Outfits for Ballroom Dance Class
The best outfit to wear to a ballroom dance class includes stretchy bottoms or a loose skirt and a roomy top for easy movement. You should also wear comfortable shoes that can slide across the floor for spins, slides, and dips.
While you may picture ballroom dance as a glamorous affair full of sparkly dresses, elaborate hairstyles, and high heels, the behind-the-scenes work of ballroom dance classes is much more prosaic. You come to class to learn the fancy moves or to practice and perfect what you already know. For this reason, ballroom dance classes have a low-key, casual style. Athleisure is often perfectly acceptable. Some dance studios prefer business casual like slacks and button shirts, though.
Panaprium is proud to be 100% independent, free of any influence, and not sponsored. We carefully handpick products from brands we trust. Thank you so much for buying something through our link, as we may earn a commission that supports us.
Athleisure
Many ballroom dance classes suggest that participants wear comfortable athleisure clothing like leggings, tank tops, or stretchy shirts to class. This type of clothing typically features stretchy knit fabric that may even contain elastic, allowing your clothes to stretch and flex with you as you dance.
You may want to check out perfect workout clothes like the new, sustainable brand of Splash Activewear to find the right athleisure for your next class.
Stretchy Styles
Whether you wear a dress or yoga pants, look for garments that can stretch or at least have a loose shape so you can easily move in them. Lots of casual adult ballroom dance classes do not have a strict dress code, but the instructor will likely suggest that you wear comfortable clothing. 
You can find the ten best affordable and sustainable bamboo leggings to consider here.
Button Up and Dress Pants
If you go to a ballroom dance class that is also a social event or a chance to meet people, plan to wear business-casual style attire like slacks and a button-up shirt. This is the standard casual dance attire for men at many dance classes and is a safe choice for your first class until you can scope out how casually other students dress.
If you need some new button-up shirts to look smart as you dance take a look at the 15 best button-up shirts for a dressy look here.
Shorts
Another option for guys at a casual dance studio is to pair a button-up with khaki shorts. This gives you a laid-back look and also helps you stay cool as you dance! Ballroom dancing may look smooth and easy, but it takes a lot of sweat and effort.
If you dance professionally, you may even wear workout shorts and a tank top to class to ensure a full range of movement. But guys should not wear workout clothes to a public class unless the dress code specifies this--otherwise you might show up feeling very underdressed.
You can find the 15 best shorts for men and women made in the USA here.
Loose Skirt
For ladies, wearing a skirt can help you anticipate what dance moves will feel like when you dance for real at a wedding, ball, or party. Make sure you pick a loose skirt that swishes around you and does not constrain the movement of your legs. A pencil skirt or bodycon dress will pin your legs close to your body, for example.
A wrap dress, A-line dress, peasant skirt, or gathered skirt often works well for a dance class. You can also wear leggings and a wrap skirt like a ballet dancer for both modesty and ease of movement.
Check out the perfect list of the 15 best affordable and sustainable midi skirts here.
Yoga Pants
Yoga pants make a popular choice for an outfit to wear to ballroom dance class because these soft, stretchy garments are designed for movement. Plus, you don't have to worry about modesty as you bend, spin, and twirl in these full-coverage pants!
Yoga pants come in a variety of cuts and styles, though. Take a look at this guide on how to choose yoga pants to pick the perfect pair for your ballroom dance class.
Knee-Length Skirt or Dress
Wearing a dress or skirt to a ballroom dance class can help you feel pretty and get you in the mood for a sexy dance like salsa or tango. But you do want to make sure you pick a dress with a skirt that hits at least as low as your knees to avoid any unfortunate wardrobe accidents as you dance!
You should also pick a dress with a full skirt that can spin around you and won't tangle you up as you move. You can find 20 cute and cheap summer dresses to check out here.
Comfortable Shoes
The true secret to a good ballroom dance class outfit is in your footwear. Make sure you find shoes that feel comfortable to stand up in for an hour at a time. You also want shoes that hug your feet closely and don't slide around as you move. Finally, you want shoes that can slip smoothly over the polished dance studio floor.
Sneakers may feel comfortable, but many studios advise against them because the sole will stick to the floor. Instead, look for vegan leather shoes that will slide smoothly with your foot. You can find the 13 best affordable vegan leather heels here.
T-Shirt
For a casual dance class, you can't go wrong with a roomy, comfortable t-shirt or a stretchy tank top. These practical garments don't look glamorous, but they will allow you to move freely. Plus, you will get pretty sweaty during a good ballroom dance class, so you want to wear workout clothes that you can easily throw in your washer when you get home.
Take a look at the 20 best American-made t-shirts for men and women here.
Dress Shoes
For guys, the best footwear for a ballroom dance class is usually either loafers or dress shoes. Look for shoes that can lace snuggly around your feet and fit you well, with just rough room for your toes.
Also, you need shoes that do not have a rubber sole. Sneaker-like soles will stick to the floor as you try to move, hindering your elegant ballroom dance moves. Instead, look for smooth soles that still provide enough padding to keep you comfortable.
You can find the fifteen best affordable and ethical dress shoes for men here.
Was this article helpful to you? Please tell us what you liked or didn't like in the comments below.
About the Author: Hannah Cobb