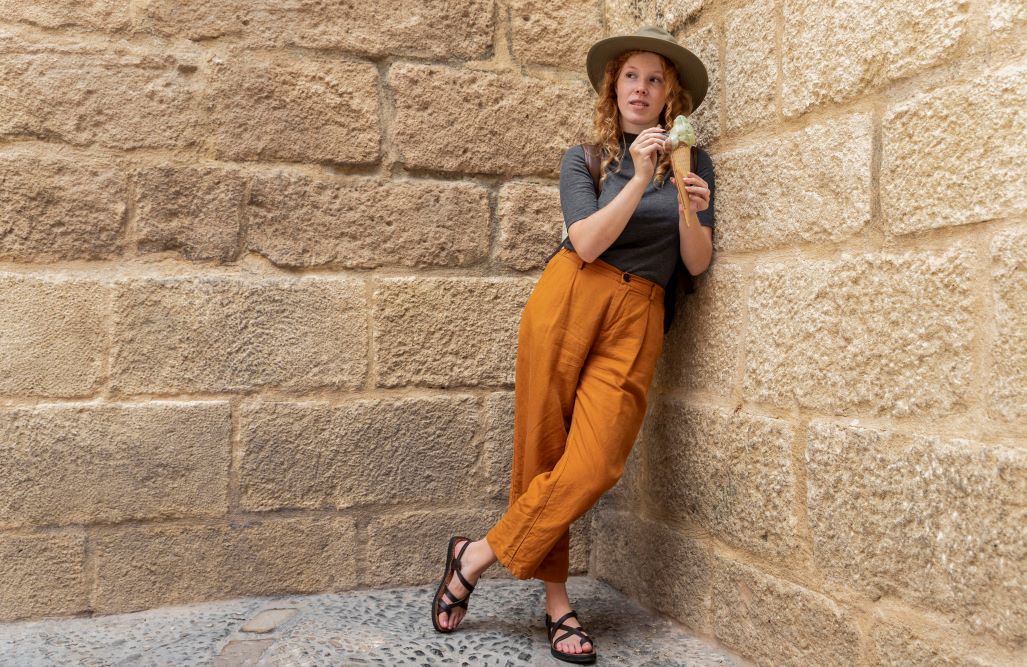 Orange Pants Outfit Ideas: 40 Outstanding Looks for Every Occasion
Do you have a pair of orange pants sitting in your closet, or have thought about buying a pair only to leave it at the store? Styling orange pants can be intimidating at first, but they actually go with a variety of different colors and looks.
Orange pants create a bright, bold, look that can be causal or formal depending on what you pair them with. They can also be worn for every season, not just fall.
Wearing orange pants not only gives off positive energy but is a great way to express yourself and your personal style. You and your outfit will be eye-catching and iconic.
Panaprium is proud to be 100% independent, free of any influence, and not sponsored. We carefully handpick products from brands we trust. Thank you so much for buying something through our link, as we may earn a commission that supports us.
White 
When in doubt, white is a great color to pair with orange. White is a neutral color that goes with anything and won't take away from your pants. Wear a white T-shirt or tank top on its own or layer it under a blazer or jacket if the weather is colder.
Learn how to keep your whites white.
 White Sneakers 
White sneakers are a casual, versatile option to wear with your orange pants. They blend nicely with orange while also standing out on their own. They look good with any style, whether your orange pants are form-fitting or baggy. 
Find more luxury, sustainable sneakers here.
Crop Top
 A crop top is a cute, chic top that can be worn in any season. Crop tops come in a variety of colors, lengths, and styles so you are sure to find one that works with the fit of your orange pants. 
Striped Top
A striped top is a fun, retro look that pairs nicely with orange pants. Whether your stripes are vertical or horizontal, they create a nice contrast to your bottoms. Find stripes that are as bold as your pants, or even find stripes that have orange in them to create a cohesive look.
Purple Blouse
Believe it or not, purple goes well with orange and a purple blouse is a feminine, elegant top to pair with your pants. The two colors together create a unique, eye-catching combo. If your pants are a lighter orange, try a lighter purple. If your pants are a darker orange, try a darker purple.
Knitted Sweater
A knitted sweater is a cozy, warm option for fall and winter. Try a white sweater with a knitted pattern to bring texture to your look.  
Monochromatic 
Wearing orange on top and the bottom is an easy way to create a complete outfit. A monochromatic look works for any occasion and can be casual or more formal. Wear similar orange tones or have fun playing with different shades of orange to create a more dimensional look.
Check out these matching sweatsuits.
Black and Orange
This classic look is not just for Halloween. Pair your orange pants with a black shirt or sweater. Black is a nice neutral shade that goes with everything, while also standing out on its own. It creates a bold contrast with orange that will turn heads.
Try out these edgy, black tops.
Brown Bag
If you are not sure what bag to grab, try a tan or brown bag. Like orange, brown is a warm tone and will blend in nicely with your outfit while still letting your orange pants be the star of the show.
Find vegan leather bags and purses here.
Blue Top
Blue is another color that looks good with orange. Different shades of blue can also create different looks. Light blue gives off elements of summer while navy or royal blue creates a high-fashion look.
Find more shirts to pair with your orange pants here.
Black Boots
Black boots are a bold, eye-catching look against your orange pants. Try a tall lace-up pair with your pants or smart-heeled boots.  
Rock these boot options today.
Classic Black Leather Jacket
A classic black leather jacket is a stylish yet bold layer that will pop against your orange pants and make you stand out in a crowd. 
Why not try a vegan leather jacket?
Blazer
A great way to wear your orange pants to the office or to a more formal event is by pairing them with a smart blazer. A blazer will create a sophisticated look and a more structured shape.
Go with a darker color like black or navy blue for a more muted look or choose a mint green blazer for added color while still staying eloquent.
Jewelry 
Jewelry is a great element to any outfit, including orange pants. Warmer jewelry like gold compliments the warmth of orange. Other types like gems can be a great pop of added color. Since orange pants are bold, larger bolder jewelry is best to stand out.
Find more jewelry brands here.
Floral Print
Floral print works surprisingly well with orange pants. It could be because of its variety of tones or it could be because its bold nature matches bold pants. Either way, it's a great statement piece that works well to create a fashionable outfit.
Find other bold outfit ideas here.
Jean Jacket
Blue goes nicely with orange and a jean jacket goes nicely with orange pants. The denim material also adds texture and dimension for an overall fashionable and casual look.
Check out these affordable jean jackets.
Orange and Pink
Orange and pink remain a classic duo for a reason. Together, they create a high-fashion, glamorous look that is chic and feminine. Wear a pink top with your pants and add more elements of pink to your bag, jewelry, and other accessories.
Discover other vibrant, high-fashion looks here.
Summer Beach Look
To turn your orange pants into a summer, beachy look, pair them with other vibrant colors like orange, pink, and yellow in your top, shoes, and accessories. 
Try out these summer clothing articles to add to your orange pants.
Patterned Orange Pants
If your orange pants have a pattern, it is best to go with a solid-colored top so your outfit is not too busy with too much going on. Choose an orange top for a more monochromatic look or choose a shade that will help pull out a color from your pant's pattern for a cohesive look.
Find more patterned pants here.
Graphic T-Shirt
A graphic T-shirt is great for a more casual look. It will have a variety of colors in it and will add elements of art and imagery to your outfit. It will also hold its own against your pants and create a fun, rock and roll vibe.
Check out these graphic t-shirts.
Orange Suit
For a bold choice, wear a full suit of orange.  You will stand out while also looking full of personality and style.  Pair your suit with a white shirt and other neutral tones.  For a pop of color, wear a bright tie or wristwatch.
Green and Orange
Green and orange is a color combination that works well together. Green adds an element of nature, creating a more rustic look.  
Tube Top
Like a crop top, a tube top separates your top from your bottom, showing off your form and creating dimension. Go with a classic white tube top or have fun with a patterned tube top that creates contrast against your pants.
Turtle Neck
A turtle neck will bring attention to your face and top while also keeping you warm and cozy. A turtle neck creates a more elevated look with your orange pants and can be worn under a jacket or on its own.
Pumps
Pumps can elevate your look and will also bring personality to your outfit. For a more eloquent look, try neutral heels like tan or black. Pumps are also a great way to bring in another color like navy blue or purple that will bring attention to them.
Sandals 
Sandals are a practical, stylish choice. Go with white to stand out with your orange pants or go with another bold look like hot pink for a fun, summer look.
Discover these sandal options.
Crochet or Lace Top
A great, easy way to add texture and more dimension to your outfit is with a crochet or lace top. It is also a great way to soften your orange pants and create a feminine and eloquent look.
Learn what to wear under a lace top.
Flannel Top
A checkered or flannel top or sweater is a more casual, grunge look. Go classic with a black and white checkered top or bring in more colors to your outfit and pants.
Poncho
A poncho is a practical choice that also has elements of the 60s and 70s.  Not only will you stay warm, but you will look retro and boho.
Find other warm options to wear.
Dress Shirt 
A dress shirt is a great way to elevate your look for the office or a night out. Choose a neutral color like white that can be paired with almost anything or go with a bolder color like blue or purple.
Tans and Brown
Tans and browns paired with orange pants create a warm look that is not just for fall. Brown is also a nice neutral color that can be paired with other bright colors or other neutral colors like white or black, making it easy to create a complete outfit.
Discover other outfits with brown elements.
Accessories
Accessories like jewelry, bags, and hair pieces are a great way to add more elements to your look. They are also a great way to add pops of color to your outfit or add shine with gold or gems. 
Cardigan 
Nothing says fall better than a cozy cardigan with a pair of orange pants. You will be comfy and stylish with a retro feel.  
Gold Chain
Gold is warmer than silver, making it a great choice to pair with orange. A thick chain whether it is around your neck or hanging from your purse, will stand out and create a statement on its own.
Big Hats
Whether it is a big floppy sun hat or a large fedora style, big hats go great with orange pants. They help balance out your look and bring the eye upwards to your head and face. Plus they are a great way to accessorize and keep the sun out of your eyes.
Square Toe Shoes
Square toe shoes, whether they are flats, boots, or heels can be retro or modern. The square edge is bolder, allowing them to stand out more against your orange pants. Try a nice black or brown pair and don't shy away from different patterns and added bling.
Find more affordable shoes here.
Jacket 
A jacket is not only practical but also a great piece to pair with your pants. A longer jacket will lay against your orange pants, making both colors stand out. Try a brown coat for a warm, versatile look that can be worn over any style of top.
Polka Dots 
Polka dots are a great way to incorporate a pattern without overwhelming your look. Try colored dots on a white or black background for a more neutral look that still pops or have fun with multicolored polka dots with your orange pants.
Find more polka dots and other patterns here.
Satin Top
A shiny, satin top will not only add glow but also eloquence to your outfit. Choose a silky dress shirt for a more formal look or a shiny crop top or blouse for a versatile day-to-day look.
Halter Top
A halter top will help bring attention to your face while also creating shape and contrast against your orange pants. It can be worn on its own for summer or layered under a jacket or cardigan during the colder months.
Was this article helpful to you? Please tell us what you liked or didn't like in the comments below.
About the Author: Shelby Bonner