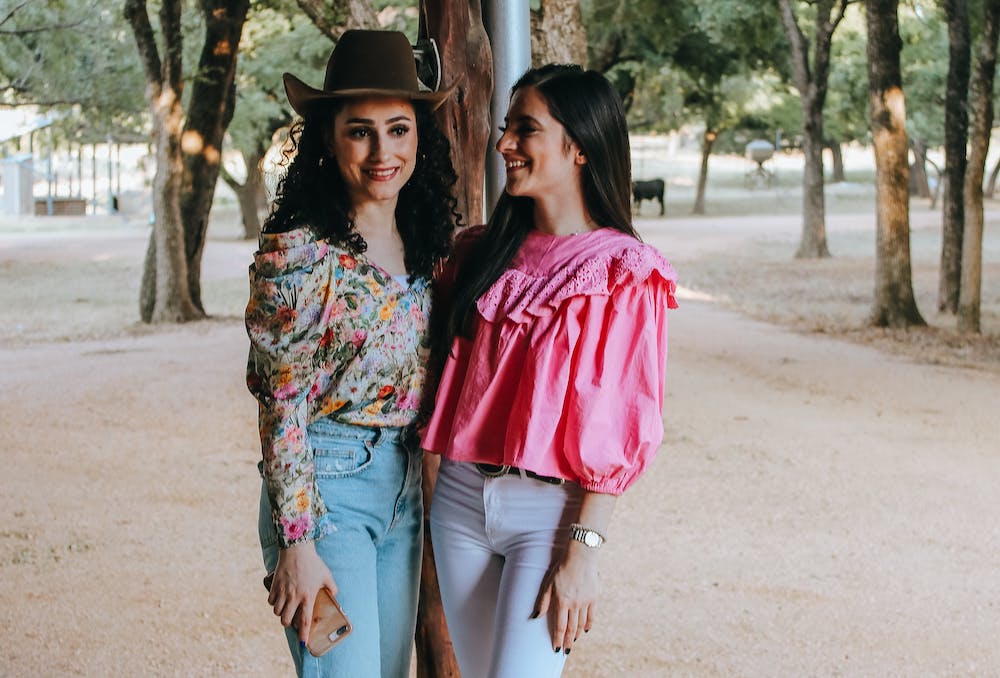 15+ Dazzling Outfits for a Night Out in Nashville
Nashville, Tennessee, is known for its thriving country music scene and energetic nightlife. If you're planning a night out in Nashville, get ready to enjoy both!
Whether you're planning a girl's night out or celebrating a bachelorette party, Nashville's fun and diverse neighborhoods are your playground.
From the neon-lit honky tonks of Broadway to the trendy vibes of the Gulch, this city knows how to party. 
Your outfit should be nothing less than show-stopping when you go out in Nashville. Cowboy boots and glitzy dresses are a must, as well as fun accessories and a casual vibe.
Get ready to turn up the volume on your style with these 15 dazzling outfit ideas for a night out in Music City, USA.
Panaprium is proud to be 100% independent, free of any influence, and not sponsored. We carefully handpick products from brands we trust. Thank you so much for buying something through our link, as we may earn a commission that supports us.
Cowboy Boots
First thing's first for a night out in Nashville: cowboy boots. From Broadway to East Nashville, these are a must-have accessory if you want to dress to impress.
Wear classic vegan leather boots, or get creative with colorful, bejeweled, and embroidered styles. 
Check out our ultimate guide to country fashion for more inspiration.
Cut-Off Denim Shorts
Cut-off denim shorts are a mainstay of Nashville fashion. 
Nightlife style is pretty casual, so cut-offs with a blouse, flannel, or simple t-shirt work perfectly. Pair your shorts with heels or boots, and you're ready to party.
Don't miss our selection of the best sustainable denim shorts.
A Flannel Shirt & Jeans
A flannel shirt and jeans are great if the weather is cooler in Nashville. 
This look is cute, casual, and comfortable while still totally appropriate for a night out in Nashville. Dress it up with heels, or keep it classic with a pair of cowboy boots and a hat.
Explore our selection of American-made flannel shirts.
Bejeweled Accessories
Going out for a night on the town in Nashville requires a little glitz and glam. 
Dress up your look with a rhinestone-accented belt or glittery hoop earrings. Oversized rings and cute bracelets are also fun options.
Glitter not your thing? Incorporate subtle metallics and fun patterns instead. Nashville evening fashion is all about having fun.
A White Tank Top & Shorts
A white tank top and shorts are a great casual outfit for a night out on the town. 
Tuck a tight white tank into high-waisted denim shorts, or pair a sleek top with colorful linen shorts for a breezy, summery look. 
Here is a selection of our favorite sustainable cotton tank tops you'll love.
A Lightweight Blouse & Skirt
The summers in Nashville can be scorching. A lightweight blouse and skirt will keep you feeling cool while looking hot. 
Wear a cropped peasant blouse with a high-waisted cut-off skirt or a flowy floral top with a black mini.
Here's our selection of cute blouses that work perfectly for a night out in Nashville.
A Mini Dress & Cowboy Boots
A mini dress with cowboy boots is a cute, flirty look perfect for a night out with the girls.
Wear a light floral dress or a cute black wrap dress. Whatever style dress you choose, we promise your favorite pair of boots will match.
Explore our selection of cute and affordable summer dresses for more outfit inspiration. 
A Cowboy Hat
Nashville is the center of a thriving country music scene. What better way to fit in than with a cowboy hat?
From classic to bejeweled, you can find any cowboy hat style to fit your preference. You can go with natural brown vegan leather or bright, girly colors like pink and turquoise. 
Just make sure you invest in a hat that is high-quality and sustainably made.
A Denim-on-Denim Look
Wear a denim-on-denim outfit for a trendy look that harkens back to Nashville's country roots. 
Wear a denim jacket with sustainable denim jeans or a button-up half-tucked into a denim skirt. We suggest wearing different shades of denim to elevate your outfit.
The possibilities are endless. Check out our selection of denim dresses and sustainable denim brands for more outfit ideas. 
A Bodycon Dress
Wear a tight bodycon dress with cowboy boots for a sizzling evening look. 
A bodycon dress looks great with a denim jacket, cute handbag, and glittery earrings. You'll turn heads for all the right reasons when you step out to the famous Broadway bars.
Don't miss our selection of sustainable and sexy bodycon dresses.
A Floral Dress & Denim Jacket
A floral dress with a denim jacket is the perfect look if you want to go out in Nashville's more artsy neighborhoods, like East Nashville or the Gulch.
Wear a flowy, boho-inspired midi dress with a dark denim jacket and ankle boot heels. For a little more va-va-voom, you can wear a mini floral dress with heels and a clutch.
Check out our selection of high-quality denim jackets.
A Black Skirt & Tank Top
For a simple yet elegant look, wear a black skirt and a fun tank top. 
You can wear a flowy floral spaghetti strap blouse with a vegan leather skirt or a simple ribbed tank with a high-waisted black mini skirt and cowboy boots.
Don't miss our guide to creative black skirt outfit ideas.
A Fringe Jacket & Skirt
Fringe is your friend in Nashville. It's a staple of country style, so a fringe jacket with a cute floral skirt will fit right in. 
Pair a tan fringe jacket with a white tank top and boho-inspired midi skirt for a soft, feminine evening look. Don't forget your boots!
Check out our favorite boho clothing brands that have cute floral skirt options. 
High-Waisted Jeans and a T-shirt
Nashville nightlife is pretty laid-back and fun-loving. You'll fit right in with some high-waisted jeans and a casual T-shirt.
Accessorize your sustainable denim with ankle boots, a fringe shoulder bag, and some glittery eyeshadow.
Freshen up your wardrobe with these American-made t-shirts.
A Vegan Leather Jacket & Bustier
Pair a vegan leather jacket with a bustier for a sizzling, sexy nighttime look. 
This look is perfect for a night out with the girls because it's flirty, fun, and still provides plenty of coverage. 
Explore our selection of sustainable vegan leather jackets. 
Wear Boots with Shorts or Skirts
Many women accessorize their cowboy boots with shorts or mini skirts, not jeans. What's the point of rocking your boots if not to show them off?
This tip is especially true if you're going out on Broadway. Accentuate your footwear and legs with cut-off shorts or a mini skirt for your night on the town.
Was this article helpful to you? Please tell us what you liked or didn't like in the comments below.
About the Author: Liz Flynn