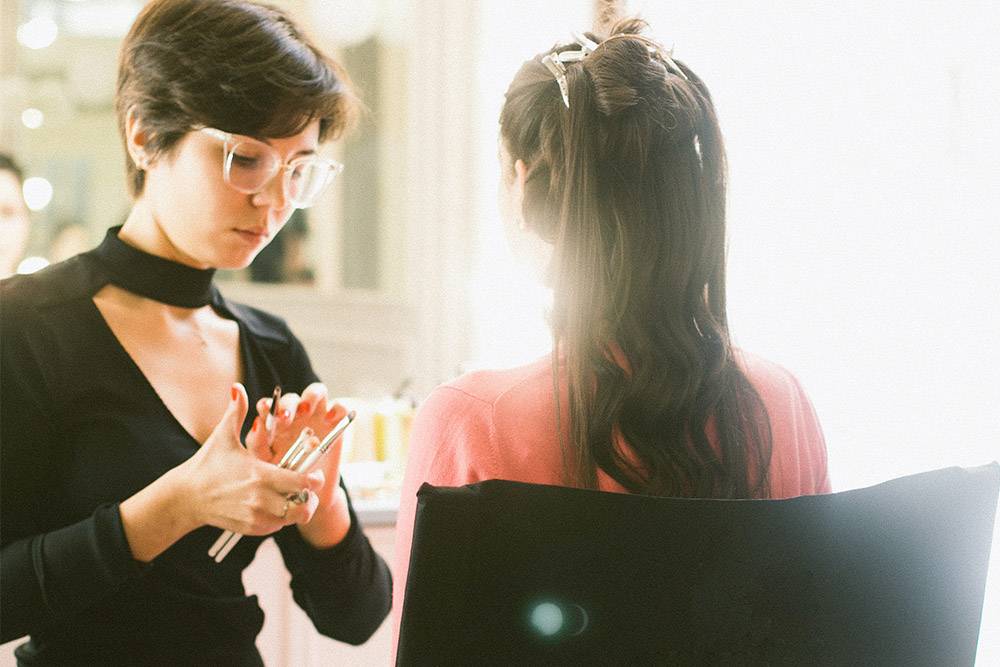 10 Best Outfit Ideas To Dress Like A Makeup Artist
You can easily dress like a makeup artist and develop a great sense of style with the right fashion tips. Craft elegant, professional, and chic outfits to impress while working.

Makeup artists wear modern, attractive clothing pieces that you can easily combine into different outfits for an easy, effortless, creative look. They choose stylish and classic garments that look great and feel good.

It matters a lot what you wear if you are a makeup artist, as clothing and makeup are tools for self-expression. Fashion includes apparel, footwear, accessories, jewelry, makeup, and hairstyle.

Makeup artists always look great with a unique sense of style that fits the occasion. They put together comfortable, fashionable, and functional outfits and show a fabulous clothing style that makes a mark.

This collection of makeup artist outfits you can wear every day will help you dress well and feel your best in extraordinarily classic, refined, professional looks.


Panaprium is proud to be 100% independent, free of any influence, and not sponsored. We carefully handpick products from brands we trust. Thank you so much for buying something through our link, as we may earn a commission that supports us.

Makeup artist outfit tips


In a work environment, you want to make a good impression and avoid common mistakes people make with their outfits. Looking great as a makeup artist isn't complicated once you know the dress code to look professional.

One of the best ways to dress like a makeup artist is to put on clothes that fit right. If you don't, your risk losing style and attractiveness. You also might damage the garments and feel uncomfortable.

You want to look and feel comfortable backstage or onset. Otherwise, you might not be able to do your job as expected or perform at your best. Prioritize comfort and craft simple outfits to look stylish at work.

Knowing the proper dress code for the job helps you decide what kind of clothes suit you best as a makeup artist. You'll look stylish and professional if you wear pieces you like the most that fit your work environment.

Don't hesitate to make your best features stand out but don't be too revealing. Highlighting your most attractive traits is crucial to dress well but stay classy. Don't show too much skin as a makeup artist.

Avoid trendy outfits, bold colors, prints, and patterns difficult to style. Instead, wear classic clothes that show elegance and professionalism. Choose neutral, dark colors like black and navy that you can mix and match easily.


Makeup artist outfits with jeans


Denim jeans are a staple and perfect addition to any makeup artist's wardrobe. You can pair them with a cute top to look great in a highly professional and casual outfit.

Buy a great pair of boyfriend jeans from sustainable denim brands that use ethical and eco-friendly production processes.


Makeup artists wear gloves.


Gloves are a great way to look professional and accessorize your makeup artist. They are fabulous additions to every wardrobe and will help stay comfortable and protected.

Here are some of the best ethically made, affordable faux leather gloves you need to craft classic makeup artist outfits.


Linen pants outfit ideas


Wear lightweight, stylish linen pants as they look fabulous and are very comfortable. A high-quality pair of linen pants can help you craft classic makeup artist outfits.

The best linen pants are comfortable, affordable, and sustainable to help you look great and feel your best with a clean conscience.


V-neck tops for makeup artists


You can create an effortless makeup artist outfit that celebrates your figure with beautiful V-neck tops and dresses. They help you put together elegant and flattering looks.

V-neck tops will create a sense of balance in your outfits and minimize your upper body. Choose classic, timeless pieces that last beyond the season and scream modernity and sustainability.


Protective robes, gowns, and capes


If you want to dress like a makeup artist, you can wear protective clothing such as gowns, capes, and kimono robes. They are perfect for covering the garments you have underneath from makeup.

Wear lightweight and breathable pieces that allow maximum comfort and freedom of movement. You should be able to express yourself and move freely with some added protection while working in your original makeup artist outfits.


Classic tee shirts


Classic tee shirts are versatile and functional and make an ideal addition to any makeup artist outfit. They help you put together a casual look that is also effortless and stylish.

Well-fitting tee shirts are ideal to complete any makeup artist outfit when you want to look great without being too complicated.

Check out our selection of locally-made tees.


Long sleeves for makeup artists


Wearing a casual outfit doesn't mean that you can't look stylish or professional. Craft chic makeup outfits that are elegant and easy-going with long sleeves.

The best attires for makeup artists perfectly blend style and professionalism to look fashionable and laid-back in a work environment with timeless and sophisticated pieces like long sleeves.


Makeup artists wear aprons.


Aprons are beautiful staples of the classic makeup artist outfit. They prevent makeup, dust, and hair from spoiling your clothes throughout your day.

Put on a classic tailored shirt under your apron to make a statement and show style. Make sure all pieces fit you right and prefer darker colors that match the rest of your outfit.


Outfits with oversized tops


Add gorgeous layers to your outfits to dress stylishly like a makeup artist. Layers instantly make any casual outfit more modern and chic and are easy to style and enhance your look.

Pick a handful of layers that you can throw on to craft unique, original makeup artist outfits and look fabulous in no time. You can wear a classic oversized shirt, jacket, or blazer for an effortless and flattering look.
Here is our selection of sustainable blazers.
Was this article helpful to you? Please tell us what you liked or didn't like in the comments below.