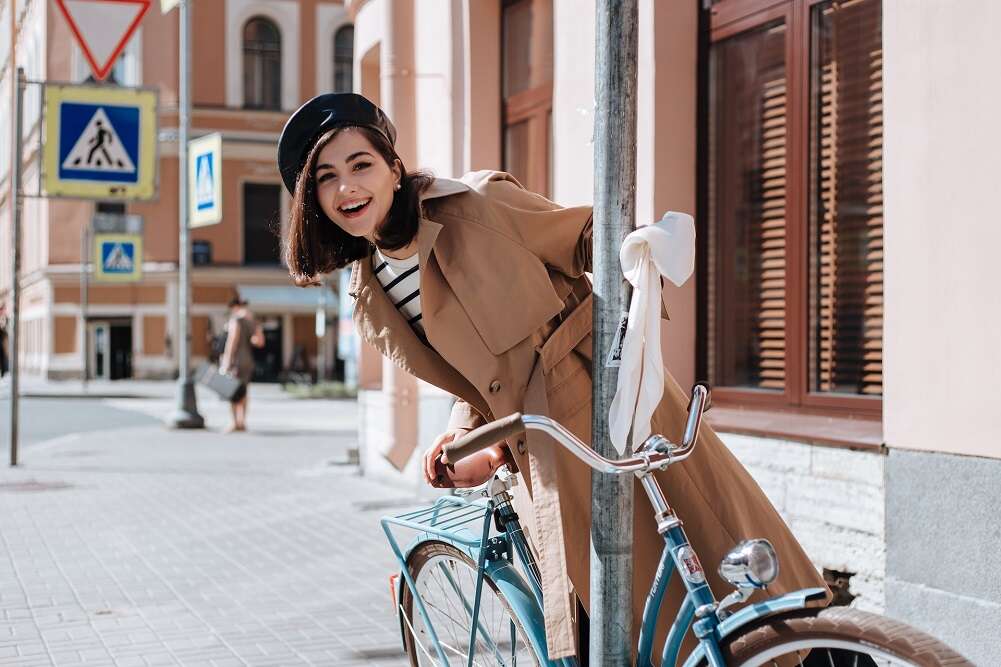 How to Dress Like a Parisian: Unveiling the Secrets
Parisian women are famous for their timeless, classic, and effortlessly stylish outfits.
The Parisian look is a perfect combination of casual comfort and sophistication. Everyday basics are mixed and matched to create chic, simple outfits elevated by a statement piece like a beautiful scarf or fabulous shoes.
If you want to achieve this captivating look, read on to learn the secrets behind chic Parisian women's outfits.
Panaprium is proud to be 100% independent, free of any influence, and not sponsored. We carefully handpick products from brands we trust. Thank you so much for buying something through our link, as we may earn a commission that supports us.
Well-fitted flattering basics
The first rule to Parisian style is to have well-fitted, flattering basics in your wardrobe. Parisians create a versatile closet with mostly timeless pieces and a few seasonal trendy items. 
If you want to truly own the Parisian look, invest in comfortable, quality basics that fit you like a glove. Prioritize quality over quantity and prefer tailored items made from sustainable quality fabrics like organic cotton.
Continue reading to learn the exact items that every Parisian woman owns in her closet. Once you have gathered these simple quality items, you will be able to create fabulous, elegant outfits that fit your personal style.
Get inspiration from this list of the 20 best basics you need to have in your wardrobe.
Styling and layers
The key to Parisian style is learning about all the different ways you can layer and style your basics. A simple dress will look completely different when you style it with a denim jacket and sneakers or with a knit sweater, a golden belt, and a blazer.
You want to create a perfect balance between chic and casual by combining classic tailored pieces with laid-back items. For example, you could match a well-fitted blazer with skinny jeans and a loose T-shirt. This simple association creates a sophisticated yet nonchalant look that is typical of Parisian fashion. 
Pay attention to details like pant cuffs or rolled sleeves. And don't forget accessories to elevate your look. But don't overdo it. Coco Chanel once said: "Before you leave the house, look in the mirror and take one thing off." Always remember that less is more in Parisian fashion.
Neutral tones
If you travel to Paris, you will notice that everyone wears the same colors: black, white, beige, and navy blue. Neutral tones are the best to create a timeless wardrobe that is easy to coordinate. Prints should also be kept minimal and never mixed together.
Although a touch of color is always welcome, Parisians like to save it for statement accessories or stylish shoes. 
An androgynous look
Some people say Parisian men and women dress the same. And they are not entirely wrong. Most of the essential Parisian wardrobe items are unisex. Blazers, button shirts, knit sweaters, dress pants, and jeans, all combine to create a timeless androgynous look called masculin-féminin in French. And this look is everywhere in Paris, from work offices to after-parties. It is very much symbolic of the effortlessly chic modern Parisian look.
If this style inspires you, learn more about how to easily dress more androgynous.
Dress pants
Tailored dress pants in neutral shades like black, navy, or beige are essential items in a Parisian closet. They give a sophisticated touch to any outfit and they are easy to dress up or down with a large variety of tops.
Opt for a slim or straight-leg cut and style them with a flowy blouse or a tucked-in turtleneck top. Dress pants look amazing with classic loafers or stylish white sneakers.
Check out this selection of casual chic work outfits to inspire you.
A white button-up Shirt
This classic wardrobe essential can be paired with anything from jeans to dress pants and layered under a knit sweater or a leather jacket. A white button shirt gives off a chic androgynous vibe. It is the perfect clothing item to dress with elegance and effortless sophistication like a true Parisian woman. 
Take your pick from our selection of the best ethical button-up shirts.
Fitted jeans 
Every Parisian woman owns a pair of well-fitted, flattering jeans.
Choose a straight-leg cut to flatter your silhouette and elongate your legs. Pair them with a cute knit sweater, or a loose T-shirt and a blazer to create a perfect casual elegant look. 
Get inspired by this selection of recycled denim jeans brands you'll love.
A loose T-shirt 
In order to achieve an authentic Parisian look, you need basic loose T-shirts in your closet. But you only need three colors: black, white, and grey. Remember to buy the right size for a T-shirt that was designed to be oversized, not just a larger size of any T-shirt.
These timeless T-shirts can be mixed and matched easily and fit many different styles. Choose a quality fabric like organic cotton or hemp. They are worth the investment to create a fantastic laid-back yet polished Parisian outfit. 
Check out our selection of the best American-made T-shirts.
Knit sweaters
Knit sweaters are essential items to a chic and cozy Parisian wardrobe. Create a casually elegant look by combining a knit sweater with a white button shirt, well-fitted jeans, and cute loafers.
Get inspired by these affordable and sustainable knitwear brands.
A black turtleneck
The black turtleneck top is the perfect example of a chic, elegant, and timeless piece owned by most Parisian women. Combine it with high-waisted trousers and a blazer for a refined look or wear it under a strap dress for a modern elegant outfit. 
Check out this selection of affordable and ethically made turtlenecks.
A tailored Blazer
No Parisian wardrobe is complete without a tailored blazer. Every French woman owns at least one. You can choose a well-fitted or an oversized one. Both can elevate even the simplest outfit and help you achieve an effortlessly chic Parisian look.
Wear your blazer over a cute little black dress or with a flowy blouse and dark denim jeans.
Choose your favorite one from this list of the 20 best ethical and sustainable blazers you'll love.
A long coat
This is a simple, timeless piece that is worth investing in. A well-tailored long coat in a sustainable fabric will last for years and can be worn over with any outfit. Choose neutral colors like camel, navy, or black to make it even more versatile.
Parisian women love to wear it over a midi dress with ankle boots for a sophisticated look.
Take your pick from our selection of affordable and sustainable winter coats.
A timeless trenchcoat
The classic trenchcoat is an iconic item of Parisian style. Pick a timeless beige or camel trenchcoat to throw over your outfit on rainy days. You'll definitely feel very chic and very French. 
Check out this selection of affordable and sustainable trench coats.
A faux-leather jacket
Parisians have rebellious souls. They love to throw on a faux-leather jacket to add an edgy touch to their outfits. Wear your jacket over a flirty dress or with jeans and a button-up shirt. 
Here is our selection of the best affordable vegan leather in 2023.
Flat shoes
You might be surprised, but Parisians don't usually wear high heels. Flat shoes are most appropriate for their busy days and cobblestoned streets. They prefer a chic pair of loafers, ballet flats, or classic ankle boots. 
Choose neutral colors like black, camel, or navy, to look fantastic with any outfit. 
Check out our selection of affordable and comfortable ballet flats.
Stylish white sneakers
White sneakers are everywhere in Paris. From teenagers to office workers, everyone wears them for their comfort and undeniably cool vibe.
They are very versatile and can be paired with anything, including romantic dresses, jeans, or dress pants. However, be careful not to wear dirty sneakers. It would ruin your chic Parisian outfit. 
When you go to Paris, make sure to visit local shops of these brands that make sustainable sneakers in Europe.
Elegant Jewelry
As you now know, Parisian women wear simple, timeless, and chic outfits. But they like to finish off their look with one statement piece. It could be a stunning handbag, stylish shoes, or sunglasses.
But when it comes to jewelry, they prefer elegant, delicate pieces like gold pendant necklaces, slim rings, hoop earrings, or discreet diamond studs. These simple pieces will add a subtle sophistication to your outfit.
Just remember to either chose gold or silver. Never mix them.
Get inspired by these 15 sustainable jewelry brands you need to know.
Handbags
Handbags are Parisian women's favorite accessories. They love to invest in stunning, timeless pieces that elevate any outfit. A chic statement handbag can take the simplest look to the next level. 
If you can't afford a high-end handbag, pick your favorite scarf and tie it to your bag to add a sophisticated flair.
Take inspiration from our selection of affordable vegan leather bags and purses.
Hair and make-up
Parisians follow the same "less is more" philosophy when it comes to hair and make-up. They prioritize skincare and haircare to feel confident about their natural look. 
Embrace your natural hair texture, and keep your make-up to the bare minimum with a tinted moisturizer, mascara, and a subtle blush.  
Was this article helpful to you? Please tell us what you liked or didn't like in the comments below.
About the Author: Pauline Assoune