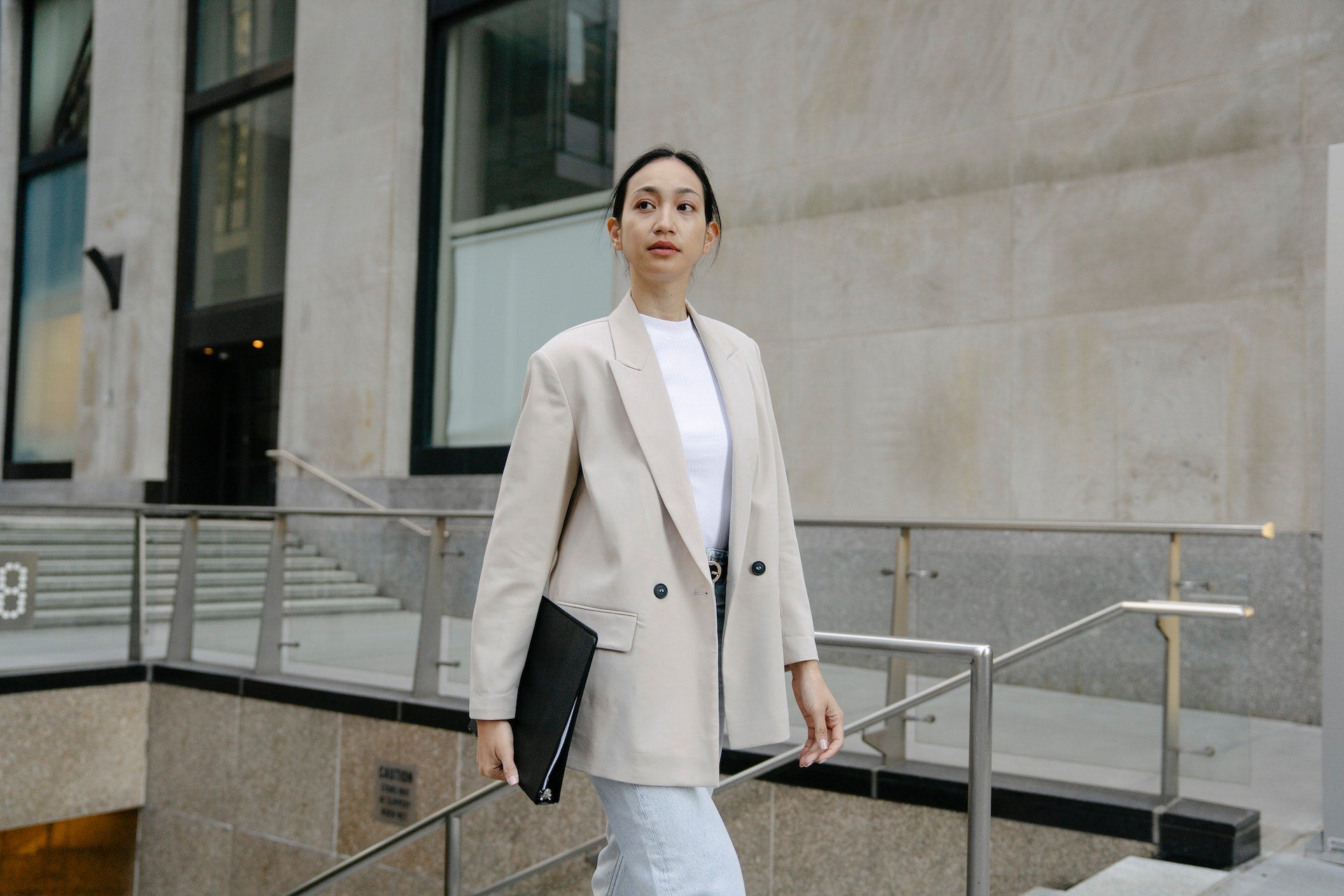 15 Grocery Store Interview Outfits - How To Dress For Success
When it comes to interviews, first impressions are always essential.
Showing up well-dressed is very important if you want to achieve your professional goals, no matter what position you are applying for.

The best outfit for a grocery store interview must suit your body type and help you boost your confidence and performance.

We have compiled a list of 15 amazing fashion tips for you. Keep reading and dress for success!
Panaprium is proud to be 100% independent, free of any influence, and not sponsored. We carefully handpick products from brands we trust. Thank you so much for buying something through our link, as we may earn a commission that supports us.

Neutral colors
It is very important to consider what type of colors you'll be wearing. You should go for a safe, conservative look, featuring neutral colors. This is an easy way to make sure your outfit isn't too much.
Put together an elegant outfit featuring basic pieces from your wardrobe.
Let yourself be inspired by our article about the 20 best basics you need to have.

Blazers
Blazers are always fantastic for interviews!
They look great on any body type and are easy to combine with other elegant clothing items for a professional outfit.
Make sure to choose the right size for your body.
Take a look at our sustainable recommendations.



Black pants

If you want to dress for success put a pair of black pants on.
You have an infinite number of possibilities when it comes to combining them with other clothes.
The easiest way to style black pants is to add a crisp white shirt.
Click here for more amazing outfits with black pants that you can recreate.

Midi dresses
Go for a beautiful midi dress if you want a comfy, smart-casual outfit. You can wear it with ballet flats, or comfortable heels - make sure they aren't too high.
Never choose a dress that comes in a shorter length. Mini dresses are very attractive but inappropriate for an interview.
Check out the 20 best linen dresses for women in 2023.



Turtlenecks
If it's cold outside and you want to wear something a bit more relaxed than a blazer, a turtleneck is a great idea!
The best turtlenecks are sustainable, comfortable, and stylish.
They come in different colors and thicknesses and help you stay warm and cozy the whole time. Wear them with trousers or midi skirts.

Shirts
Both men and women can wear shirts to interviews.
You can go for a classic white shirt, or you can choose a cute, pastel color if you want a look that's a bit more relaxed. A simple, well-fitted shirt has the power to make any outfit instantly look more polished!
Buy yours from a sustainable brand.




Blouses
Replace classic shirts with cute blouses without sacrificing style.
Versatile and lightweight, blouses can be matched with black or neutral-colored pants, as well as skirts.
Take a peek at these affordable and sustainable blouses that can help you look amazing!

Flannel shirts
Flannel shirts can effortlessly be worn on many occasions. They are fashionable and relaxed.
Achieve the perfect mix between business and casual with a pair of elegant pants and a flannel shirt. Don't forget that very bright colors will draw a lot of attention to your outfit, and choose pastels and neutrals instead.
Check out the best affordable and sustainable American-made flannel shirts.



Ballet flats
Shoes are a very important part of your outfit for the grocery store interview. Prioritize comfort because if you don't feel great it will show!
Avoid sports shoes because they tend to look unprofessional. Instead, choose to wear a beautiful and flattering pair of ballet flats. They look fantastic with dresses, skirts, and pants.
Looking for cheap and eco-friendly ballet shoes? We've got you covered!

Men's shoes
Men can't go wrong with a beautiful pair of dress shoes.
The best advice we can give you is to save the sports shoes for the gym and go for something more elegant that shows your interest and attention to detail.
Click here to discover stylish and timeless dress shoes that come from sustainable brands.
Midi skirts
Midi skirts will always be elegant.
Choose an A-line skirt that is tight around your waist and gradually flares out. This design looks flattering on any body type and can be worn on many occasions, which makes A-line skirts a great investment in your wardrobe.
Wear your midi skirt with a cute blouse or shirt for an elegant look.
Discover our sustainable selection.

Short sleeve tops
If you want an elegant interview outfit that still reflects your style, choose a beautiful top featuring a cute print.
Don't forget that prints tend to be attention-grabbing and wear your top with a simple pair of pants. You don't want your interview attire to be too colorful and distracting.
For sustainable shopping inspiration, click here.



Trench coats
For those rainy and cold days when you need a coat, you can choose to wear a beautiful and sustainable trench coat over your interview attire.
Trench coats are three-quarter length coats that can protect you from rain and wind. They have been fashionable for decades and they are here to stay!
Dress for success like a pro: Add layers to your outfit and choose classic pieces that can make you stand out.


Belts
Both men and women can use belts as a hack to look more polished. Apart from helping you make sure that your pants stay in place, a belt can beautifully accessorize and complete your outfit.
Stick to a simple design and avoid complicated styles featuring large, decorative buckles.
Click here if you want to learn more about the best ethical and vegan leather belts.

DOs and DON'Ts
Avoid sports clothes. They are amazing for your free time, but not for interviews!
Interview attire should always mix elegance and comfort.
Anything too relaxed shows a lack of interest, while anything too fancy looks like you're trying too hard. To find the perfect balance and master grocery store interview outfits, you should choose timeless designs over trendy clothing pieces.
Anything featuring an unusual cut or pattern will be difficult to match with your other clothes and will look unprofessional. Revealing clothes are also a big no.
Stay away from flip-flops and sports shoes, but also from very high heels. Anything too laid-back or uncomfortable should be out of the question.
Always put simplicity first and choose to stand out with your impeccable style rather than with attention-grabbing details.
In a professional context, dressing for success means dressing well and making a great first impression with your simple and effective fashion choices that show professionalism. Remember, basic clothes don't necessarily have to be boring. Combined in the right way, they can boost your confidence, which is the first step to landing that job!
Complete your beautiful outfit with knowledge, curiosity, and a positive attitude.
If you like our tips, share this article with your friends!
Was this article helpful to you? Please tell us what you liked or didn't like in the comments below.
About the Author: Miruna Dulcea