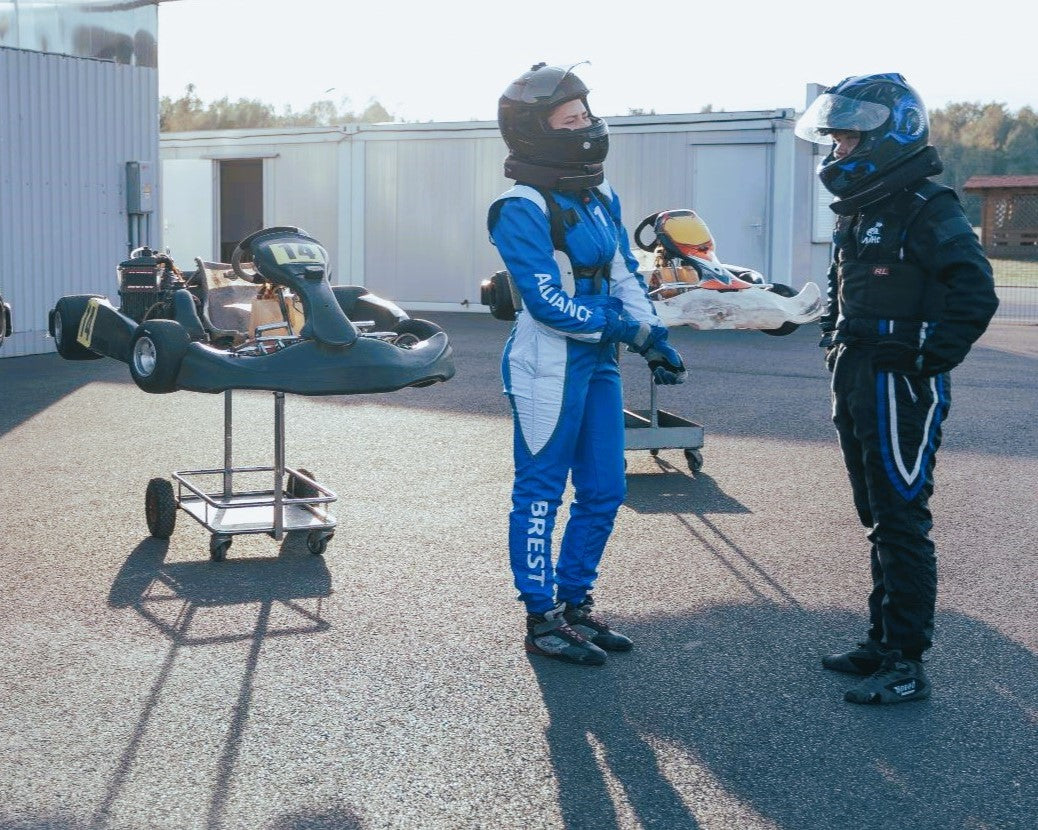 How to Dress Your Best for a Fun Go-kart Date
Planning a go-kart date is an exciting way to spend time with your partner. Go-karting combines the thrill of speed and competition with the opportunity for some lighthearted fun. To make the most of this adventurous outing, it is essential to look stylish and impress your partner with your outfit. We have selected over 15 outfits that will help you look amazing and enjoy your date to the max.
When go-karting, you should opt for comfortable yet fashionable clothing, such as a well-fitted graphic tee paired with denim jeans or track pants. Consider adding cool accessories like a snapback cap, sunglasses, and sleek sneakers to elevate your look. Keep scrolling to discover the ultimate outfits that will make your date unforgettable.
Panaprium is proud to be 100% independent, free of any influence, and not sponsored. We carefully handpick products from brands we trust. Thank you so much for buying something through our link, as we may earn a commission that supports us.
Vegan Leather Jacket
A black vegan leather jacket exudes timeless style and adds an edgy touch to your outfit. Its sleek design provides both protection and a fashionable statement, making you stand out on your go-kart date. It provides a comfortable fit while keeping you warm during cooler weather. Discover the 12 best affordable vegan leather jackets in 2023.
Graphic T-Shirt
Opt for a comfortable, eye-catching graphic tee that reflects your personality. Choose a design that resonates with your interests, whether it's a favorite band, a witty slogan, or a cool artwork. A well-fitted graphic tee adds a touch of casual coolness to your go-karting ensemble. Do not miss the 10 best affordable and sustainable graphic Tees.
Denim Jeans
A pair of well-fitted denim jeans is a versatile option for a go-kart date. They provide a classic look that pairs well with any top. The durable denim fabric ensures longevity while offering both comfort and style. Choose a dark wash or distressed style to add some attitude to your outfit. Check out 10+ affordable denim jeans made in Canada.
Comfy Sneakers
Select a pair of sleek sneakers that strike the perfect balance between comfort and fashion. Look for a style that complements your overall outfit. The cushioned soles will provide the necessary support and grip as you navigate the go-kart track. For a more conscious purchase check out the 10 best brands for ethical sneakers in Australia and NZ.
Bomber Jacket
A bomber jacket adds an urban edge to your outfit and can be paired with a graphic tee or a casual button-up shirt. Look for a bomber jacket in a color or pattern that complements your style. The lightweight yet durable fabric makes it ideal for a go-kart date, providing both style and comfort.
Cool Sunglasses
Don a pair of stylish sunglasses to protect your eyes from the sun's glare and enhance your overall look. Opt for a design that suits your face shape and complements your outfit. Whether you prefer classic aviators, retro cat-eye frames, or modern geometric shapes, sunglasses add a touch of sophistication to your go-kart date attire. The 15 best affordable and sustainable sunglasses are here to help you look great. 
Comfy Pants
Opt for a pair of comfy loose pants like track pants for a more athletic look. They offer comfort and flexibility while giving off a sporty vibe. Look for pants made from lightweight and breathable materials with elasticized cuffs for ease of movement. Choose a color or pattern that matches your style. Discover the 15 best affordable and recycled pants. 
Cool Hoodie
Stay cozy and stylish with a hoodie during your go-kart date. The soft and warm fabric provides comfort, and the hood adds an extra layer of protection. Choose a hoodie with a cool design or logo that adds a fashionable twist to your outfit. Check out our selection of the best affordable and sustainable hoodies.
Baseball Cap
A baseball cap adds a touch of effortless coolness to your go-kart date outfit. Look for a cap with a worn-in look or a vintage logo to channel a retro vibe. Adjust the cap to your preferred fit and rock it with confidence.
Lovely Plaid Shirt
A plaid shirt is a timeless piece that exudes a relaxed and stylish aura. Wear it open over a T-shirt or buttoned up for a more put-together appearance. Choose a plaid pattern and color combination that complements your complexion and personal style. Roll up the sleeves for a more casual look, or tuck it in for a neater appearance. 
Stunning Shorts
If you are going for a summer go-kart date, shorts offer both practicality and style. Choose shorts made of lightweight and breathable fabric for added comfort. Opt for a pair of shorts in neutral tones or muted earthy colors to maintain a versatile and casual look. Do not miss the 15 best shorts for women and men made in the USA.
Canvas Shoes
Consider wearing a pair of canvas shoes for a comfortable and casual vibe during your go-kart date. The breathable fabric ensures good airflow, keeping your feet cool during the action-packed activity. Discover 8 easy ways to recycle old shoes and clothes. 
Racerback Tank Top
You can go for a racerback tank top that combines comfort and style. The racerback design showcases your shoulders and adds a sporty flair to your look. Choose a tank top in a bright color or with a fun pattern to stand out. Pair it with shorts, leggings, or jeans for a versatile and chic go-kart date outfit. Check out our selection of the best affordable and sustainable tank tops.
Athletic Leggings
For a sporty yet chic look, pair some athletic leggings with a trendy tank top or a fitted T-shirt. Opt for solid colors or bold patterns that suit your style, and do not forget to choose a pair with a comfortable waistband that stays in place during your go-karting adventure. Do not miss the 20 best affordable and sustainable leggings and yoga pants.
Loose Shirt
A loose shirt gives a modern twist to a classic style. It is versatile, comfortable and adds a touch of sophistication to your outfit. Look for a shirt made from lightweight materials that allow breathability. Choose a solid color or a subtle pattern that complements your complexion, and leave the shirt untucked for a more relaxed look.
Statement T-shirt
Make a fashion statement with a cool-looking, designy Tee. Make a good impression on your date by pairing the Tee with denim pants, athletic leggings, or comfy shorts. T-shirts are versatile, and you can virtually combine them with any bottoms to create fun and cool outfits. Have a look at the 15 best affordable and ethical T-shirts made in Australia.
Was this article helpful to you? Please tell us what you liked or didn't like in the comments below.
About the Author: Gohar Davtyan