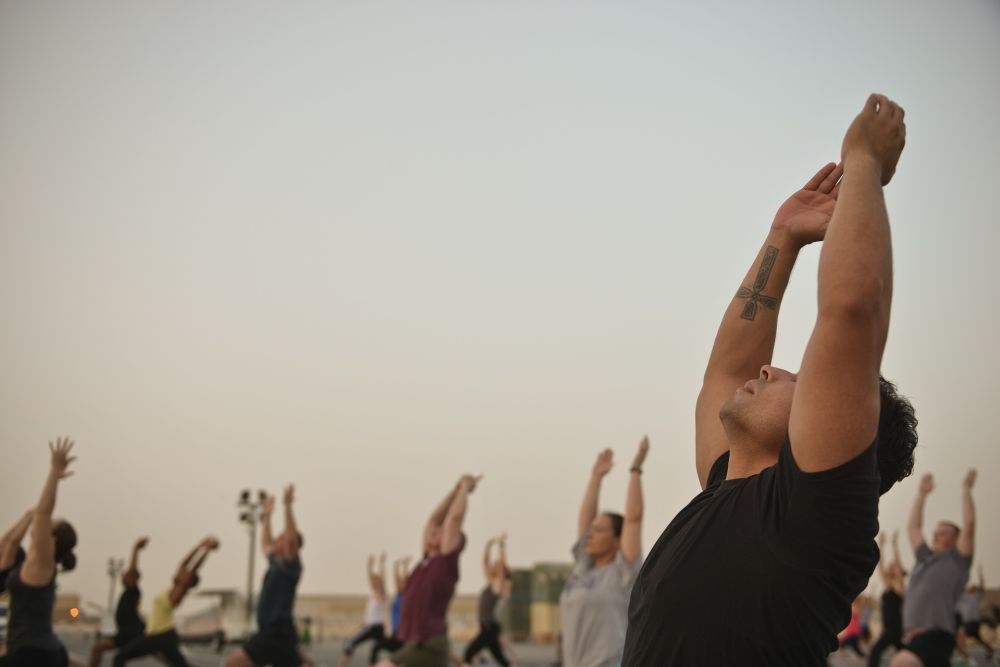 Find A Yoga Teacher That Suits You | Yoga For Beginners
How to find a yoga teacher who is right for you? Many people join yoga classes and find out that yoga or that particular class is not for them.
Sometimes, it does not have anything to do with the yoga style. It is hard to find a good instructor that resonates with us.
It is particularly important to find a great yoga teacher if you are a beginner. Personalized guidance and support is very beneficial to learn the basics and progress safely.
A good yoga teacher provides quality instruction specific to your needs. There are so many different teachers available. It is now more difficult than ever to find the right one.
Yoga teachers have various levels of experience and specialization. They come from many yoga schools through different qualifications.
Not all teaching styles are suitable for beginners, nor someone looking to lose weight. I recommend that you try out as many as you can and find out.
Here are some ideas that will help you find a yoga teacher that suits you best, for your needs, level, expectations, goals, and personality.
Panaprium is proud to be 100% independent, free of any influence, and not sponsored. We carefully handpick products from brands we trust. Thank you so much for buying something through our link, as we may earn a commission that supports us.
Do some research on a yoga teacher and get information beforehand.
You have to know a few things when just starting out. It is best to research online for a yoga teacher beforehand.
New yogis should look for instructors that teach the basics. It is key to build the foundations that ensure progress in a safe and comfortable environment.
Find a location where you can practice regularly. At the studio, look for teachers with at least RYT-200 certifications.
You can also get advice from yogi friends. Other experience yogis are very likely to have specific opinions on certain teachers.
It is great to take recommendations from people who have already explored many classes. Prefer beginner classes if you are new.
Make sure to find out if the yoga teacher has enough technical knowledge on anatomy and alignment. Guiding new students into safe positions with calm and confidence is crucial.
Some yoga teachers focus on the physical aspects. Others love to teach because of the mental and spiritual benefits of yoga.
By doing some research before attending classes, you already know what to expect. This will spare you some unpleasant surprises.
Pick the right type of yoga for you to find a yoga teacher.
It is highly recommended to look for a yoga teacher that teaches what you want to learn. If you like restorative yoga, you might want to stay away from any vigorous yoga class.
It is important to choose what you prefer among the many different types of yoga. Some yoga styles include a lot of philosophical and scriptural teachings.
If you are looking to get a good workout, find a yoga teacher that focuses on physical practice. Picking a beginner class is advised to avoid too advanced sequences.
Familiarized yourself with all the different types of yoga. Gather all information you can find. Then, you can start to experiment.
Have some idea of what you are getting into before heading to the class. Vinyasa, Ashtanga, Bikram, Power yoga can all be quite challenging for beginners.
You might want to learn the basics gently first in a Hatha or Iyengar yoga class. Usually, you will get plenty of detailed instructions to practice the poses correctly.
Ask yourself questions such as the following.
Do I like a lot of instructions?
Do I like

 

exercising

 

listening to music?
Do I want an intense workout?
Do I like group classes?
Do I want a fun or serious practice?
Learn about yourself and take the time to find out what you like most. It will then be a lot easier to find a yoga teacher and style that suits your personality.
Follow your first impression when meeting a new yoga teacher.
A good first impression is key to avoid any doubts about a new yoga teacher. You have to build a healthy and lasting relationship.
That is why you have to see good qualities. You might find trust, care, style, charisma, humor important in a good yoga teacher.
If you do not find someone you like at first, do not give up. Keep looking. There are plenty of choices. With time, you will find the right one.
Describe your limitations and expectations when you meet a new yoga teacher. See if it feels comfortable working together.
It is also a good idea to ask for training, teaching experience and history. Try another teacher if your first yoga class does not work out well.
Until you find the right location, studio, school, class, style, instructor, you have to give yoga a fair chance. At least, form your own opinions by trying out different ones.
If you feel you are not learning, or you do not feel comfortable, or you do not get enough guidance, then it is time to move on to the next teacher.
At all times, you should enjoy practicing yoga. Many people report loving yoga because of the way it makes them feel.
When you leave the class, if you do not feel better than when you arrived, something is wrong. Do not hesitate to ask the right questions if in doubt.
It is very important that you keep a positive attitude. It is very easy to get discouraged after a bad experience. Keep searching as often as you can until you find the best for you.
Ask for qualifications to find a yoga teacher.
The certification system from Yoga Alliance.
A good method to find a yoga teacher is asking for certifications. A Registered Yoga Teacher (RYT) can be found with the Yoga Alliance.
Upon completion of a standard training from a Registered Yoga School (RYS), a willing teacher is then certified and labeled RYT.
Yoga is a lifestyle and an on going process. Make sure that your future yoga teacher has been practicing for years and continues learning from his own teacher.
The RYT label is far from perfect but it ensures that instructors have an understanding of anatomy, pranayama, meditation, sequencing, and Sanskrit.
What are the different levels of certification?
These are the levels of certifications available from the Yoga Alliance.
Has trained at least 200 hours with a RYS 200.
Has trained at least 500 hours with a RYS 500, OR has trained 200 hours with a RYS 200 plus 300 hours with the same or a different RYS 300.
AND
Has at least 100 hours of teaching experience after training completion.
Has trained at least 200 hours with a RYS 200
AND
Has at least 1,000 hours of teaching experience during two years after training completion.
Has trained at least 500 hours with a RYS 500, OR has trained 200 hours with a RYS 200 plus 300 hours with the same or a different RYS 300.
AND
Has at least 2,000 hours of teaching experience during four years after training completion.
Does training stop after certification?
More advanced trainings includes topics such as restorative yoga, back pain, Ayurveda, prenatal yoga or therapeutics.
Many yoga teachers study beyond the first level of training. That is what you should be looking for.
There are plenty of very good teachers with no certification at all. Many yoga type qualifications come directly from yoga schools in India.
These have nothing to do with the western phenomenon. A certification from the Yoga Alliance is then not a reference at all.
Traits to look for in a good yoga teacher.
What makes a good yoga teacher.
You should always feel good after practice. Learning and advancing is not as important. Make sure you find a yoga teacher and a class that you enjoy regularly.
Yoga is not just physical exercise. When practiced regularly, you should definitely see positive effects mentally, spiritually and emotionally.
Find a yoga teacher right for you. It will help you along your journey to self-discovery. You should have the same values and feel comfortable with your teacher.
A teacher who is always there and care about the students is a good person. Depending on your goals, you might prefer someone or another.
As you progress, you might also want teachings from someone else. It is perfectly fine to seek guidance from many different instructors to perfect your practice.
If you are working on a particular problem, you can stick with the same teacher for a while. Make sure to get specialized support according to your needs.
Listen to your body closely. If you feel any pain, it is the sign that you are doing something wrong. Stop and alert your instructor asking for an alternative.
The qualities to keep in mind to find a yoga teacher.
It can take a long time before you find someone. Here are some traits you might want to look for in a good yoga teacher.
Passion, dedication and love for yoga.
Knowledge of history and

 

origin of yoga.
Deep concern for safety of the students.
Clear instructions and language.
Good description of poses and proper alignment.
Willingness to adjust to the students capacities.
Practice of breath work and meditation.
Warm up and cool down routines.
Purpose behind every yoga sequence.
Personal integrity and authenticity.
Compassion and acceptance.
Care for the students well-being.
Open to the students suggestions.
Addressing the students needs and requests.
Summing up:
How to find a yoga teacher good for you? It is highly recommended to know what you are looking for. Do a bit of research first and figure out what type of yoga suits you best.
It is important to seek an instructor that teaches what you want to learn. Some classes focus more on physical exercises, others on the mental and spiritual dimension of yoga.
You can easily find out if any teacher is certified or not, if that is important for you. Experience and continuous training are very valuable for any good instructor.
Make sure you feel comfortable at all times and adhere to the taught values. Do not give up to soon and keep looking if you do not find someone good for you the first time.
Keep a positive mindset and the rest will follow. Leave your comments and questions below.
Was this article helpful to you? Please tell us what you liked or didn't like in the comments below.