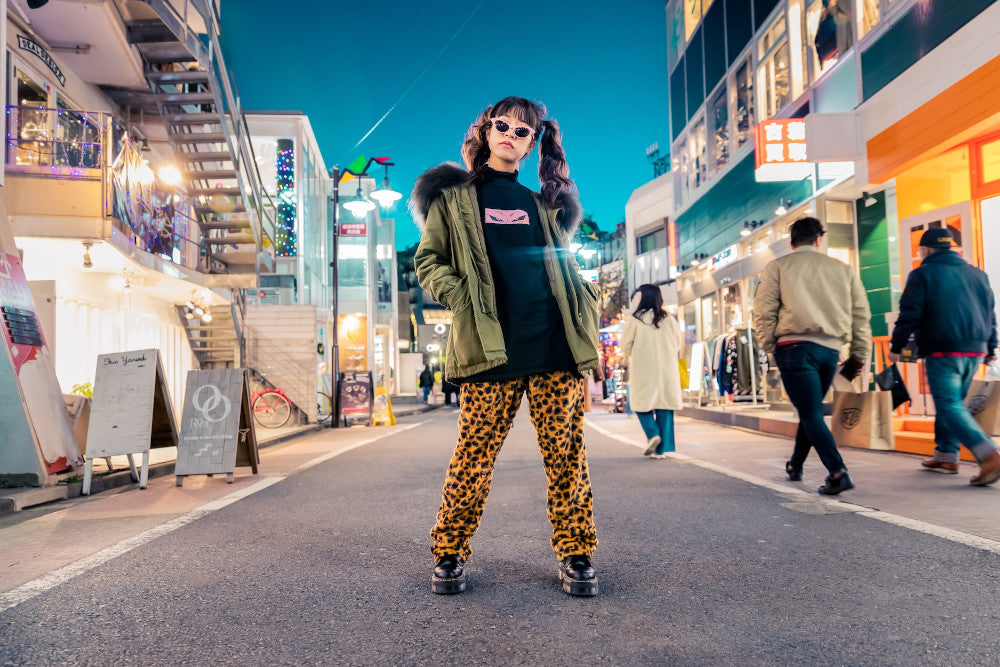 20 Practical Travel Essentials to Wear in Japan
The best outfits to wear as a tourist in Japan feature stylish, fitted tops and jeans or slacks. Japan rocks a fashion-forward style but maintains a more conservative fashion sense as well, avoiding things like crop tops, sweatpants, or low-cut tops.  In big cities like Tokyo, you will see streetwear and trendy sneakers but the overall style tends toward a smart casual vibe. 
Locations in the countryside or at religious sites also have a more conservative style. Avoid wearing anything like a crop top or a low-cut blouse that reveals too much skin. Instead, opt for a stylish, fitted button-down and slacks, or a blouse and jeans. Despite many advances in fashion, most Japanese people still consider tattoos in poor taste, so wear clothes that can cover your tattoos if possible. 
Panaprium is proud to be 100% independent, free of any influence, and not sponsored. We carefully handpick products from brands we trust. Thank you so much for buying something through our link, as we may earn a commission that supports us.
Fitted Smart Casual Style
While plenty of younger people in Japan do embrace modern trends like streetwear, you will most commonly see people in smart, clean, stylish clothing. Aim for a smart casual style as you pack for your trip and you will rarely look out of place. This means nice jeans or slacks, blouses or button-downs, or a T-shirt paired with a cardigan or jacket.
Make sure you bring clothing that does not wrinkle easily, or pack a portable clothing steamer to freshen up your wardrobe after you unpack. Also, try to wear more fitted, narrow styles of clothing, rather than baggy clothing.
If you need the perfect stylish shirt to smarten up your look before your trip, take a look at the 15 best ethical button-up shirts for a dressy look here.
Conservative Cuts
Pick clothing with a conservative cut for your trip to Japan. While you will see some fashion-forward styles in big cities like Tokyo, in the countryside, and in smaller towns you will find that bold styles that expose a lot of skin do not go over well. Avoid crop tops, displaying cleavage, or wearing super short skirts. Instead, look for blouses that have higher necklines, nice fitted slacks or jeans, and knee-length dresses or skirts.
If you plan your trip during the late spring or early summer, the weather can get quite warm. You can definitely wear a tank top or sleeveless shirt in the summer. Just bring a jacket or scarf so you can cover your shoulders if necessary! Take a look at the 20 best affordable and sustainable tank tops here.
Cover Ups for Tattoos
In Japan, historically tattoos have had a strong connection to the Japanese mafia, also called the yakuza. This means that displaying tattoos is in poor taste in many parts of the country. If you have tattoos, try to plan your travel wardrobe with pieces that can cover them if possible. 
For example, if you have a wrist tattoo, bring long-sleeved shirts or jackets to cover the tattoo.
If you feel like this will make you hot or uncomfortable, consider placing a large band-aid over the tattoo instead. You will want to have a jacket with you anyway in case of bad weather, though, so why not check out the 10 best affordable and sustainable waterproof jackets here to keep you dry and cover your ink?
Cute Vs Crude Graphics
Humor is subjective and your favorite graphic tees or hoodies may not find a receptive audience in the more conservative areas of Japan. Try to avoid wearing anything with a crude or blatantly American graphic. Instead, stick to cute cartoon characters and wholesome sayings, or just avoid graphic tees and hoodies altogether!
You can put together sharp smart-casual outfits using solid-colored tees, a blazer or cardigan, and your favorite jeans or slacks. Plus, solid-colored clothes allow you to mix and match your capsule travel wardrobe to create multiple outfits using the same pieces. You can find the 12 best recycled blazers to complete your outfit here.
Jeans
You can absolutely wear jeans in Japan. In fact, Japan is quite famous for making some of the best denim in the world! You will see lots of younger people wearing jeans all around in cities like Tokyo. Of course, for more formal occasions or to visit a religious site, you may want to dress up and wear a skirt or slacks instead.
You can find the 15 best recycled denim jeans brands to consider here.
Sneakers
As a tourist in Japan, you will do a lot of walking! Your feet will thank you for packing your favorite brand-name sneakers for your trip. Streetwear and cool sneakers play a big part in the fashion scene in Japanese cities, so make sure your shoes look clean and nice before your trip!
Your sneakers will pair well with outfits like jeans and a jacket, a skirt and leggings, or even jeans and a nice button-up shirt.
Take a look at the 12 best brands for sustainable sneakers in Europe here.
Walking Shoes
You may also want to find a pair of comfortable, classy-looking walking shoes like ballet flats for ladies or loafers for guys. This way you can maintain your sharp style without looking super informal as you might in sneakers or hiking shoes. Make sure you find shoes with good padding so your feet don't hurt after a long day touring Tokyo or visiting shrines!
You can find the 10 best affordable and comfortable ballet flats here.
Streetwear
Just like in most urban settings, the cities in Japan have embraced the concept of streetwear fashion. Streetwear means a blend of loungewear and athletic wear in an urban style. An oversized t-shirt paired with jeans and brand-name sneakers could present a streetwear style. So could a cute matching sweatsuit and sneakers.
If you need more info on what exactly streetwear looks like, take a look at this list of the 20 best affordable and sustainable streetwear brands.
Shorts
You can definitely wear shorts in Japan without raising any eyebrows, though you should avoid wearing super short shorts at some more conservative locations such as temples or religious sites. In hot weather shorts and a blouse or shorts and a button-down create a smart-casual outfit perfect for a summer tourist.
Take a look at the 20 best affordable and sustainable denim shorts options here.
Knee-Length Skirts
Another great way to keep cool while looking nice is to pack a wrinkle-free knee-length skirt as part of your travel wardrobe for Japan. If you pick a skirt in a solid color, it becomes a versatile piece that you can easily pair with several different tops such as a sleeveless blouse, a solid-colored or cute graphic tee, or a cozy sweater.
If you do not have many longer skirts, take a look at this list of the 15 best affordable and sustainable midi skirts.
Summer Dress
In the summer, some parts of Japan can reach temperatures as high as 90℉. To avoid feeling sticky and melty during your trip, you may want to pack a light, cooling summer dress. You can pack a sundress, a maxi dress, or a loose peasant-style dress.
Pretty colors, fun fabrics, and funky [atterns will all look great. Just avoid anything super low-cut. And if your dress has a sleeveless style, carry a light button-down shirt with you to place over your shoulders if you feel it is necessary.
You can find the 15 best affordable sundresses made in the USA here.
Rain Coat
Japan sees a lot of rainfall every year and has a long rainy season plagued with monsoons and typhoons in the summer and fall months. This means that you definitely need to pack a raincoat for your trip! A lightweight jacket with good waterproofing will not take up too much space in your carry-on and will keep you dry if you get caught outside in a downpour.
Take a look at the 20 best affordable and sustainable raincoats of 2023 here.
Waterproof Bag
You may also want to invest in a waterproof bag such as a backpack or shoulder bag for your trip to Japan, especially if you plan to visit during the rainy season. While you can leave most of your belongings in a reputable hotel during your stay, you will need to carry the essentials with you wherever you go. Obviously, you don't want items like your passport to get soaked if it rains while you are out hiking!
To help you pick the right bag, read up on the three best affordable and sustainable kinds of waterproof fabric here.
Light Blouses
One of the most versatile items you can pack for a trip to Japan is a handful of light blouses. Blouses in a solid color mix and match most easily with other items to create multiple outfits, but fun print blouses may look more fun and trendy. Try matching your blouses with a cardigan in the fall, with jeans and sneakers in the summer, or with a skirt and tights in the winter.
Take a look at the 15 best affordable, ethical, and sustainable blouses here!
T-Shirts
T-shirts are totally acceptable for daily wear in most areas of Japan, though they do have a more informal style than a button-down or blouse. Try pairing your informal tee with a slightly sharper-looking garment like a blazer or cardigan to smarten up your style. Or go for a streetwear vibe instead, by pairing your tee with jeans and sneakers.
While you can absolutely pack several t-shirts to comfortably wear during your trip, look for either solid-colored tees or shirts with a cute graphic. Avoid anything too boisterous or crude. You can find the 20 best American-made t-shirt options here.
Tank Tops
As previously mentioned, tank tops make a great addition to your suitcase if you plan to visit Japan during the summer. Of course, a tank top looks super informal, especially if you pair it with shorts or jeans! Make sure you wear this warm-weather item only in appropriate settings. Also, bring a jacket or button-down shirt with you so you can cover up and look more respectful if necessary.
Even though bare shoulders do not present a problem in most parts of Japan, a low-cut or super-tight tank top could look inappropriate in some settings. If possible, look for a slightly looser tank in a cooling fabric, like these 15 best organic cotton tank tops.
Cardigan
If your trip to Japan will take place in the fall or winter, you will want to bring cozy layering garments like a cardigan. This buttoned sweater allows you to bundle up when you step outside, but easily remove the extra layer when you duck into a warm ramen shop!
You can find the 20 best affordable and sustainable cardigans here.
Coat
Another key item to bring with you if you visit Japan in the winter is a nice winter coat. If you plan to visit more formal locations, hold a business meeting, or go out on a date, you may want a formal pea coat or trench coat to keep you warm. If you don't mind looking more informal, you may feel even warmer if you buy a puffer-style winter coat instead.
Take a look at the 20 best affordable and sustainable winter coats here.
Scarf
Another super easy way to add a layer of warmth to your travel wardrobe is to pack a warm winter scarf. You can wrap it around your throat to pair with a cardigan and jeans or tuck it inside a winter coat on a really cold day. In the summer, a lightweight scarf makes a great accessory for women because you can use it to wrap around your bare shoulders if you wear a tank top, sleeveless dress, or sleeveless blouse on a hot day.
Check out the 15 best affordable, ethical, and vegan winter scarves here.
Sunglasses
Whether you visit Japan in the summer or the winter, to see the cherry blossoms in the spring, or to visit a temple in the fall, you will want sunglasses for long days outside walking around! 
You can find the 15 best affordable and sustainable sunglasses to browse here.
Was this article helpful to you? Please tell us what you liked or didn't like in the comments below.
About the Author: Hannah Cobb